Welcome to the Men's Section
The mens section is a very well supported and key feature of the club. Throughout the year there are a variety of opportunities to play golf in a friendly but competitive atmosphere. During the summer there are weekly competitions designed to test players abilities all of which count as handicap qualifiers. These are open to full 7 day members and take place mainly at the weekend predominantly on Saturdays. They include medals and Stablefords with a variety of different formats. Some competitions are shared with the Ladies section plus there is also a  thriving Winter League so that golf can be enjoyed all year round. Prestigious board competitions include the Bramhall Trophy, Anderton Bowl, Shaw Marsh Trophy, Rigby Cup and the Club Trophy. Whatever your ability, you can rest assured that you will be given a very warm welcome and have the opportunity to play with many different members of the club. We do hope you will join us.
+++++++++++++++++
Jonny Spencer 1 Day off Winning a Holiday to Las Vegas!
New member Jonny Spencer was happy but disappointed with his first ace on the 8th hole, as a day earlier playing in Sam's Day, it would have  won him a holiday for 4 people to Las Vegas worth £5000!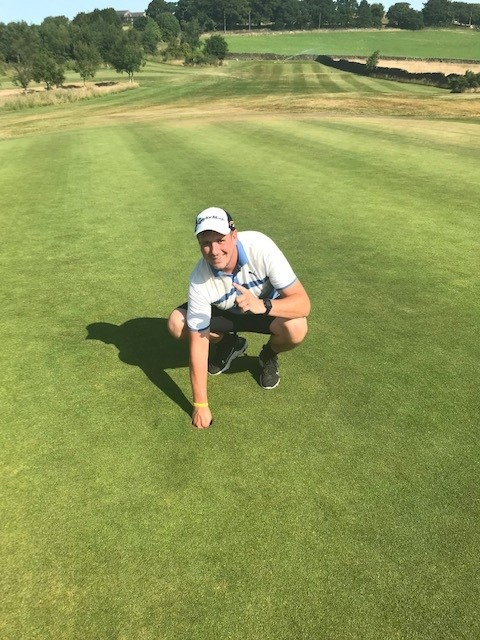 Hole in one for Paul!
Yet another hole in one this time by Paul Coverley on the 15th. Well done to Paul with this latest achievement coming on the back of winning the stableford competition on President's Day!
Bramhall Cup July 2nd 2022
Huge congratulations to Jon Coverley for winning his first major at New Mills, in a very thrilling, closely fought competition. Also a special mention to Alex Mackenzie for having a Hole in One on the 6th!
1st Jon Coverley 42 
2nd Stacey Wild 41 
3rd Alex Mackenzie 41 
4th Lyle Sanchez 40 
5th Keane Hyde 40 
6th Ian Pulley 40 
Best Gross – Keane Hyde 37 
+++++++++++++++++++
Chris Hall wins Hibbert Cup Play Off
Congratulations to Chris Hall who won the 4 man play off yesterday to win this year's Hibbert Cup following a tie earlier in the season when four players all scored nett 66. 2nd was Nick Lewis, 3rd Chris Ashton and Duncan Moore 4th.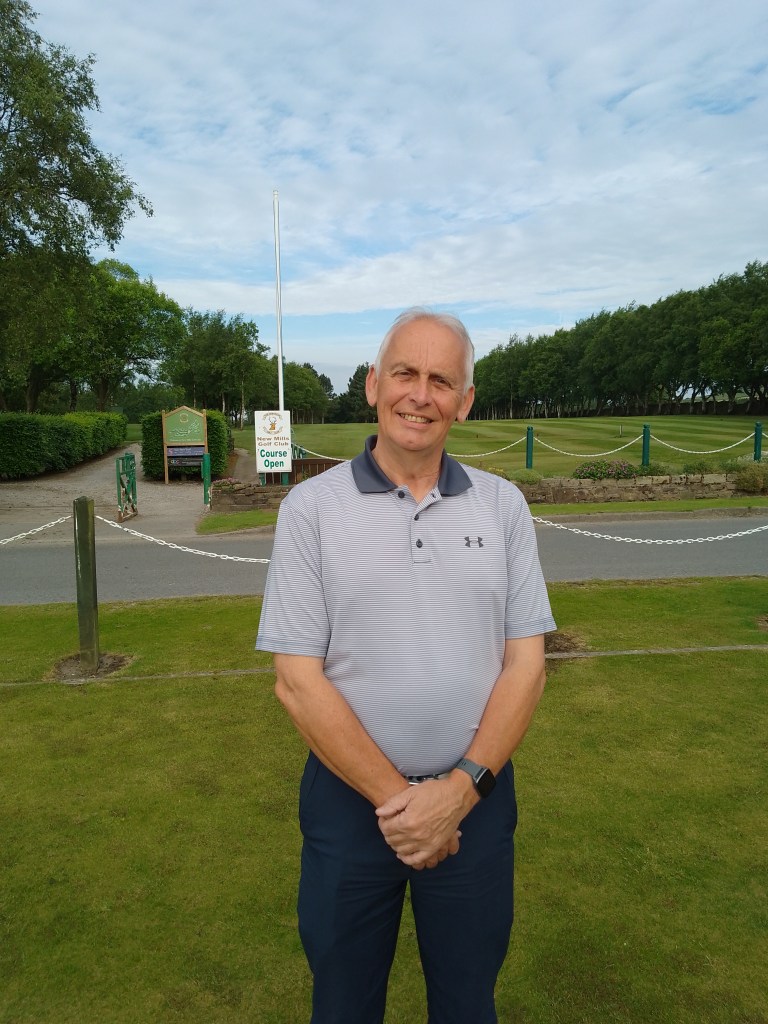 ++++++++++++++++++++
Andy Wins the Jubilee Stableford 3rd June 2022
Congratulations to Andy Rodgers winner of Friday's Jubilee Stableford with an impressive 43 points. Runner up was Mark Brooks with 39 points with three players scoring 38 James Ignotus (3rd), Ben Williams (4th) and Kieran Sharp (5th)
Jack Marshall achieved the best gross score on level par!
Well done to the winners and to everyone else who took part on the day.
+++++++++++++++
Hole in One for Phil
Congratulations to Phil Urmston for his hole in one on the 8th in Saturday's competition. Phil will receive a limited edition Boss Hole in One Watch to mark his achievement.
++++++++++++++
Captain's Weekend Away at Carden Park April 22nd -24th 2022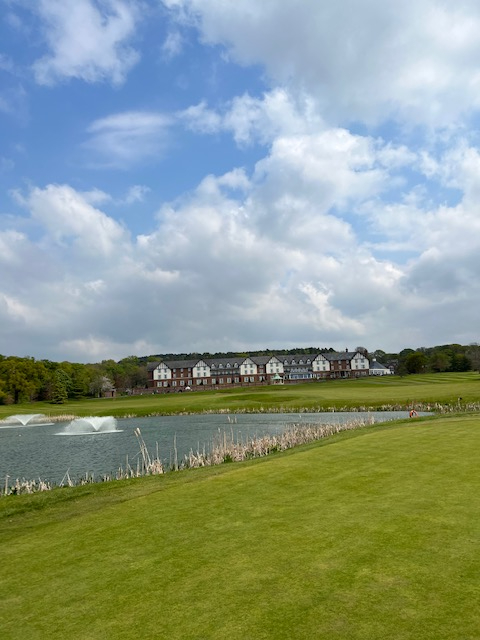 Last weekend the 2022 Captain's weekend, hosted at Carden Park near Chester, was a HUGE success. 60 members headed over to play three games with a two night stay. This time due to Covid it was hosted by Steve Yates and Mike Bennett.
On Friday we played a betterball stableford which was won by Russ Pearson and Mark Brooks with 45 points, and on Friday evening we had a lovely meal followed by far too many drinks and a night out in Chester.
Saturday saw a few sore heads and missed tee times, however Paul Coverley, Baz Lawson and Scott Mccaskie managed to triumph as a three ball while 4th player Paul Taylor failed to get out of bed after a heavy night in Chester.
On Saturday evening we had the famous Captain's dinner followed by the prize presentation. Darryl Hall and Jason Warhurst were crowned Winter League winners followed by one of the best speeches I've heard. Fair play Darryl.
On Sunday we played a Texas Scramble won by myself, Scott McCaskie, Kirky and Olly France.
Overall it was a huge success and information on next year's trip to Belton Woods will soon be revealed…
++++++++++++++++++
CAPTAIN'S WEEKEND AWAY 2023
I am pleased to share with you details of the Captains weekend away for 2023.
Venue: Belton Woods
FRIDAY 21ST APRIL- SUNDAY 23RD APRIL
DINNER, BED & BREAKFAST (10% off drink prices)
3 ROUNDS OF GOLF
£265PP
We only have 60 places available. Anyone who was on this years trip has priority.
Any new members or members who couldn't come last year who want to come please place your names on the sheet in the club lobby.
We require a £100 deposit paid to Steve via BACS only. Details of this will follow once all spaces are confirmed over the next week.
Steve Kirkham (Mr Vice Captain)
++++++++++++++
Click to access COMPETTION-WINNERS-2021-.pdf
Gents Presentation Evening November 26th 2021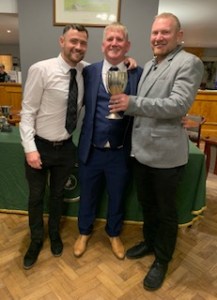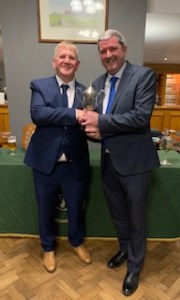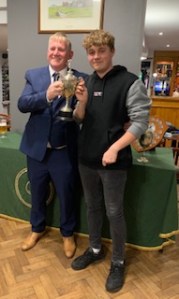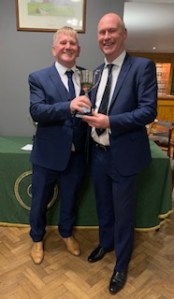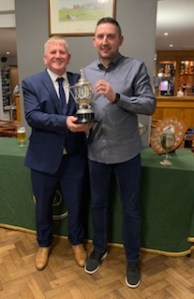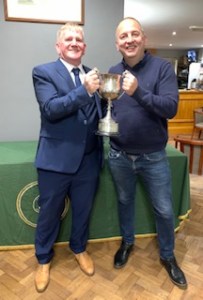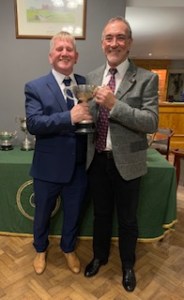 Other winners who were unable to attend were: John Samme, Rigby Trophy; Callum Clarke, Men's Knockout and Alan Woolley Vet's Cup.
+++++++++++++++++
Knock out Winners 2021
As the golf season comes to a close we start preparing for our winter season. This year has been a fantastic year despite a late start due to Covid. It's been tremendous to see so many new faces playing in club competitions. Below are the winners of the 2021 knockouts
Mens Singles:  1st Callum Clarke, 2nd James. Ignotus  3rd equal Simon Belt and Phil Holland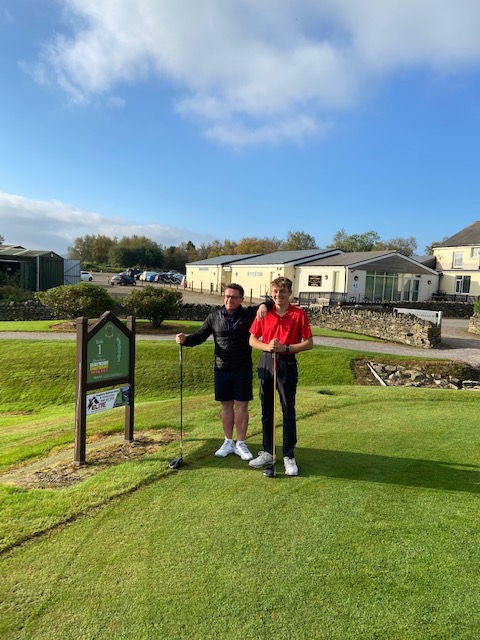 Mens Foursomes:      Winners: Ben Williams and Tony Hall   Runners Up: Giles Wyatt and Harry Wyatt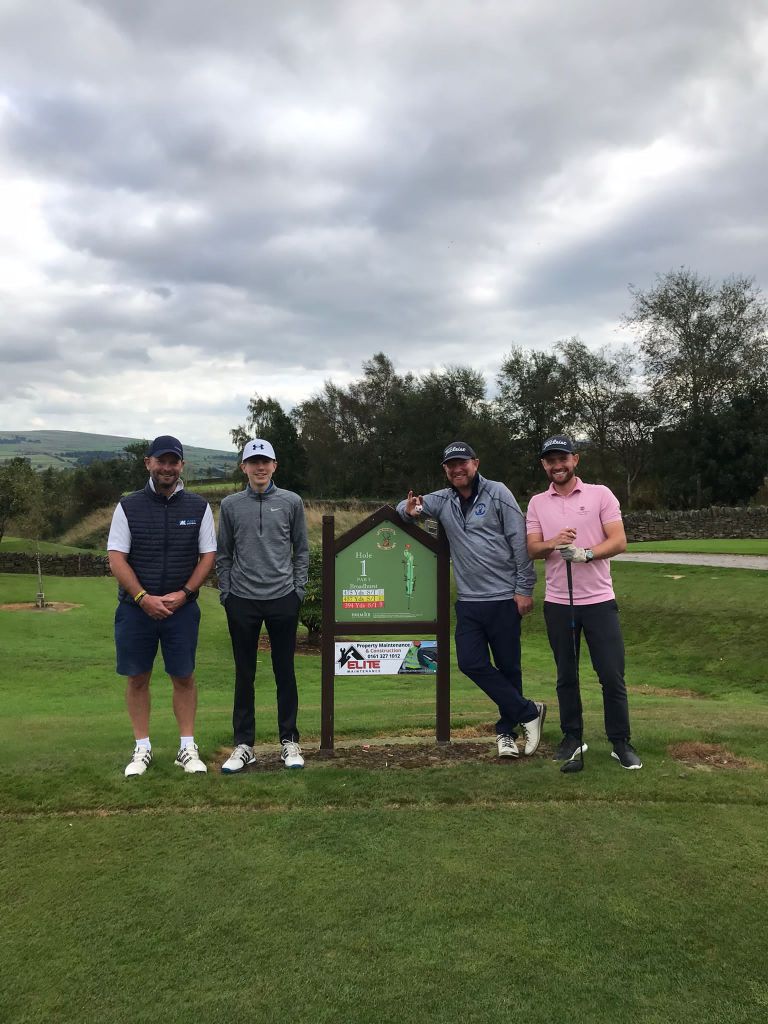 Mens Fourball:  Winners: Ben Williams and Tony Hall   Runners Up: Jonathan Melrose and  James Cooke
Mens Scratch: Winner:  Keane Hyde  Runner up: Sam Shaw
Mixed Foursomes:  see below
Brothers in Mixed Foursomes Final!
Graham Arden, Joyce Bennett, Phil Ardern and Janet Bowers went head to head yesterday in the Mixed Foursomes Final.
Conditions were perfect with just a slight breeze alongside the warm autumn sunshine.
Phil and Jan were giving 'Pidge' and Joyce 10 shots so it was always going to be a tall order.
Both couples gave their all but eventually steady play and some good fortune saw Jan and Phil win by 5 &4.
Congratulations to them both and commiserations to the runners up!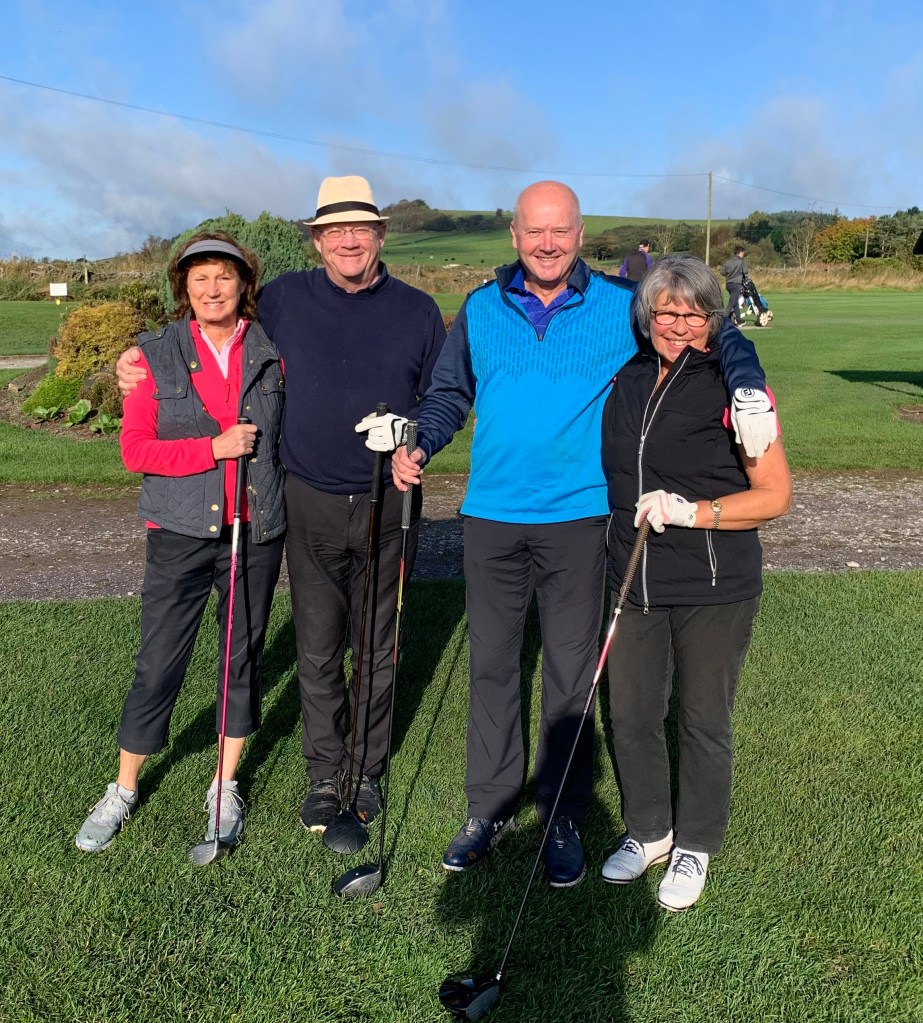 Rigby Trophy 2021
Many congratulations to John Samme, winner of this year's Rigby Trophy with an excellent score of 45 points which included 9 pars. Runner up was Jack Kirk with 43 points with Mark Brooks 3rd with 40. and Paul McCracken 4th with 38.
Joe Bowers won the prize for the best gross score on the day.
+++++++++++++
Club Trophy 2021
Congratulations to Chris Wood winner of this year's Club Trophy and Clapham Trophy for the best  gross score on the day
1st Chris Wood 68 + 65 = 133 
2nd James Ignotus 67 + 67 = 134 
3rd Paul Bowers 65 + 70 = 135 
Clapham Trophy (Best Gross)
Chris Wood 69 + 66 = 135 
+++++++++++
Bosworth Trophy Friday 13th August 2021
Well done to John Tennant and Phil Urmston winners of this years' Bosworth Trophy which was held at Hazel Grove Golf Club with an excellent score of 45 points.
+++++++++++++
Shaw Marsh Trophy 2021
Congratulations to Tom Ryder winner of this year's Shaw Marsh Trophy event by one point from Nathan Burrows, Unfortunately as neither have yet a full playing history the name on the board and winner of the Trophy will be that of Chris Cook
Overall Results
1st TOM RYDER 66+61= 127
2nd  NATHAN BURROWS 63+65=128
3rd  CHRIS COOK 67+64= 131
4th TONY JENNISON 65+68=133
DAY 1
1st Paul Bowers 63 £40
2nd Nathan Burrows 63 £30
3rd Tony Jennison 65 £20
Best Gross – Tony Jennison 69 £25DAY 2
1st Tom Ryder 61
2nd Chris Cook 64
3rd Nathan Burrows 65
Best Gross Luke Anthony
+++++++++++
Anderton Bowl July 24th 2021
Congratulations to Nick Lewis winner of today's Anderton Bowl Competition. Nick actually finished in 4th place but because of the new ruling affecting the men's board competitions which states that any player must have 20 recorded scores from which the best 8 are taken in order to produce a valid handicap index then the top 3 players on the day Ronnie Dooley, Rick White  and David Gilham were not eligible to win the competition. All three were, however, credited with the appropriate prize money awarded to the top places.
++++++++++++++
Captain's Day July 10th 2021
Another fantastic Captain's Day which resulted in two winners! 1st place on the day went to Jed Merrick with a nett 63 with Mike Howard 2nd, one shot behind him. However, as Jed is a 3 month member Mike's name will go on the board as the competition winner.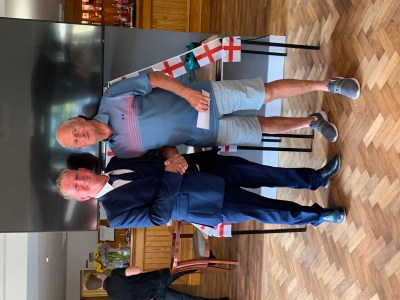 Mike has been a member since 1972, before many of those playing today were even born! He was Club President in 1995 and this is his first major victory in over 50 years. Those of us who play regularly with Mike in the senior's section know what a steady, reliable player he is. He wouldn't have won any prizes today for the longest drive but he would certainly have been up there alongside the best at finding the middle of the fairway. Well done Mike. Your win today will encourage many of the Senior's section to continue to get out of bed early in the morning on Monday, Wednesday and Friday and give everyone real hope that nothing is impossible!
Paul Holt, another members of the seniors, albeit a bit younger, came next with 65  beating Darren Hulse on a card play off.

Mr Captain starts his special day!


Bramhall Trophy July 3rd 2021
Well done to Rodger Mycock winner of today's Bramhall Trophy with a very impressive 45 points , including  7 pars, finishing two clear of Ben Williams and Josh Westmoreland. For full details see the 'How Did I do' page in this section.
++++++++++++++
Hibbert Cup May 15th 2021
Congratulations to Alan Southworth, winner of this year's Hibbert Cup with a nett score of 65 going out in 43 and coming back in 38 with 2 birdies and 6 pars beating Ian Duncan on a card play off .  Steve Coupe finished 3rd and Rob Jackson 4th both with 66. In total 13 players finished with a nett score of less than 70. For a full results sheet visit the 'How Did I do' section further down this page.