WELCOME TO THE LADIES SECTION
Ladies day is Wednesday with tees also reserved on Sunday afternoon for those who work during the week or wish to play at weekends. Every Monday we have an informal roll up which is well supported and is always competitive and good fun.
As well as playing a number of competitions throughout the year, we also play against other local clubs. These are currently Buxton and High Peak, Cavendish, Marple , Werneth Low and Mellor.
Major events on our calendar are Lady Captain's Day in June, our Ladies Open in July and the Turkey Trot in October.
The social side of the club is something we all enjoy and we have a variety of social and fund raising events throughout the year plus two very enjoyable events with the Seniors – an Easter egg competition in the Spring and a quad am in early September.
Whether you are a potential new member or a visitor we will give you a warm welcome and if you need someone to play with we'll do our best to arrange this.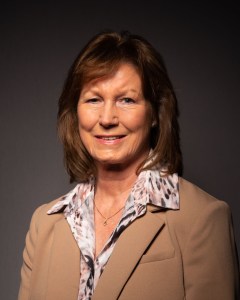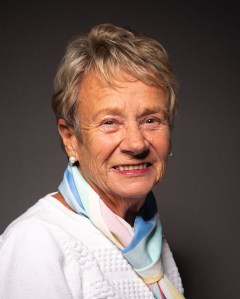 +++++++++++++
Ladies Open 2022
Another full tee sheet for the Open. However,  it would never happen without the army of volunteers helping to park cars, meet and greet, bake cakes and run the half way house and all backed by the Green keepers providing a course in brilliant condition, and a Pro shop rescuing a shoeless lady!
The visitors, without exception, were full of praise for the course and the welcome given by everyone. They enjoyed the food in the clubhouse ( and I am quite sure the odd glass of wine!).
I have no doubt that the clothing co. who always try to attend, were part of the attraction, as they have an excellent choice of clothing at reasonable prices. It was a veritable fashion parade!
The raffle table is always popular, with the ladies providing a varied selection of offerings.
It was so nice to see all the familiar faces returning to the course. It almost felt as if the last 2 years had been not forgotten, but put to rest.
The competition was won by a mixed team of Alison Wright (New Mills), J. Kinder (Reddish Vale),
E. Cantello (Disley) and J. Dootson (Hazel Grove0 with 94 points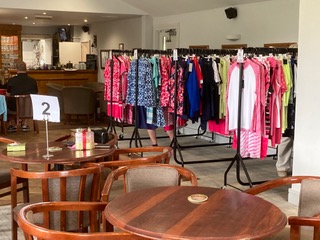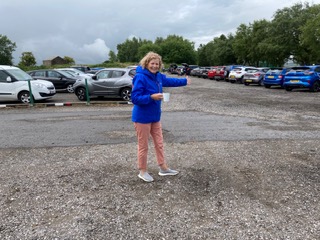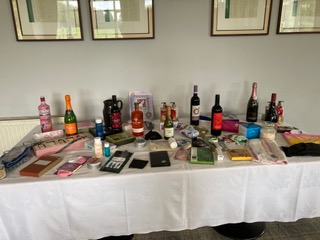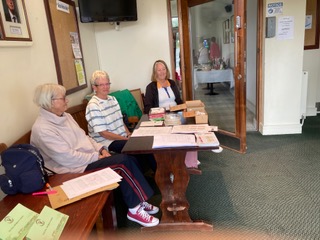 Mr Captain's Invitation to Ladies Sunday June 5th 
The awful weather last Sunday resulted in a smaller entry than usual for this annual event. Congratulations to everyone who completed the course in such adverse conditions. 
Winner of the 18 hole medal , which is a Board competition, was Alison Rudder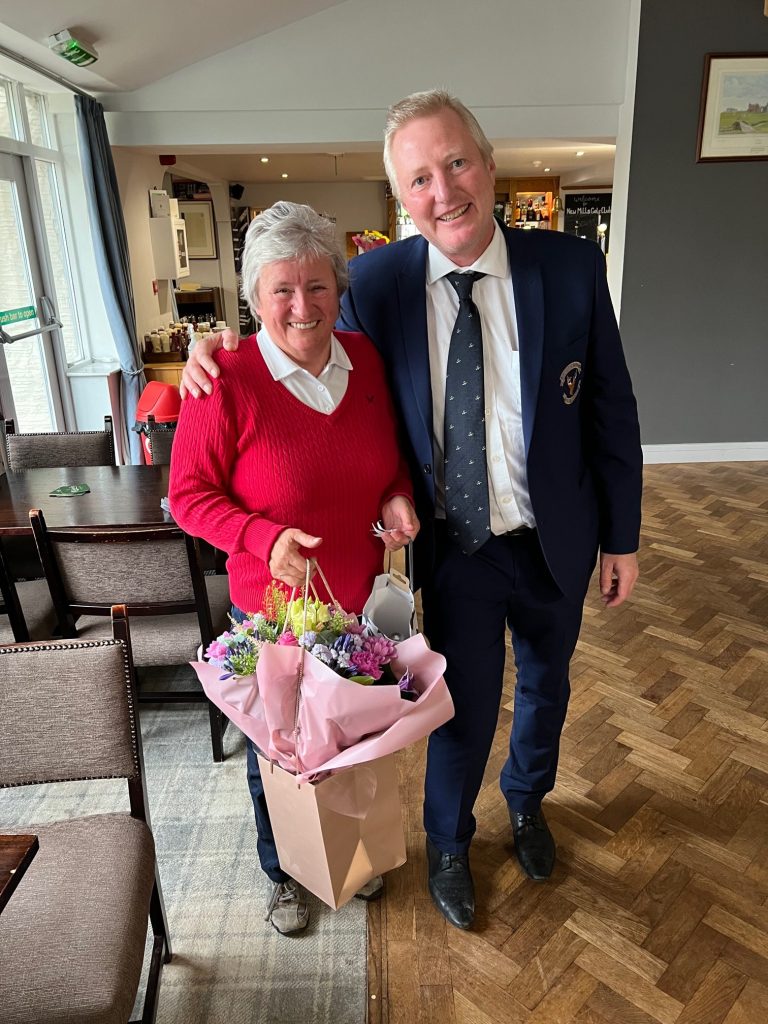 Winner of the 18 hole Stableford competition was Pam Boffey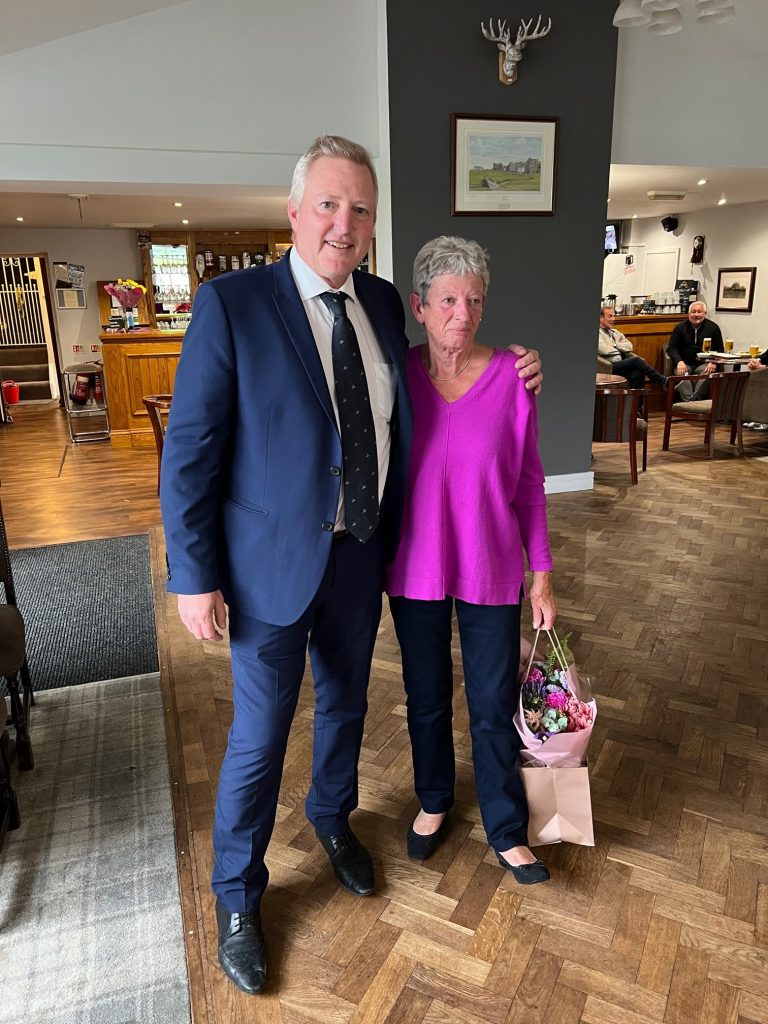 Runner Up 18 hole Medal Alison Wright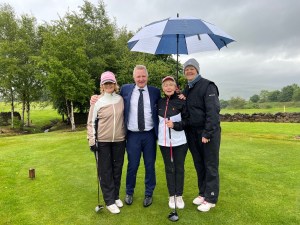 +++++++++++
Ladies Spring Meeting April 12th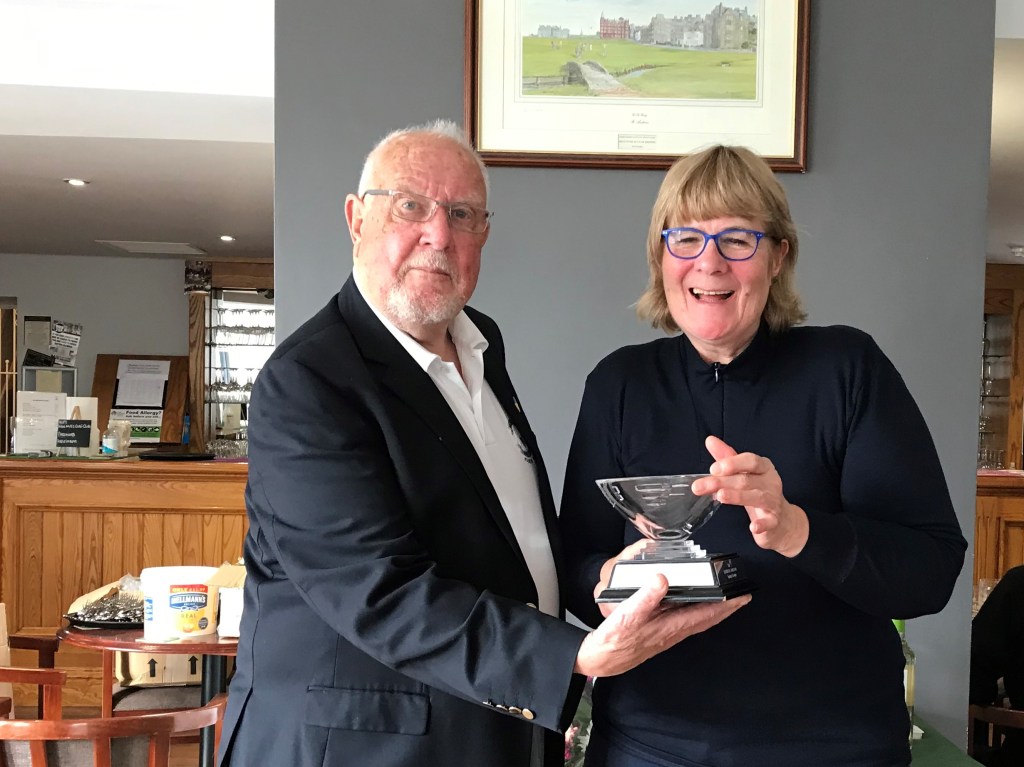 Congratulations to Mary Blake winner of the Patricia Johnson Trophy . Played as a Stableford over 13 holes. Mary won with 27 points. Runners up with 26 were Joyce Hadfield and Marion Harrison.
Mary is seen receiving her trophy from Terry Johnson
++++++++++++++++++++++
Ladies away Day to Ashton Under Lyne June 9th 2021
Lady Captain was instrumental in organising our first away day earlier this year. 17 ladies enjoyed the glorious weather, fantastic course & the fun and laughter of the team event was heard all over the course.
The balcony overlooked to 18th green where only 1 lady managed to drive over the ravine and land on the green for nearest the pin! Well done Rachael Unsworth.
A big thank you to Jo Coull who worked out all handicaps & team allowance on the day, ahead of us all arriving.
Winners of the Texas Scramble.
1st – 65.27
Jackie Piper, Joyce Bennett, Janet Bowers
2nd – Jean Taylor, Helen Hodkinson, Jane Howard.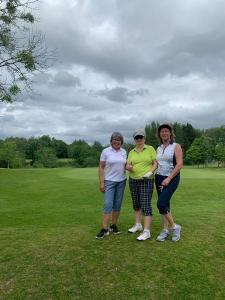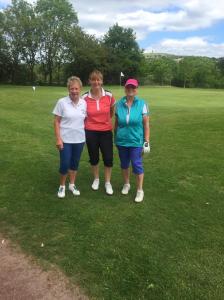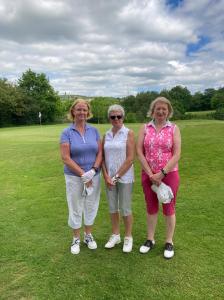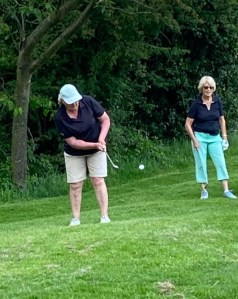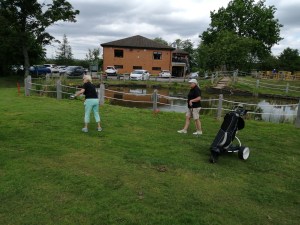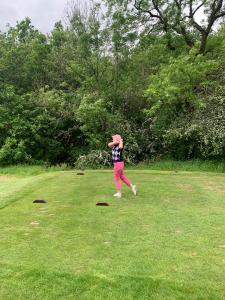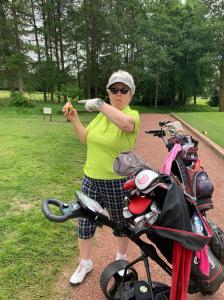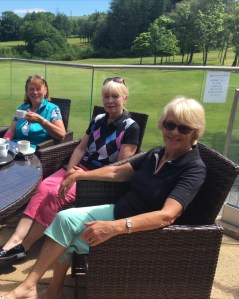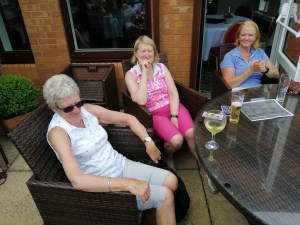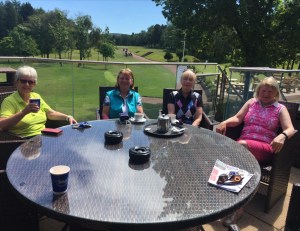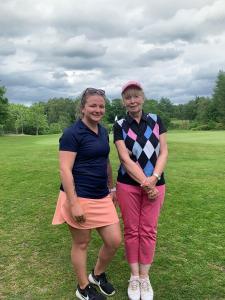 Lady President's Day July 25th 2021
A fabulous Sunny day and a the course in superb condition provided ideal conditions for a perfect lady President's Day rounded off with a wonderful afternoon tea provided by Kirsty.
Prize Winners:
Alison Shields Nearest the pin on 4th.
Jane Howard Nearest the Line on 9th & 13th!!!!
Winner of 9 Hole S/Ford Kath Phillips
Runner up of 18 Hole Stableford Brenda Fink.
Winner of 18 Hole Stableford Margaret Palmer.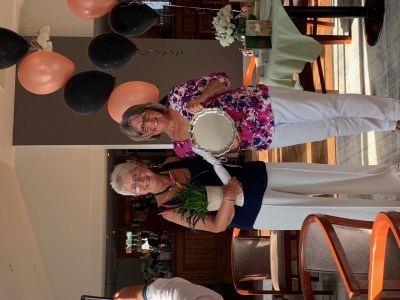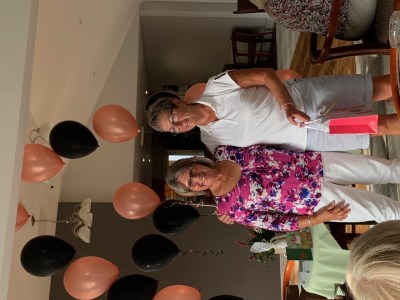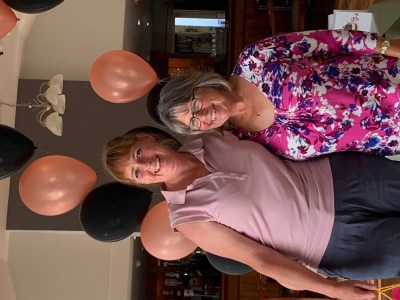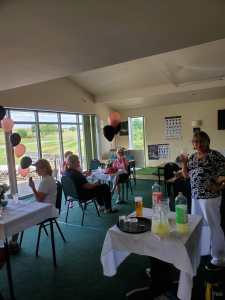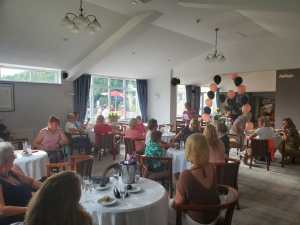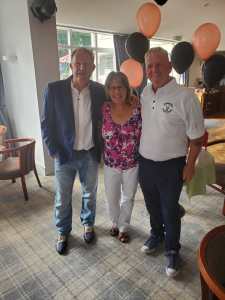 Many thanks to everyone who helped to make the day such a success!
++++++++++++++++
Congratulations to Iris Tolputt for her hole in one!
Many congratulations to Iris Tolputt for her hole in one on the par three 7th at Avro Golf Club earlier this week. Not only did she get 6 stableford points but it helped her and her partner win their match and the team to also achieve a very creditable away win. Well done Iris. The drinks are on you!!!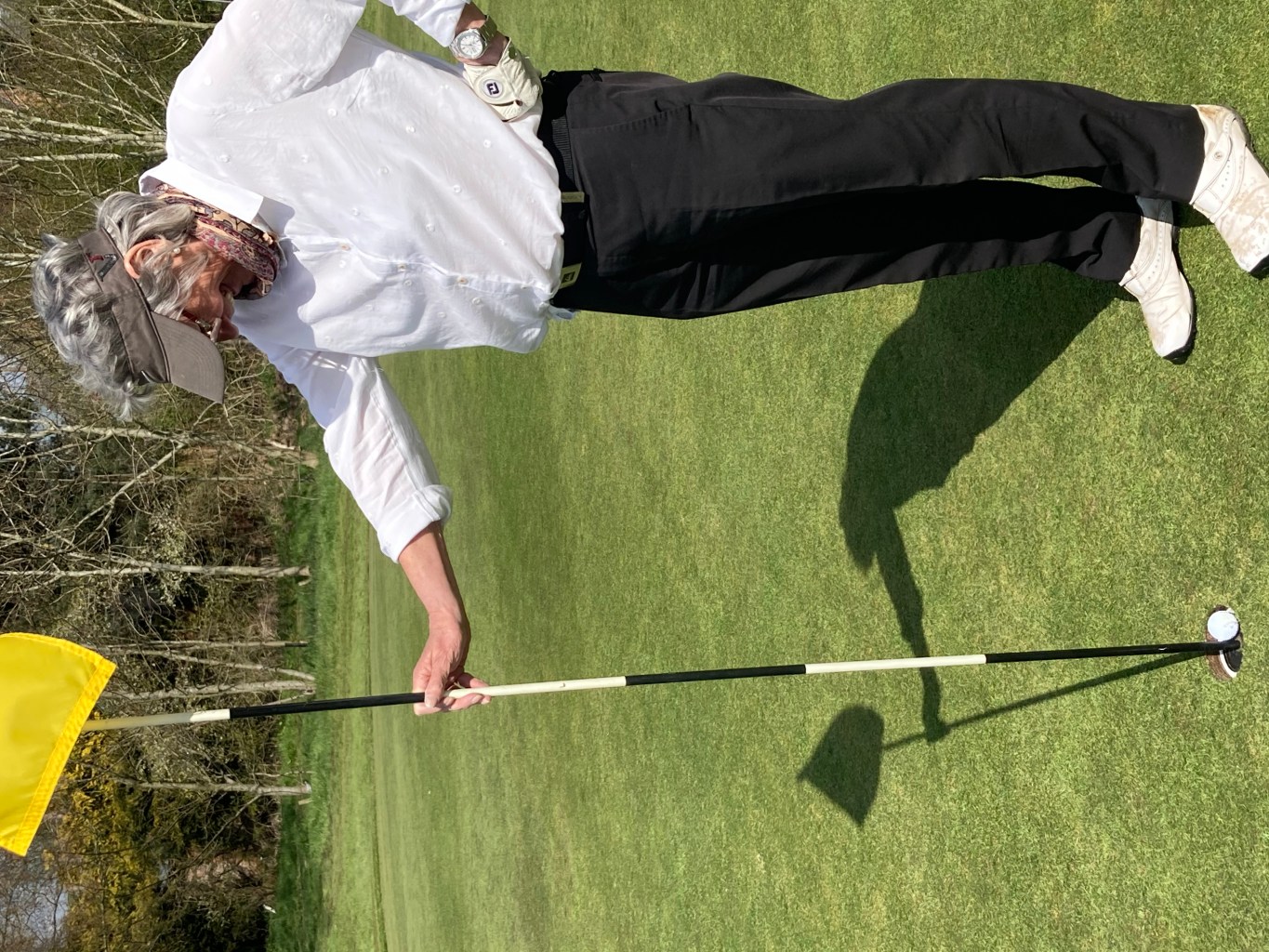 +++++++++++++++++
Ladies Turkey Trot Open 2020
Regrettably, due to Covid-19 restrictions, we have had to cancel this year's Ladies Turkey Trot on Sunday 4th October
++++++++++++++++++++++++++
Ladies Majors 2020
Sadly, due toCovid-19 and a shortened golf season, three of our major competitions have had to be cancelled this year as they are all dependant upon qualifying rounds throughout the year – namely the Warren Cup, Mary Cooper trophy and Kitchen Trophy Knockout.
In addition both our Lady Presidents Day and Lady Captain's Day also had to be cancelled due to the pandemic. However, as restrictions have eased we have been able to play more and more golf as the information below shows.
++++++++++++++
Rules Regarding Medal Competitions 2020
This year to encourage more players to take part in Medals, we have introduced England Golf's Maximum Medal Score which means a player can pick up after playing a certain number of shots.
On a Par 5 – they can pick up when they have played 10 shots (including any penalty strokes)On a Par 4 – pick up after 9 shots (including any penalty strokes)
On a Par 3 – they can pick up after 8 shots (including any penalty strokes)
MARKING THE SCORECARD
Once a player reaches the 'maximum score', they should pick up their ball and the maximum score allowed for that hole, or a zero, should be recorded
Par 5 – 10 shots / Par 4 – 9 shots / Par 3 – 8 shots
Jo Coull (Handicap Secretary)
July 2020
2020 Competitions
Dowell Cup 12th August 2020
Our first Major of the year saw extreme heatwave conditions and unbearable humidity with one of our ladies requiring assistance to be brought in from the course during the day, and the business ladies in the evening being plagued with thunder bellowing around them! Not good golfing conditions for any of our ladies, but well done to everyone who  took part.
Congratulations and well done goes to Helen Harrison on her impressive win, nett 69, beating Ann Brown by 1 point who had a nett 70. Joyce Bennett was 3rd with nett 72.
Despite the thunder our winner managed to keep her cool, but feared the worse when she incurred triple bogeys on 17 & 18 rushing to get in before the storm came!
Several ladies played a 9 hole stableford competition the winner of which was Angela Adamson with 15 points who beat Jane Gee on a card play off with Marion Harrison 3rd with 14 points
++++++++++++++++++++++++++++
Ladies and Seniors Annual Stableford 21st September 2020
A beautiful sunny morning made this year's Ladies/Senior's Betterball Stableford extremely enjoyable. With the best score from the Ladies and the best score for the Gents to count on each of the 13 holes, the winners, by a considerable margin with 65 points were Jean Taylor. Celia James, Alan Woolley and Don Cooper. (Unfortunately Alan wasn't available whilst this was taken!!!)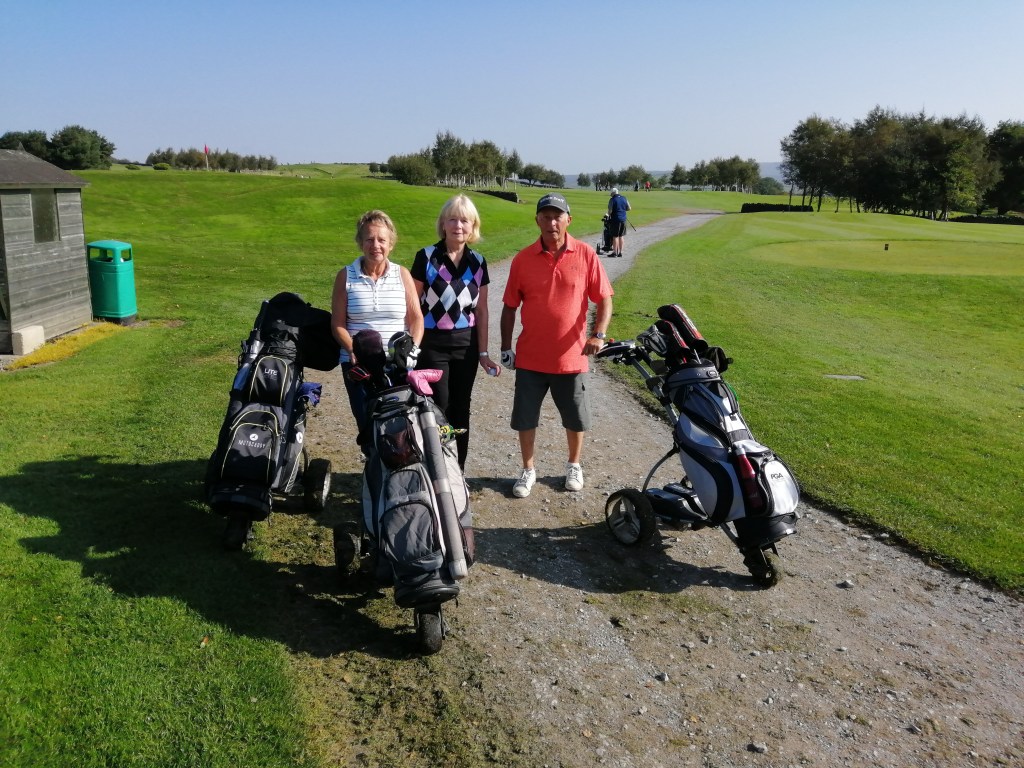 Runners up with  62 points were Lady Captain, Joyce Hadfield, Bob Palmer and Alan Morton. 3rd, with 60 points, were Alison Rudder, Pam Boffey, Dave Good and Paul Lewis whilst 4th with 59 points were Jo Coull, Jane Gee, Tom James and Graham Hadfield.
Once again many thanks to Jean and Jeff for organising this popular fun event.
 Fun Competitions 2020
We really would like our new members to join in & play with the section. As well as the weekly qualifying competitions, the 'Fun competitions' are especially designed for this as they are 'Fun' & mean that all abilities can play together & we can get to know each other. The new members who have entered have all said how much they have have enjoyed themselves. 
Ladies 1,2,3 Waltz Wednesday 7th October
Winners with 48 points were Alison Rudder, Pam Boffey and Brenda Grimshaw.Runners up Jackie Piper, Mo Harrison and Lynne Mulhearn 46
Congratulations to everyone
Texas Scramble 4th October
Congratulations to the winning team of Lady Captain, Jane Gee and Pam Boffey with a score of 48.2
Runners up were Liz Milne, Joyce Hadfield and Brenda Wheeldon 52.1
Other Places:
3rd 52.2 Lynn Mulhearn, Jo Coull and Mo Harrison
4th 55.5 Jean Taylor, Chris Currie and Brenda Grimshaw
5th  56.7Jane Howard, Judith Johnson and Joyce Bennett
Well done to everyone who took part.
Ladies 1,2,3 Waltz Wednesday 7th October
Winners with 48 points were Alison Rudder, Pam Boffey and Brenda Grimshaw.Runners up Jackie Piper, Mo Harrison and Lynne Mulhearn 46
Congratulations to everyone
Autumn Meeting Wednesday 13th September
Congratulations to Ann Brown winner of today's competition played over 13 holes with 23 points. Second place went to Angela Adamson just one point behind with 22 whilst Jean Taylor and Jane Howard tied for 3rd place with 21.
Well done to everyone who took part despite the poor weather.
SUNDAY 26TH JULY  – TEXAS SCRAMBLE with a twist!
Fantastic turnout of 6 teams of 4 players. Encouragingly, 4 of the teams had new members with them and one lady had only been playing 6 weeks!
The sun was shining which added to a fun and an enjoyable day was had  by all. The different format allowed all team members to play an important part in the scoring, rather than the strongest player dominating  the game.
1st:   A Wright,(Lady Captain) M Harrison, J Taylor, M Stanley 62.9
2nd: M McGibbon, J Piper, J Gee, E Ardern 65.6
WEDNESDAY 8th JULY – 1,2,3 WALTZ
Thanks to all of the ladies who entered this comp and we hope you enjoyed it!
1st
J Coull, A Shields & R Unsworth 69 points (£15 each)
2nd
A Wright, (Lady Captain) V Richardson & H Harrison 66 points (£5 each)
Well done to all of the winners.
WEDNESDAY 17th JUNE – .

4BBB
We were so lucky with the weather. It was an amazing turnout and a pleasure to see new members joining in. There were some excellent scores. Congratulations to the winners.
1st:   M Palmer & C James 51 points
2nd: C Wild & E Arden 45 points
3rd:  J Bennett & B Fink 45 points
+++++++++++++++++++++
Christmas  Lunch 20

19
The Ladies had a very enjoyable festive meal at the club today hosted by Jess and prepared by our new chef, Steph.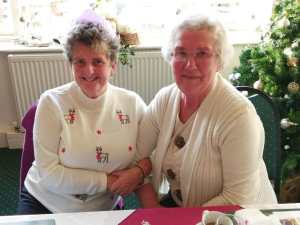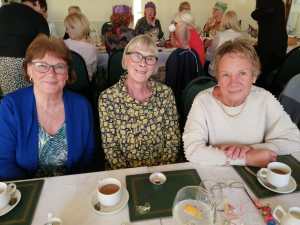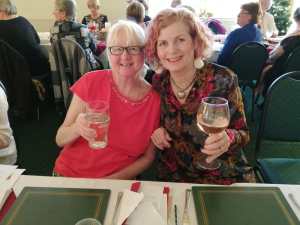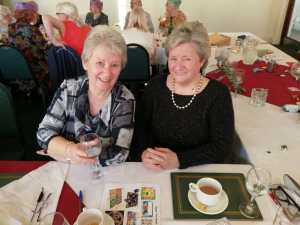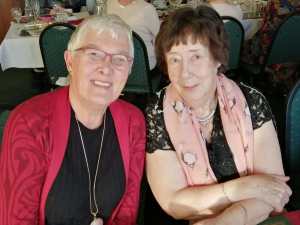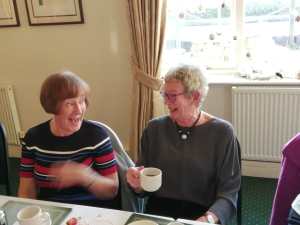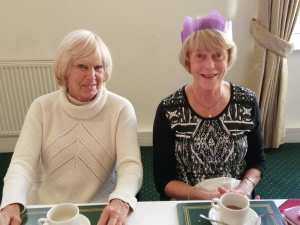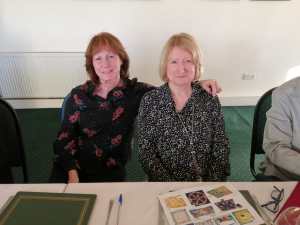 Thank you Ladies for a perfect start to the festive season!
Clarin's Evening 23rd October 2019
Once again, the Clarin's Evening was a huge success and organiser, Margaret Palmer, would like to thank everyone who supported the event by attending, buying raffle tickets etc so much so that the event has already been booked in for 2020!
The evening raised a profit of £591 and the Clarins girls were really pleased with their sales of £2340.
Sarah, from SOS, was very happy with her sales and we have booked her to do a fashion show next May so once again we'll be looking out for models!
Ladies Turkey Trot 2nd October 2019
This year's turkey trot was blessed with amazing weather which combined with the excellent state of the course and the stunning views of Kinder and the surrounding hills made it a perfect day.
The winners, with 54 points were two ladies from Romiley Golf Club with a 'ghost' player from New Mills. runners up with 48 points were two ladies from Disley Golf Club plus a lady from Carden Park.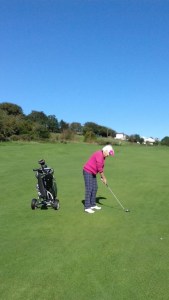 Many thanks to everyone who took part and helped make it such a great day. we look forward to welcoming you back in 2020.
Ladies invitation to Seniors 23rd September 2019
16 ladies and 16 gents from the Senior's section enjoyed an excellent morning's golf in ideal weather conditions and with the course once again in tip top condition. Played as a betterball stableford with one gent and one lady to score on each hole, the winners, with an excellent score of 62 point, were Jean Taylor, Iris Tolputt, Keith Wright and Clive Garside.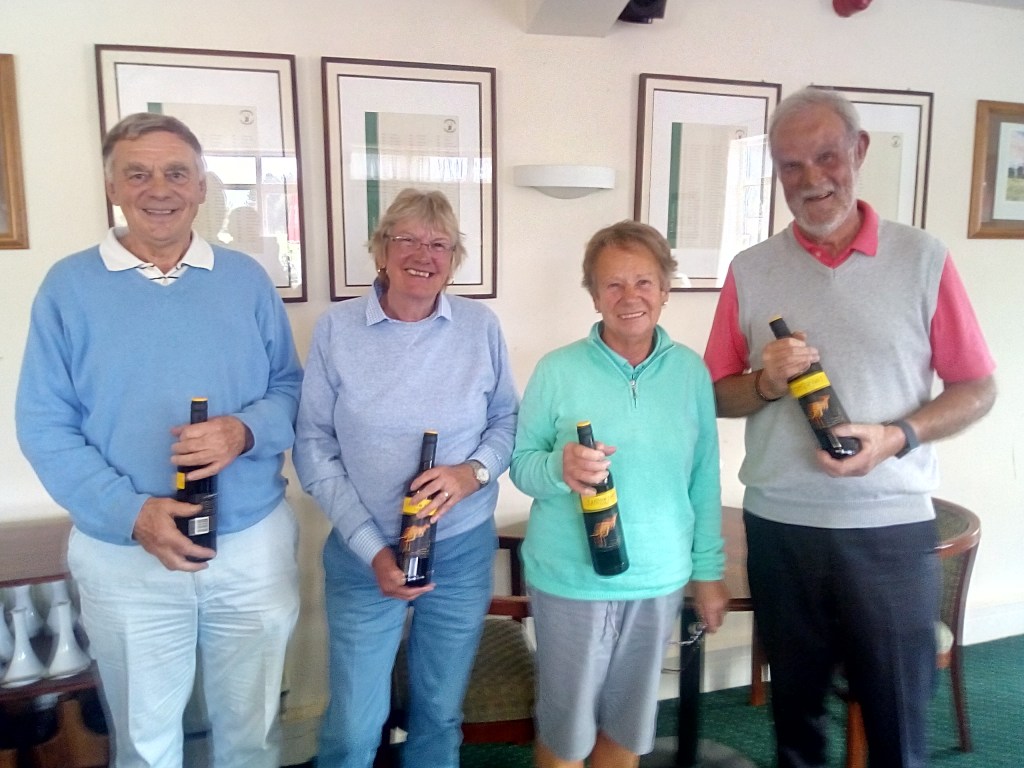 Runners up on 58 were Jo Coull, Brenda Grimshaw, Dave Hibbert and Don Cooper.
The game was followed by some tasty soup and sandwiches. A big thank you to everyone who took part and to the organisers.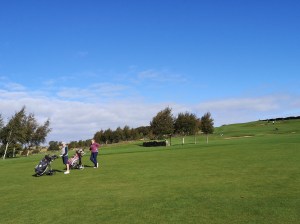 Lady Captain and Mrs Pam Boffey enjoy a leisurely stroll down the 9th fairway!
Ladies and Gents Away Day at Hawarden Golf Club Sunday 15th September 2019
A great day out was enjoyed by 19 of our members who played in a mixed competition last Sunday at Hawarden Golf Club.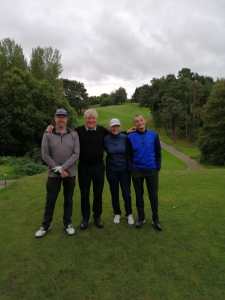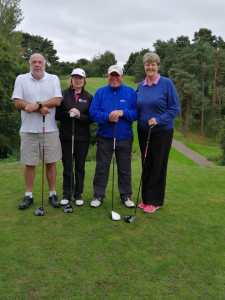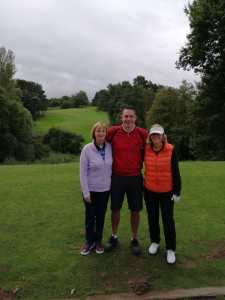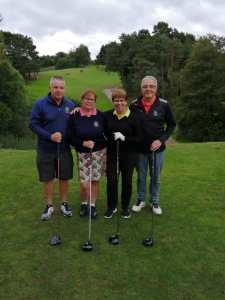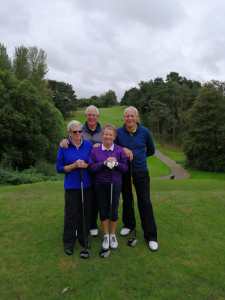 Past Captains and Past Presidents Day 2019
The Ladies held their Past Captains and Past President's competition on Wednesday 4th September which was followed by a fantastic meal in the evening.
Winner of the 9 hole competition was Joan Flowers with the main prize going to Janet Bowers who is shown receiving her prize from Lady Captain.
Well done to the prize winners and to everyone who took part.
Mr Captain's Day
Finally after three cancellations due to weather Mr. Captain's Day to the Ladies at last went ahead!
The weather was good, albeit a bit windy, but a great day was had by all.
Winner of the comp was Margaret Palmer with Mo Harrison as runner up. The photos below show both ladies being presented with their prizes by Mr. Captain.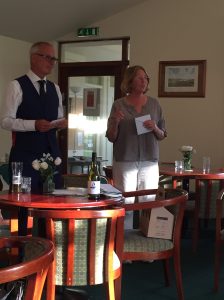 The ladies would like to thank Mr Captain for the strawberries and Pimms at half way house  and for the lovely buffet he provided after the presentation.
In Memory of Ray Flowers
Sadly, earlier this  year Ray Flowers, who had been a member of the club  for over 30 years and was, as such, a Life Member passed way. As a tribute his wife Joan and the Ladies Section of the club commissioned new red and blue tee markers which are now in position on the course.
Our thoughts go to Joan and her family. Ray was an extremely well liked member of our club and in every respect  'a true gentleman'.
Ladies Open 7th July 2019
128 ladies arrived, hoping for a good day out and what did they get? A REALLY good day of golf, cake eating and shopping!
Oh! And yes, the golf was pretty good too!
There was so much work put in by all the volunteers that the day flowed smoothly. The car park attendants managed to squeeze in all the cars safely; the reception crew met and greeted, ensuring that all players knew the format for the day;
Mr. Captain was all booted and suited to meet the teams on the first tee and despite the heat he kept his jacket on all day!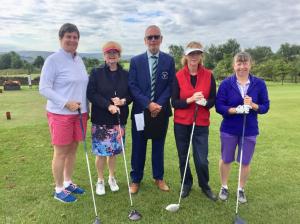 Half way house provided resuscitation in the form of tea/coffee and lots of cake and the spotters tried to ensure balls were not lost! Once back in the clubhouse the ladies shopped 'til they dropped buying sports clothes.
Everyone commented on how good the course was, so mega compliments to the green's staff.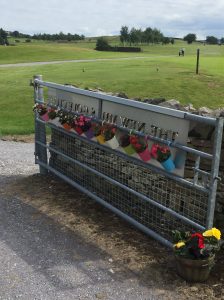 The ladies went home very happy and impressed with the way the men and ladies worked together to make the day such a huge success. Many thanks to everyone who helped to achieve this.
Lady President's Day 9th June 2019
Despite the threat of rain Lady President's day was extremely successful again this year.
Winner of this year's competition was Marie-Anne Mc Gibbon with Jackie Piper coming second.
Thanks to everyone who played and helped make it such a special day for our Lady President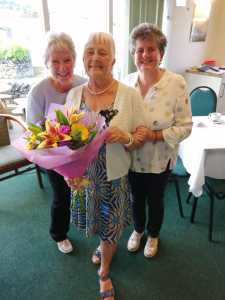 Annual Easter Egg Competition April 15th 2019
36 members of the Ladies and Seniors sections took part in this morning's Easter Egg Competition. Playing in teams of four with two men and two ladies in each team,, the competition was played as a Stableford with the best Ladies score and the best Gents score to count on each of the 13 holes.
A very strong cold easterly wind made playing conditions difficult but this didn't deter the winning team of Brenda Grimshaw, Alison Rudder , Mike Howard and Hugh Jones who scored an excellent 63 points.
Second place, on a card play off, with 55 points went to Joyce Hadfield, Jackie Piper, Bob Palmer and Jeff Stewart whilst third place went to Lady Captain, Angela Adamson, Tom James and Rod Taylor.
Many thanks to Jean Taylor for once again organising this superb annual event which raised £56 for club funds whilst the raffle, organised by Janet Bowers, raised a staggering £261.50 with the prize of an Easter hamper going to Andy Chadwick.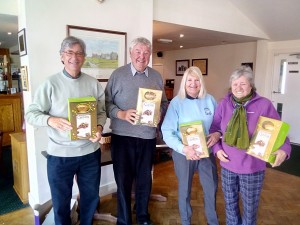 The photo shows the winning team with the Easter Eggs
---
Looking forward to Spring
On the 22nd October the Ladies section had a very busy day helping to plant 1000 bulbs on the front half of the course. It is anticipated that the bulbs will add a huge amount of colour when they flower in February and march 2019. the photograph below shows some of the ladies who helped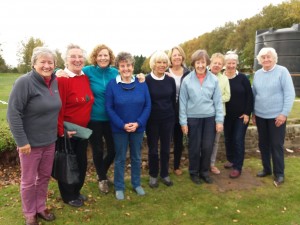 ---
Ladies Presentation Evening
The Ladies Section held their annual Presentation Evening on Wednesday 17th October to mark the end of the 2018 summer playing season.
The evening was well attended and everyone appreciated the light buffet provided by the committee after the presentation.
Lady Captain welcomed members and presented the prizes, commenting that, although not everyone won a major prize, almost everyone won something over the season, whether it be a glass or balls!
The following were the prize winners:
Dowell Cup :                                                           Jane Howard
Warren Cup:                                                         Alison Wright
Kitchen Trophy:                                                  Liz Milne
Wilson Bowl :                                                        Marie Anne McGibbon
Lockwood Trophy:                                             Alison Rudder
Club Trophy:                                                          Alison Wright
Lady President's Salver:                                 Jane Howard
Lady Captain's Prize:                                        Alison Wright
Mr Captain's Prize:                                            Joyce Bennett
Mr President's Prize:                                        Celia James
Past Lady Captain's/President's Day     Jackie Piper
Spring Meeting                                                     Jean Taylor
Lady Captain emphasised  that it was particularly pleasing to have welcomed new members this year all of whom have made a significant contribution to the Ladies Section.
---
Ladies invitation to Seniors 5th October 2018
32 members of the Ladies and Seniors sections took part in a very enjoyable Quad am this morning. With the best lady  and the best gent to score on each of the 13 holes the winning team, with a very creditable 67 points were Lady Captain, Judith Johnson, Mike Howard and Richard Phillipson who are shown below with their prizes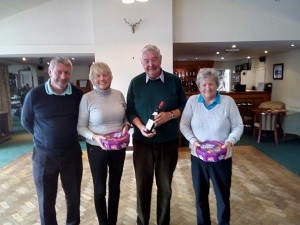 Runners up with 62 points were Jean Taylor, Helen Hodkinson, Phil Smallman and Mr. President.
The event was followed by soup and sandwiches after which Lady Captain thanked Jean Taylor and Tom James for once again organising the event.
---
Ladies Day at Sickleholme 23rd August 2018
Seventeen of our ladies had a very enjoyable day at Sickleholme Golf Club at Bamford. The weather was beautiful and the views stunning. The course played long and some of the holes proved very challenging.
Playing a stableford in teams of three, with the best two scores to count, the prize for the best scores over the first nine holes went to Brenda Fink, Celia James and Jackie Piper with 65 points. The prize for the best 18 holes went to Alison Wright, Iris Tolputt and Lady Captain with 71 points.
Alison won the prize for the best individual score with 33 points whilst the prize for nearest the pin went to Marie -Anne McGibbon who was just 27 inches from the hole!
After the prize giving, everyone enjoyed an excellent meal in the restaurant which marked a fitting end to an excellent day out.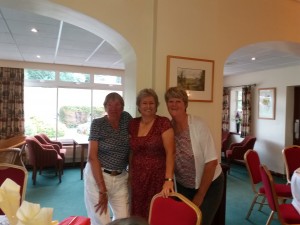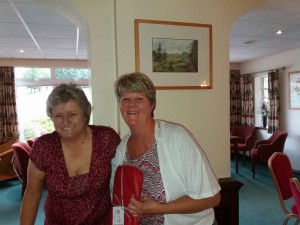 ---
Lady President's Stableford 29th July 2018
A rare blip, in an otherwise superb summer, with the threat of thunderstorms, meant that Lady President's competition was reduced from 18 to 9 holes.
However, with an excellent score of 18 points, Jane Howard won the event, albeit after a card play off, with Angela Adamson taking second place.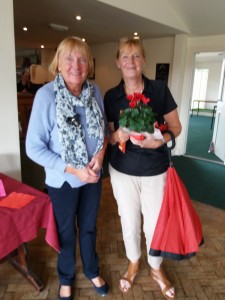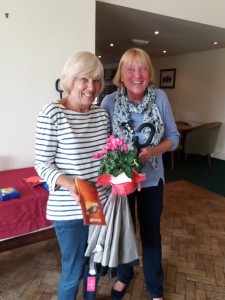 The photos below show Marie-Anne Mc Gibbon and Margaret Palmer receiving their prizes for nearest the pin.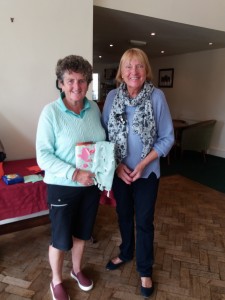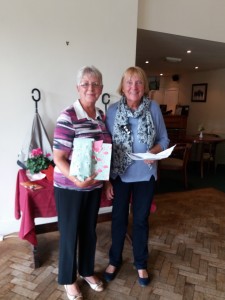 Lady President kindly provided refreshments for everyone after the event.
---
Mr Captain's Day to Ladies 22nd July 2018
Over 20 ladies took part in Mr Captain's Day to Ladies on a beautiful summer's day. A stableford, off full handicap, was played with the majority of ladies playing a full 18 holes. The winner, with a very impressive 38 points, was Joyce Bennett with Pam Boffey coming second with 36 points.
A separate 9 hole competition was also held with Joan Flowers and Ann Jones winning the prizes.
Alison Wright won both the prizes for nearest the pin.
At the end of the game everyone enjoyed the delicious buffet provided by Mr. Captain
The photos show the prize winners with Mr Captain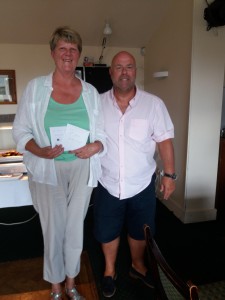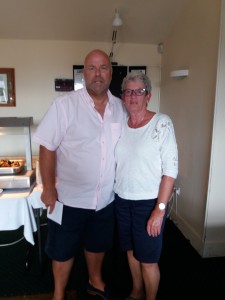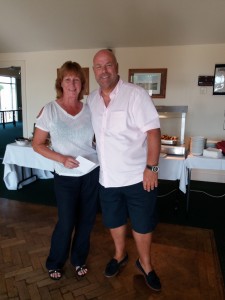 ---
Day out at Chatsworth 19th July 2018
24 of our Ladies went to Chatsworth Golf Club on 19th July to play in our annual exchange day. A Texas scramble utilizing 1/6th of combined handicap was played with each lady having to undertake at least 5 drives. The winners,  with a superb 59 points, were Marie-Anne Mc Gibbon, Helen Hodkinson and Angela Adamson. Afterwards they were presented with white aprons showing the New Mills Golf club logo. There was a tie for second place won by a card play off by Brenda Fink, Judith Johnson and Marion Harrison with 63 points.
One group of ladies, Ann Jones, Grace Watts and Joan Flowers played a 9 hole competition and came in with a very respectable score of 38 points and received a potted plant for all their hard work on a very hot day!
After the game everyone retreated to Rowley's pub and restaurant which marked a fitting end to a glorious day.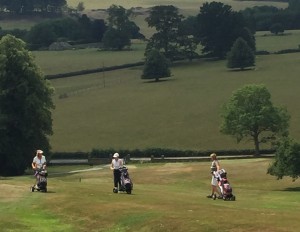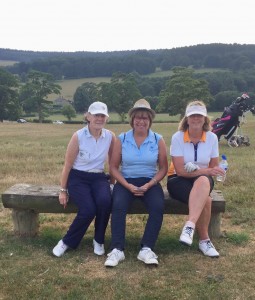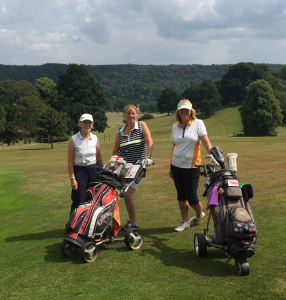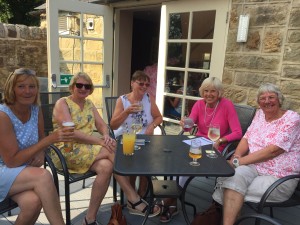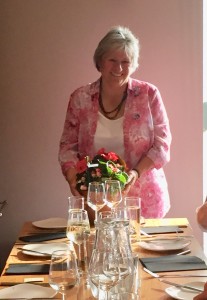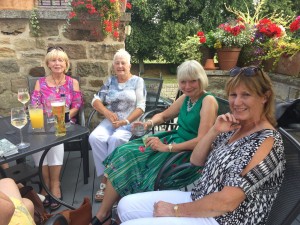 ---
Lady Captain's Day 24th June 2018
An extremely hot day proved to be hard work for all the 27 ladies who took part in the 18 hole stableford event organised by Lady Captain, Alison Rudder.
All players were presented with a small momento on the 1st tee by the Lady Captain and photos were taken of each group of players.
The scores were excellent with Alison Wright scoring a very respectable 38 points. Runner up with 35 points was Marion Harrison beating Jane Gee in a card play off. Ann Brown came fourth.
Other prizes were awarded to
Alison Wright  – nearest the pin8th
Brenda Wheeldon – nearest pin 15th
Jane Gee -nearest the line 9th
A prize was awarded to Alison Wright for an Eagle on the 14th earlier in the month.
The day ended with all the competitors and guests enjoying a cream tea.
The photos below show some of the prize winners on the day.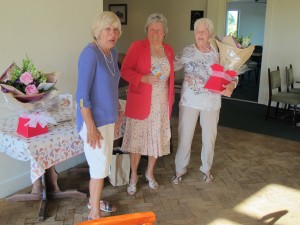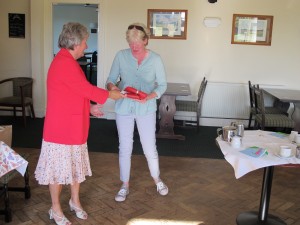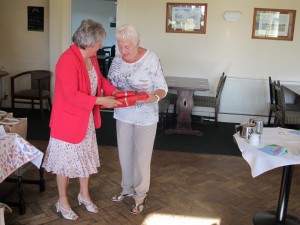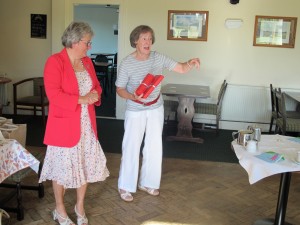 ---
Mr President's Day to Ladies  17th June 2018
27 lady members enjoyed superb weather and a fantastic day of golf today.
There were some very good scores with Celia James scoring an excellent 39 points to win the competition. Second place, with 37 points was Angela Adamson whilst Judith Johnson came third with 35 points after a card play off.
In addition, three ladies, Grace Watts, Joan Flowers and Marion Harrison, played a separate 9 hole competition which was won by Marion with 17 points.
A very enjoyable cream tea provided a fitting end to a really super day's golf.
The photos below show Mr President presenting prizes to the winners.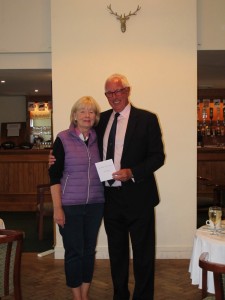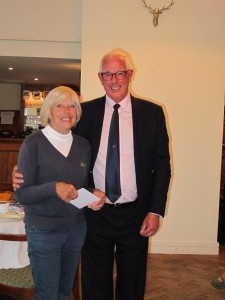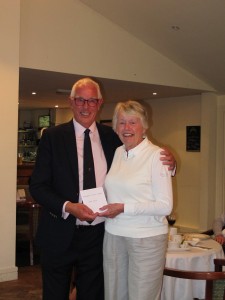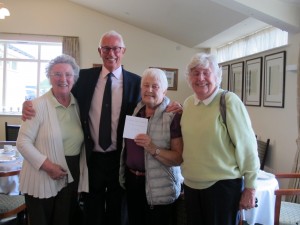 ---
Ladies day out at Malkins Bank Golf Club
On Sunday 22nd April, fifteen of our ladies joined Lady Captain for a day's golf at Malkins Bank Golf Club at Sandbach.
Playing in teams of three, off full handicap, with the best 2 to score, the competition was won by Joyce Bennett, Marie-Anne McGibbon and Alison Wright.
Runners up were Jackie Piper, Celia James and Iris Tolputt.
The game was followed by refreshments which proved a fitting end to a great day out.
The photos show the winning team and runners up with Lady Captain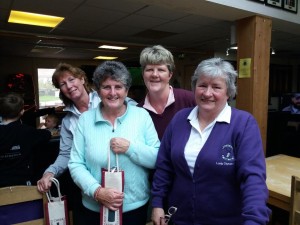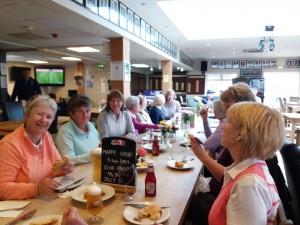 ---
Annual Easter Egg Competition
Once again this popular event organised by Jean Taylor was well supported and a great success. Played in teams of four with two ladies and two gents in each team and with the best ladies' score and best gents' score to count, the event was won  by the team of Lady Vice Captain (Jane Howard), Brenda Fink, Frank James and Bernard Pickering with an excellent score of 66 points over 13 holes.
Well done to the victorious team who are about to enjoy their winnings!
---
Ladies Presentation Evening 2017
Prizes were presented by the Lady Captain. Well done to all winners and to Jean Taylor who compared the evening.