Fairway Distance Markers
Distances to the centre of the green are indicated by coloured painted  disks on the fairway.
Red  – 100 yards
Yellow  – 150 yards
White  –  200 yards
Coloured Flags on Greens
Different coloured flags are used to help players determine the position of the pin on each hole, i.e.:-
red – towards the front of the green
yellow – towards the centre of the green
white – towards the back of the green
(These colours correspond to the colours on each tee i.e.  red tees – front;  yellow tees – centre; white tees – back).
Courtesy on the Course
Competition or match players have priority on the course at all times
In the interest of all, players should play without delay
No player should play until those in front are out of range
Players searching for a ball should signal the players behind them to pass as soon as it becomes apparent that the ball will not be easily found. They have a maximum of 3 minutes to do this. They should not continue play until the players following them have passed and are out of range
When the play of a hole has been completed, players should immediately leave the putting green
Players may cut in on the 6th, 10th or 14th tees but ONLY if they will not delay players playing the previous hole
Priority on the Course
In the absence of special rules, two ball matches should have precedence of and be entitled to pass any three ball or fourball match
A single player has no standing and should give way to a match of any kind
If a match fails to keep its place on the course and loses more than one clear hole on the players in front, it must allow the match following to pass
Care of the Course
Before leaving a bunker players must carefully fill up and smooth over all footprints and ball marks
Rakes should be left in bunkers
Through the green, players should ensure that any turf cut or displaced by them is replaced at once and pressed down and any damage to the putting green made by the ball or player is carefully repaired.
Divot bins can be found on all par 3's and in the teeing area on the practice ground. Due to the small teeing area, tees can become damaged quickly if neglected.  Please fill in divots with the mix provided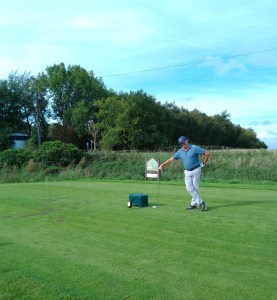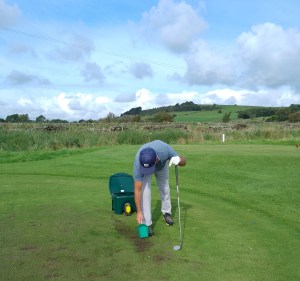 Health and Safety on the Course
Please familiarise yourself with the course risk assessment on the committee information board and in the clubhouse
Golf can be a dangerous game so please ensure you understand and comply with the following:
Don't drive off or hit your ball if it is likely to that you may hit a fellow golfer
Ensure players have cleared before playing your next shot
Are there golfers within sight or your distance range?
Take into account possible mis hit shots by considering all potential trajectories of your shot such as could it go onto the next fairway or are there golfers within sight on the next fairway?
If you inadvertently hit a shot which may be close to other people shout 'FORE' as loudly as possible
If you hear the shout 'FORE' immediately crouch down and protect your face and head
Crouch behind your bag or trolley if possible and under no circumstances look for the incoming ball
Please be aware of pedestrian's right of way on the course
Dress Code
Our club's dress code is defined in the following link – NMGC Dress Code
Litter
Please do not leave litter lying about the course
Dogs
Dogs are not allowed on the course other than on public footpaths when they should be on a lead
Trolleys and Buggies
Only trolleys with wide wheels are permitted
Trolleys and buggies must not be taken onto any tee or green
Trolleys and buggies must be kept outside the bunkers adjacent to greens
Where indicted, trolleys and buggies must follow the route indicated by signs or by white markers on the ground
Users of motorised buggies must have adequate Personal Liability Insurance, copies of which must be lodged with the professional before play commences. The Health and Safety Guidelines must be adhered to when driving on the course
Personal Insurance
Members and visitors are notified that personal property, including golf clubs and accessories, IS NOT covered by Club Insurance. You are therefore strongly recommended to take out golfer's personal insurance to cover all risks. This should include personal liability for injury to others