Welcome to The Clubhouse at New Mills Golf Club
Perched high above the town of New Mills and surrounded by breath taking views of Kinder and the stunning countryside sits The Clubhouse @ New Mills Golf Club. A warm, welcoming, family friendly, dog loving establishment priding itself on a good wholesome menu prepared with care and attention.
We took over the stewardship of the club just before Christmas 2019 and had many exciting plans for the upcoming months ranging from Christmas celebrations to Beer and Band festivals, Artisan Markets alongside weekly Sunday Roasts plus a great selection of regular menu options provided by our executive chef Steph. However, the Covid-19 crisis has had a profound effect on our plans. Throughout the last few months, with the clubhouse closed, we set up a popular 'half-way house' serving hot drinks and snacks to members and visitors alike.
Now as the restrictions are eased and we can once again admit members and guests into the clubhouse we are bringing back our full menu which you can access by clicking on 'menus'
We look forward to welcoming everyone back !

Jess and Steph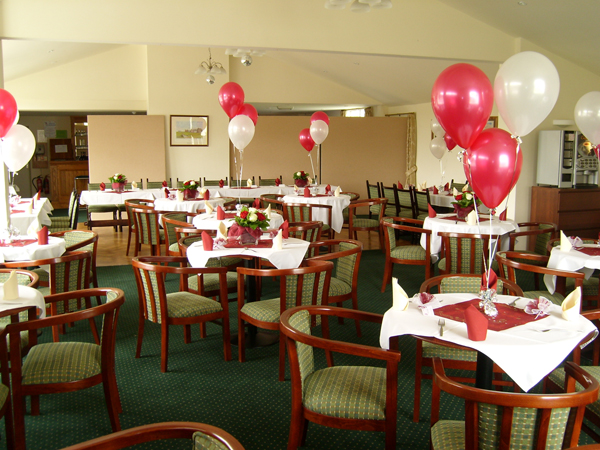 Booking the clubhouse for an event is free for members.
For non members, there is a small charge to hire the room plus the cost of food.
If you have any need for an events space please get in touch and we'll do our very best to accommodate you.
You can contact us on 01663 743485 or email  jessica@newmillsgolfclub.co.uk
We will be happy to meet you and help you plan your special day.
+++++++++++++++++++++++++++++
Contact us at jessica@newmillsgolfclub.co.uk
Message us on Facebook 0r phone 01663 743485
---
Kitchen Opening Times
The kitchen is open at the following times:
Monday -Friday 10am – 3pm and 5pm -7pm
Saturday and Sunday 11am – 7pm
This weekend (August 8th) sees the return of our popular roast dinners.
There are 3 choices
Chicken £11.95
Beef £11.95
Lamb £12.95
If you would like to 'dine in' please contact Jess and let her know the number in your group  and your preferred time.
We are still offering a collection service if you are uncomfortable with dining in the clubhouse so again please contact Jess with your requirements.
We will be serving breakfast until noon and then heading on to roasts and roast barms between midday and 7pm

RECENT EVENTS
New Year's Eve 2020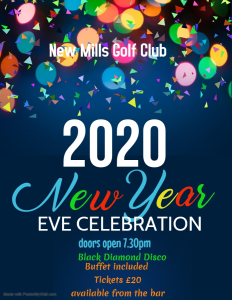 More than 120 people enjoyed a great evening at the club to welcome in 2020. Music was provided by Black Diamond Disco with a very enjoyable buffet provided by Steph and Jess. We'd like to take this opportunity to wish all members a happy New Year as well as existing guests and people who haven't yet visited us. We look forward to meeting you all in 2020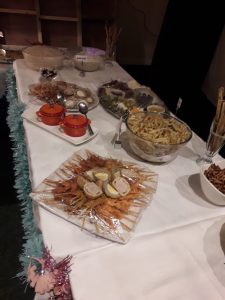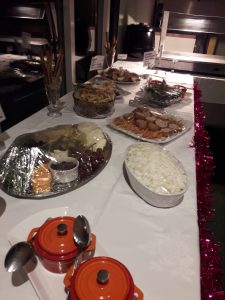 Christmas Carol Concert
Sunday December 8th
A full clubhouse enjoyed the annual Christmas Carol Concert which featured Bollington Brass band conducted
by Peter Christian. The enthusiastic audience did their bit by joining in and singing classic  traditional Carols.