Message from our Club Captain 2020/2021
I would like to thank everyone for electing me as Club Captain for 2020 and now I get to complete my year in 2021.
I am pleased to say that after a very long year we are reopening the Golf course on 29th March 2021
I am sure everyone will join me in say how amazing the course is looking after the tremendous work Nigel and the team have done over lock down. We are all now back fighting and ready to lend our support to get our great club back to its buzzing self and make 2021 the year to remember
I'd like to thank everyone for following the guidance given by the club and EGU. We are not fully out of the woods so please keep this up.
New Mills is a great golf club. It is one of the most picturesque courses in the country with stunning views in all directions designed to test  golfers of all abilities.
Added to that it is, we believe, one of the friendliest and most welcoming clubs you could find anywhere. We have excellent catering facilities, a knowledgeable and enthusiastic professional, a dedicated and hardworking greens team plus some great membership deals.
I look forward, along with my Vice Captain, Mike Bennett, to welcoming you later in 2021.
Stay safe everyone
Steve Yates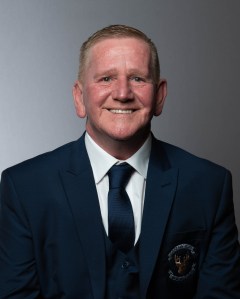 ---
Message from Lady Captain 2020/21
Welcome to New Mills Golf Club, I was also elected in 2020 as Lady Captain and am looking forward to fulfilling my Captaincy in 2021.
Whether you're a scratch golfer, high handicapper or want a relaxed place to socialise – New Mills Golf Club offers a warm welcome and a membership category to suit you.
The quality and reputation of our golf course goes far and wide thanks to our Greenkeeper Nigel and his endless team of volunteers during lock down, and its spectacular scenery from every aspect of the course gives a perfect setting to enjoy your golf.
When restrictions allow, our newly refurbished clubhouse will offer the perfect venue to unwind over a drink, and you will be welcomed by our great membership, who are special in their warmth and helpfulness which sets them apart.
Visitors are always welcome to our course or in the clubhouse, as a consequence all sections have seen an increase in membership over the past 12 months and long may it continue.
Ladies day is every Wednesday with alternate days on Sundays for business ladies, offering 9 and 18 hole competitions on both days. Full 7 day membership ladies can also play in Saturday competitions during the summer and join in the men's competitions during the winter.
Finally, I would like to wish everybody a happy year of golfing from our return on March 29th 2021.
Stay safe and I look forward to meeting you all at the club.
Alison Wright