Winter Mats and the use of Buggies
In order to help the course stay in good condition over the winter months all players must use a fairway mat on all mown areas and on all tees beginning on Saturday November 13th
We have two types of mat available for purchase from the Pro shop priced at £10 and £25 respectively.
If you are able to carry rather than use a trolley please do so. Winter wheels for some makes of trolley are available for purchase in the shop. These not only help protect the course but can also add life to your motor and battery as well!
The situation regarding the use of buggies on the course will be reviewed on a daily basis and the decision made by the Greens staff. if conditions are very wet or frosty buggies will not be allowed on the course. Exceptionally, when conditions are testing, a limited use of buggies will be allowed but only for existing members who have previously required a buggy to get round the course. If a buggy is required please contact the Pro shop
+++++++++++
Gents Presentation Evening November 26th 2021
The photos below show some of the prize winners at this year's Gents Presentation Evening. For a full list of all the winners go to the Men's Section in the 'Members section'.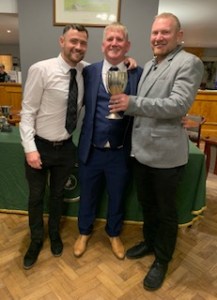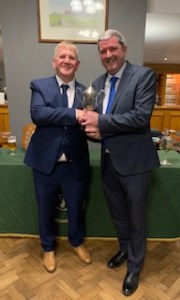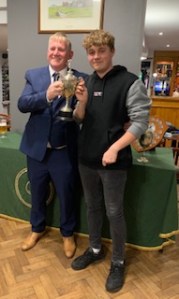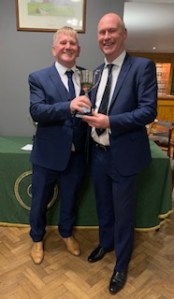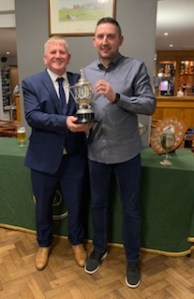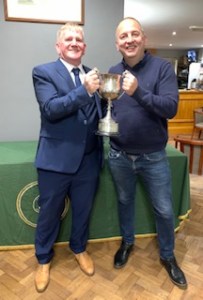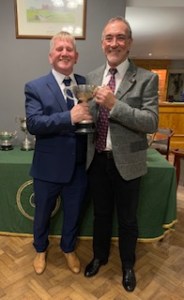 Two Special Christmas Competitions

CHRISTMAS EVE QUAD AM
Traditionally on Christmas eve we have a trip out to Stockport GC organised by Arthur. However due to the current rise in green fee rates it just isn't financially worth it. Therefore we are opening it up to everybody at New Mills on our fabulous course.
Format:10am Shotgun start
Quad_am  Stableford (Best 2 scores to count)
18 holes
To enter put your names anywhere on BRS and a draw will be sent out a week before the event.
A full English breakfast will be served for all competitors from 8am. There will be a prize giving after the event.
Cost:£15 per person.
BOXING DAY 13 HOLE TEXAS SCRAMBLE
Walk off those Christmas dinners in a fun 13 hole Texas scramble competition!
This event is a 9:30 shotgun start in a Texas Scramble format.
Place your teams down on BRS and a draw for which hole you start on will be sent out.
This event is just £5
**Please note the kitchen will be closed on this day but the bar will be open
++++++++++++++++++++
Clubhouse Events coming soon!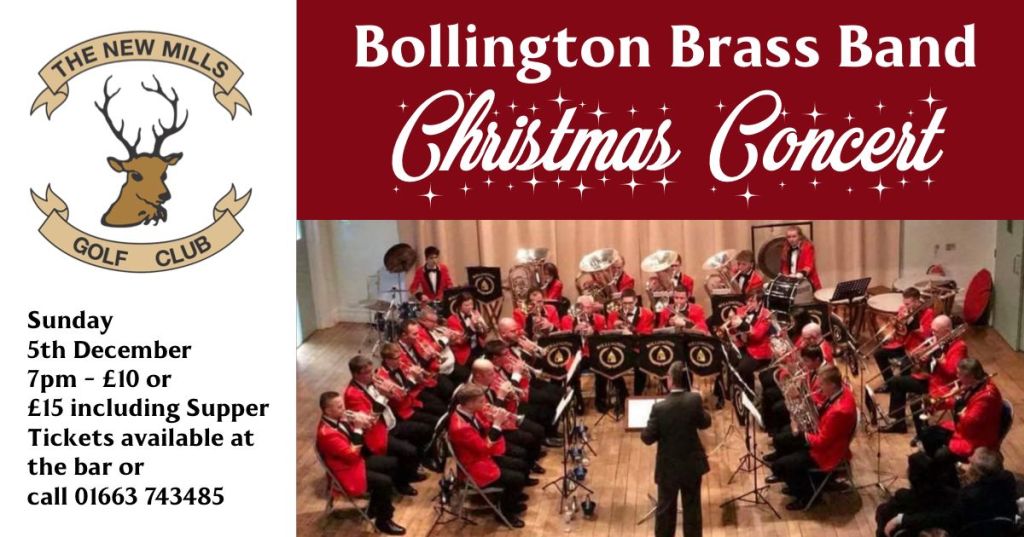 ++++++++++++++++++++++++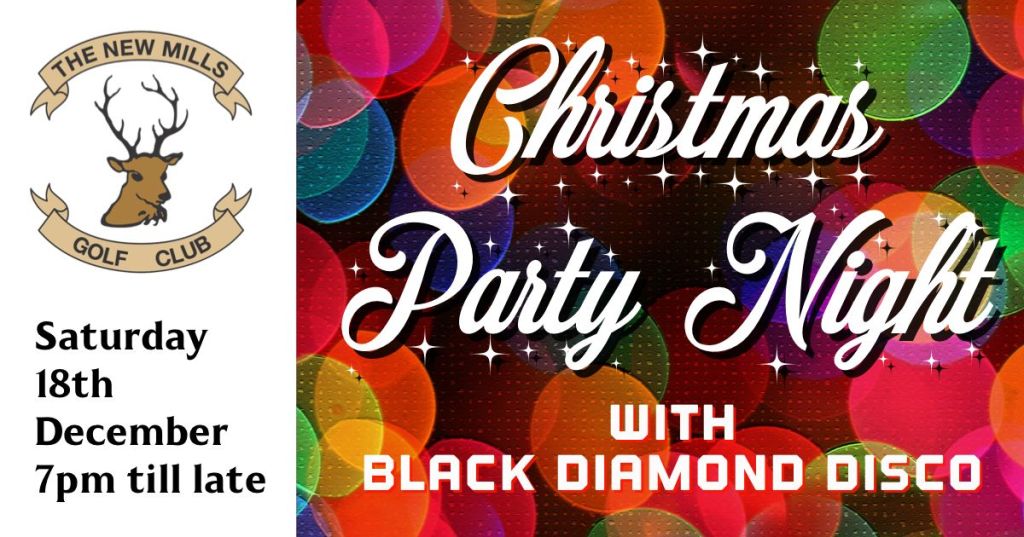 ++++++++++++++++++++
Winter Kitchen Hours
Monday, Tuesday, Wednesday, Friday:  10am -3pm
Thursday: Closed all day
Saturday: 9am -4pm
Sunday: 9am -3pm
++++++++++++++++++
Last chance to Grab a 7 day membership!
With very few 7 day memberships available, anyone who is currently on on a trial membership scheme or who would like to join as a full member, should contact Sam, our Pro, as soon as possible! As from January 1st 2022 we will not be offering trial membership or any other membership discounts.
Don't be disappointed!
++++++++++++++++++++
Knock out Winners 2021
As the golf season comes to a close we start preparing for our winter season. This year has been a fantastic year despite a late start due to Covid. It's been tremendous to see so many new faces playing in club competitions. Below are the winners of the 2021 knockouts
Mens Singles:  1st Callum Clarke, 2nd James. Ignotus  3rd equal Simon Belt and Phil Holland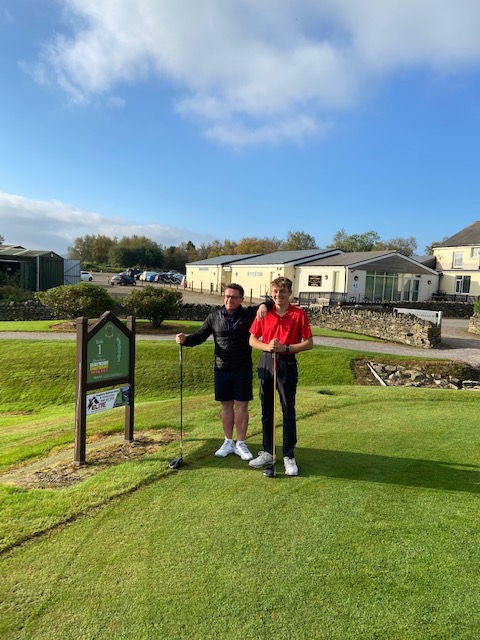 Mens Foursomes:      Winners: Ben Williams and Tony Hall   Runners Up: Giles Wyatt and Harry Wyatt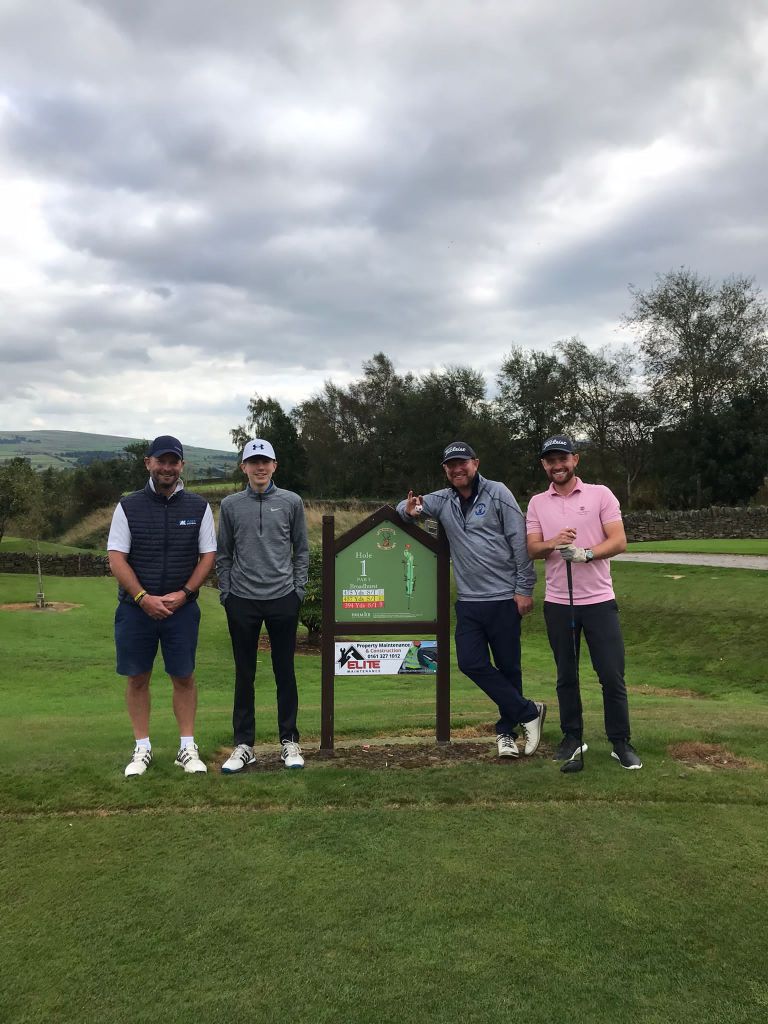 Mens Fourball:  Winners: Ben Williams and Tony Hall   Runners Up: Jonathan Melrose and  James Cooke
Mens Scratch: Winner:  Keane Hyde  Runner up: Sam Shaw
Mixed Foursomes:  see below
Brothers in Mixed Foursomes Final!
Graham Arden, Joyce Bennett, Phil Ardern and Janet Bowers went head to head yesterday in the Mixed Foursomes Final.
Conditions were perfect with just a slight breeze alongside the warm autumn sunshine.
Phil and Jan were giving 'Pidge' and Joyce 10 shots so it was always going to be a tall order.
Both couples gave their all but eventually steady play and some good fortune saw Jan and Phil win by 5 &4.
Congratulations to them both and commiserations to the runners up!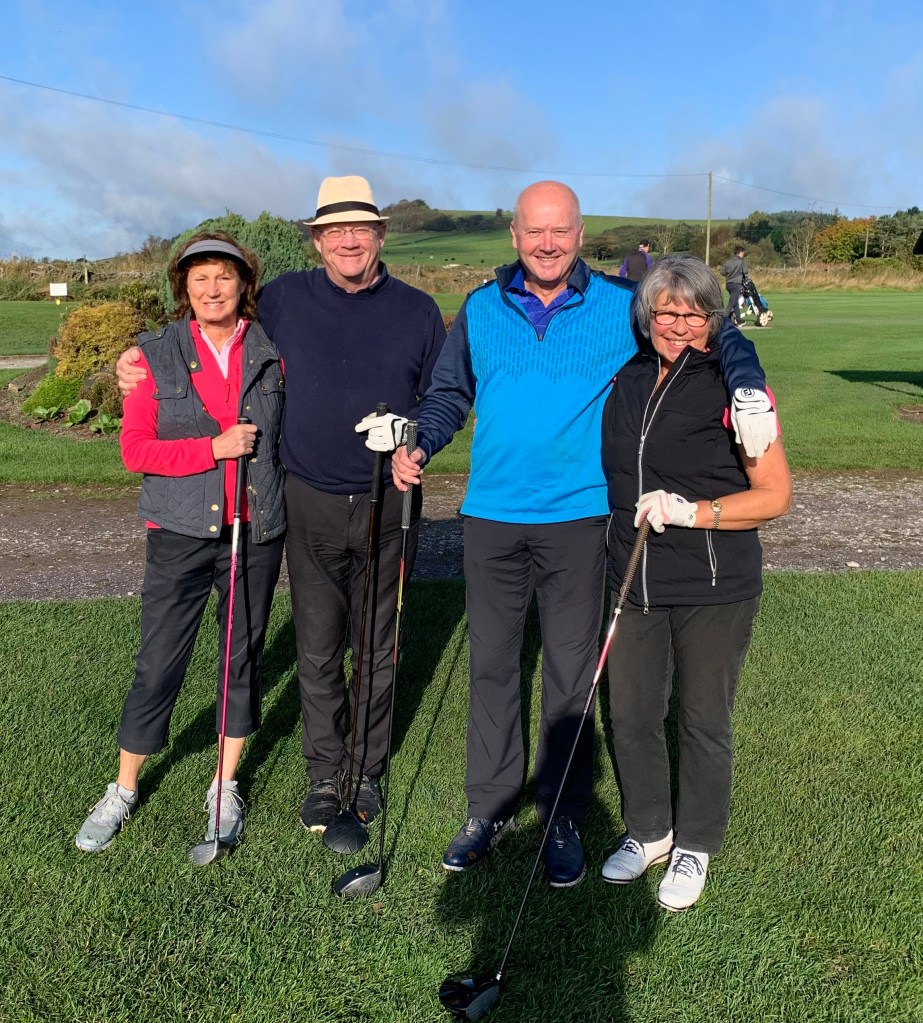 +++++++++++
Winter League 2021/2022
For details of this year's winter league please go to the members section and scroll down to Winter league 2021/22
++++++++++++
Pete and JT lose in the semi final of this year's
Derek Horsey Charity Competition
Unfortunately Peter Coull and John Tennant's run in the Derek Horsey Charity Competition knock out came to an end this morning when they lost their semi final match against  Disley going 2 down.
Reaching the semi final stage of the competition is a fantastic achievement and on the day they were unfortunately giving away too many shots to the two guys from Disley.
Well done to both players for getting so far which is easily the best we have achieved in this competition.
+++++++++++++++++++++
President's Day 2021
Atrocious weather made this a very demanding day and many were unable to complete their round. However, many congratulations to the various winners especially to the overall winner Tim Johnson.
Many  thanks to Mr President for the  complimentary food and for the evening disco which was enjoyed by everyone.
PRIZEWINNERS:
1st Tim Johnson
2nd Giles Wyatt
3rd Tom Ryder
Best Gross – Simon Ignotus
Nearest the pins
4th Sean Moore
6th Nigel Garside
8th Kallis Hyde
10th John Coleman
15th Bob Gaskill
16th Phil Urmston
Longest Drive 14 – Kallis Hyde
+++++++++++++++
New Mills Golf Club's answer to Oktoberfest!
Oom-Pah-Pah Night
Saturday October 2nd
7:30 pm
Featuring Bollington Brass band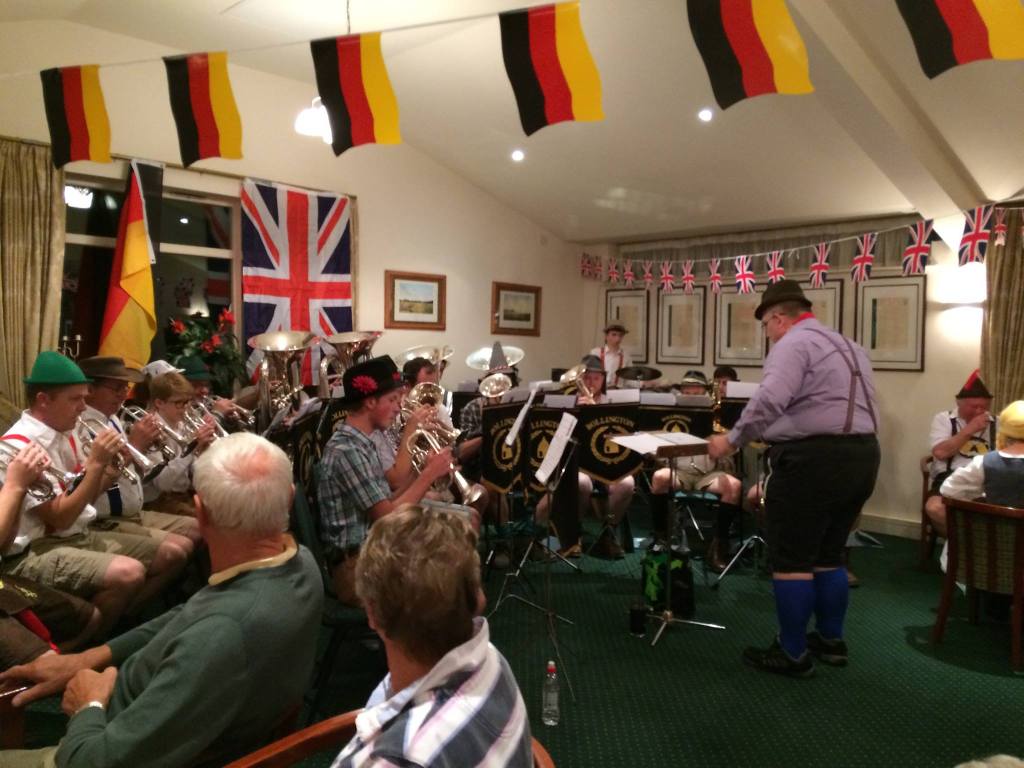 +++++++++++++++++
Lady President's Day July 25th 2021
Fabulous weather and the course in pristine condition followed by a delicious afternoon tea made Lady President's Day a very special day for everyone who took part.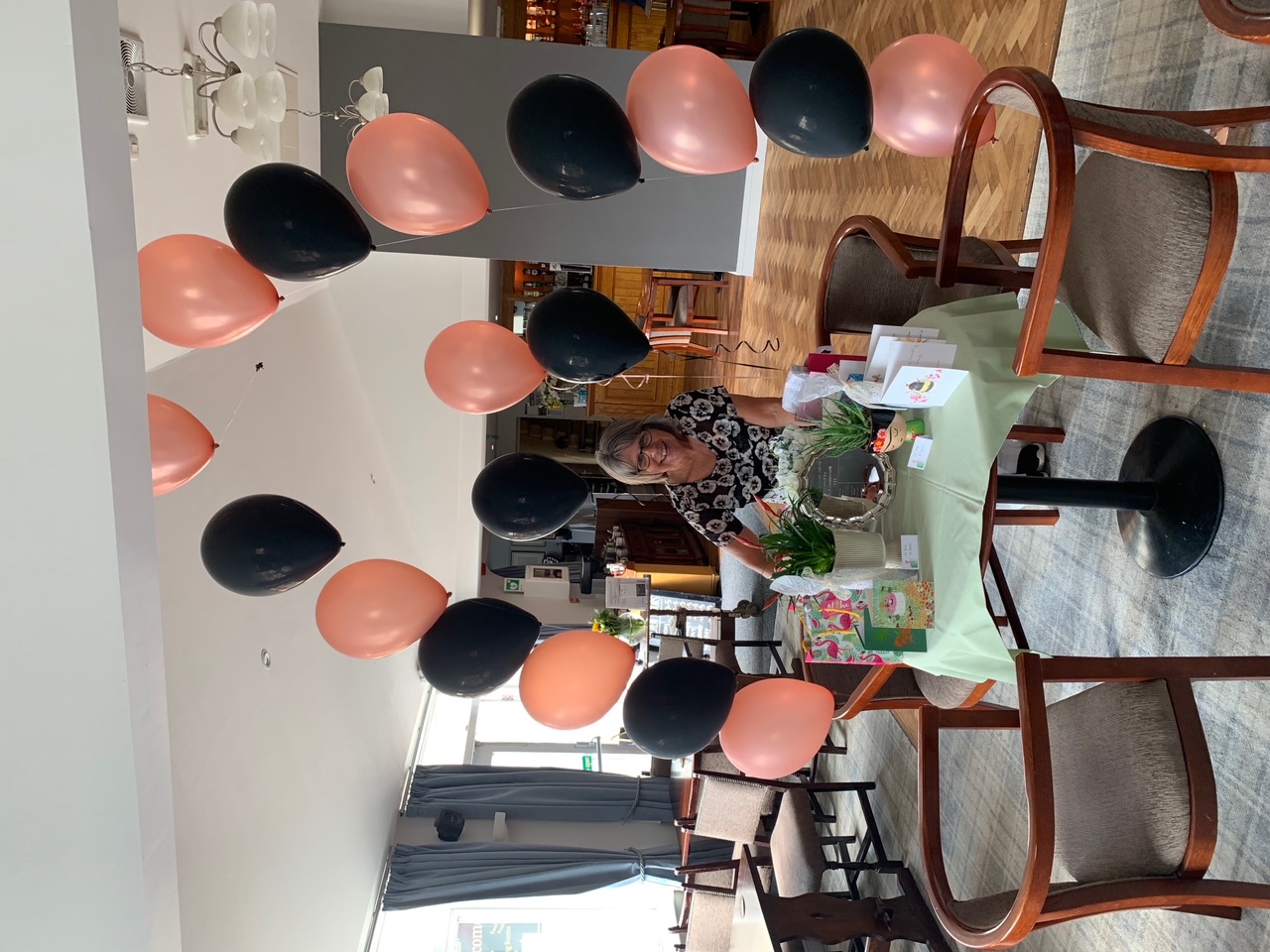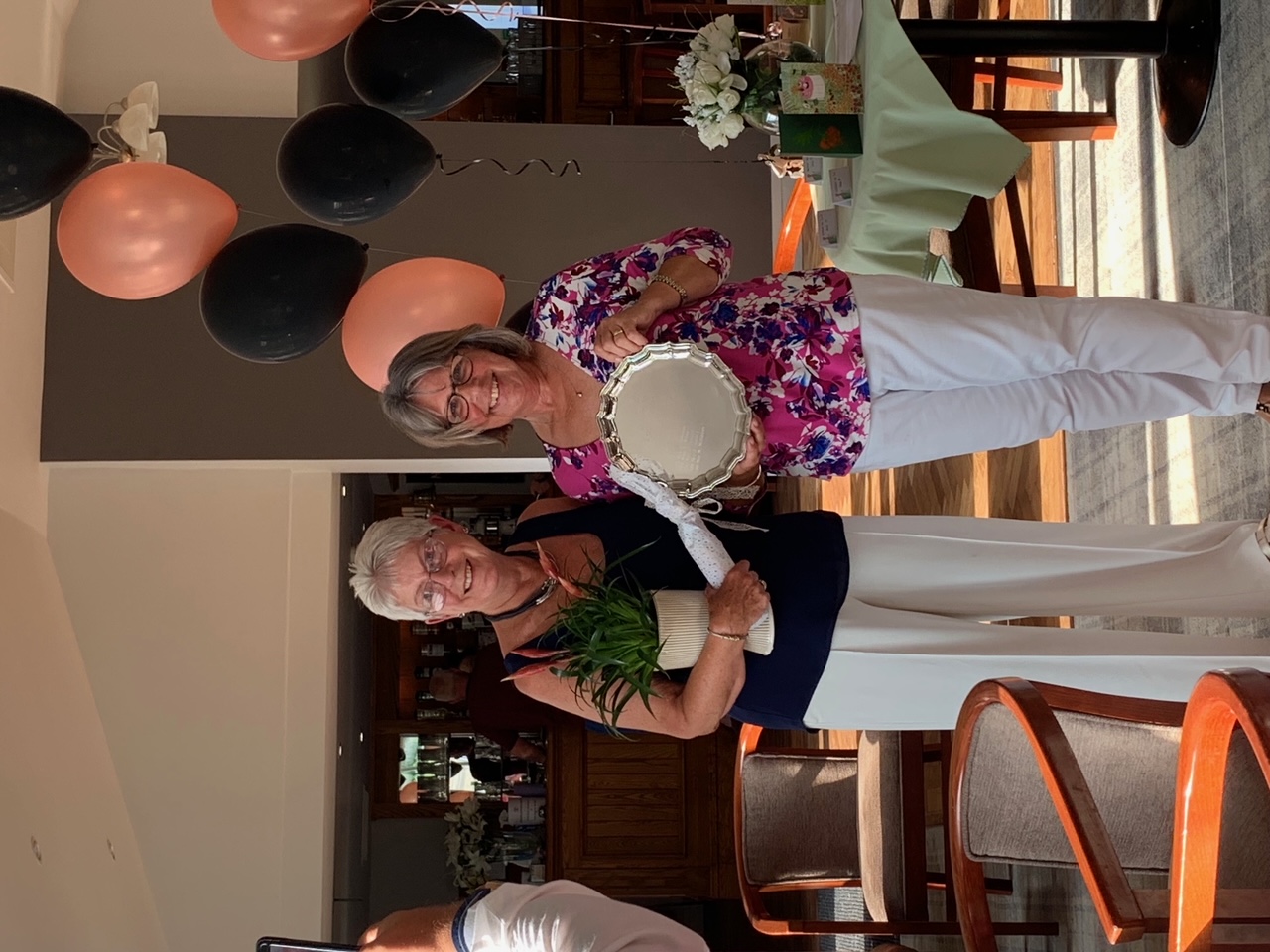 Margaret Palmer, winner of the 18 hole Stableford, with a superb 45 points receives her trophy from Lady President, Janet Bowers
More photos along with the list of prize winners can be found by going to the Ladies Section
+++++++++++++++
Sam's Golf Day Sunday July 18th 2021
Yesterday was my 7th annual Golf Day and the  4th here at New Mills. All I can say is what a day!
We smashed records in every way possible. It was the busiest day the Golf Course has ever had in terms of footfall in one day. From Nigel starting to prep the course at 5am and Steve clocking off at 1am this morning. Every member of staff had a part to play.
I just want to say a massive thank you to everyone who played and made the day possible. I have never had to turn so many people away for a Golf Day so next year we have plans to take it a notch higher.
Thank you to all the people who helped sponsor the event and volunteered on the day.
To the lads in the shop who helped organise this event. We started the prep 7 months ago and a lot of hard work went in behind the scenes that no one sees so huge well done to them.
The course, yesterday, was the best I have seen it so huge congratulations to Nigel and the team. We had lots of positive feedback and even gained a few new members which is fantastic.
Also a huge well done to Steve & Kirsty who, only 2 weeks into their job, had to encounter and manage the busiest day of the year. They smashed it out of the park with fantastic feedback on both food and bar service. I'm sure they will be a huge asset to the club.
Well done to young Ted Brooks for his first ever Hole in One on the 4th hole winning a years Golf membership!
Out of 240 players only 8 people got into the 6 foot circle to be entered into a draw to win a custom fitted Cobra driver. I am pleased to say Ted Brooks was the winning ticket. Very well deserved for getting the ace!
Unfortunately no one won the car on 10 however Paul Coverley came within centimetres of owning a new car.
From all the amazing raffle work we managed to raise £600 for Parkinsons, £600 for "Ride for Charlie", £600 for the club and I have also purchased a new table for Steve and Kirsty to improve and expand the outdoor drinking area at the front of the club.
Club member Giles Wyatt who is very closely involved in the Ride for Charlie campaign also contacted me last night. Last year Giles had a hole in one when the clubhouse was shut down last year. He hasn't slept since knowing he got away with not buying a Whisky for everyone. Therefore, out of kindness, he has made an extra donation of £150 to the charity.
Once again thanks to everyone who supported the day and made it such a success. It means a lot and we hope you had a great day!
Please see the results from the day below:-
1st Place (46) £100 Voucher each and a Fourball at Gleneagles
J Gregory, T Forder, J Hall and M Turner
2nd Place (48) Pair of PUMA Ignite Pro shoes each
P Ardern, G Ardern, S Nunn and N Stafford
3rd Place (48) PUMA Quater Zip Top & Cap
R Jackson, I Bowd, J Macmillan and A Burns
4th Place (49) Under Armour Polo Shirts
S Mckaskie, D Peacock, B Miller and B Lawson
5th Place (49) Callaway Balls, Towel and Glove
J Bannister, A Wood, M Walsh and C Lansom
4th Hole 6FT Challenge Winning a years Fees and Cobra Rad Driver
Ted Brooks
6th Nearest to the pin, Under Armour Glide SL Shoes
Adam Stott
8th Nearest to the pin, Cleveland RTX 4 Wedge
Stuart Fletcher
10th Nearest to the pin, Under Amour Glide SL Shoes
Paul Coverley
15th Nearest to the pin, Puma Ignite Fasten8 Pro Shoes
Darren Cooper
16th Nearest to the pin, Under Armour Kit
Mike Collinge
14th Longest Drive, Puma Ignite Fasten8 Pro Shoes
Kim Jackson
Thanks again to everyone for their support
Sam
+++++++++++++++
Captain's Day July 10th 2021
Another fantastic Captain's Day which resulted in two winners! 1st place on the day went to Jed Merrick with a nett 63 with Mike Howard 2nd, one shot behind him. However, as Jed is a 3 month member Mike's name will go on the board as the competition winner.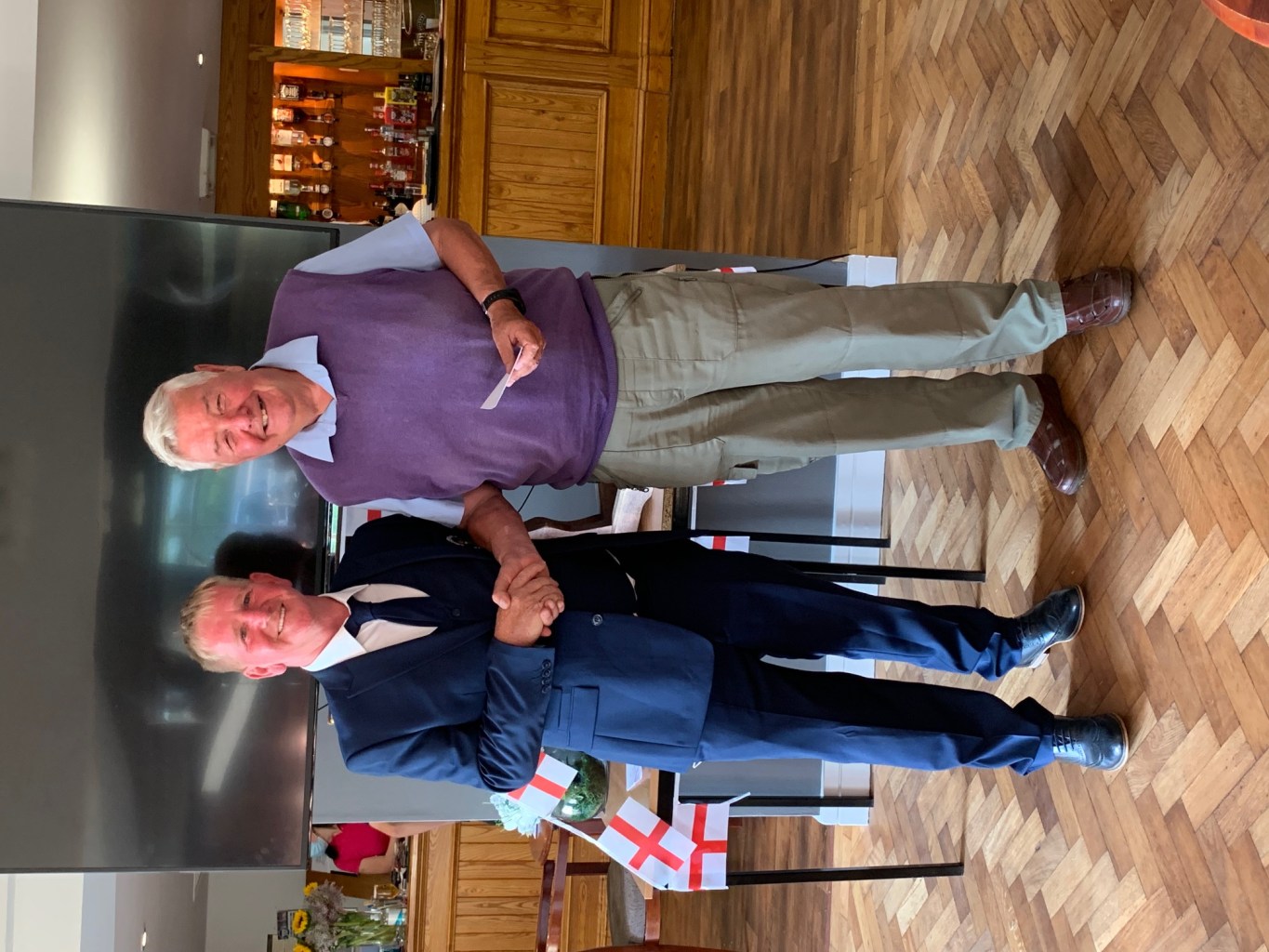 Mike has been a member since 1972, before many of those playing today were even born! He was Club President in 1995 and this is his first major victory in over 50 years. Those of us who play regularly with Mike in the senior's section know what a steady, reliable player he is. He wouldn't have won any prizes today for the longest drive but he would certainly have been up there alongside the best at finding the middle of the fairway. Well done Mike. Your win today will encourage many of the Senior's section to continue to get out of bed early in the morning on Monday, Wednesday and Friday and give everyone real hope that nothing is impossible!
Paul Holt, another members of the seniors, albeit a bit younger, came next with 65  beating Darren Hulse on a card play off.
A huge thank you to Mr. Captain and Sam for organising the day, and to Steve and Kirsty for the complimentary food and drink.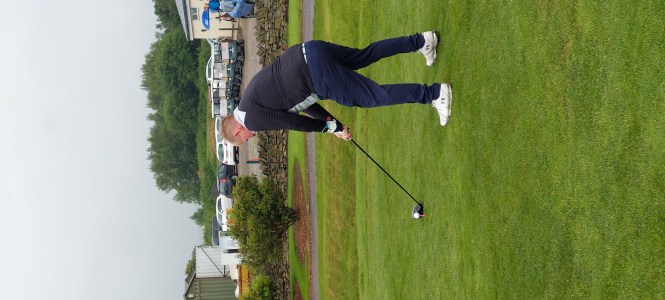 Mr Captain starts the proceedings on the 1st tee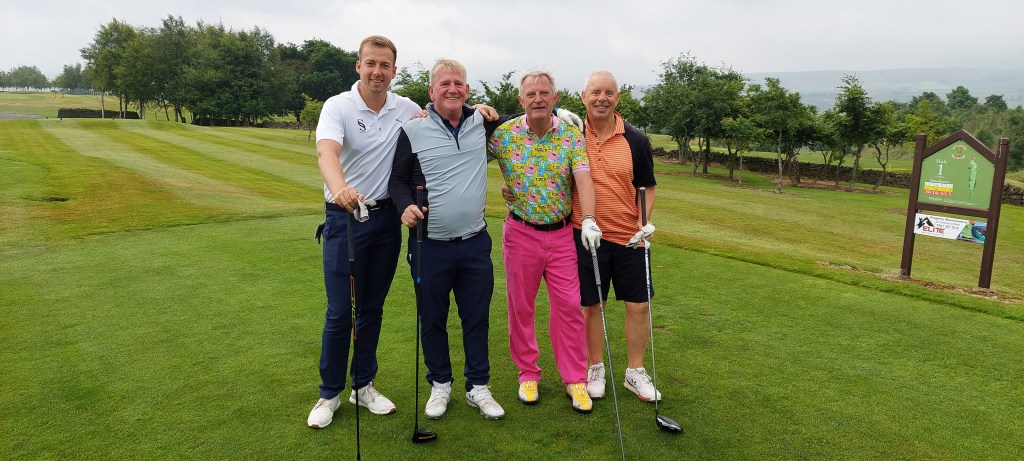 The dream team – The Pro, Mr. Captain, Mr. President and Steve Holmes-Kirkham
Thanks also to Michael Wright for the photos he took of players on the first tee and to Janet Bowers for the presentation photos. These can be viewed in the members page under mens section.
+++++++++++++++++++++++++
Helping New Mills School to raise funds for McMillan Cancer Support
A great day  was held on Monday June 21st with staff and pupils of New Mills school who were raising money for McMillan Cancer Support . It was great to see so many youngsters involved and hopefully some of them will have been inspired to take up the game!
Well done to members of staff Mr Taylor and Mr Lytham who played an heroic 72 holes on the day to raise funds!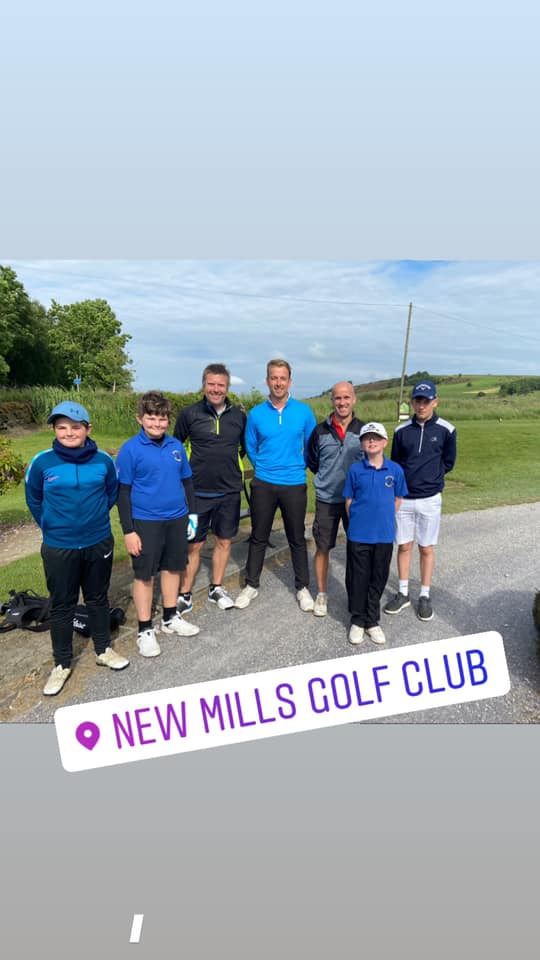 For more photos go to our Junior Section of the website
+++++++++++++++++
Seniors Visit to Portal Golf June 9th-10th 2021
Keeping up a tradition that has taken place for nearly 20 years, a small group of our senior members enjoyed an overnight stay at Portal Golf; playing their Par 71, 6200 yard Premier Course on Wednesday, followed by the 6500 yard Par 73 Championship Course on Thursday.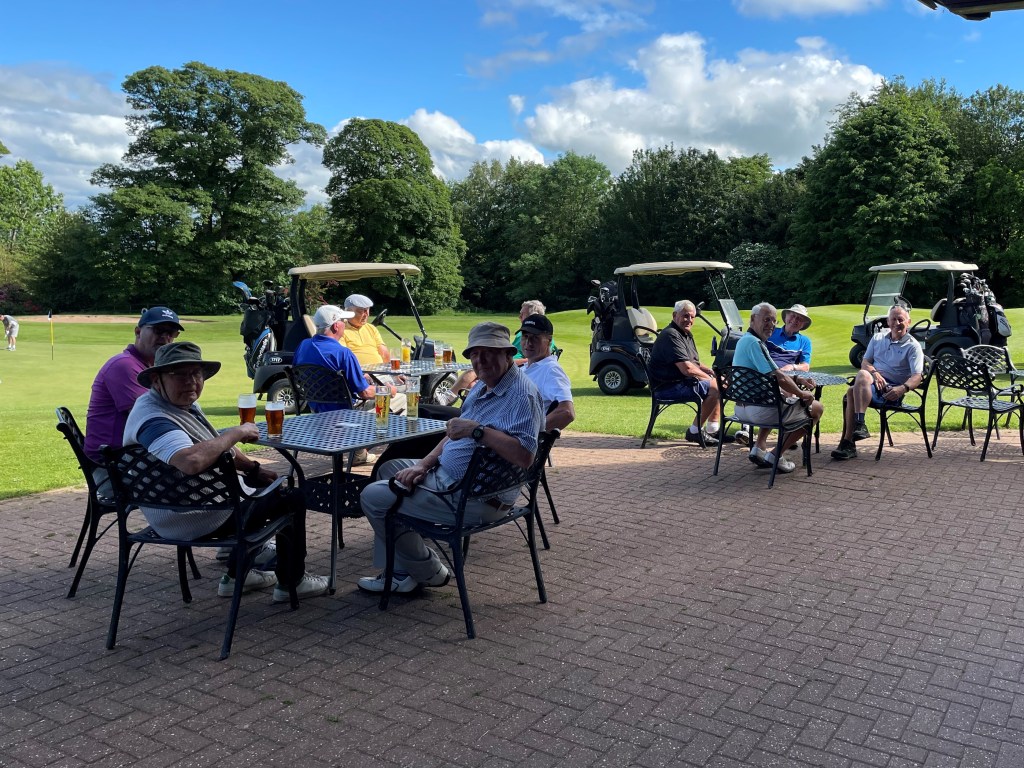 For more photos and information visit the Senior's section of the website
+++++++++++++
Lady Captain's Day to Juniors Sunday June 6th
A great day enjoyed by everyone who played.
For more images and more information about the day go to the Juniors page in the Members section
+++++++++++++++++++++
Mixed Annual Golf Day with Withington Golf Club
After the event being cancelled in 2020 due to Covid restrictions, both clubs were eager to get this fun event re-instated and it was New Mills turn to host the popular event, which was held on Monday 31st May 2021.
No matter whether we play at home or away there are always 1 lady & 1 gent from each club playing together in a team, with all four captains leading the field. In past years the format has always been a Texas scramble but this year we changed it to a team betterball with 1 lady & 1 gent's score having to go on the card (as opposed to any two). Happily,  the change was well received by all.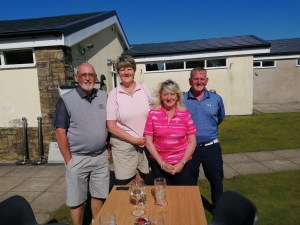 The 4 Captains
There were 8 teams in total who enjoyed our spectacular views, weather, outside dining and the 'what iff's'!
This event has been running since 2013 when Mo Harrison (New Mills) met Julie Webb (Withington) in their Lady Captains year, and jointly instigated the annual amalgamation of the two clubs, always on a Bank Holiday Monday. Long may it continue!
WINNERS
1st – Mo Harrison
        Simon Belt
        Julie Webb
        Jamie Webb 
        87pts
2nd – Ann Brown
         Ian Bowers
         Marie McNeill
         Steve Green
         84pts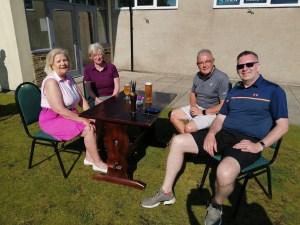 3rd – no prize
        Ali Shields
        Gav Shields
        Biddy Schiuzzi
        Richard Schiuzzi
        83pts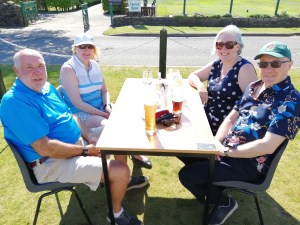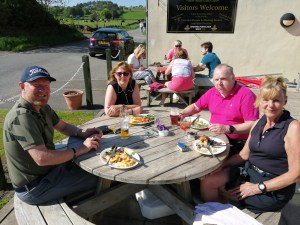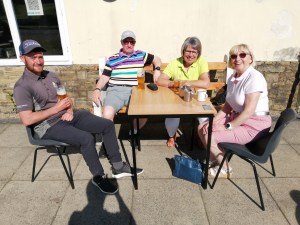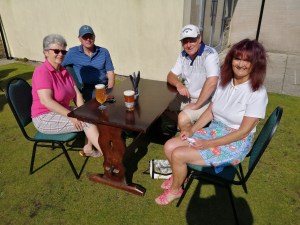 ++++++++++++++++++++++
Mr and Lady Captain's Charity Day
May 30th 2021
Many thanks to everyone who supported an extremely successful Charity Day in aid of The Laurel Suite at Stepping Hill Hospital and Guide dogs for the Blind by playing, donating cash or raffle prizes.
The event raised £1000 for each of the two charites.
96 people took part including many visitors from surrounding clubs. The beautiful weather plus the pristine course conditions helped make it a superb day.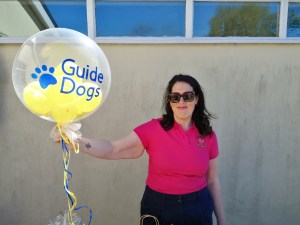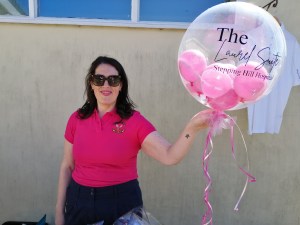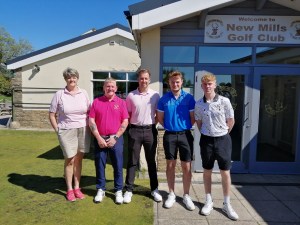 Congratulations to the winning team of Neil Hyde, John Fernley, Darren Hulse and Joe Gregory with 89 points
Runners up were  Darryl Hall, John Brogden, James Tattersall and O. Townsland with 88 points
3rd were Lady Captain, G. Oates, I. Wilton and A. Griffiths with 87 points
Best ladies Team score with 83 points was E. Milne, L. Wildgoose, E. Pike and B. Davidson
Prizes were awarded for nearest the pin to 
P. Leadbetter Men's 6th; K. Drinkwater men's 10th; A. Townend Men's 16th
A. Griffiths Ladies 4th; Lady Captain Ladies 8th and Ladies 15th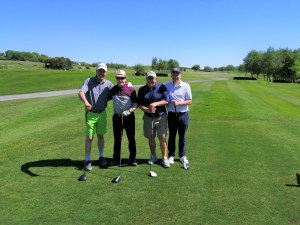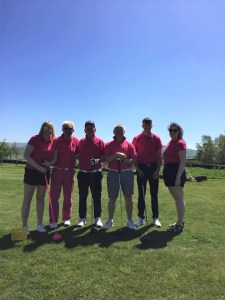 Well done to all winners and a huge thank you to everyone who took part and helped to make the day so special
Click on the link below to see if you won a prize in the raffle !
https://www.newmillsgolfclub.co.uk/wp-content/uploads/sites/5958/2021/05/Raffle-Charity-Day-2021.jpg
++++++++++++++++++++
Covid Regulations eased as from Monday 17th May
Members and visitors can now eat and drink inside the Clubhouse subject to the following being observed
No more than 6 to a table or 2 households to a table
Table service only
Masks MUST BE WORN whenever you are away from your table
It is a legal requirement that everyone MUST SIGN IN on arrival
A one way system is in place. Enter via the patio door . Leave via the lobby door
Food and drink is available from the Clubhouse between 10am and 3pm everyday except Thursdays. 
+++++++++++++++++++++++++++++++++++++
Not even the rain can spoil the views !
Stunning photos taken yesterday (Wednesday 12th May) by Lady Captain showing rainbows over the 5th and 15th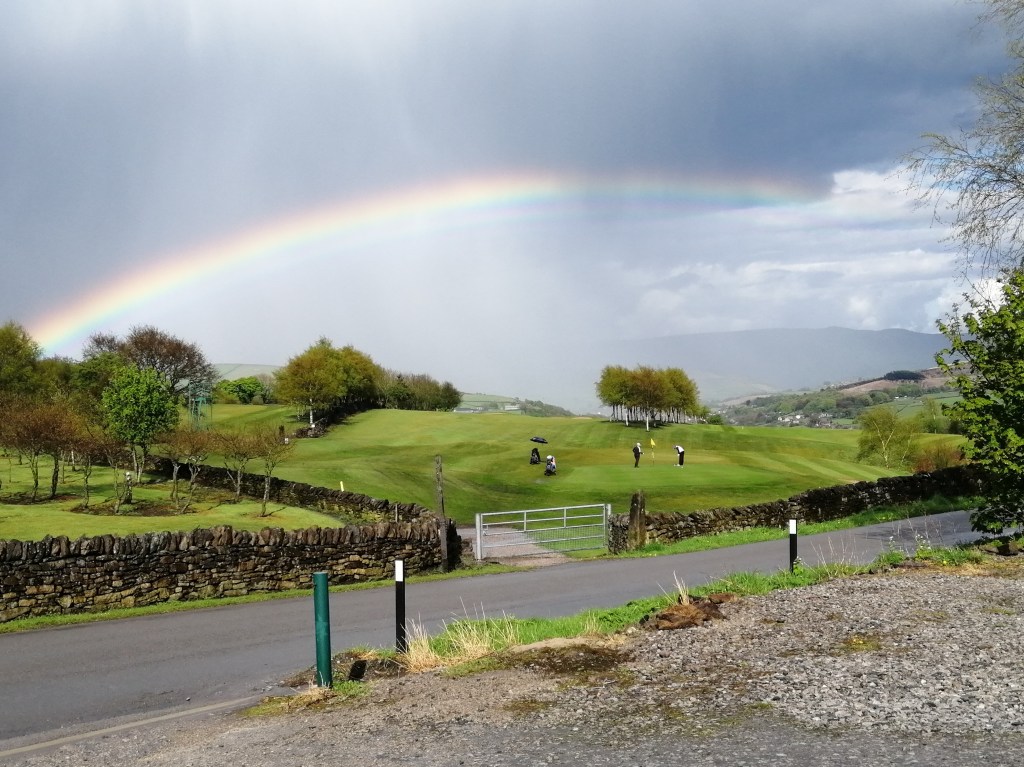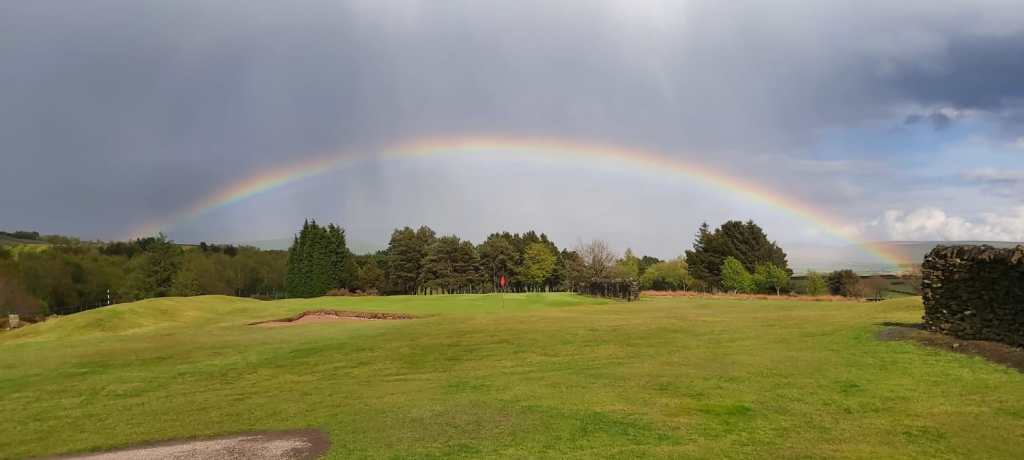 +++++++++++++++++++++++++++++
Taking Care of the Course
Please use the mats which have been placed on the tees of all the par three's. As we are still getting frosts overnight the grass isn't growing and so taking divots off the tee will cause long lasting damage. This is only a temporary arrangement and as soon as the grass starts growing again the mats will be removed. In the meantime everyone's co-operation is required.
++++++++++++++++
Work on the course during lockdown
Throughout lockdown Nigel, Chris and and Ian have been working tirelessly  to get the course in tip top condition for when we get back. All the fairways have been mown and treated , the greens hand cut, bunkers raked with our new machine, trees have been pruned plus there has been a massive amount of work done to further improve drainage especially on the 10th fairway. We really can't thank them enough for all the tremendous work they have done.
In addition Jackie Piper, Marie Anne McGibbon, Angela Adamson and Alison Rudder have retreated all the tee markers with help from Tim Johnson who supplied the plastic coverings and Denis Higginbottom who cut them into shape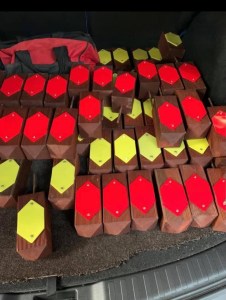 A lot of work is being done in the Clubhouse itself. Paul Bowers is re- decorating the main room and John Hulse will fit the new carpet. Plus the chairs are all being re-upholstered and we're replacing the curtains!
Even Sam has been very busy helping the Green's team  plus doing a bit of bricklaying helping Aidey Smith who has donated all the bricks etc and is building a new wall around where  the new compressor will be located . Well done Sam but don't give up the day job just yet!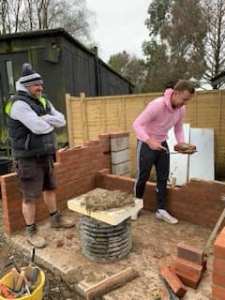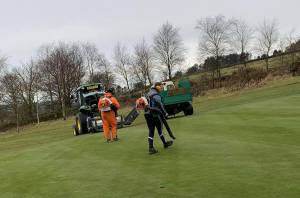 Below are some images taken by Lady President to show you all some of the many things which have been happening in all kinds of weather over the last few months. A huge thank you to all the members who have given so much of their time to help with all of these projects.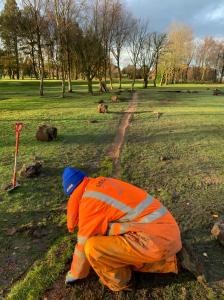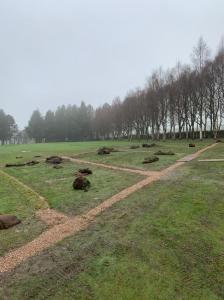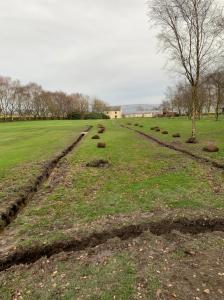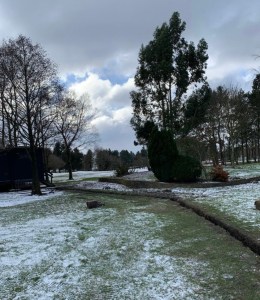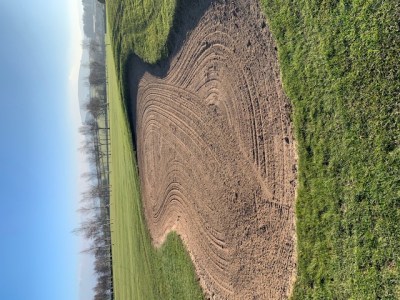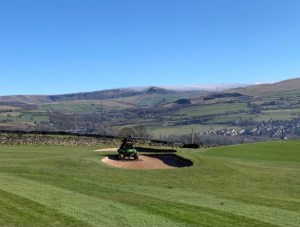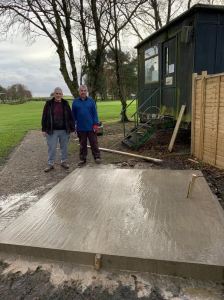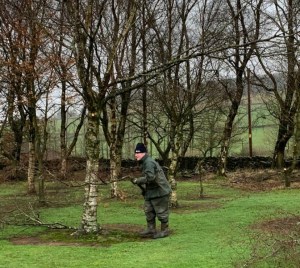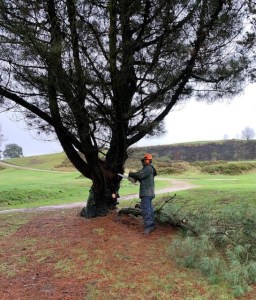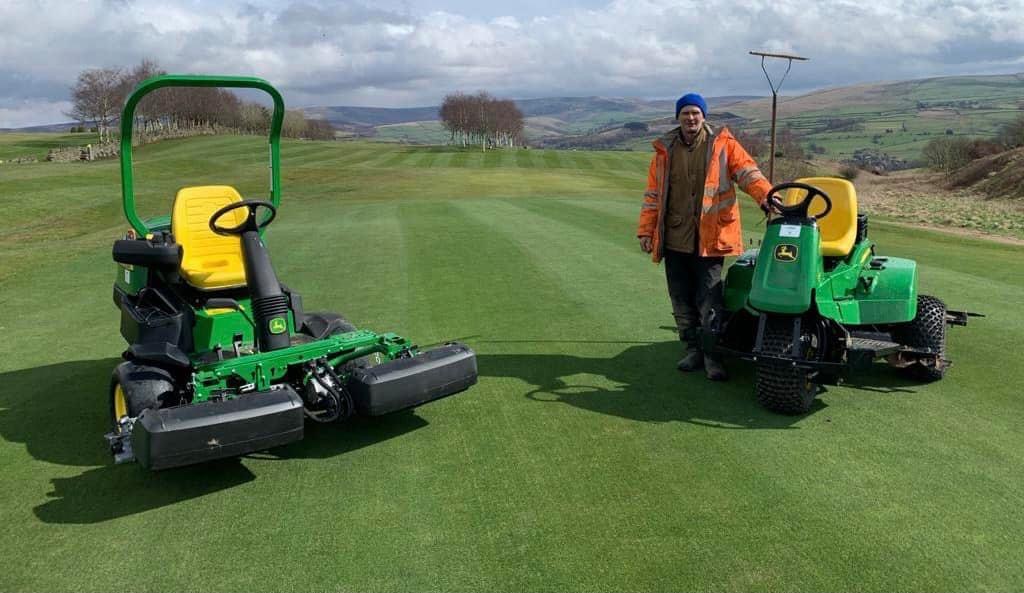 +++++++++++++++++++++++++++++
Circular  Walks from New Mills Golf Club
Click on the link below to download a printable map and descriptions of 3 extremely pleasant short walks, ranging from 2 to just over 5 miles. All the walks start and finish at the club. Parking is free and Half Way House will be open at weekends for takeaway drinks and snacks so do please call in.
***********************************
Practice Areas
As a club we are going from strength to strength and are constantly making improvements to the course, clubhouse & facilities.
Currently, we have limited space to warm up and practice but please, do not practice near the 18th green, 13th green or 14th tee when hitting balls. The course is in great condition and we don't want divots around these areas.
Areas you can practice in are from just next to the putting green on the wall side. Hitting up towards the practice flag or 14th tee direction. (Please do not aim for 13th green!)
When the course is quiet and only when the course is quiet, another good practice area is from the rough near the wall behind the 13th green hitting up the 14th fairway. Please do not use the 14th tee for practice.
We are currently in the process of installing a double bay warm up net for when COVID-19 guidelines allow us to use them again
++++++++++++++++++++++++++++