Using the Clubhouse
Updated 5th July
When you arrive enter the clubhouse via the fire exit door near the patio.
Leave the clubhouse by the main door into the lobby
Follow the one way system which is marked by yellow arrows on the floor
Maximum of TWO people in the red box by the bar please
Table service will be provided but if you need to approach the bar please follow guidelines
Bookings will no longer be required but you will have to sign in on arrival
The coffee station by the fire exit will be setup with a signing in book, sanitizers, gloves and face masks for your use
Half way house will for the present still serve as the food outlet
*************************************
Rainfall data
Despite all the problems caused by lockdown everyone was able to start playing again as restrictions were gradually lifted and we were able to enjoy one of the driest and sunniest May's for many years with rain on just 5 days out of 31!
The dry fairways meant that the ball ran for ever considerably helping those of us who struggle for distance! However, the careful watering of the greens by Nigel and his team meant the verdant greens were in absolutely tip top condition and played true.
Covid Restrictions Update
May 21st
Please note the following changes:
-LOCAL RULE – "Flagstick" If a ball hits the flagstick and stays within 11 inches (putter grip) the shot is counted as holed.
– Visitors are now only allowed to book 3 days in advance so members get priority.
– Buggies – We are testing some buggies this week to see how the cleaning and sanitising can be done efficiently and safely.
– Tee times- We are now testing slightly earlier tee starts at Weekend only to allow more tee slots. We have also opened the booking sheet 6-7pm in the evening now for members only.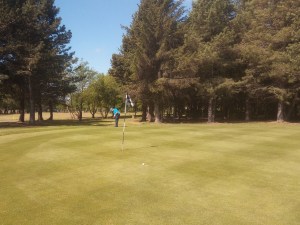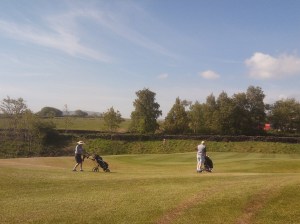 New Mills Golf Club is Open!
A Message from Mr Captain
Wednesday May 13th 2020
Dear all
What can I say ?
How amazing  to get back out on the course today!
A big thank you again to Nigel, Chris, Ian and the volunteers for making sure the course was as magnificent as it was!
Thank you also to Jess and Steph for putting on refreshments in the half way house.
It was great to see everyone following all the guidelines which had been set out by the club to maintain your safety and that of all our members.
If we stick to these rules we will soon be back to normal.
If you have any questions please don't hesitate to get in touch
Regards
Mr Captain
++++++++++++++++++++++++
The Resumption of Golf at New Mills
Covid -19 Restrictions
The course will re -open on Wednesday 13th May
We are very pleased to announce that golf can resume at New Mills Golf Club as from Wednesday 13th May subject to us all following strict government guidelines.
We are now permitted to play with one other person from another household as long as we adhere to the 2 metre rule, Before booking a tee time please ensure you have read and understood the information below.
To ensure compliance with government restrictions, the following aspects of the golfer experience, divided into the five following categories, will need to be understood and applied:
Course Set Up

Before the Round

During the Round

After the Round

Rules of Golf Related Matters

Visitors
1. Course Set Up
On-Course Items
o All rakes and ball-retrievers have been removed.
o Ball washers and drinking fountains to be covered up.
o Benches and bins to be removed, covered or sign-posted in such a way that players don't touch them.
o All other removable items to be removed, except that stakes defining areas of the course can be treated as immovable obstructions.
Hole and Flagstick
o Flagsticks have been fitted with a zero contact device to remove the ball from the hole safely.
Practice Areas
o Practice area – The putting green will be open with holes turned upside down. 2 meter distance must be kept from other Golfers. Maximum of 2 Golfers on the putting green. Golfers due to tee off next have priority. The strip of land to hit warm up shots is to be used before your game ONLY for warm-up. No casual practicing (To be reviewed weekly).
2. Before the Round – Booking
Booking MUST be made on BRS or with the Pro Shop.

Members can book up to 7 days in advance.

Strictly NO tee times before 8am to allow Green Keepers to prepare the course. Anyone seen doing so will be asked to leave.

1

ST

tee start ONLY.

NO casual Golf. This means you cannot just turn up and go play where it is quiet for a few holes. You must have booked and only start on the 1

st

tee after checking in.

2 players per tee time in guidance from the Government.

10 minute intervals between tee times.

ALL golfers must check in before making their way onto the first tee.
Arrival and Waiting to Play
Upon arrival please stay in your car and do not check in at the Professional until 10 mins before your tee time. If you are having a warm up do not check in until you have done so.

The clubhouse and locker room facilities will be closed. Limited essential access (for example to use the toilets) You must change your shoes in the car park. If you need access then please contact Jess on 07398884578.

TOILETS – GENTS – Only 1 person in the toilets at any one time. People waiting for the toilets MUST stay within marked spaces and use the one way system.

LADIES – ONLY 1 person in the toilets at any one time. Ladies waiting for the toilets must wait outside the front door.

Gloves and sanitizer will be available at the entrance of the clubhouse, please use them.

Golf Trolleys will still be available to rent and be washed down after and before every use.

Ride on buggies (carts) will not be operational. This will be re-assessed end of May.
3. During the Round
Teeing Areas
o Golfers MUST keep 2 metres apart at ALL points of the game.
Bunkers
o With no rakes allowed on the course, Golfers must make their best efforts to smooth the sand using their club and/or their feet. Players may lift, clean and place their ball within 1 foot of its original spot.
Putting Green
o Golfers MUST keep 2 metres apart on the putting greens and not to touch the flagstick. 2 GOLFERS ONLY AT A TIME.
4. After the Round
Social distancing is as important after a round as it is during the round, so when the round is over you must leave the course and the club/facility immediately so that there are no gatherings around the clubhouse area.
5. Rules of Golf Related Matters
Until further notice, the following provisions are considered acceptable on a temporary basis and reviewed weekly.: All local rules will be posted outside the Pro Shop.
Forms of Play and Scoring
o For now we will be playing social Golf. Sam will be reviewing the situation and introducing Pro's competitions when safe to do so. You must only mark your OWN card and not swap with any other players.
Bunkers
o Bunkers will be lift, clean & place within one club legnth of its original spot, no nearer to the hole. Please smooth out the sand as well as possible after your shot has been taken.
Flagstick
o Golfers are required to leave the flagstick in the hole at all times and not to touch it.
6. Visitors
To start there will be NO visitors or members guests allowed on the course before 12:00. If the course is very busy and people cannot get a tee time then this will be reviewed and altered.
This document will be reviewed and altered on a weekly basis. If you have any questions please get in touch. Anyone seen breaching these rules will be asked to leave the facility. We will be operating a zero tolerance policy.
Please appreciate we will try and get Golf back to normal as soon as possible. We should be grateful we have been given social Golf back so soon. Also be aware our Golf Club is just off the road and any picture of poor etiquette from a member of public could jeopardize our whole Golf Club.
Our main priority is to keep YOU playing Golf SAFELY. In the unfortunate event a Golfer does have symptoms. If we abide by the rules and stick to social distancing we can continue playing. If we don't apply the rules above then we would have to shut the whole club.
LETS PLAY SAFE, STAY SAFE, AND FOLLOW THE RULES. WE WILL BE BACK TO NORMAL SOON!
++++++++++++++++++++++++
Face Masks/mask Extenders
Jess has offered to make fabric face masks and extenders for members in return for a small donation which will go to the Manchester based charity MancSpirit who are a a mental health and well being charity who have been supporting low income families and the homeless during the current pandemic. If you are interested please contact Jess on 07398 884 578
+++++++++++++++++++++
A Very Big Thank You….
A Message from Mr Captain and Lady Captain
"During these difficult times of Covid -19 and lockdown we would like to take this opportunity to say a very big 'Thank You' to Nigel, his greens staff, work parties, both men and ladies, who have continually volunteered their services to make 'our' course look so magnificent.
You all take great pride in the work you undertake which results in benefits for others. That is what makes New Mills Golf Club such a unique club.
Keep safe everyone and let's hope it's not too long until we can all enjoy those views again."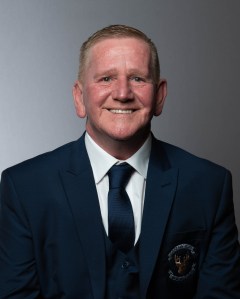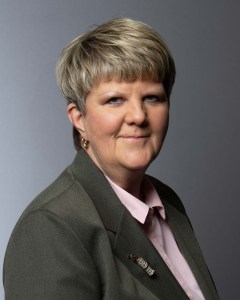 If you have any booking queries please email proshop@newmillsgolfclub.co.uk
+++++++++++++++++++++++++++++
Free Cash Incentive
Sam is offering a 10% bonus to any money you top up to your Pro shop account plus the chance to win double the amount of your top up.
Additionally, he is intending to donate a percentage of the total top up to the NHS. If you would like more details please ring him or contact him at proshop@newmillsgolfclub.co.uk
+++++++++++++++++++++++++++++
What's happening at the club?
Whilst most members are probably receiving updates from both Sam and Jess, some of you may still be in the dark as will our many visitors and regular guests so here is a brief resume as to what is currently going on.
On the course, Nigel along with Ian and Chris, have been doing loads of work and taking advantage of the dry, fine weather.
New drains have been installed, walls rebuilt, bunkers tidied up, the brambles behind the wall as you approach the 1st green have been cleared (I suspect a lot of balls were found!) and the two fairway bunkers on the right hand side of the 13th have been grassed over and so no longer exist to capture a wayward drive! These two bunkers were both very shallow and, given their close proximity to the pine trees on the right, they were frequently full of needles. As you can see from the photos they are now grassed over and no longer pose a hazard. However, a lady member has sponsored the planting of additional trees just in case you thought you were getting lucky and we were making things too easy for you!
Below are some of the latest images of the course taken by members whilst out for their daily exercise!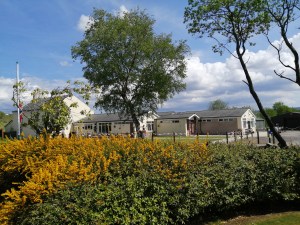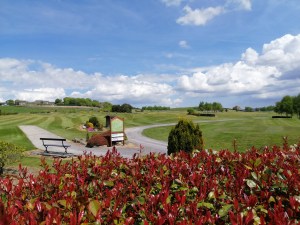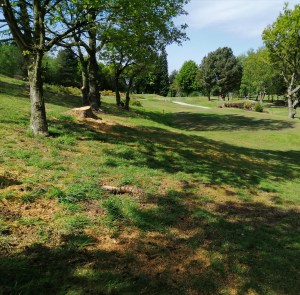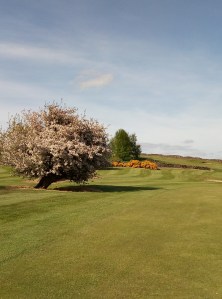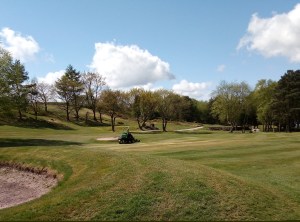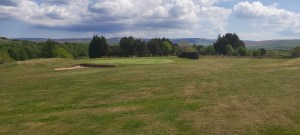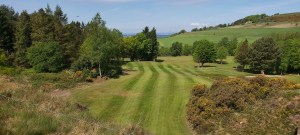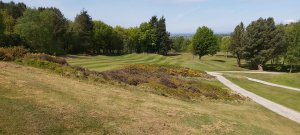 Jess and Steph, assisted by Zac, have been very busy in the clubhouse. Despite the lockdown occurring just before Mother's Day the delivery service operated by Zac went fantastically well and we received loads of positive feedback from those who ordered from us. We're still operating a delivery service from items on our menu so if you'd like a takeaway or a specific type of meal please don't hesitate to contact us. Go to 'The Clubhouse' for more information.
The events board outside the clubhouse will be updated weekly  so if you're taking your daily exercise past the clubhouse please have a look at what's on and take a picture  and put it on social media for others to see.
Jess and Steph have being doing a massive spring clean inside the clubhouse as well some painting and have now started to work on the outside areas as well as  installing hanging baskets to make the place look attractive and inviting.
Finally, don't forget the club is here  to support you especially if you're on your own and would like a chat just contact Jess and Steph
Take care and stay safe!
Clubhouse Delivery Service
We are offering a delivery/takeaway service on all our menu items to all members and members of the public who are isolating during the current Coronavirus outbreak.
Please give us a call on 01663 743485 if you'd like to place an order or if you need more information.
We can take payment over the phone and arrange a 'drop and go' service whereby we can agree a safe place to drop off the food and collect any money.
The delivery hours will mirror the current opening hours and we will deliver within a 3 mile radius to include High Lane,  Disley, Marple and Whaley Bridge as well as New Mills itself. If you live further afield but would like to take advantage of this service please get in touch and we'll see what we can arrange.
For more information contact Jess on 01663 746161  or go to 'The Clubhouse' section of the website
.
++++++++++++++++++++++++++
Calling all Local Sports Clubs
Are you looking for a way of raising money to invest in your club? Here at New Mills Golf Club we want to support local sports clubs in our area. A golf Day is a way of achieving this. If you'd like more information contact Sam, our Professional, who will be happy to help you organise your event
+++++++++++++++++++++