Ladies Turkey Trot
Wednesday 2nd October 2019
This popular annual event is open to all comers. For more information and to download an application form visit 'Open Competitions 2019' and click on the link.
Chris Wood wins the 2019 Shaw Marsh Trophy
What an exciting weekend of golf. First of all day 2 was won by Simon Ignotus on a back nine play off shooting 67.
However, the overall Shaw Marxh Trophy was won by Chris Wood  who shot a gross 66 (nett 64) on day one followed by a nett 70 on day two to total 134 and win by two shots from Simon with Mike Leddy coming third also with 136 just edging out Gary Yates who also scored 136.
Congratulations to all the winners!
Mr Captain's Day to the Ladies
Finally after three cancellations  due to adverse weather we finally held our Mr. Captain to Ladies event!  The winner was Margaret Palmer who is seen below being presented with her prize by Mr Captain.
For more details please visit the' Ladies 'section of the website under 'Members'.
Marcliffe Trophy 13th August 2019
Congratulations to Arthur Oliver winner of today's Marcliffe Cup with a score of 38 points.
Runner up was Peter Moseley also with 38 with Bob Palmer in 3rd also with 38 points.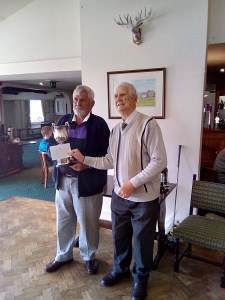 Arthur receives his trophy from Cliff Ardern who sponsors this popular annual event
For more information visit the Senior's Section of the website
Mr. Captain's Weekend
Saturday 27th and Sunday 28th July
Despite the appalling weather on Saturday there was a great turn out for the men's stableford event which was won by Simon Belt with an excellent 40 points. Fittingly, Simon himself was Club Captain in 2012,
Runner up was Dan Thomas with 38 points with Steve Rodgers and Baz Lawson also scoring 38.
In the evening  a complimentary buffet provided  by Mr Captain was very well supported along with music from Ali G . A fantastic evening was enjoyed by all.
Because of the atrocious weather over the weekend,  it was necessary to cancel the Ladies and Junior's events on Sunday.
These will be re-arranged as soon as possible,
Anderton Bowl
Saturday July 20th
Congratulations to Peter Coull winner of today's Anderton Bowl. The bogey competition is never easy so well done to the prize winners:
1st Peter Coull 3 up; 2nd Ollie France 3 up; 3rd Sean Moore 2up
Sam's Golf Day
Sunday 14th July 2019
What a fantastic day! The weather held and the course was in unbelievable condition. Once again the level of support for this annual event was unbelievable and the atmosphere in and around the club was electric.
Watching golfers hit off the 10th with the chance to win a £30.000 car certainly generated some noise!
Such was the success of the day that many visitors responded by saying it was the best event of their golfing calendar.
Many thanks to all the volunteers at half way house and to David Wood Domestic Appliances for supplying the fridges plus AVSL for supplying the Audi RS3 which unfortunately no one managed to win!
Winners of the Texas Scramble  with a score of 51.6 were Matt Murray, Pete Simister, John Hegg and Rick Atkinson who beat  a strong New Mills team of Keane Hyde, Joe Bowers, Jack Marshall and Jack Hulse who came in with 52.1 narrowly beating another local team of Cara Wild (last year's JuniorCaptain),  Martin Wild, Mikey Deaville (this year's Junior Captain) and Brian  with 52.7
Mickey won the prize for nearest the pin on the 4th whilst Matt Murray (8th) and Russ Pearson (15th) along with Anne Brown with the longest drive completed the prize winners.
Bosworth Trophy
Friday 12th July 2019
Well done to everyone who took part in this year's Bosworth Trophy which was held at Cavendish Golf Club, Buxton.
The course was fantastic and we were well looked after. Winners on the day were Steve Yates and Gary  Yates  who played very steadily throughout. There was nearly a disaster on the last hole when Gary caught a flyer off the 18th fairway and had to take an unplayable drop after his ball ended up on the sofa in the Steward's living room!!! Fortunately, no one was hurt and they finished with an amazing 47 points winning £40 each plus having their names in gold on the trophy board and a place in golf club history!
Prizes for nearest the pin went to Neil Stafford on the 4th and the 9th  and to Gary Yates on the 15th.
Ladies Open
Sunday 7th July 2019
Great weather and a fantastic turn out made this year's Ladies Open an extremely successful day. Winners on the day were the team from Hazel Grove Golf Club with an excellent score of  95 points. This superb team effort by the Ladies with help from the Senior's section ensured that once again our open is a major event in the golfing calendar. Many thanks to everyone who helped on the day!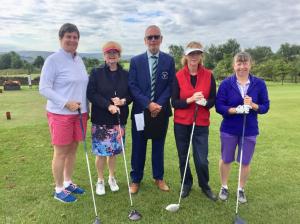 Mr Captain greeted each team on the 1st tee
For more information about the day please visit the Member's section of the website and click on Ladies Section.
Mr. President's Day 2019
Saturday 22nd June
President's Day and President to Ladies day were both a huge success. The weather was superb and the support from members was amazing with all the slots for the shotgun start filled. Many thanks to our greens  staff and to the many members who volunteer and  help keep the course in such pristine condition.
Winner of the first ever President's competition was Alan Forbes with an excellent score of 44 points.  Ben Williams came second with 41 points with Lester Cooper in 3rd place  with 40 points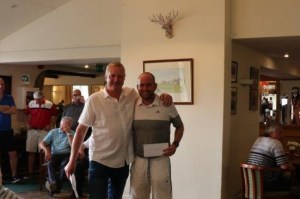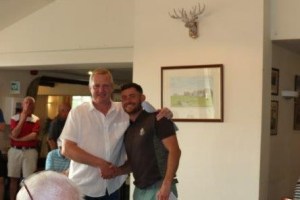 Alan and Ben receiving their prizes from Mr. President
 .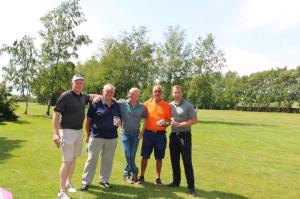 Mr President, Mr Captain, Sam Shaw (Professional) with two of the club's owners Arthur Oliver and Phil  Ardern
Mr President's invitation to Ladies competition was won by Margaret Palmer with Helen Harrison runner up.
For other images of the day go to the Members section and click on Mr. President's Day 2019
*****************************************************

A few weeks ago Sam and Kallis saw a group of golfers attempting the MacMillan Longest Day Challenge and were motivated to try it themselves partly because of the challenge, which involves playing 72 holes in a single day, but also because it is for such a worthy cause.
So, with just two weeks to prepare, Sam assembled a team consisting of himself, Kallis, his brother Keane and Jacob  Bradshaw.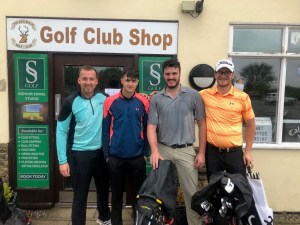 Beginning at 5am on Tuesday 18th June, whilst most of us were tucked up in bed and fast asleep,  the four of them  met up for coffee and a team talk before teeing off on the first of their 72 holes at 5.30 am! Throughout the day they only took one break and that was between rounds 2 and 3 to grab some well deserved lunch.
The course was in superb condition and for most of the day the weather was fine. However on the last three holes the heavens opened  and with no rain gear in their bags it was a battle to  the finishing line which they finally reached at 7pm!
As Sam said 'We took the rain on the chin and thought about everything the charity does and how grateful we are to be in the position we are'
The scores over the 72 holes were Sam -2; Jacob+4; Keane +11 and Kallis +32
Well done to all four players for such a tremendous achievement and a big thank you to everyone who made a donation which currently stands at close to £1000.
************************************************
Invitation Day
Saturday 22nd June 
There was a great turn out for our Invitation Day with 26 two ball teams competing in a betterball  stableford event. Good weather along with superb course conditions resulted in some impressive scores.
Winners were Martin Wild and Steve Hambleton with 47 points beating Steve Worrall and W. Clarke in a card play off. 3rd place went to  Bob Walsh and his guest S. O'Brien who were just one shot behind with 46
Steve Holmes-Kirkham won the prize for nearest the pin on the 8th whilst D. Wilson came nearest the pin in two on the 13th.
Many thanks to everyone who took part and to our visitors who we hope will come back in the not too distant future.
The photo shows New Mills members Clive Garside and Tom James with their guests Ken Lomas and John Collier
+++++++++++++++++++++++++
 ………………………………………………………………………………………………………