Captain v President Day Sunday August 30th 2020
On Sunday 30th August we are holding our annual Captains v Presidents day Competition. This is a fun competition and is all about bragging rights between the club Captain and President. The format is a four ball better ball with 2 players representing the Captain's team and the other two the President's team. The team with the highest score in the fourball wins a point for their team.
This year,  Club Captain, Steve Yates and President Jez Unsworth want to make it a special day and so everyone, whatever their category of membership is able to take part. Guests are also very welcome to play this year.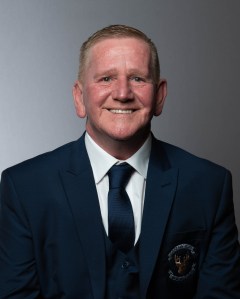 Booking goes live at midnight tonight (13th August) so simply put your name down as though booking a normal competition. Players A and B will represent  one team and C and D the other. Nearer the time the Captain and President will choose which pair represents their team.
Competition rules are as follows:
Betterball Stableford
18 holes
90% handicap
Men White Tees: Ladies Red Tees
Members entry fee £5
Guests £15
Please do your best to support this popular event and make it a day to remember!
Jeff wins the Marcliffe Cup
Congratulations to Jeff Stewart winner of today's Marcliffe Cup which is a trophy awarded annually by veteran member Cliff Ardern in memory of his first wife, Marjorie.
Jeff won with 42 points with Pat Walker 2nd, Bob Palmer 3rd and Chris Keene 4th all with 39 points. For more details go to the Senior's section of the website
+++++++++++++++++++++
Hole in One for Keith!
Congratulations to Keith Wright who scored a hole in one on the 16th in today's competition. This is only Keith's second hole in one which he reckons is averaging out at one every 20 years! So he'll probably have to wait until he gets into his nineties for the next one!
+++++++++++++++++++++++
Senior's Open 2020
Regrettably, due to the Covid -19 restrictions, we have had to cancel this year's Senior's Open on Tuesday September 1st .
Please contact Phil Smallman on 0161 427 4327 for further information and options.
*************************
Roasties are back!
This weekend sees the return of our famous roast dinners ! For details go to 'The Clubhouse' section of the website.
++++++++++++++++++++
Vet's Cup 31st July 2020
Congratulations to Dave Swindells winner of today's Vet's Cup with a net 67. 2nd was Chris Keene with net 69 who just beat Graham Elliott on a card play off.
For more information go to the 'Senior's section' of the website.
*********************************
Bramhall Trophy 1st August 2020
Well done to everyone who played in the first major of the year . The best score on the day was by Daniel Tweedie with an excellent score of 45 points. However, the competition winner was Josh Westmerland with 43 points since Daniel, who is not a full member, cannot be awarded the trophy or the honour of having his name on the trophy board under club rules.
**************************************
Covid-19 Regulations re Greater Manchester 21st July 2020
Following the latest guidelines from the government may we ask members and visitors to :
Wash your hands thoroughly
Use the sanitisers which are located in the toilets, lobby, clubhouse and pro shop
Follow social distancing guidance which currently states that OUTSIDE no more than 6 per table from different households and INSIDE no more than 4 per table from four households
If you are coming from any of the new lockdown areas please inform Jess
************* 
Full Menu Returns to the Clubhouse!
We are pleased to announce that we are resuming our FULL menu from this week! Please note: Government guidelines state that if someone (or a person living in their household) tests positive for Covid- 19 they should self isolate for 14 days and as such they should NOT come to the clubhouse until that period has passed.
We will be serving a full menu at the following times:
Monday – Friday 10am-3pm and 5pm-7pm
Saturday and Sunday 11am-7pm
Our very popular 'roasties' will be available on the 2nd Sunday of every month
To see our new menu go to the 'Clubhouse' section of the website
+++++++++++++++++
Revised Competition Fixtures for 2020
Due to the Corona virus situation we have had to re schedule the whole playing diary for the remainder of 2020. This year, due to demand we will also be running Sunday Pro's competitions plus mid-week comps as well so that everyone has the opportunity to play handicap qualifiers other than Saturdays.  These will be open to all categories of membership.
For the dates of competitions please go to the 'Members' section and click on 'Competitions'.
++++++++++++++++++
Yet another Hole in One!
For the third consecutive  week we have had another hole in one! First Giles Wyatt, then Geoff Grimshaw and now Chris Wood on the 8th! Congratulations to all three. Who, I wonder, will it be next week?
++++++++++++++++++++
Rainfall data
Despite all the problems caused by lockdown everyone was able to start playing again as restrictions were gradually lifted and we were able to enjoy one of the driest and sunniest May's for many years with rain on just 5 days out of 31!
The dry fairways meant that the ball ran for ever considerably helping those of us who struggle for distance! However, the careful watering of the greens by Nigel and his team meant the verdant greens were in absolutely tip top condition and played true.