Club & Course News
Christmas Golf & Clubhouse Opening Times
Please click on the following link to view the competitions and clubhouse opening times over the Christmas and New Year period:-  Christmas Opening Times
2nd December 2023 – "Greens Gossip" Nov/Dec 2023
UPDATE – 4TH DECEMBER
– It is with regret we have to advise the membership of an unfortunate accident suffered by Nigel on holiday in Scotland. The damage caused resulted in Nigel having an eight hour operation and having a full hip replacement.
– The club will support Nigel during his recovery and the greens team as Nigel's input will be massively missed.
– We all wish Nigel a speedy recovery.
COURSE MAINTENANCE
– We are continuing with the drainage upgrade on the 3rd hole. We hope to complete this within the next few weeks ( weather permitting).
– We have removed turf from the 11th fairway to allow an upgrade to the field drains. We will complete this work as soon as we can
– New yardage/info boards are being placed on the gents tees. Thank you to all the businesses that have sponsored these. Plus a big thank you to Sid Sidebottom who recruited the sponsors.
– We continue to remove the lower branches from some of the trees, to allow the machinery to work around the trees.
FUSARIUM UPDATE
– At present, the fusarium disease appears to be under control. We hope that the decrease in the thatch layer on the greens has allowed much better drainage, and therefore less favourable conditions for the fusarium to thrive.
– We are hopeful that this reduction in thatch on the greens will allow the main greens to be used more often in the winter (weather permitting).
THANK YOU
– Once again, our thanks to the many volunteers who support the greens team. We would also like to thank the members for their understanding and support whilst we do upgrades/repairs and general maintenance on the course.
27th October 2023 – Winter Mats Now In Use
We have now introduced the MANDATORY use of mats on ALL MOWN AREAS, and ON ALL TEES. This will help to maintain the condition of the course over the winter period, and allow for a much quicker recovery of the course at the start of the season. We will remove this ruling as soon as conditions allow.
If you don't have a mat, then the Proshop has 'standard' and 'premium' mats in stock, which you should obtain before starting your round.
Please note that lift, rake and place still applies in bunkers.
Handicap qualifying rounds are no longer permitted due to the above rules being in place. Therefore any round you try to submit to England Golf will not change your handicap.
As the course reaches the time of year where it gets very soft, please consider changing your electric trolley wheels to winter wheels. Carry your golf clubs occasionally if you can, and just use common sense when near very wet areas of the course.
Please also keep repairing pitchmarks, as they will be made on much shorter shots at this time of year.
18th October 2023 – Simulator Hire 
With the cold dark nights fast approaching, its time to work on your game using our state of the art Golf Simulator. In the warmth, no wind, playing Golf courses that normally cost hundreds of pounds to play, and a bar only 2 meters away from you it's Golf heaven!!
We've just invested thousands into new technology and hardware, meaning we have the leading edge technology here at New Mills Golf Club available for you. We are using the GC Quad with the brand new FSX play software used by Rick Shiels on all his Youtube videos. 
Whether you want to practice on your own or play a game of Golf with your pals it's the ideal practice conditions. Instead of driving to the range and hitting balls aimlessly in the cold, you could be in the warmth looking at pure data learning about your game.
The simulator is available to hire every day, including evenings, depending on functions and events in the clubhouse.
SIMULATOR PRICE LIST (price can be shared with up to 4 players)
1 HOUR STUDIO HIRE £20
30 MIN PRACTICE SESSION £10
CLUB GAPPING (Find the yardage of each club) £30
LESSONS
Please use the folowing link to book online, or else contact the Pro shop. https://www.samshawgolf.co.uk/lessons
++++++++++++++++++++++
Clubhouse News
Forthcoming Events
Below are the events taking place in the clubhouse in the next few weeks. Please visit the Clubhouse section of the website to view all forthcoming events.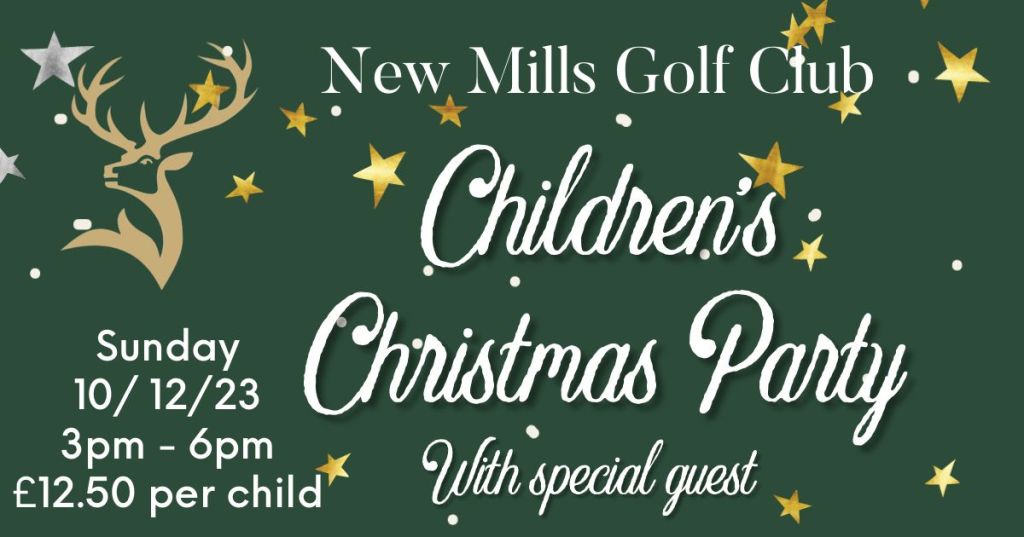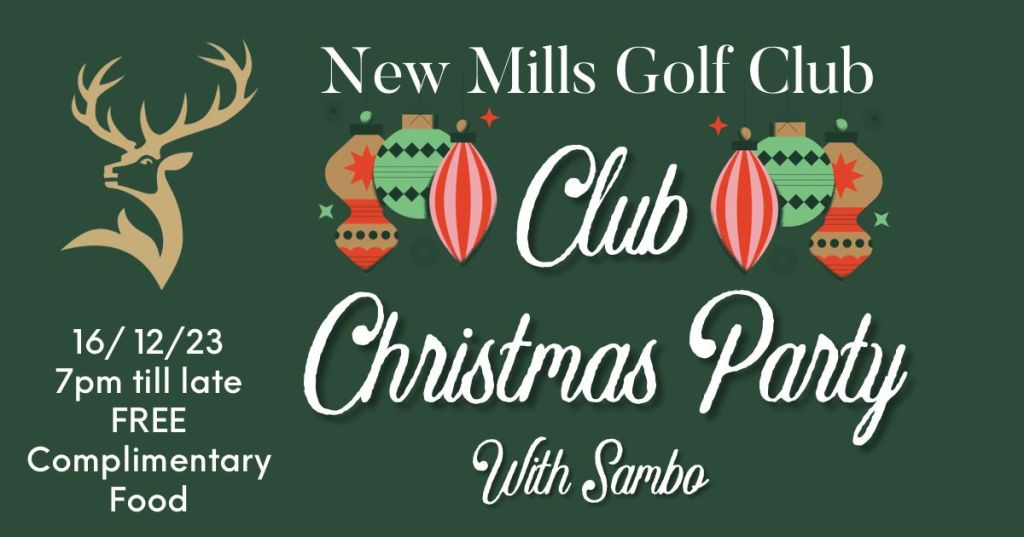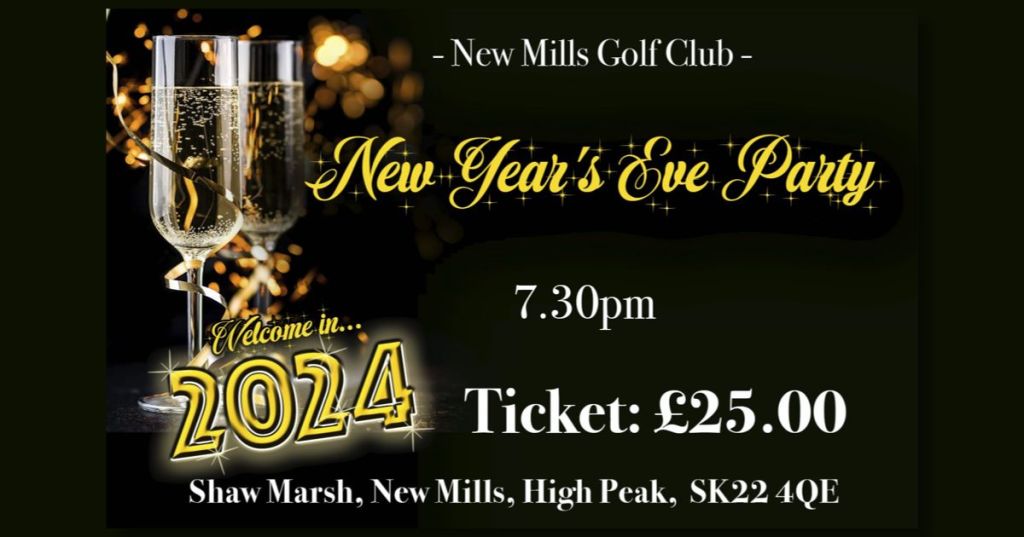 +++++++++++++
Hiring the Clubhouse For Your Special Event
The Clubhouse can be hired by both members and non-members. Further details can be found by visiting the Clubhouse section of the website.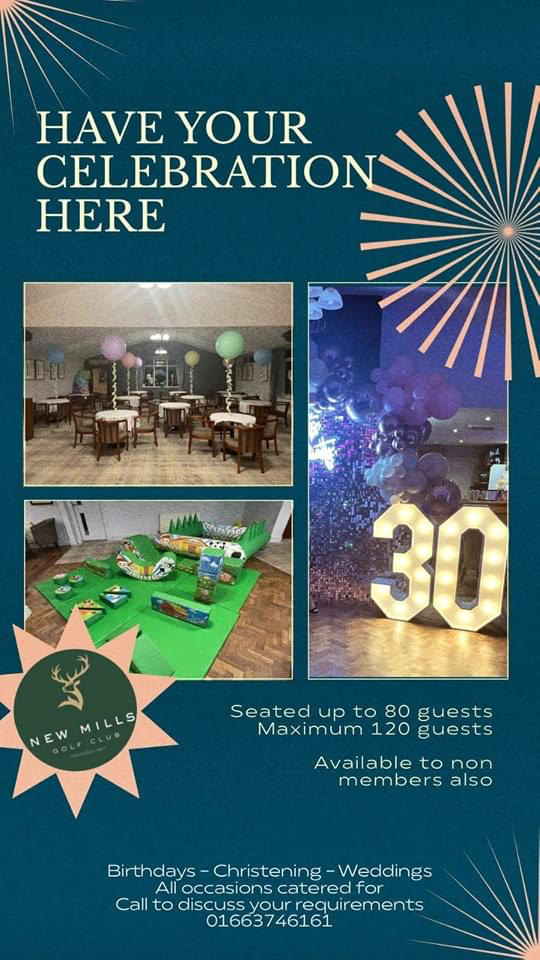 ++++++++++++++++++++++
Other News
2nd December 2023 – Winter Quad-Am
1ST 77pts : £30 each – Elliot Brownsword, Graham Hadfield, Duncan Moore, Mike Cook
2ND 76pts : £20 each – Alison Shields, Gavin Shields, Andy Bowers, Peter Christian
3RD 75pts : £15 each – Mike Leddy, Nigel Garside, Clive Garside, Chris Hall
4TH 74pts : £10 each – Simon Webb, Andrew Webb, David Coffey, Andrew Shepley
2's pool : £30 EACH – Duncan Moore, Mark Hadfield, Matt Robinson
A reminder…… cards must be signed by a marker and a player. As the cards for winter competitions are done manually, please ensure the card is filled in correctly with the score and number of 2's in the relevant boxes. Also any 2's must be circled on the card please.
25th November 2023 – Winter Quad-Am Medley
1ST 105pts : £35 each – NEIL STAFFORD, NIGEL THORPE, MIKE HOWARD, ARTHUR OLIVER
2ND 99pts : £25 each – BOB WALSH, IAN HARDING, PAT WALKER, KEITH WRIGHT
3RD 97pts : £15 each – DENNIS FARRELL, DAVE HARRABIN, TONY SIEBEN
4TH 97pts : £10 each – MARK BROOKS, TIM SIGLEY, PAUL BOWERS
2's pool excluding 4 & 15 £12 EACH – PAUL BOWERS, TIM SIGLEY, MARK BROOKS, IGGY, J.T, ELLIOT BROWNSWORD X 2
24th November 2023 – Gents Presentation Evening
Mr Captain (Steve Holmes-Kirkham) presented the trophies to the winners of the Gents Board Competitions in 2023. Mr Captain also presented the prizes for the Medal and Stableford competitions held throughout the summer.
Please click on the following link for the list of Gents prize winners in 2023 : 2023 Gents Prizewinners
[Please visit the Mens Section for further information]
18th November 2023 – Winter Quad-Am
1st £35 each : 81 POINTS – Jeremy Unsworth, Mary Stanley, Aran Brooks
2nd £25 each : 76 POINTS – Giles Wyatt, Sean Sidebottom, Ollie Wyatt, Russell Evans
3rd £15 each : 75pts (C.P.O) – Mike Leddy, Clive Garside, Nigel Garside, Chris Hall
4th £10 each : 75pts (C.P.O) – Martin Wild, Cara Wild, Ben Williams, John Tennant
2's pool excluding 4 & 15 £15 EACH – Gavin Shields, Mark Brooks, Darren Hulse, Arthur Oliver, Jason Warhurst, Alan Peatfield
11th November 2023 – Winter Russian Stableford
1st £35 each : 108pts – RICHARD LOCKLEY, JON NUTTALL, ALAN FORBES, ROB HOLDEN
2nd £25 each : 103pts (C.P.O) – CHRIS MARSHALL, STEVE YATES, ANDY RUSSELL, JOHN SAMME
3rd £15 each : 103pts (C.P.O) – MIKE BRENNAND, PAUL HOLT, RICHARD PHILLIPSON, DAVE MCCARTNEY
4th £10 each : 99pts – MIKE LEDDY, CLIVE GARSIDE, NIGEL GARSIDE, CHRIS HALL
2's pool (excluding 4 & 15) £33 each – Alan Peatfield, Steve Holmes-Kirkham, Geraint Hughes
4th November 2023 – Winter Texas Scramble
1st £30 each : 39.1 – DEZ WALKER, JON COV, MARK GOODWIN, WAYNE TRAVERS
2nd £20 each : 41.3 – MIKE COOK, CHRIS ASHTON, DARRYL HALL, JASON WARHURST
3rd £15 each : 41.4 – RICHARD LOCKLEY, JOEL NUTTALL, JON NUTTALL, COLIN SKEEN
4th £10 each : 41.5 – MIKE LEDDY, NIGEL GARSIDE, CHRIS HALL, CLIVE GARSIDE
28th October 2023 – Winter Quad-Am
1st £35 each : 77 PTS – MARTIN REDMOND, DANNY MULRYAN, GARY MURRAY, PERRI BETHELL
2nd £25 each : 75 PTS – DAVE JOYCE, GRAHAM ARDERN, PHIL ARDERN, ALEX MACKENZIE
3rd £15 each : 74 PTS – TONY JENNISON, DAN MOORE, MARK BROOKS, TIM SIGLEY
4th £10 each : 74 PTS – IAN PULLEY, DENNIS FARRELL, DAVE HARRABIN, TONY SIEBEN
2's pool (excluding 4 & 15) £11 each – ELLIOT BROWNSWORD, MIKE HOWARD, GAZ YATES, GRAHAM HADFIELD, DAN THOMAS, TIM SIGLEY, TONY JENNISON, KEANE HYDE, CAL CLARKE
16th October 2023 – Seniors Turkey Trot 
This year the Turkey Trot competition was brought forward from November to October in the hope of better weather – and this proved to be the case as 44 members of the Seniors section enjoyed a very sunny, but cool autumnal morning's golf.
Played as a pairs Betterball Stableford over 13 holes, with a "shotgun start" at 0900, the prizewinners were as follows:-
Winners :         Andy Bowers & Tom James with 35pts
Runners-up :  Dave Holt & Nigel Thorpe with 31pts (after card playoff)
3rd place :       Colin Skeen & Rob Holden with 31pts
4th place :       Hugh Jones & Peter Coull with 30pts
5th place :       Chris Hall & Steve Ashworth with 29pts
Many thanks to everyone who took part and to Tom James for organising the event.
(Please visit the Seniors Section of the website for more information, including photographs of the prizewinners).
2nd October 2023 – Ladies / Seniors Mixed Quad Am
28 members of the Ladies and Seniors sections enjoyed a very pleasant morning's golf in what turned out to be a dry, warm October morning. Played as a Stableford over 13 holes with the best Ladies and best Gents score to count, the prizewinners were as follows:-
Winners :          Liz Milne, Pam Boffey, Kevin Smith and Pat Walker with 57pts
Runners-up :  Jo Coull, Kate Bromilow, Hugh Jones and Rod Taylor with 54pts
3rd place :       Judith Johnson. Chris Currie, Dave Rose and Mike Howard with 52pts
Many thanks to everyone who took part and to Jean Taylor and Pat Walker for organising the event.
(Please visit the Ladies and Seniors Sections of the website for more information, including photographs of the prizewinners).
+++++++++++++
Andy Bowers wins the Players prize
Congratulations to Andy Bowers, winner of the Players Prize for 2023, by 10 clear shots. For more information please visit the Mens Section of the website.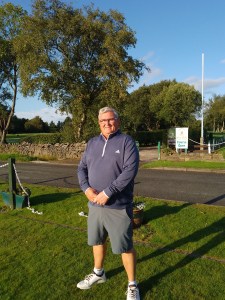 +++++++++++++++
Seniors reach the 2023 MDSGL final 
Congratulations to everyone (19 players in total) who helped our Seniors reach the final of the MDSGL. The final tables can be viewed from within the Seniors Section of the website. 
The final was due to be played on Tuesday 19th September at Blackley Golf Club. Inclement weather meant the final was postponed to September 26th. However, as the course was still very wet it was once again postponed and is now being planned for 23rd April 2024!!!
+++++++++++
Finals Day – Sunday September 3rd
On September 3rd we hosted the 2023 knockout finals day. There was some great golf on display and it was great to see so many people out supporting. Well done to all winners. Trophies will be presented on presentation evening.
Presidents Knockout.
Winner Stephen Bull 
Runners Up – Duncan Green
Tied 3rd Keane Hyde & Matt Robinson
Foursomes Knockout.
Winners Stacey Wild & Gary Morgan 
Runners Up Simon Belt & Paul Bowers 
Fourball Knockout.
Winners Chris Wood & Joel Wood 
Runners up Chris Ashton & John Bradley 
Scratch Knockout.
Winner Keane Hyde 
Runner up – Jack Miller
Tied 3rd Jack Marshall & Gary Morgan
Mixed Knockout
Winners Simon Belt & Mo Harrison 
Runners up – Gav Shields & Alison Shields 
Well done to all winners and finalists.
For photos of the finalists please visit the Mens Section of the website.
+++++++++++++
Rigby Trophy – Saturday September 2nd
An 18 hole play off will be required to determine this year's Rigby Trophy winner after three players, Jake Unsworth, Alan Peatfield and Nathan Burrows all finished today's event with 43 points
+++++++++++++
Invitation Day – Saturday August 19th
1ST £100 EACH 45
OLLIE DE ROSENWERTH & LEWIS COATES (CHAPEL)
2ND £75 EACH 45
ALAN GOODALL M ARNFIELD (BROOKDALE)
3RD £50 EACH 45
DUNCAN GREEN & DAVE BESWICK (HAZEL GROVE)
4TH £25 EACH 44
SIMON IGNOTUS & CHRIS UNSWORTH (CAVENDISH)
NEAREST THE PIN ON 8TH – NATHAN BURROWS £25
NEAREST THE PIN ON 15TH – JOHN CONNOLLY £25
Non CDH handicap price – £20 each
Garry Hopkins + Graham Smith 46!
MEMBERS 2'S POOL EXCLUDING 4 & 15 £25 EACH
STEVE YATES
ALEX BARWELL
MATT ROBINSON
STEVEN COUPE
WELL DONE TO ALL THE WINNERS
+++++++++++++
Ride For Charlie Golf Day – Friday August 18th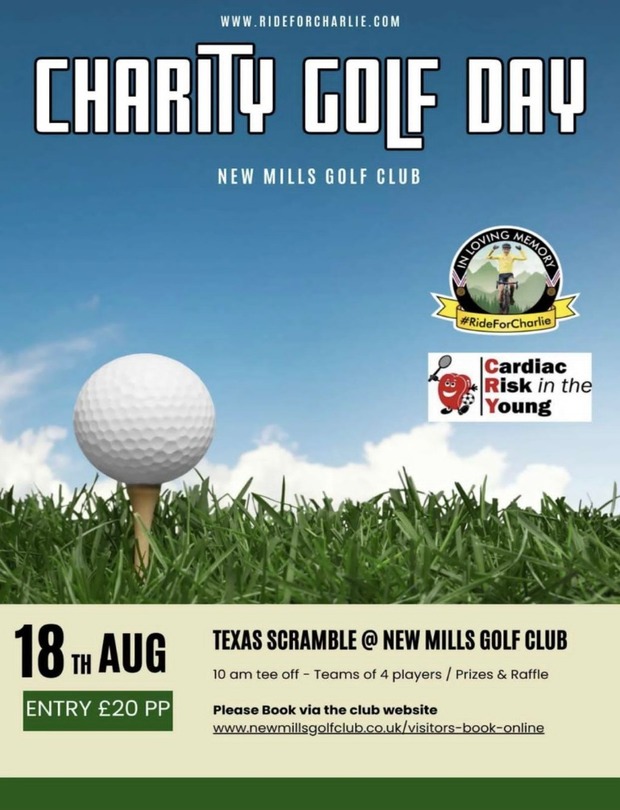 Yesterday we hosted the 'Ride For Charlie' Golf Day which is a cause close to a lot of members hearts.
The day was a huge success and the results are below.
The format was a Texas Scramble.
1st 53.4 £40 EACH
ISAC YOUNG, HAYDEN BROWNSWORD,HARRY WYATT, JO JO WYATT
2ND 55 £30 EACH
DANNY MULRYAN, MATT YATES, MARTIN REDMOND, LEON TELFORD
3RD 57.2 £20 EACH
ANDY ADDERLEY, GLYN JONES, PAUL HANSON, LUKE ADDERLEY
N.T.P 4TH JAMES IGNOTUS
N.T.P IN 2 13TH JON WRAY
LONGEST DRIVE ANDREW ADDERLEY
N.T.P 16TH ANDREW ADDERLEY
SHORTEST DRIVE MAX GRAVESTOCK
Well done to all who supported the day. See below a link for more information on the charity.
https://www.rideforcharlie.com/
+++++++++++++
Yet another major victory for Rob!
After his recent success in winning the Shaw Marsh Trophy for 2023 , Rob Holden won today's seniors Marcliffe Cup stableford with 39 points. You can find out more about the event by clicking on the 'Members section' and then 'Seniors section' of the website. Well done Rob on a fantastic double achievement!
+++++++++++++
Anderton Bowl requires a play off to determine this year's winner!
A fairly strong wind made conditions a little tricky in yesterday's Anderton bowl. Four players finished on 5 up Jack Kirk, Steve Coupe , Alan Peatfield and Oliver Wong. As this is a board competition there will have to be a four way play off to determine the winner. Only Jack or Steve can win the trophy as Alan and Oliver don't meet the competition criteria of having 21 recorded scores. However, they still qualify to win the prize money. Well done to all four players and good luck in the play off!
Two players, Alan Forbes and Tim Sigley scored holes in one on the day. Alan on the 4th and Tim on the 16th. Well done to both players and also to all those who scored 2's in the competition – the highest number in any competition so far this season!
+++++++++++++
Vet's Cup 2023
Congratulations to Stan Spencer winner of this year's Vet's Cup with a nett score of 67 which included 6 pars.  This is probably the No.1 competition on the senior's calendar in that it is the only competition played as a medal off white tees. Visit the Senior's section for more information about the event.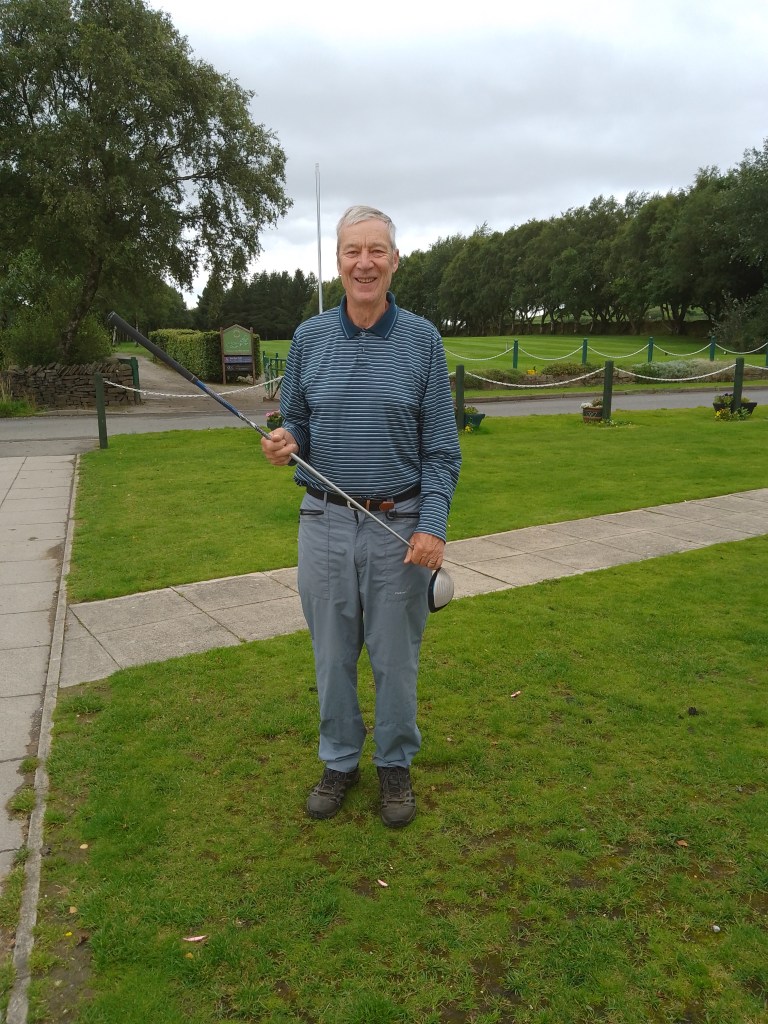 ++++++
Sam's Golf Day July 15th 2023 
Well, that's another year done and another successful day! First time in 6 years we have had rain on the day. I would just like to thank everyone who came and supported the day even in those conditions. 
We had £50,000's worth of hole in one prizes up for grabs along with a FREE membership! Unfortunately, no one won a car this year so maybe next year! It's the busiest day of the Golfing calendar each year and we aim to make it bigger and better each one. This year I added  a raised tee on the 10th which completely changed the perspective of the hole and had some great feedback. 
Please see below the full results and once again…Thank you!
1st Keane Hyde, Jack Marshall, Jacob Bagshaw, Adam Stott – 51.9 fourball at Gleneagles
2nd Jared Massey, Gaz Gerrard, Sam Elliot, Greg Harwick – 53.4 £100 pro shop voucher each
3rd Mikey Deaville, Jack Sidebottom, Ollie de Rosenwerth, Ollie Farrell – 53.5 pair of Puma golf shoes worth £80
4th Josh Westmoreland, Scott Mckaskie, Jack Miller, Barry Lawson – 53.6 any polo shirt in stock
5th Joel Nuttall, Alan Goodall, Matt Robinson, Colin Skeen – 55.2 Motocaddy umbrella
6th Geraint Hughes, Paul Davidson, Gary & Graham – 55.5 Dozen Srixon soft feel golf balls
Nearest the pins
6th Jack Marshall – malfy gin hamper
4th Glyn McNicholas – dozen balls
8th Andy Townsend – dozen balls
Longest putt challenge
On the putting Green we set up a longest putt challenge. A putt 60 foot in length slightly right to left. £1 per putt and if you holed it you won a year's membership. 
Surprisingly there were 5 winners on the day. Instead of going into a draw to decide a winner all winners have decided to take a split of the £865.
The winners were:- 
Tony Hall
Jon Coverley
Alex Barwell
Aran Brooks
Nigel Clapham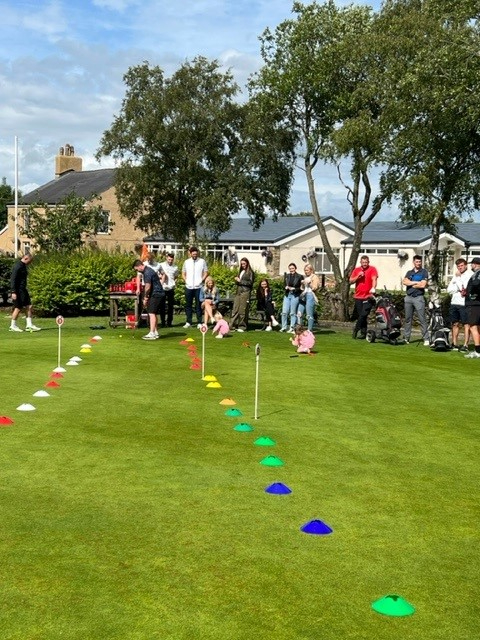 New Display Case in the foyer – July 2023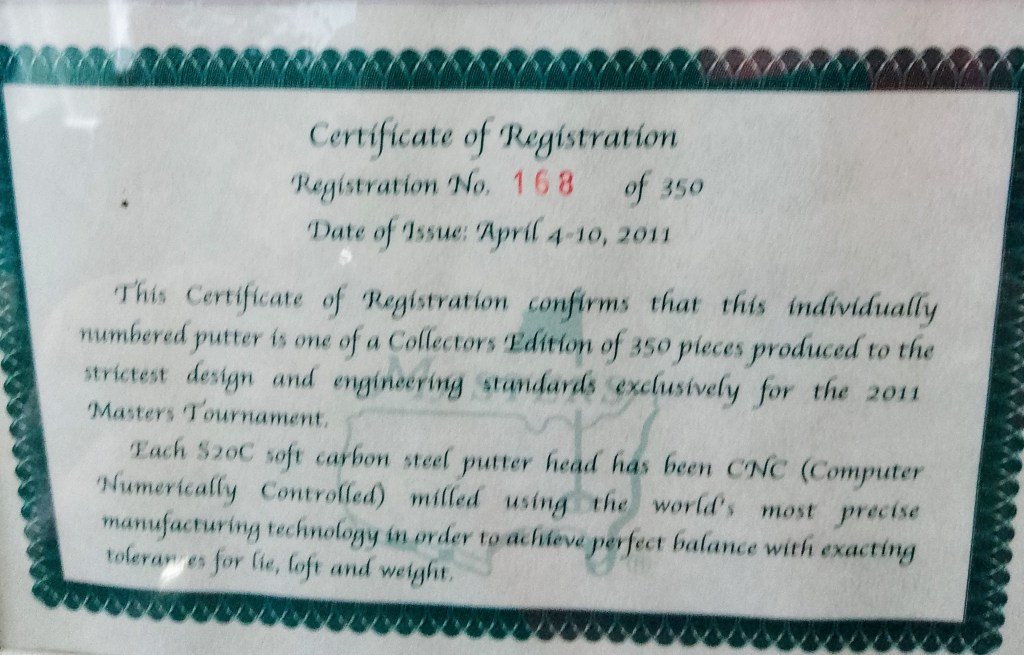 This new display case in the foyer has been kindly donated by the family of the late Mike Richardson and contains a limited edition putter made especially for the 2011 Augusta Masters. The  photo shows Mike playing in the pre Portuguese Open Pro Am alongside CHARL SCHWARTZEL who, after receiving a few helpful tips from Mike in 2008, improved his game and  went on to win the 2011 AUGUSTA MASTERS!!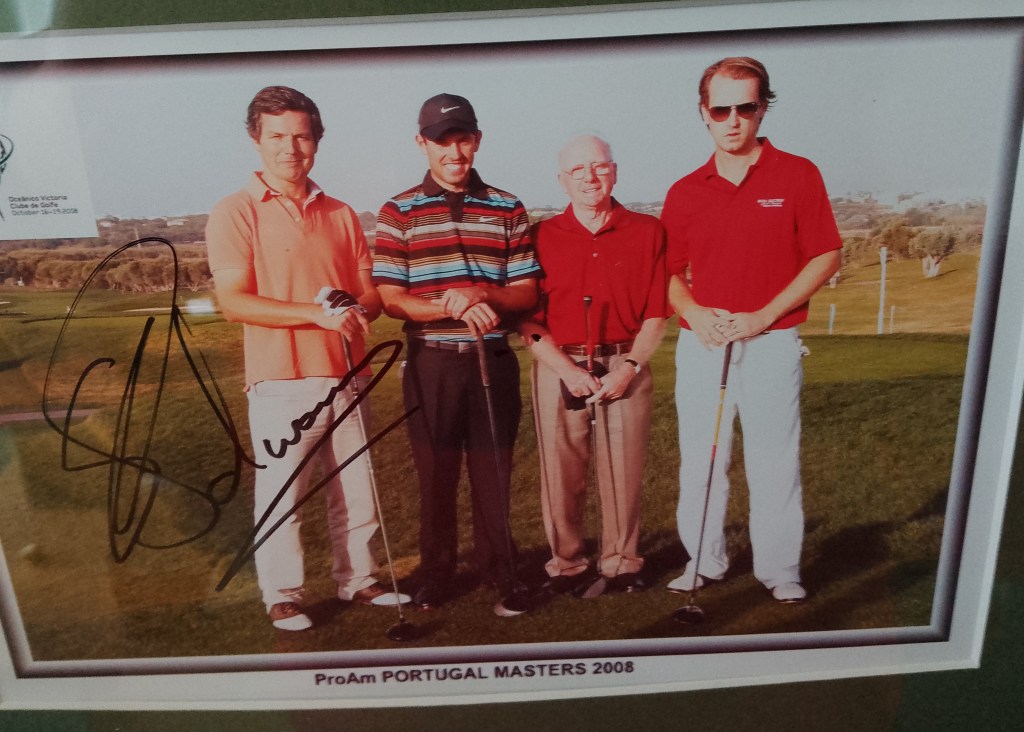 +++++++++++++++++
Rob wins the Shaw Marsh Trophy : 8th-9th July 2023
Congratulations to Rob Holden winner of this year's Shaw Marsh Trophy with a combined score over the two days of 130, three ahead of Joel Wood on 133 with Phil Holland third also on 133. For more details of the event visit the Men's section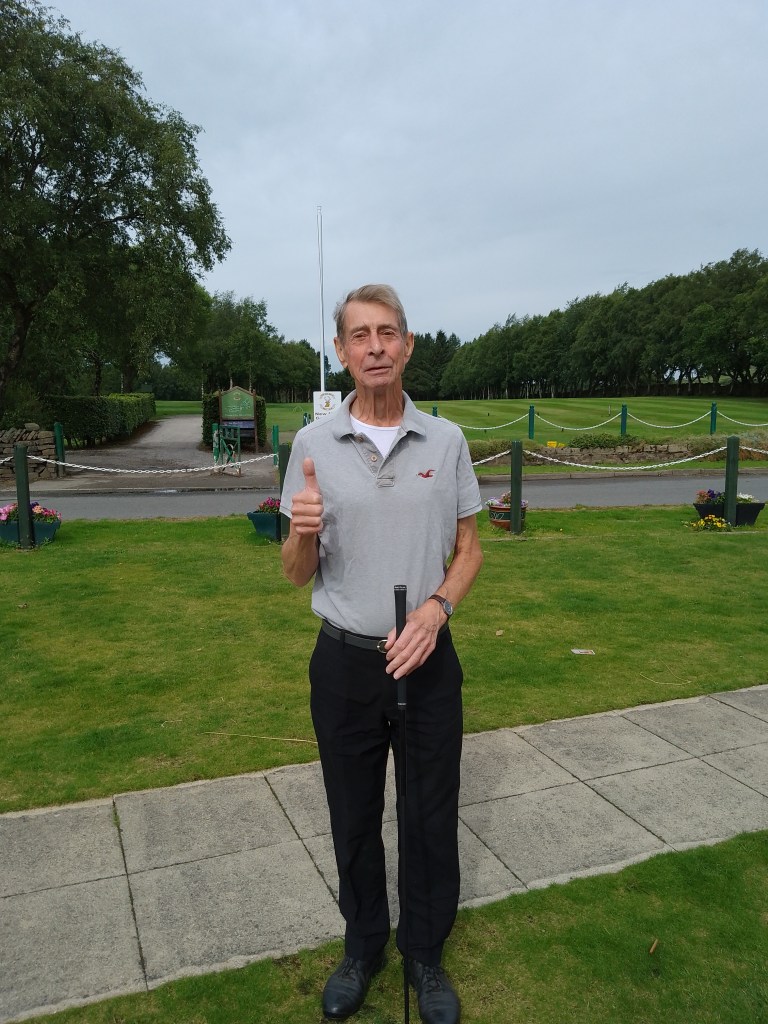 ++++++++++++
Ladies Day Competition – 9th July  2023
Congratulations to Brenda Grimshaw winner of the Ladies Day competition with a nett 66 beating Chris Currie by 2 points. for more information and more photos of the prize winners go to the Ladies section.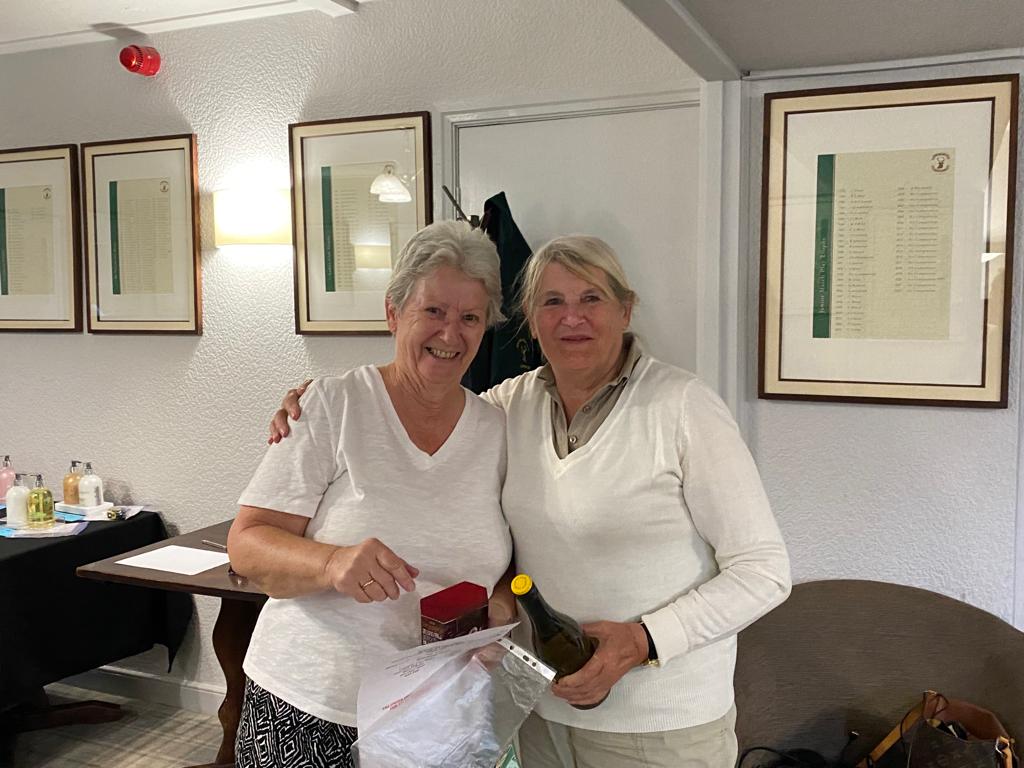 +++++++++++++
June was an Ace month!
Well, they say things come in 3's. Last month they certainly did!
We had 3 hole in ones all within a 10 day window.
Firstly was Joe Bowers on our 10th Hole.
Then Jack Marshall fired an ace on the tricky tucked away pin on the 6th.
Followed by Mick Goddard with his first ever ace on our 8th!
Well done lads!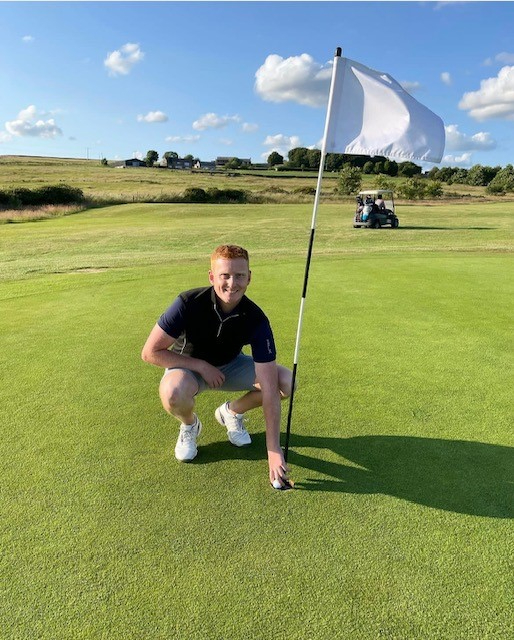 It could so easily have been four! Go to the Seniors section to find out more!
+++++++++++++++
Ladies Open – July 2nd 2023
Calm and warm NOT!! Soooo  windy!!!! but still had a fantastic score from a Cheadle team (92) (with one New Mills lady). In all 30 teams of 4 played. All enjoyed the very filling half way house, with cakes supplied by the ladies. Lots of the ladies enjoyed the clothing company who brought a big variety of clothes.
All of the players loved the course, saying how well maintained it was.
Big thanks to Kirsty and her team who kept the ladies fuelled with breakfast and dinner.
With 30 teams, we are very much on top of local Opens. A true testament to a friendly and welcoming club!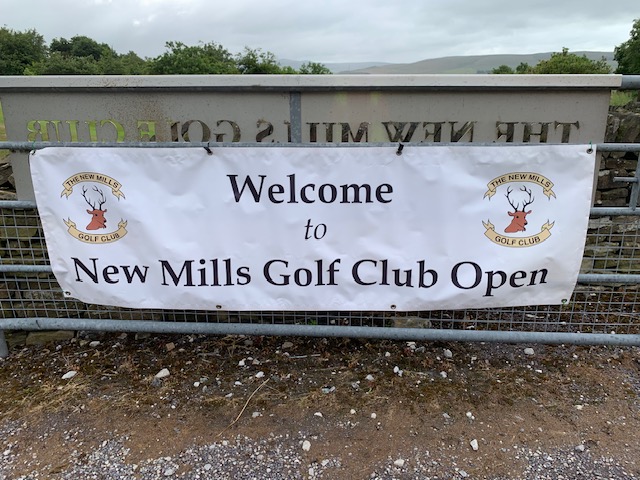 For more information about the day visit the ladies section of the website
+++++++++++++++++
Mr President's Day – June 24th 2023
President's Day 2023 was a fantastic day with 137 players taking part. The course was in excellent condition thanks to Nigel and his team's hard work and the day produced some high quality golf.
The winner with a score  of 44 points was Callum Clarke whose exceptional round included 5 birdies, 12 pars and just one bogey! Runner up was one of the Seniors section, Hugh Jones, with an excellent score of 43 points. Mike Leddy came third with 41  beating Jordan Worrall on a card play off.
Additional prizes were awarded to Callum for the best gross score (40), Olly Farrell nearest the pin on the 8th, Sean  Moore nearest the pin on the 15th and to Stuart Fletcher closet to the line.
Steve and Kirsty rounded off a perfect day by putting on live music and a disco together with complimentary food in the evening.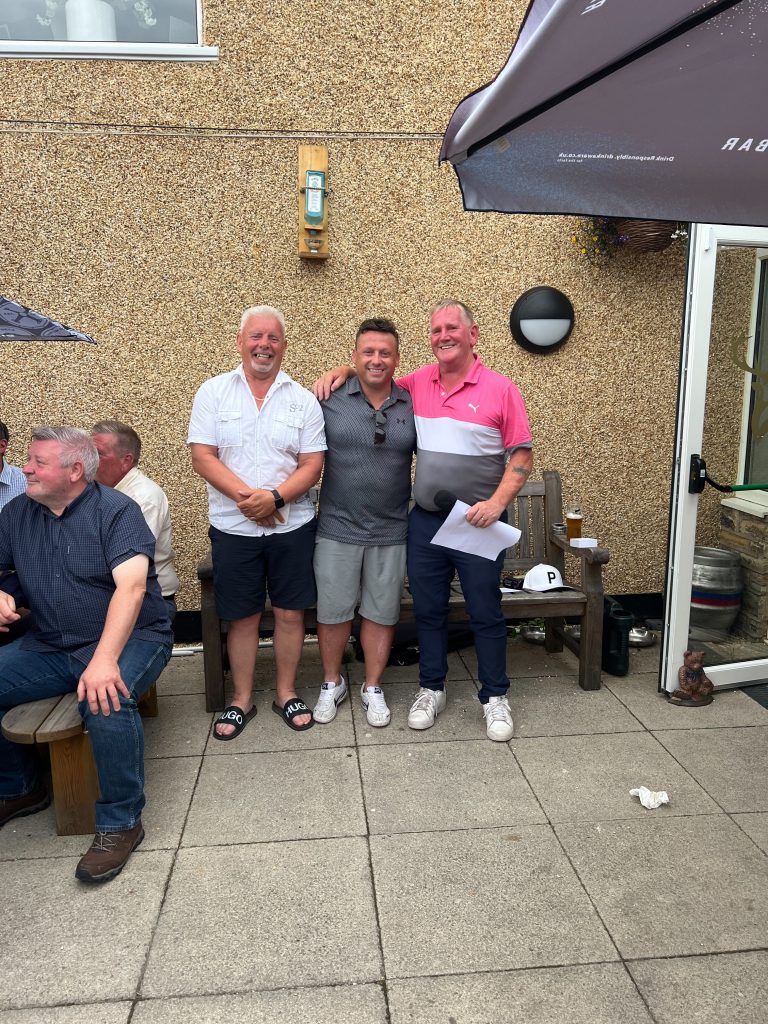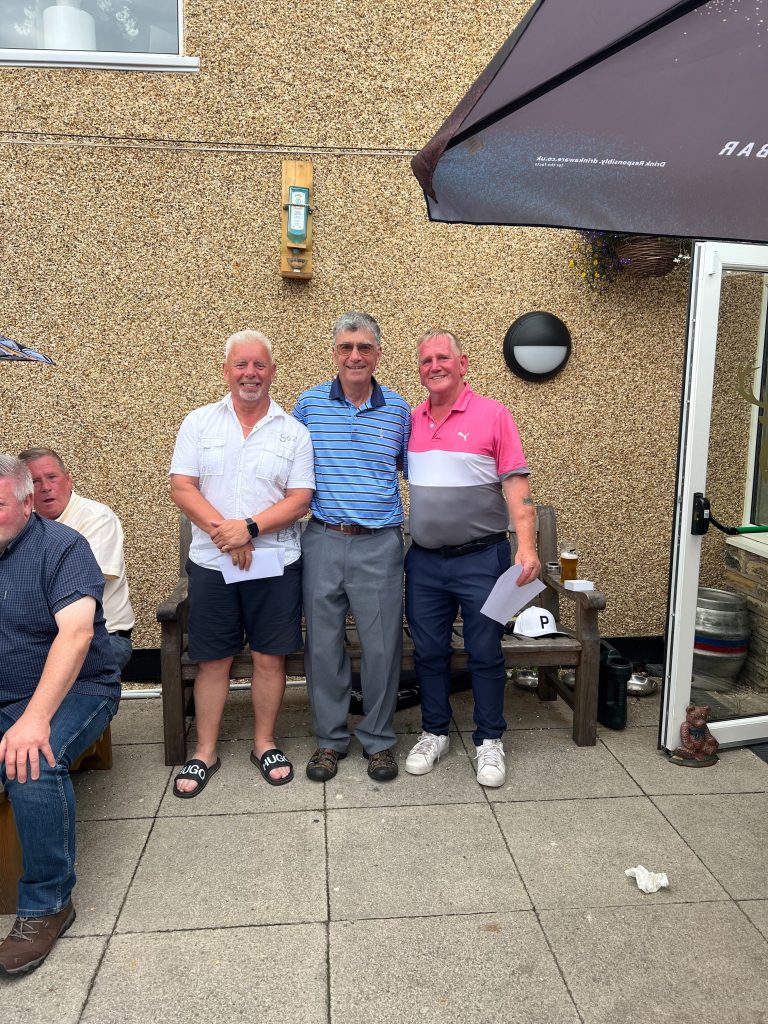 The photos show Callum (top) and Hugh (bottom ) together with Mr Captain and Mr President
+++++++++++++
Mr President's Invitation to Ladies – June 25th 2023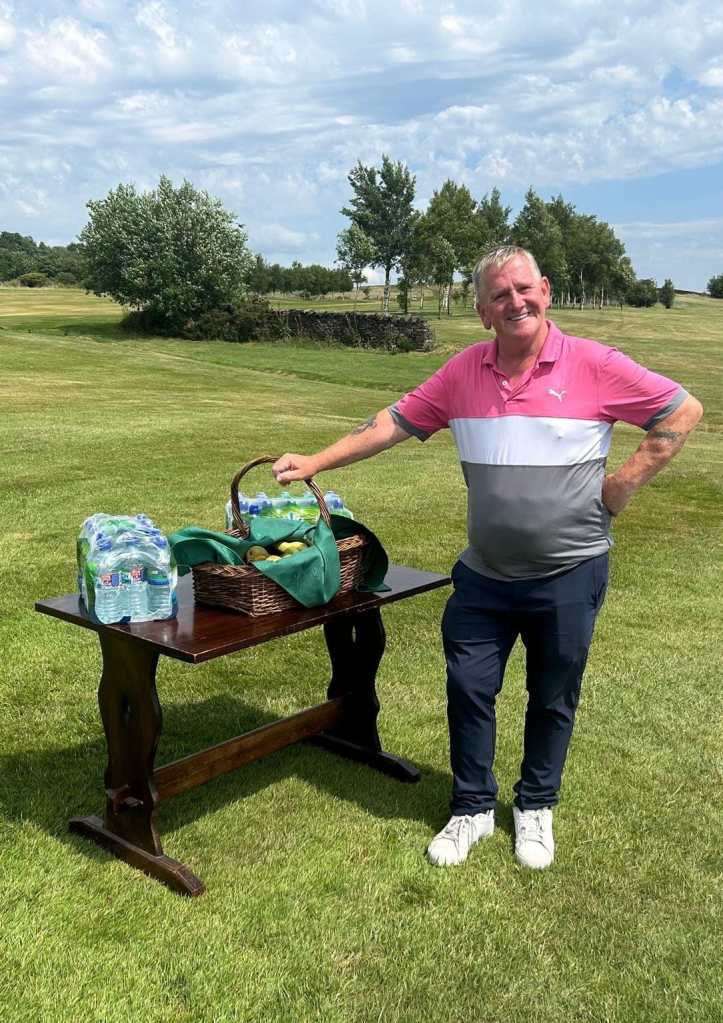 22 of the Ladies section played in Mr President's invitation event on Sunday 25th June. Winners of the 18 hole competition in which 12 Ladies played was Jean Taylor with 39 points. Runner up was Alison Shields with 38 points who beat Alison Wright in a card play off.
The 9 hole competition was won by Kate Bromilow with 18 points with Judith Johnson coming second with 16 points.
After the game the ladies enjoyed complimentary salmon fish cakes and cakes courtesy of Steve and Kirsty.
More photos can be seen in the Ladies section .
+++++++++++++
Joyce wins Lady Presidents Day – June 11th 2023
Congratulations to Joyce Hadfield winner of today's Lady President's Day. For more information and more photos visit the Ladies section of the website.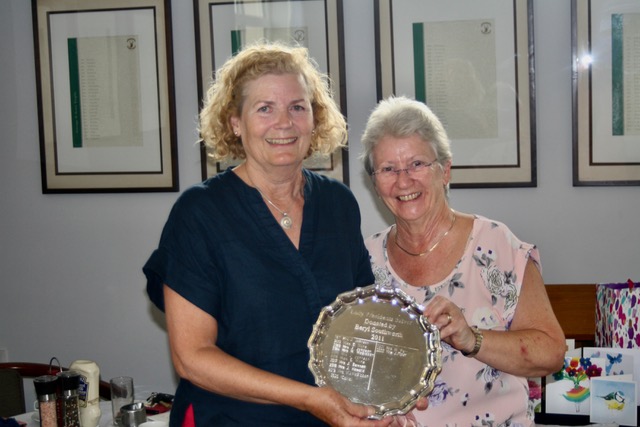 ++++++++++
Seniors Quad Am – May 8th 2023
We would like to thank all those players who once again supported our Seniors Open event.
Prospect of a sunny day's golf was dashed by early rain, which fortunately was not as bad as forecasted. However, the course did become more difficult as the day progressed and early starters did seem to benefit.
Winners of Store Vouchers :- 1st place £80, 2nd place £60, 3rd place £40, 4th place £30
1st – Andy Chadwick; Colin Osborne; Nick Lewis; M Chuwen:       86 Points (count back) – £80  New Mills GC
2nd – B Sinclair; I Hulson; M Edgeley; C Davies:                                   86 Points                  – £60          Alsager GC
3rd – D McNeil; Andi Li; Darren Smith; Paul Black:                             84 Points                  – £40    Saddleworth GC
4th – Andy Rhodes;  Trevor Marshall;  Mike West;  Dave Thorpe:  83 Points                  – £30    Hallowes GC
Winners of £20 Store Voucher for Nearest Pin on Hole :-
6th :- D McNeill – Saddleworth GC
8th :- David Jones – Macclesfield GC
10th :- Stuart Jackson – Hazel Grove GC
15th :- C Osborne – New Mills GC
16th :- N Hyde – New Mills GC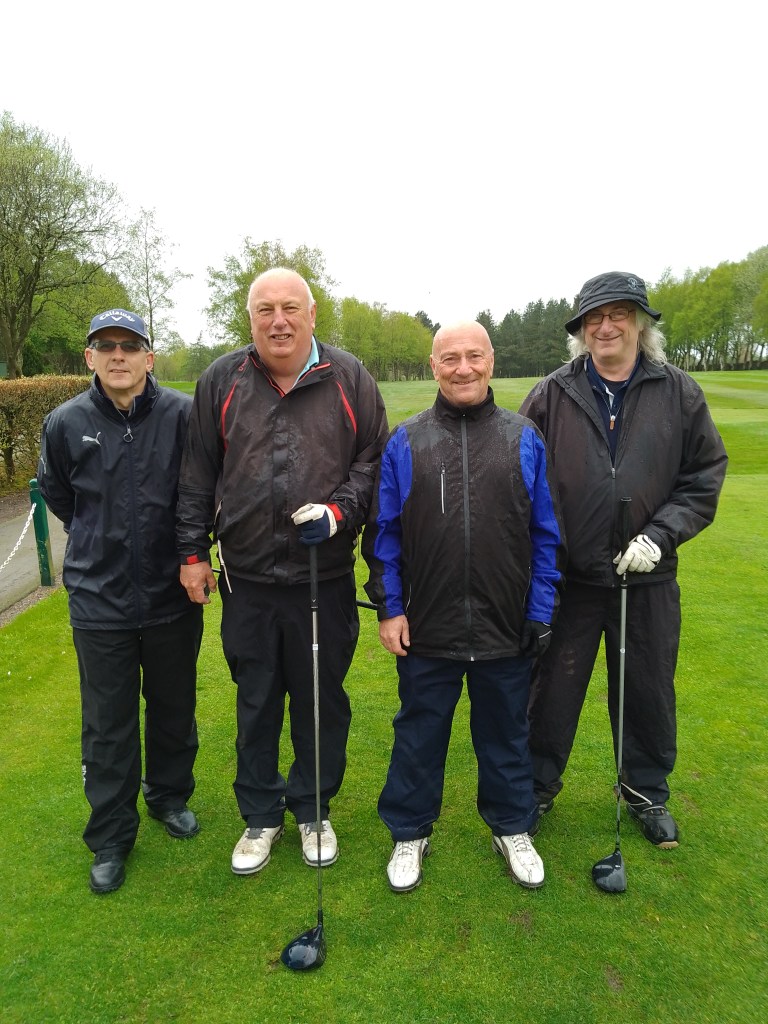 The winning team of M. Chuwen, A. Chadwick, N. Lewis and C. Osborne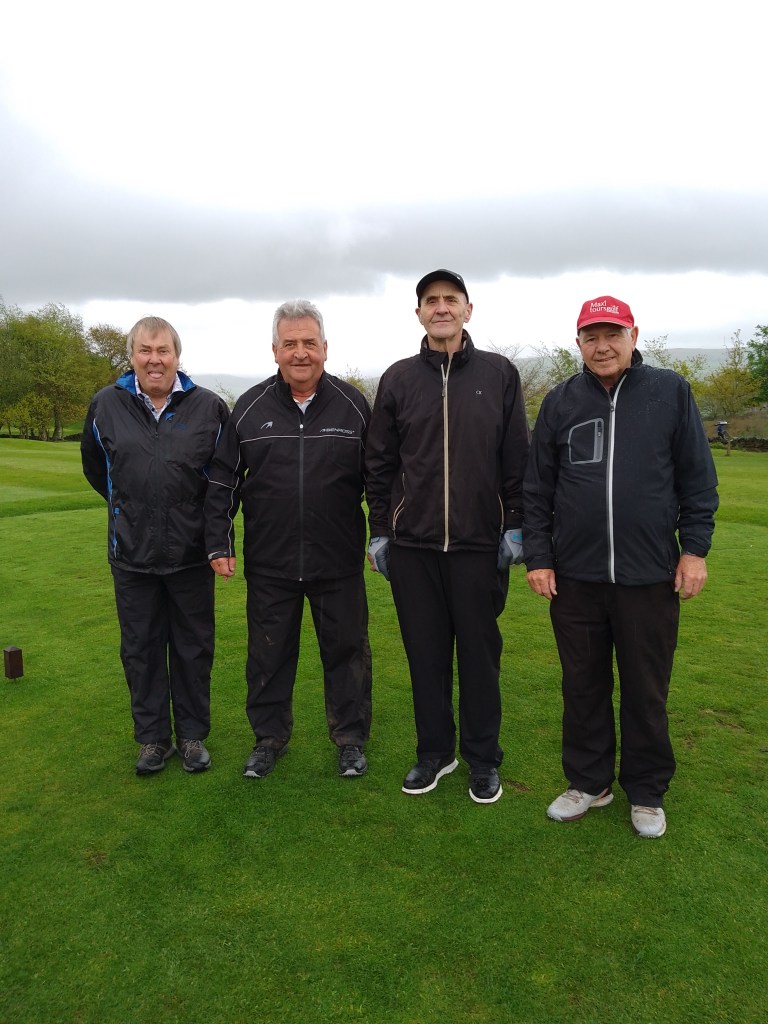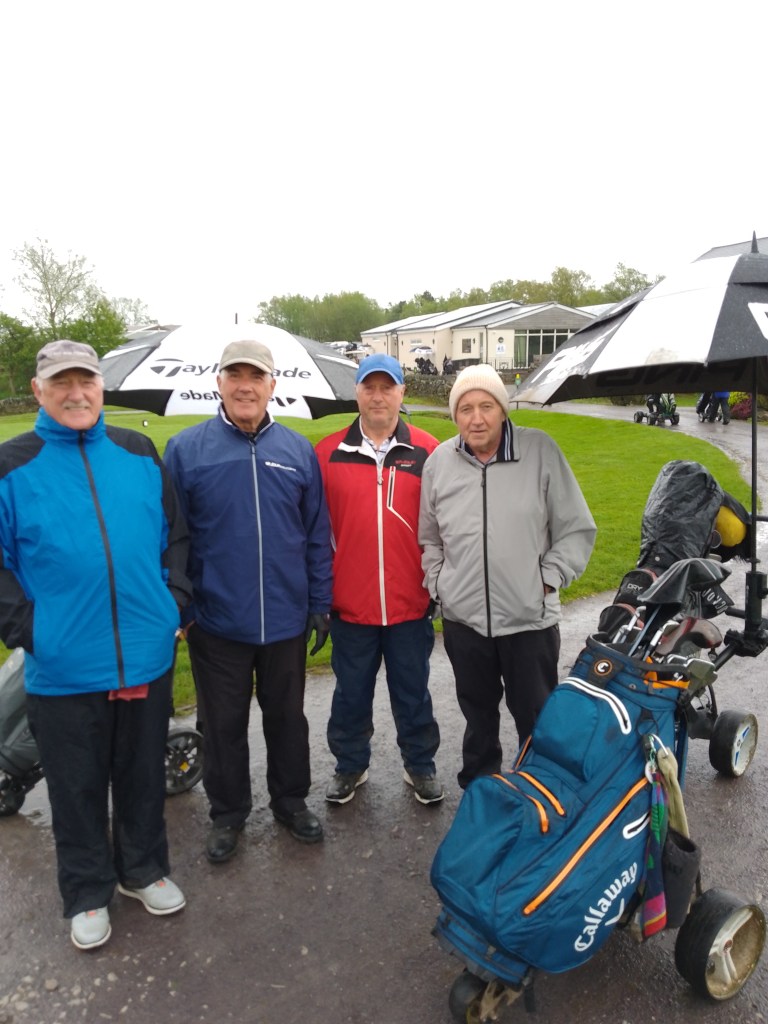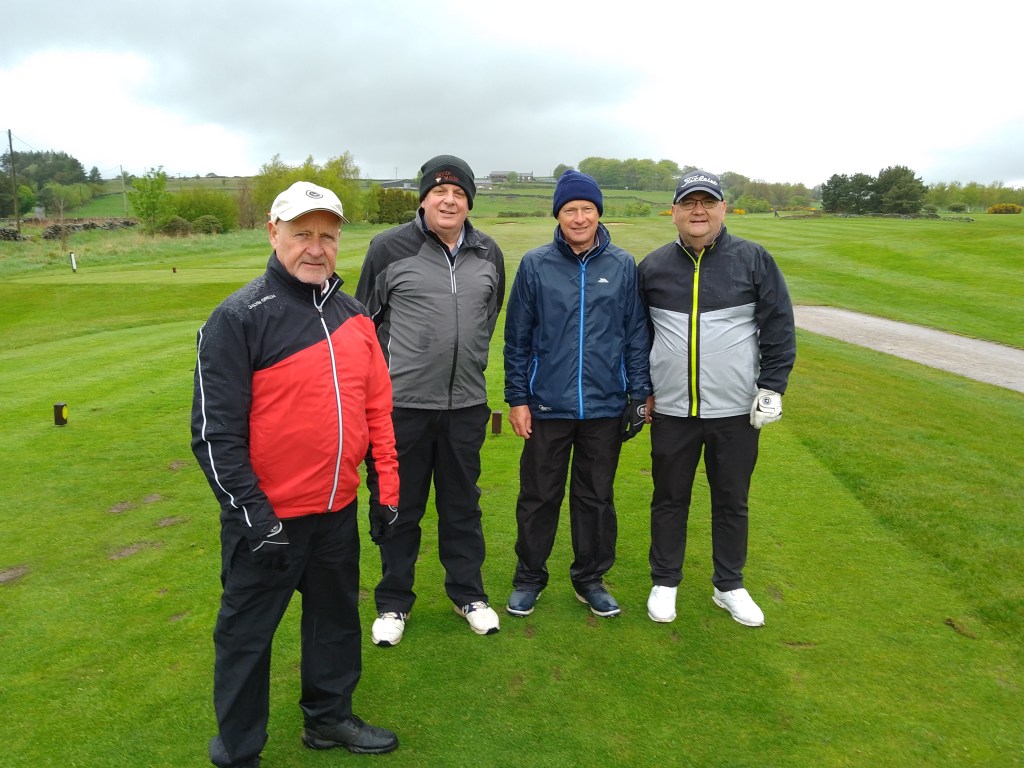 +++++++++++++
 King's Coronation Scramble – May 7th 2023
Congratulations to Darryl Hall, Chris Ashton, John Bradley and Jon Brogden winners of today's Texas Scramble shown below together with Club Captain Steve Holmes Kirkham and Sam our professional. 
The near perfect weather, the hottest day of the year so far, meant there was an excellent turn out and everyone was able to enjoy the sunshine and the food provided by Kirsty before enjoying the superb entertainment provided by vocalist Sue Duncan.  The full list of prize winners is shown below.
1st 55.6 UNDER ARMOUR POLO SHIRT
DARRYL HALL, CHRIS ASHTON, JOHN BRADLEY & JOHN BROGDEN
2ND 55.9 – UA UMBRELLA
IAN WYATT, ANDY RUSSELL, SAM SHAW, JACOB BAGSHAW
3RD 56.1 BRAIDED BELT
NEIL HYDE, PAUL TAYLOR, STU FLETCHER, RICK EVANS
4TH 56.9 – NMGC SCORECARD HOLDER
PERRI BETHELL, MATT YATES, PAUL, TOM
NEAREST THE PIN 8TH – MICK CURRIE – PUMA CAP
NEAREST THE PIN IN 2 ON 13 – PERRI BETHELL – PUMA CAP
++++++++++++++++
Patricia Johnson Trophy -April 2023
Congratulations to Gilly Sewell winner of this year's Patricia Johnson Trophy .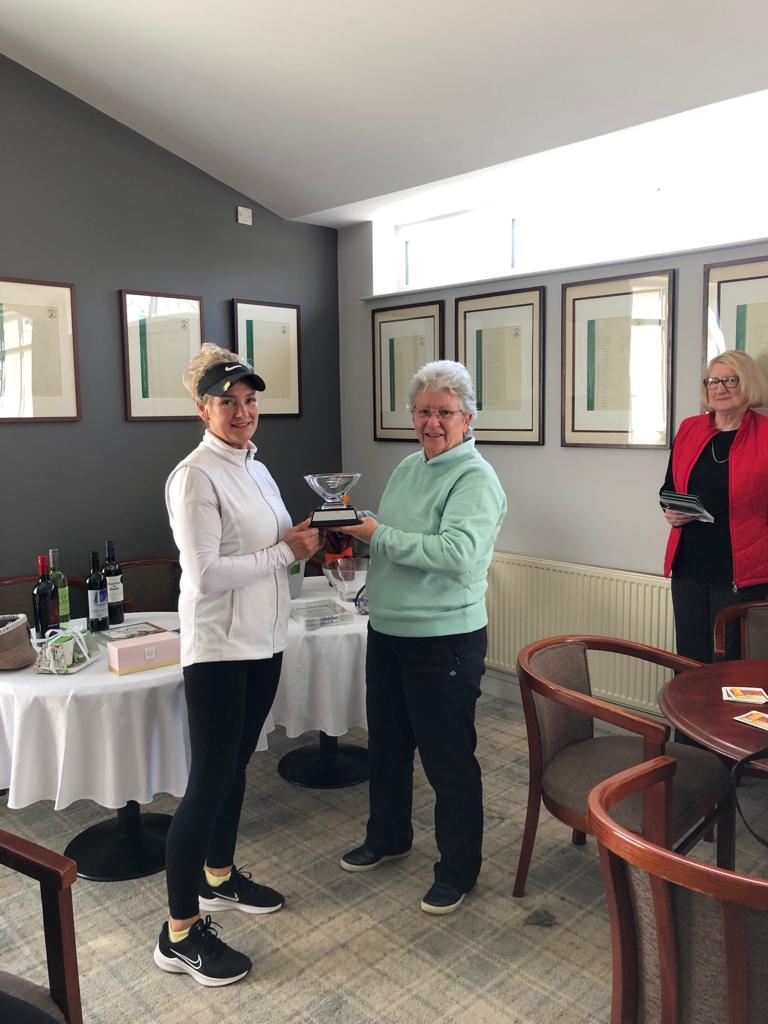 For more information visit the Ladies Section of the website.
+++++++++++++
Easter Egg Competition – April 17th 2023
36 members of the Ladies and Seniors section enjoyed a good morning 's golf today playing in the annual Ladies/Seniors Easter Egg competition.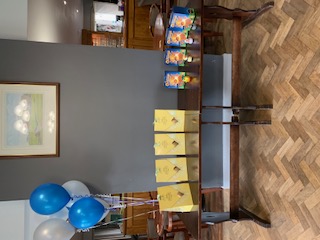 Winners with 64 points were Helen Hodkinson, Judith Johnson,
Bob Palmer and Nigel Thorpe.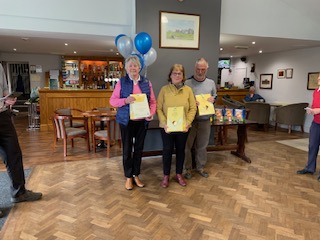 The winning team minus Bob!
Runners up with 61 points were Arthur Oliver, Ian Harding,
Gilly Sewell and Brenda Grimshaw.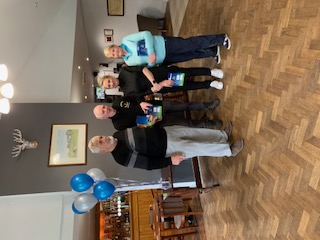 Winners of the 'chicken prize' for the unluckiest team (i.e those who came last) were
John Downes, Dave Rose, Pam Boffey and Alison Rudder.
Pam and Alison accept their consolation prizes!
Many thanks to everyone who took part and to Jane Gee and Pat Walker
who organised the event.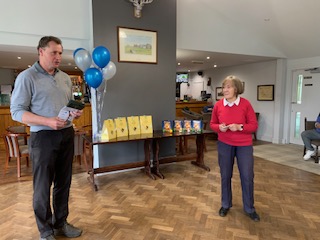 ++++++++++++
Winter League Final – 2022/23 Season
Winners were Paul  Holland and Aran Brooks who beat Martin Wild and Cara Wild 4 & 3 in the final. Congratulations to everyone who took part this winter. More information can be found in the Members section under Winter League 2022/23.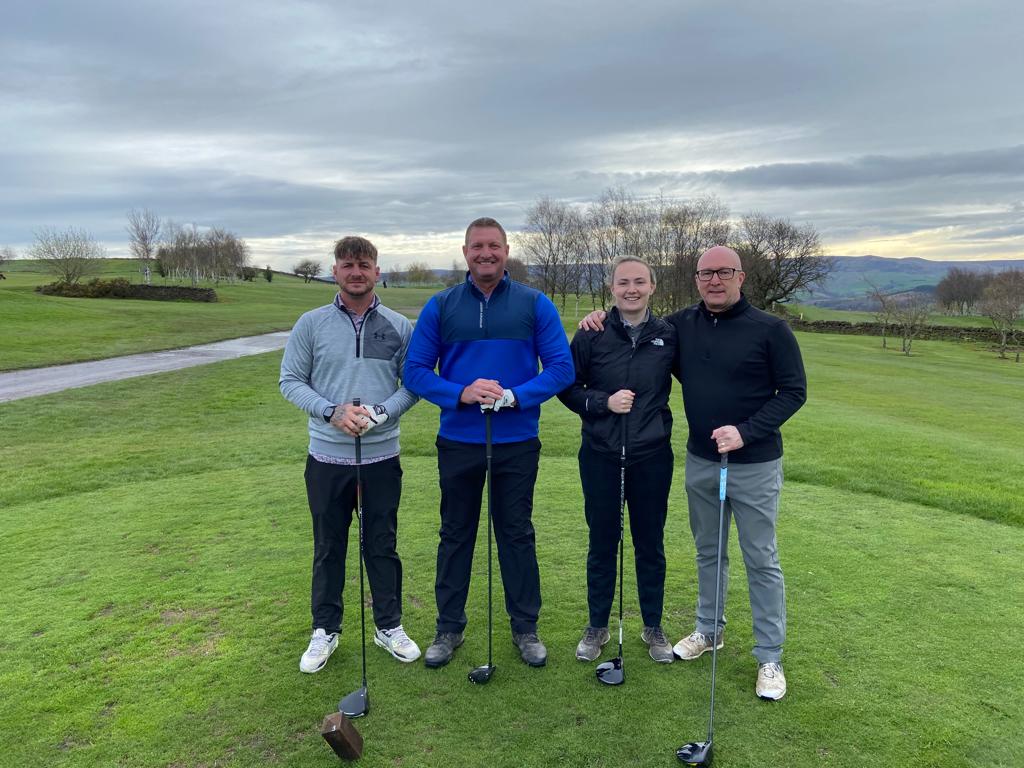 The photoshows the four finalists
+++++++++++++++++
Mr President wins the Derek Horsey Charity Competition 2023
Congratulations to Steve Yates who won this year's Derek Horsey Charity Competition with 28 points beating Arthur Oliver by 2 points. For more information please visit the Seniors section of the website.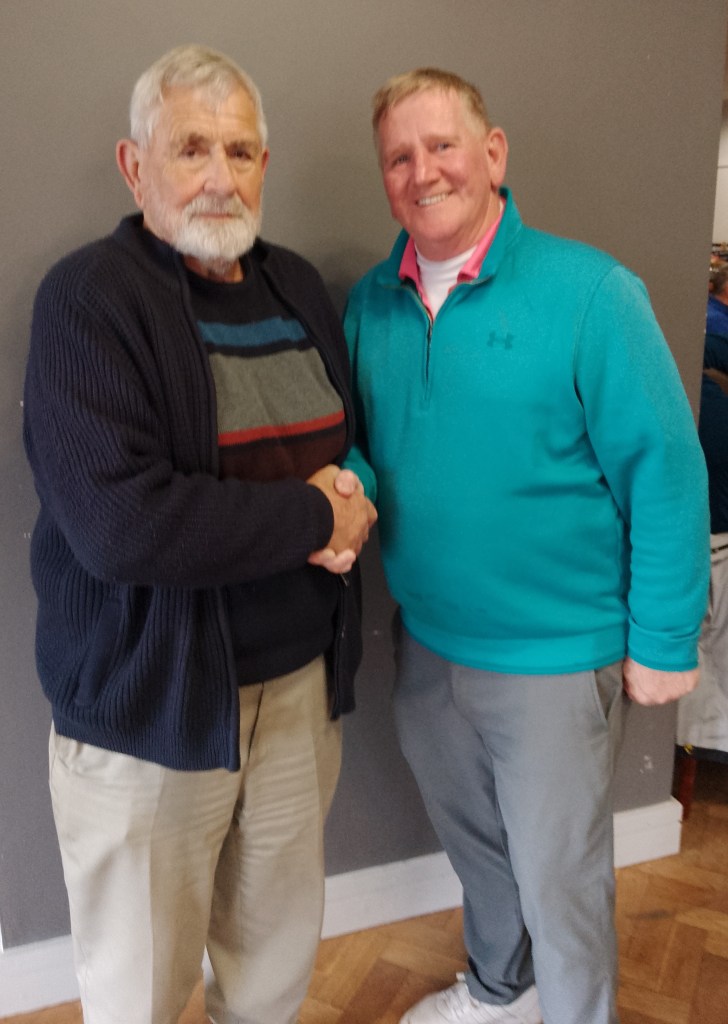 +++++++++++++++++++
The new shrub bed near the Ladies tee on the 12th.
Many thanks to Denis Higginbottom, Ian Bowers and greenkeeper Brendon for their hard work and expertise in building this new bed and to the Ladies section who generously funded the project in memory of Queen Elizabeth 11
++++++++++++++
Christmas and New Year Competitions 2022
As usual, the competitions over the Festive season were well supported and enjoyed by everyone who took part.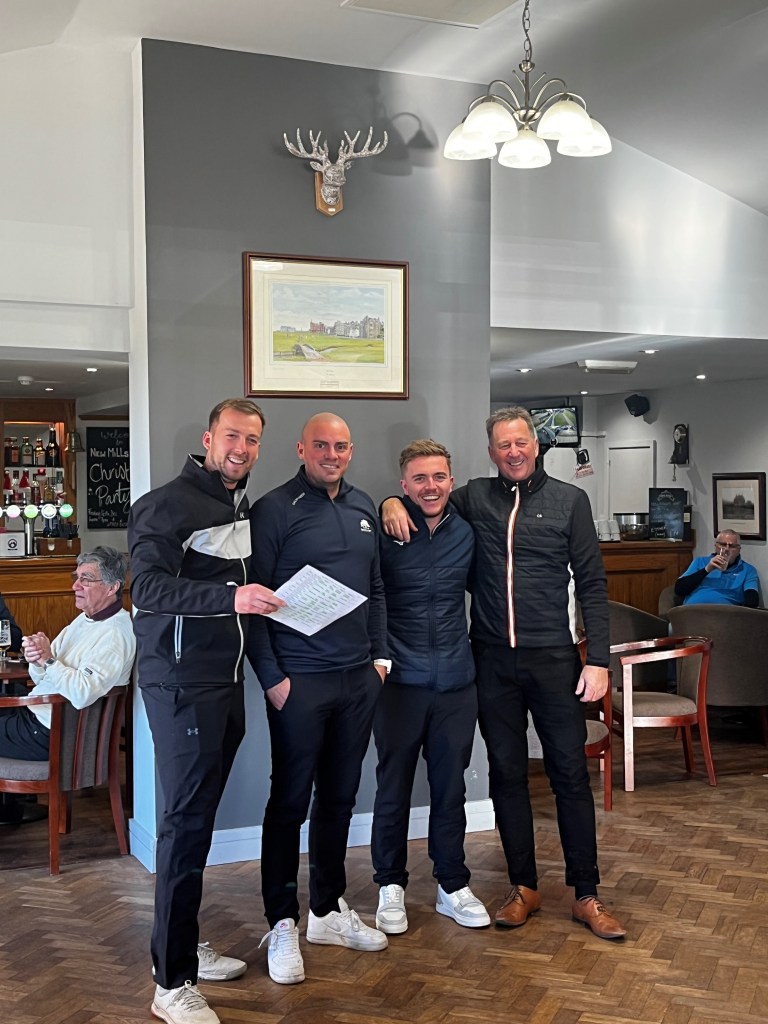 Winners of the Boxing Day Texas Scramble: Sam Shaw, Dan Thomas, Kieran Sharp and Ian Shaw.
For results of all the competitions over the holiday period go to the Member's Section
+++++++++++++
PRESENTATION EVENING
Friday 18th November 2022
Mr Captain presents Chris Hall with the Hibbert Cup at this year's Presentation Evening.
In addition to the trophies which were presented to the winners of the board competitions, Mr Captain also presented prizes for the stableford and medal competitions held throughout the year.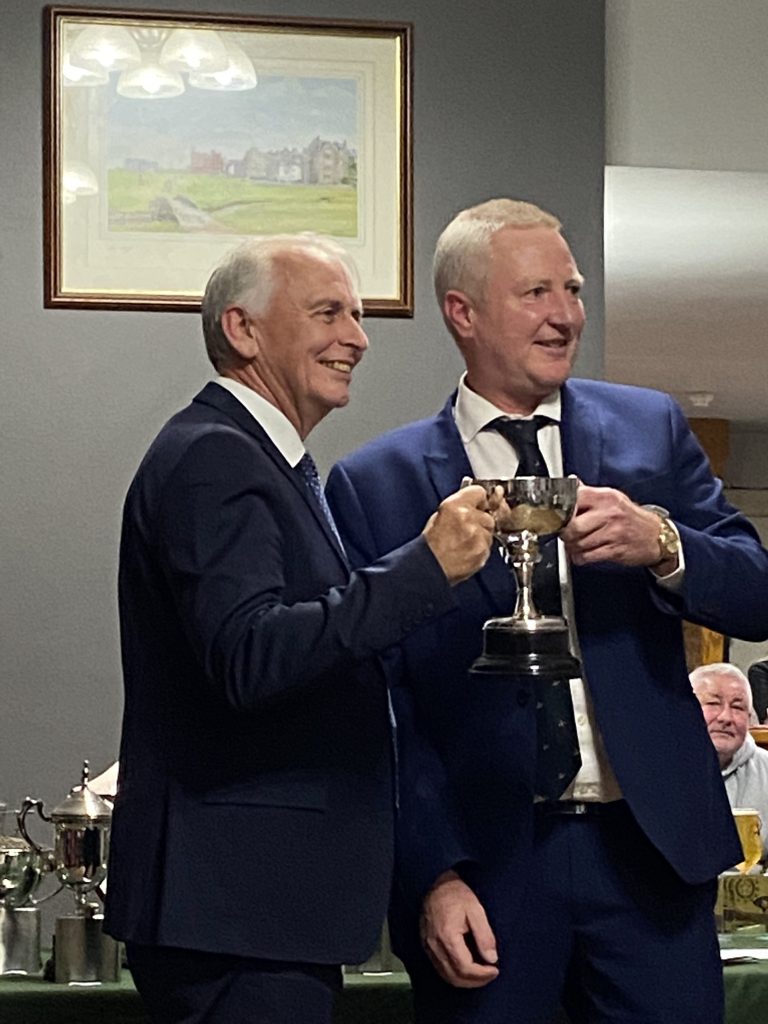 Click on the link below for the list of prize winners in 2022
Go to the men's section under members for more photos.
+++++++++++++++
Jane Howard wins the Myra Nevett Trophy 2022
Congratulations to Jane Howard winner of the Myra Nevett Trophy 2022.
For more information visit the Ladies section of the website.
+++++++++++++
Sale of discarded golf balls nears £600
Just to give you some news on our golf ball sales and fund raisers for the rescue dogs. In addition to the kind donations from club members we have a small band of Werneth Low dog walkers who also donate. This is how it started in 2019. Since the golfers have come on board, we have sold 800 balls raising £215 which has been sent to the charities. It took us 3 years on our own to collect the first lot but a matter of weeks for the second. We are well on the way to selling the third lot which in total will mean we have raised over £600. This is an ongoing project and my co fundraisers are overwhelmed by the support of New Mills members. There is a box in the gent's locker room where you can leave any balls that might be lurking in garages or sheds whatever their condition. Many thanks to everyone who has contributed so far. 
Kath Lyndsay
++++++++++++
+++++++++++++
Ladies-Seniors Annual Competition October 17th 2022
A beautiful sunny day, albeit windy, made conditions a little tricky for those playing in today's Ladies-Seniors annual stableford.
Played over 13 holes, in teams of four, with the best Ladies and best gents score to count on each hole, the competition was won by Lady Captain, Celia James, Ian Harding and Pete Griffiths with 57 points.
The photo shows the winning team along with Mary Blake who announced the results and presented the prizes 
Runners up with 54 points were Liz Milne, Gilly Sewell, Hugh Jones and John Downes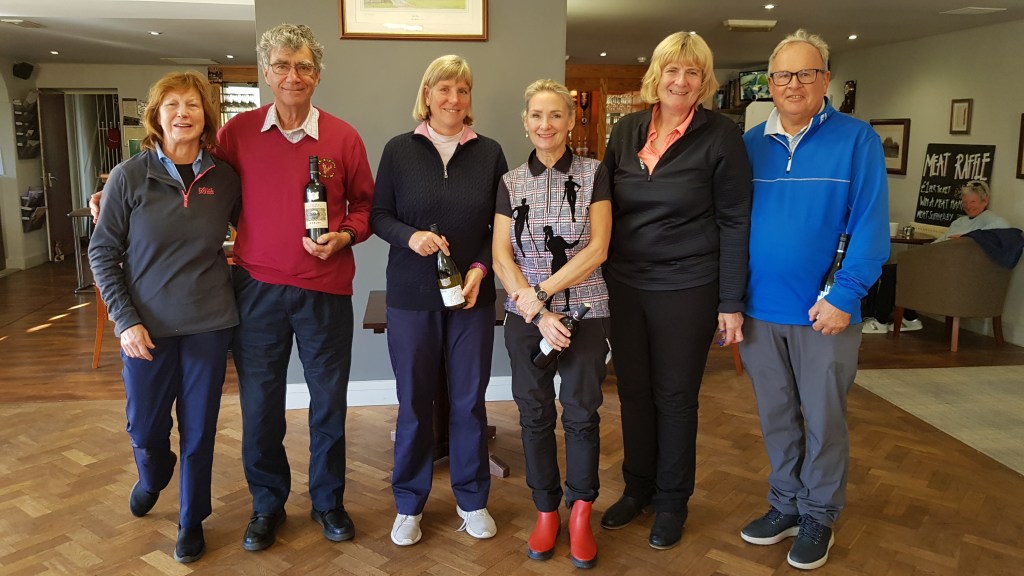 The Runners up with Mary Blake and Lady Captain
+++++++++++++
Alan wins the Seniors Knockout
Congratulations to Alan Goodall who won today's final beating Dave Rose 3 & 2. For more information go to the senior's page on the website.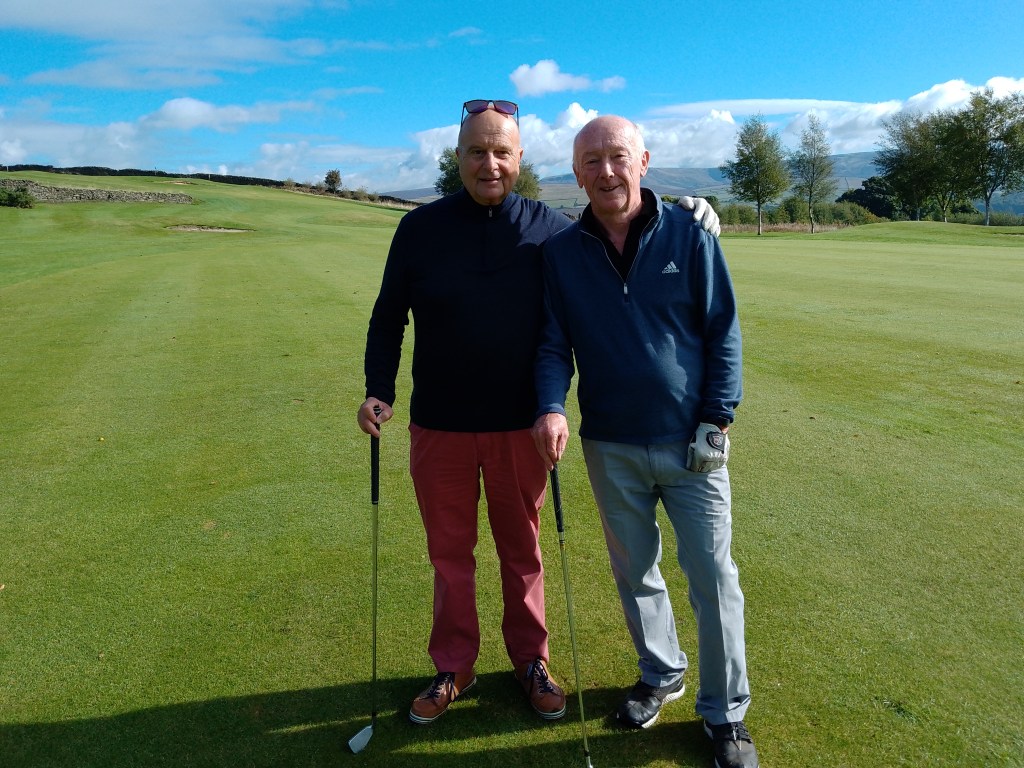 +++++++++++++
Looking back down the 7th towards the Clubhouse on Friday morning
The views from all over the course were stupendous this morning. I guess that's why so many of us really enjoy playing here on what is, a beautifully maintained course!
Missed my par putt but was still inspired to take out my phone and take this!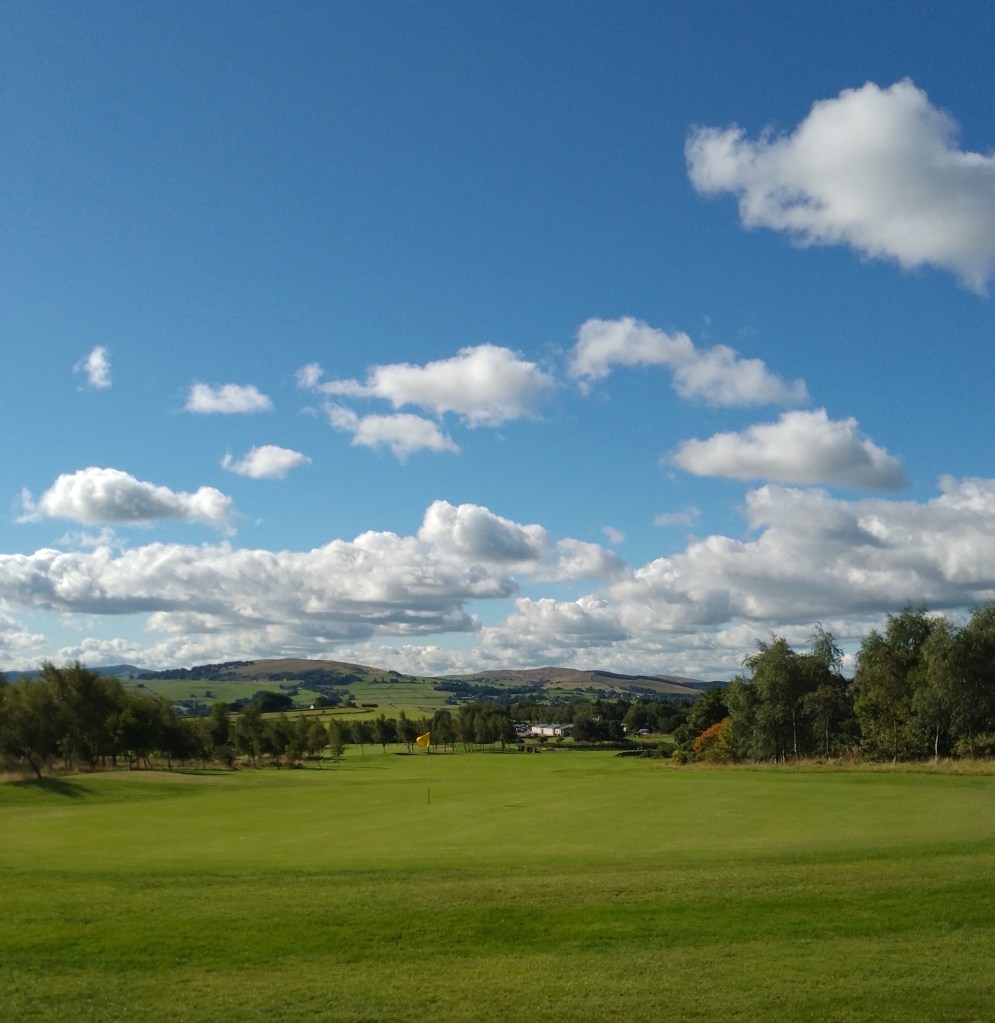 ++++++++++++++++
Celebrating 30 years' service to the club
Mr Captain, Mike Bennett, presented our Head Green Keeper, Nigel Ardern,
with a collection from all our members, for his 30 years of Service to the club.
He has stayed with us, tirelessly working to make our course the very best it
can be! And now, with the help of our Trainee Green Keeper, Brendan, and a
host of willing volunteers, we have one of the best courses in the area!!
Well Done Nigel! You are appreciated far more than you could ever realise.
We are all very proud of you and what you have achieved!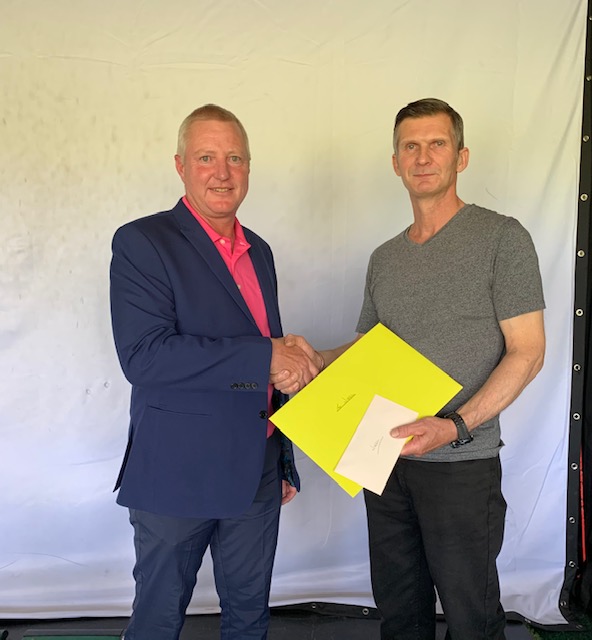 +++++++++++++++++
Captains Day 23rd July 2022
Captain's day was held on 23rd July. The weather was overcast with occasional drizzle in the air. However, this did not stop over 130 competitors taking to the course to compete in the annual board competition. The half way house was open, manned by Lady C and Amanda Holland, offering refreshments after 9 holes.
John Coleman and Jack Marshall shared first position with a score of 62 (Jack finishing 5 under gross, playing off 2), and will require a playoff to determine who claims first prize. Third place wen to Dan Thomas with a 63, and fourth was Simon Ignotus with a 64. The evening was well supported, starting with a BBQ, followed by the presentation and disco.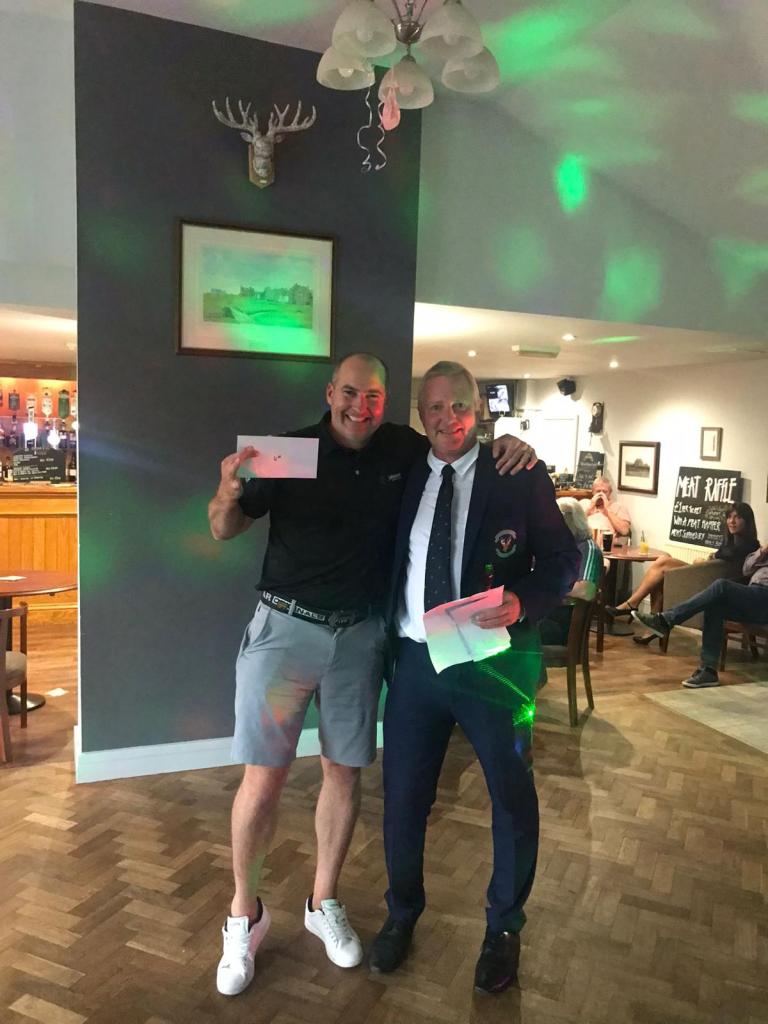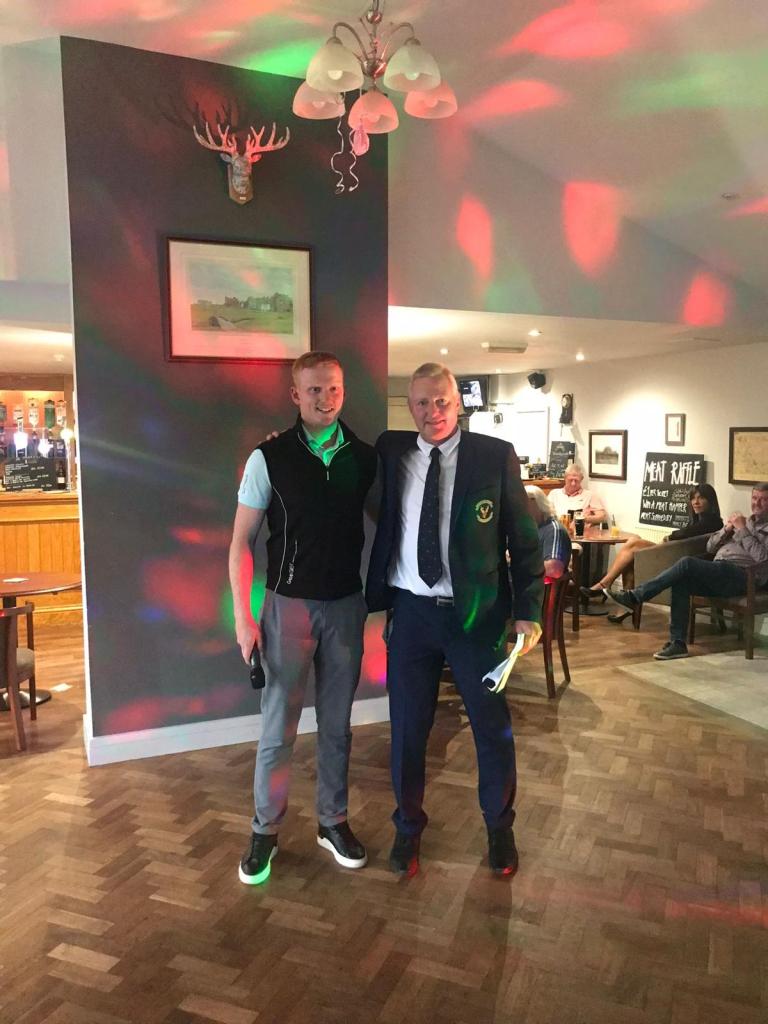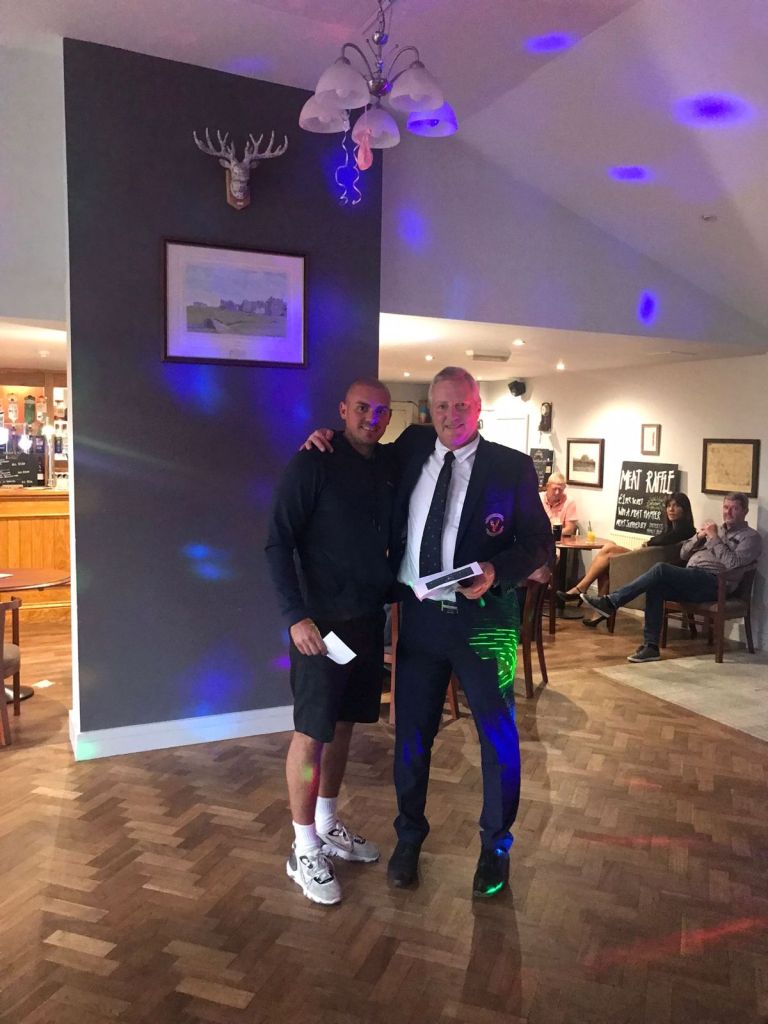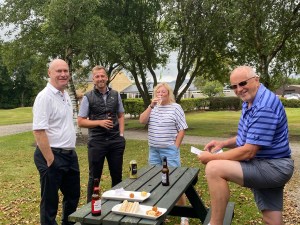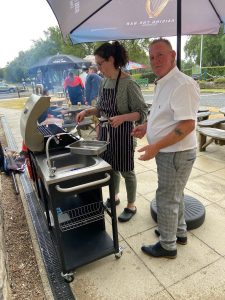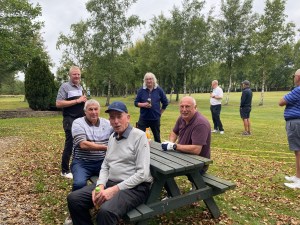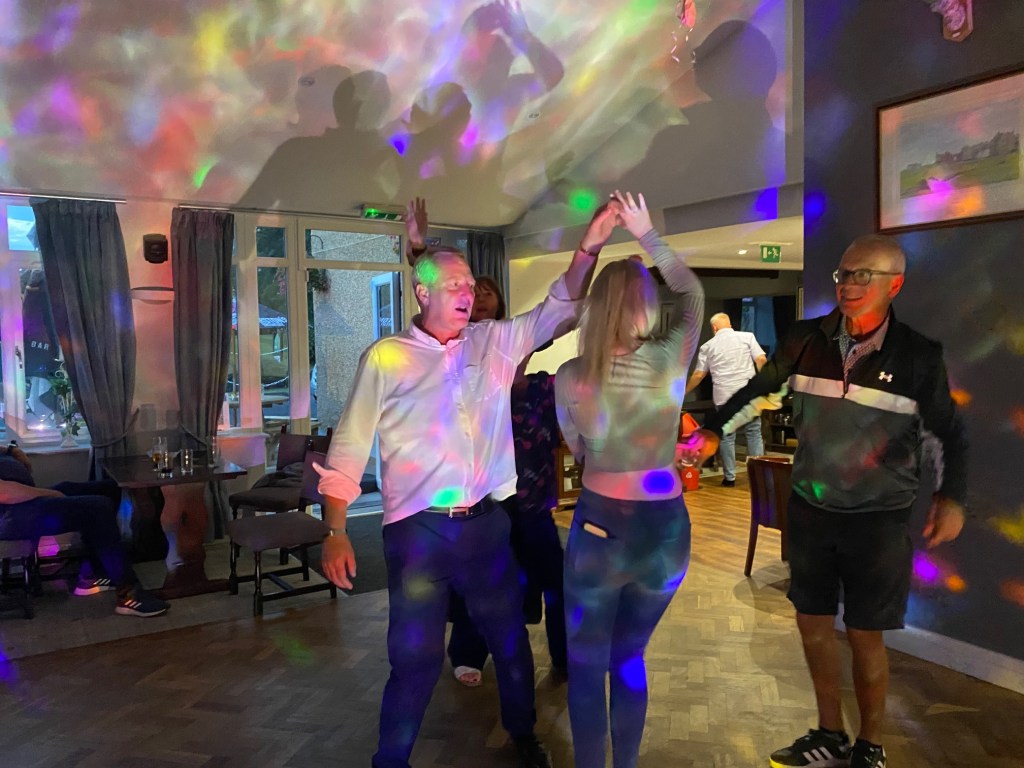 Mr Captain, Mike Bennett, would like to thank all who supported and participated in his special day.
+++++++++++++
Mr President's Day Saturday 25th June
Congratulations to Paul Coverley who won today's stableford competition with 40 points. Five players scored 39 points whilst six other players scored 38 to make an extremely close result.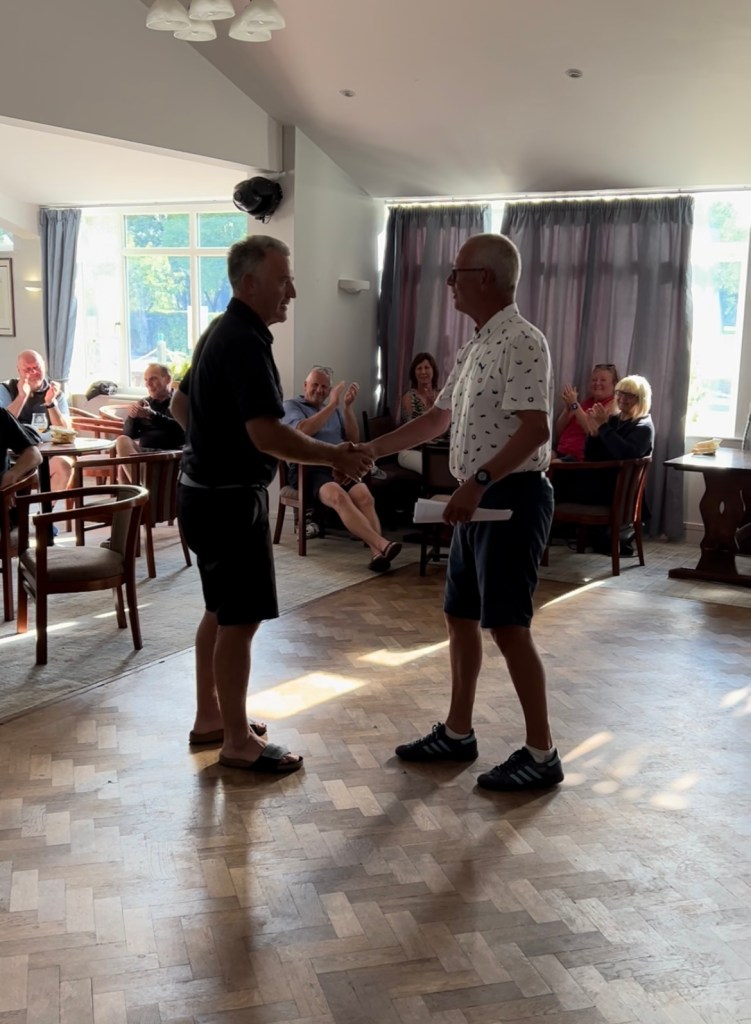 The other major prizewinners in addition to Paul were: Chris Marshall 2nd; Andy Rodgers 3rd; Rick Boffey 4th; Dan Thomas 5th; Joel Wood 6th and Oliver de Rosenworth 7th.
Luke Anthony won the prize for the best gross score (+1) whilst nearest the pin prizes went to Joe Bowers (8th), Jack Sidebottom 15th) and Joseph Hadfield (2nd shot nearest the pin on the 13th).
A great day was had by all 126 competitors. Many thanks to Mr. President for the light refreshments he so kindly provided at half way house.
+++++++++++
Lady President's Day Sunday 26th June
Lady President and 22 players had a fine but windy day for their competition today.
19 ladies played in the 18 hole and 3 in the 9 hole stablefords.
Considering the strength of the wind, which made scoring on some holes difficult, the score in the 0-36 handicap category of 44 points brought in by the winner, Jackie Piper, was a considerable achievement. Second was Jo Coull with 37 and third Ann Brown with 35 points.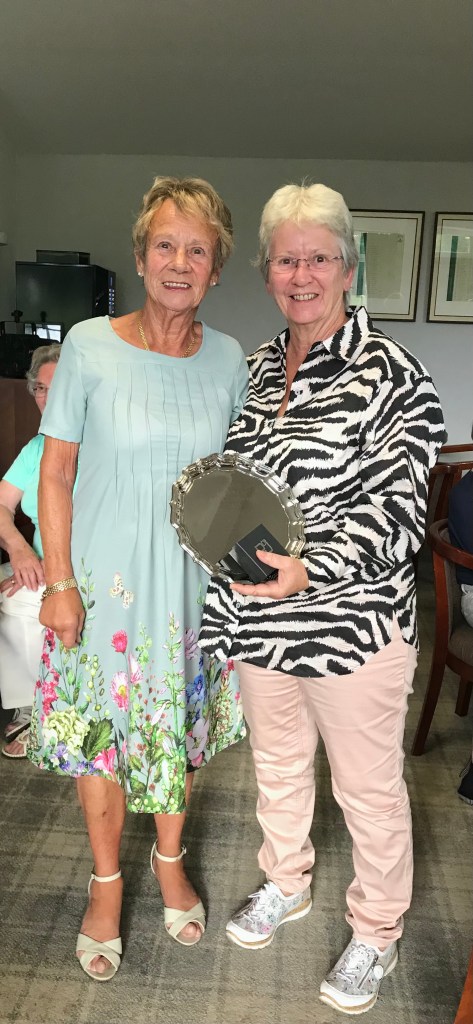 Jackie Piper winner of the 18 hole competition with Lady President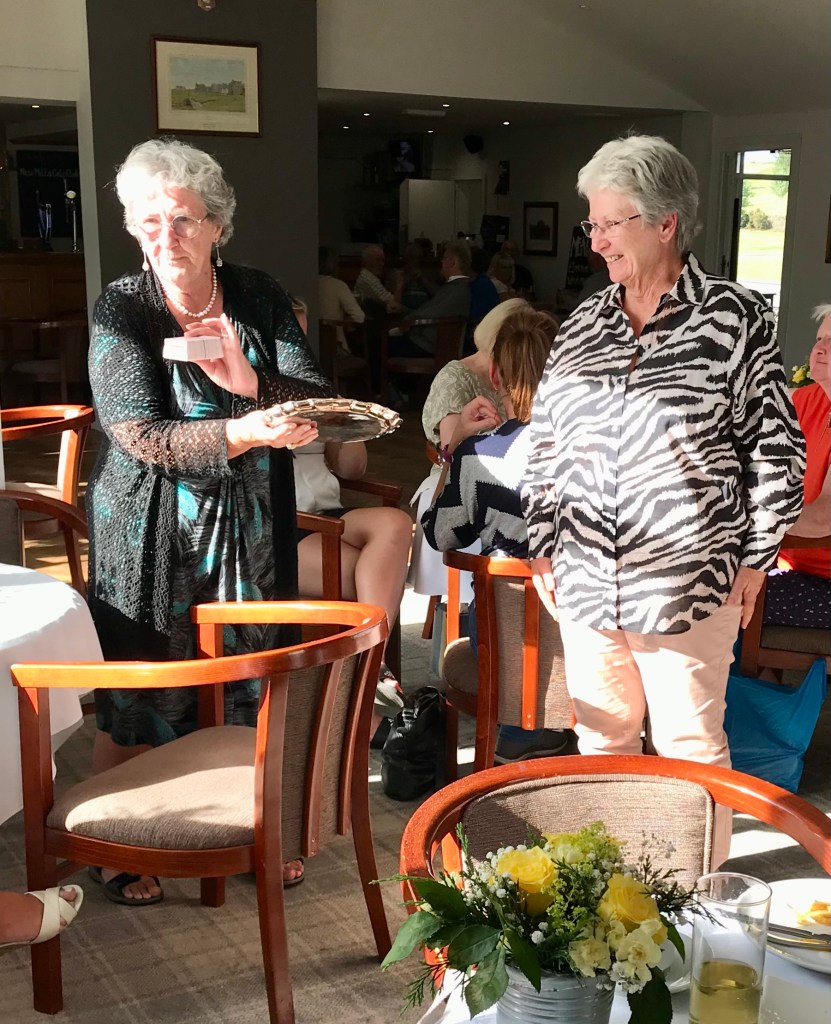 Beryl Southworth, a long standing member of the club, presents the silver salver which she donated in 2011, to Jackie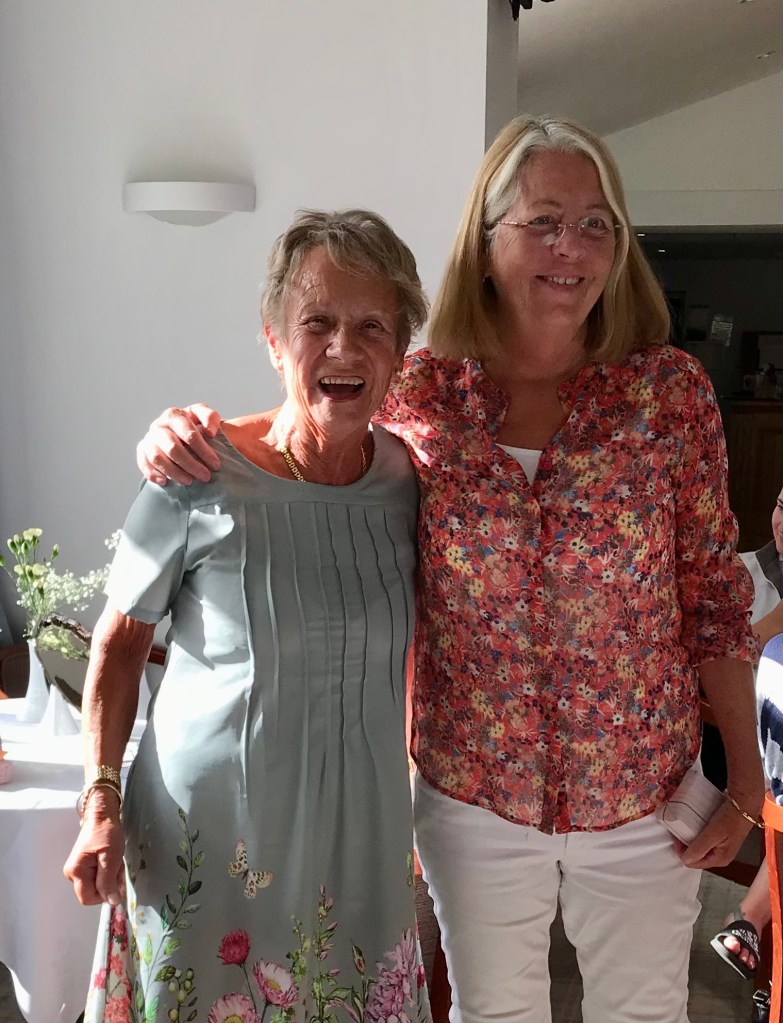 The winner of the 37-54 handicap category was Mo Harrison with 33 points.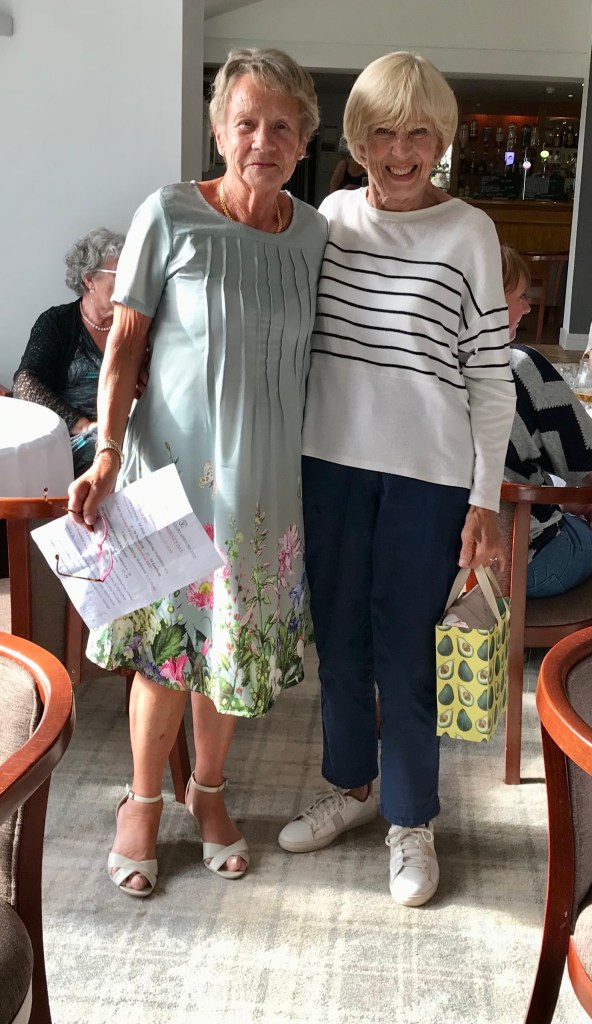 The 9 hole competition was won by Angela Adamson with 18 points.
After the games, a very enjoyable  afternoon tea was served by Kirsty and her staff to all those who took part.
+++++++++++++++++++++
Congratulations to Sam T2 in the Derbyshire Pros Championship
"On Tuesday 7th June I competed in the Derbyshire pros championship at Buxton & High Peak Golf Club. The event was a 36 hole stroke play event in one day.
Having not had any prep due to the Girlfriend taking me away for a night for my belated Birthday gift I wasn't expecting much.
In round 1 I had a slow stead start. Then, a bad clubbing from caddie Sean Moore resulted in a bad double bogey on hole 5. I was +3 at the turn and it felt like a battle! On the back nine I found some rhythm that had been missing and steadied the ship to finish 71+2 for round one.
After a short break we headed out for round 2 and I said to Sean I'm feeling this one. Having come close to trouble again on hole 5, I made a great up and down for par from 80 yards. In my head the hard holes were done and I went on to play really well and shoot 65 -4 in round 2 with a cheeky eagle on the last.
Having had a steady first 18 I didn't think I had a chance of winning. I had come back to coach the juniors and do a few lessons. Then at 6pm i got the call to say I'm in a 3 way play off. I rushed back to Buxton, straight on the tee for a 3 hole play off. I had a nervy 3 putt on the first, par on the second, and a birdie down the last to see me miss out by 1!
So second overall and it qualifies me for the Derbyshire matchplay.
Now I'm trying to compete more I will keep you posted on my events."
Sam Shaw Head Professional New Mills Golf Club
 Well done Sam from all at New Mills Golf Club!
+++++++++++++++++++++++++++++++++++
Double rainbow over the 8th Green!
Stunning view captured by two of our lady members yesterday evening.
Even when it rains the vistas at New Mills Golf Club are breath taking!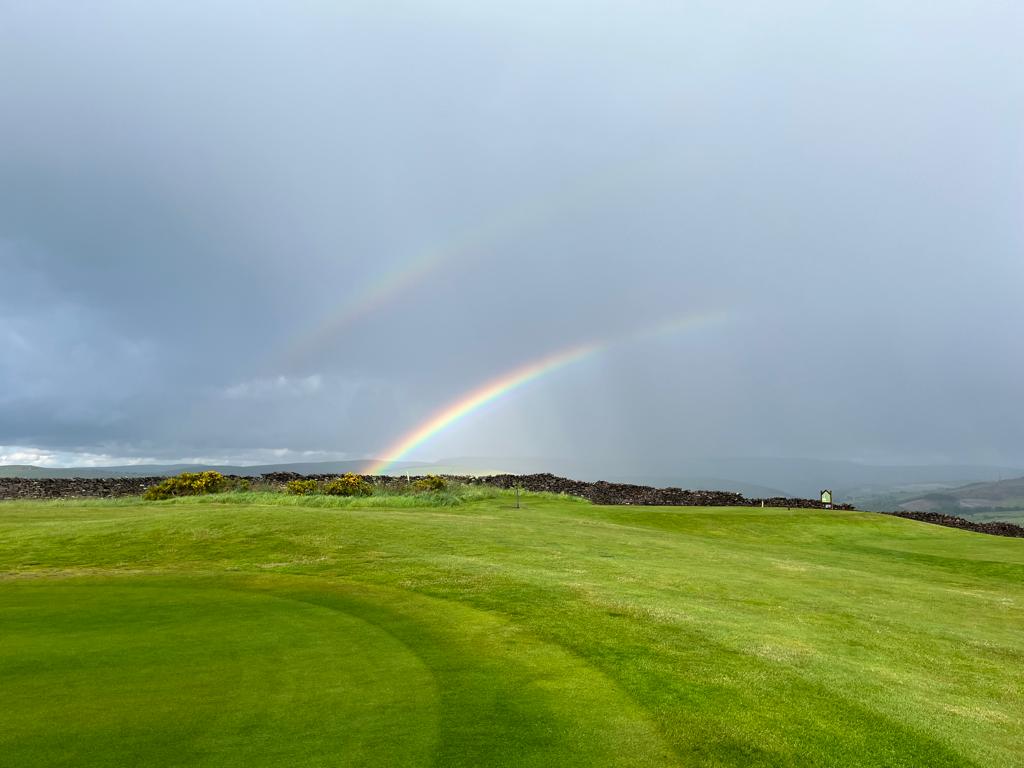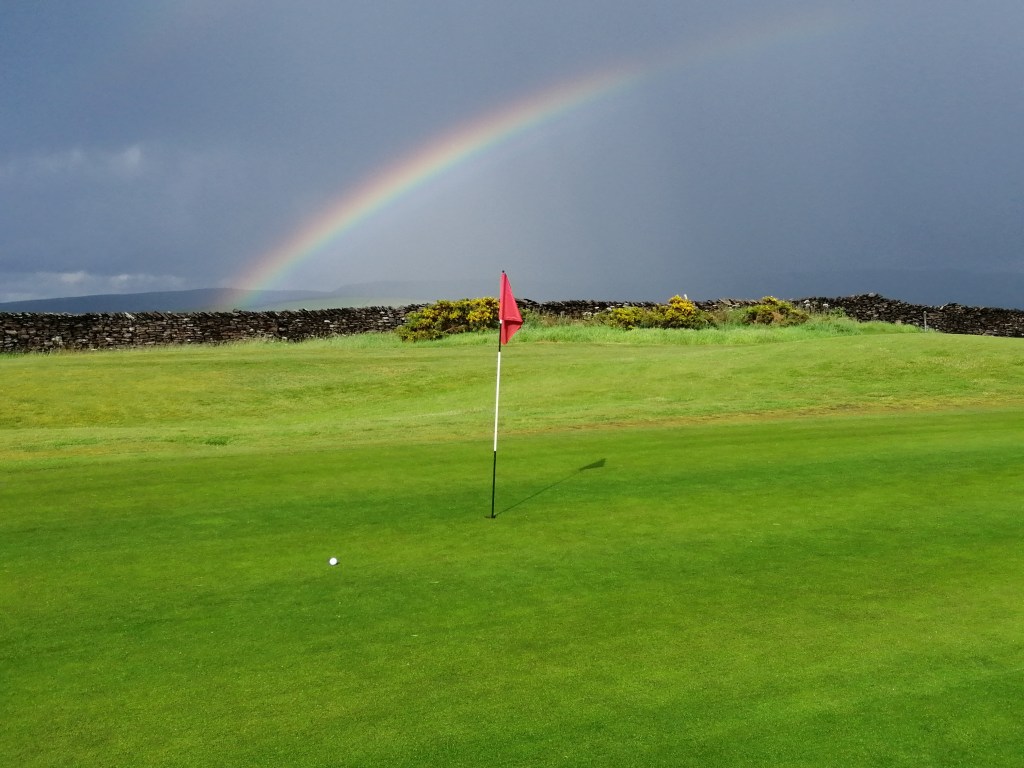 ++++++++++++++
Mr Captain's Invitation to Ladies Sunday June 5th 
The awful weather last Sunday resulted in a smaller entry than usual for this annual event. Congratulations to everyone who completed the course in such adverse conditions. 
Winner of the 18 hole medal , which is a Board competition, was Alison Rudder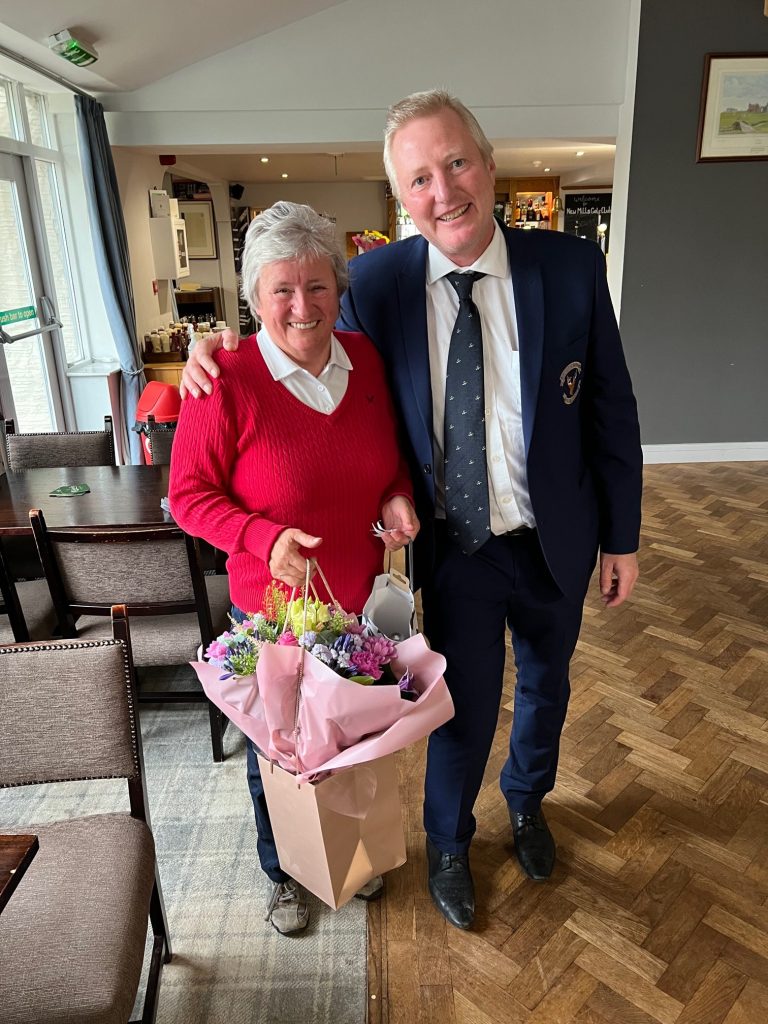 Winner of the 18 hole Stableford competition was Pam Boffey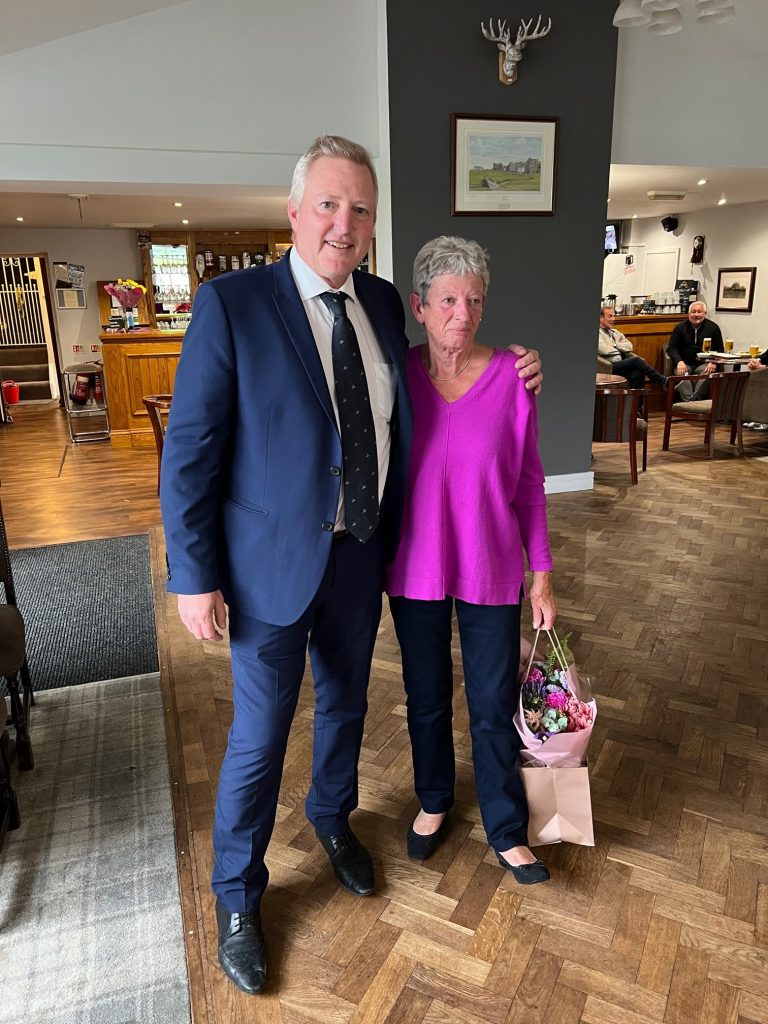 These and other photographs on the day can bee seen in the Ladies section
++++++++++++++++++
SENIORS QUAD-AM – MONDAY, 9th MAY 2022
We are pleased to announce the prize winners of our fourball open event and thank all those who took part for giving their time to join us and play our course. We hope everyone enjoyed their day and look forward to seeing you again next year!
Winners of Store Vouchers :- 1st place £80, 2nd place £60, 3rd place £40, 4th place £40
1st – 87 points, from Alsager :- Ian Hulson, Bob Sinclair, John Ash, C Davies
2nd – 86 points, from Stockport & Disley :- Jonathan Lloyd, Ross Gregory, Andy Roberts, Simon Carter
3rd – 86 points, from Houldsworth :- Stuart Jackson, Eric Smith, Antony Aitkin, & Peter Stanley
4th – 83 points, from Prestbury:- Fred Bridge, Simon Moorhouse, Steve Leavitt, Nick Wood
Winners of £20 Store Vouchers for Nearest Pin on Hole :-
6th :- Tony Lee (tee time 12-08)
8th :- Rod Taylor (tee time 8-38)
10th :- George Mckey (tee time 12-44)
15th :- Barry Delaney (tee time 10-20))
16th :- Ian Hulson (tee time 10-38)
Below are some of the teams who took part in the event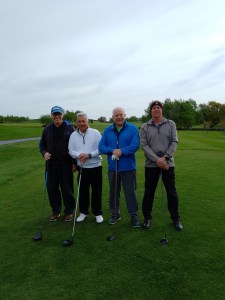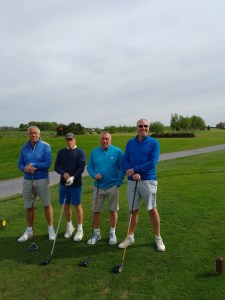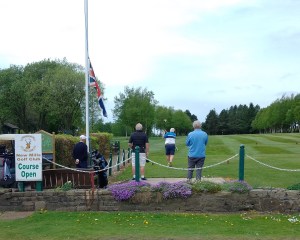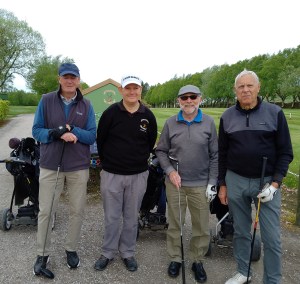 +++++++++++++
60 members spent a very enjoyable weekend at Carden Park near Chester. Read Sam's report in he men's Section under Members.
+++++++++++++++++++++
Mary Wins the Patricia Johnson Trophy
Congratulations to Mary Blake seen here receiving the Patricia Johnson trophy from Terry Johnson. For more information go to the ladies section of the website.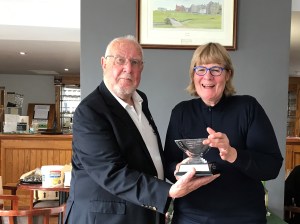 +++++++++++++
THE NEW GREENS IRON IS HERE!
This week the club took delivery of an exciting new piece of equipment. A new iron!
Not the iron your used to. An iron as seen in the picture below. This type of iron changes the characteristics of the greens. It irons the grass flat and increases the speed of the green as well as smoothing out a few lumps and bumps early on in the season.
The greens have been cut and ironed today ready for the opening medal tomorrow.
Having played today straight after the greens were  ironed this morning I can vouch for the increased speed especially on downhill putts!
+++++++++++++++
HANDICAP NEWS 
April 1st 2022
SIGNING IN AND ENTERING SCORES:
It is recommended that you Sign In to enter Competitions in the Pro's shop. This is because a label will be produced, containing your Handicap Index, Course Handicap and Playing Handicap, which can then be placed on your scorecard. You can enter your score at the end of your round using the terminal in the Clubhouse entrance hall.
You can also sign in to play in a Competition and enter your score, by using How Did I Do (HDID), but please note that England Golf have introduced a new restriction where this can only be done within a distance of 2 miles from the Clubhouse.
England Golf have also introduced a new instruction about entering scores. There will be a minimum duration between pre-registration and score submission of 1 hour for 9 hole Cards and 2 hours for 18 hole cards
PLAYING IN A COMPETITION:
Book your tee time in the advertised Competition on BRS
(Tee times are available 2 weeks before the Competition date)
On the day, indicate your intention to play. Recommended by signing in, in the Pro's shop
Place label on your scorecard
Pay your entry fee
Swap cards with your playing partner(s)
Check scores after every hole
At end of round, check scores again and sign in Marker's signature space
Swap cards so that you have your own card. Sign in Player's signature space
Enter completed scores into computer in entrance hall or on HDID, within 2 miles of the clubhouse
Place scorecards in box
GENERAL PLAY ROUNDS:
If you pre-register your intention to complete a qualifying General Play Round, you MUST enter your score. If you don't enter a score that has been pre-registered with the MyEG app or at the golf club and it is not returned within an acceptable period of time it will be designated as a penalty score within your player's handicap record. A reminder 'service' email will be issued by England Golf asking for the process to be completed
If you cannot complete your round due to extenuating circumstances, or if you cannot enter your score due to technical problems, please notify the Pro's Shop or a Handicap Committee Representative.
9 HOLE COURSES:
The Ladies Section have for many years run 9 hole Competitions, and more recently 9 hole General Play Rounds over the Front 9 holes.
We have now produced 9 hole cards for the Gents White Front 9, the Gents Yellow Front 9 and the Ladies Red Back 9 which can be used for qualifying purposes or 9 hole competitions
LIFT, CLEAN & PLACE:
Please note rounds using Lift, Clean & place on all mown areas DO NOT count as a handicap qualifying score.
Please make sure you check the rules of the day in the pro shop before you play.
+++++++++++++++
Circular  Walks from New Mills Golf Club
Click on the link below to download a printable map and descriptions of 3 extremely pleasant short walks, ranging from 2 to just over 5 miles. All the walks start and finish at the club. Parking is free and Half Way House will be open at weekends for takeaway drinks and snacks so do please call in.
***********************************
+