Archie Preston team progress into the next round!
Congratulations to the Archie Preston mixed team who won their recent match beating Darwen Golf Club 4-3. Well done to everyone involved.
++++++++++++++
SENIORS QUAD-AM – MONDAY, 9th MAY 2022
We are pleased to announce the prize winners of our fourball open event and thank all those who took part for giving their time to join us and play our course. We hope everyone enjoyed their day and look forward to seeing you again next year!
Winners of Store Vouchers :- 1st place £80, 2nd place £60, 3rd place £40, 4th place £40
1st – 87 points, from Alsager :- Ian Hulson, Bob Sinclair, John Ash, C Davies
2nd – 86 points, from Stockport & Disley :- Jonathan Lloyd, Ross Gregory, Andy Roberts, Simon Carter
3rd – 86 points, from Houldsworth :- Stuart Jackson, Eric Smith, Antony Aitkin, & Peter Stanley
4th – 83 points, from Prestbury:- Fred Bridge, Simon Moorhouse, Steve Leavitt, Nick Wood
Winners of £20 Store Vouchers for Nearest Pin on Hole :-
6th :- Tony Lee (tee time 12-08)
8th :- Rod Taylor (tee time 8-38)
10th :- George Mckey (tee time 12-44)
15th :- Barry Delaney (tee time 10-20))
16th :- Ian Hulson (tee time 10-38)
Below are some of the teams who took part in the event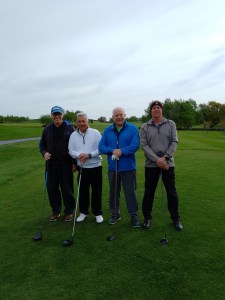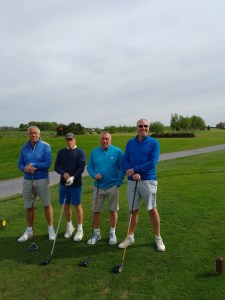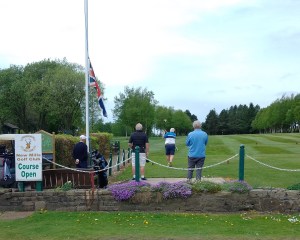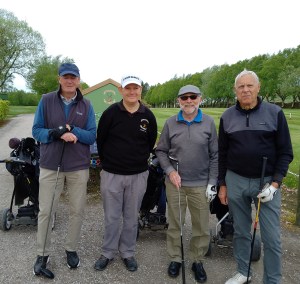 +++++++++++++
4 WAY PLAY OFF FOR THE HIBBERT CUP!
The first major of the year provided a thrilling finish with four players tying for first place with 66
As this is a board competition the result is not decided on a card play off. Instead the 4 joint winners will play an 18 hole play off before the end of the season.
Congratulations to all four players!
CHRIS ASHTON
DUNCAN MOORE
CHRIS HALL
NICK LEWIS
+++++++++++
Two great events next month!
GREAT BRITISH LACROSSE GOLF FUNDRAISER
FRIDAY 10th JUNE
We are hosting this day for member Phil Pearson to help raise funds for GB Lacrosse.
Quad-Am
Tee times from 10am
OPEN TO ALL
£100 per team
To book please book via the club website or email [email protected]
GENTS INVITATION DAY 2022
SATURDAY 18TH JUNE
Invitation day is one of the biggest Saturdays in the Golfing calendar. Each member invites a guest to come and play the course as a Better Ball Stableford.
Its a great way to showcase our club and invite a friend into a competition.
The event will be going live on BRS this Friday ( May 13th) at mid day.
Better Ball Stableford
85% handicap
White tees
£15 per pair
Members cannot play together. Also official handicap needed to win
+++++++++++++++++++
FANCY PLAYING IN ONE OF OUR OPENS THIS YEAR?
The competitions attached are now live to book online  ('Open Competitions' page)or alternatively contact [email protected]
++++++++++++++++++

+++++++++++
Captain's Weekend Away at Carden Park
April 22nd – 24th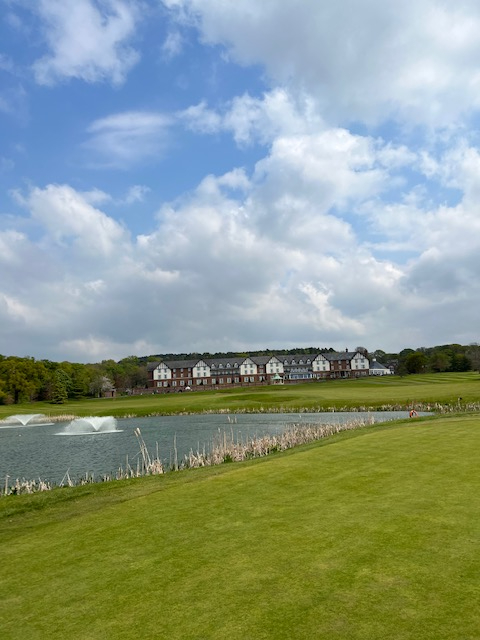 60 members spent a very enjoyable weekend at Carden Park near Chester. Read Sam's report in he men's Section under Members.
+++++++++++++++++++++
New Mills beat Chorlton-Cum-Hardy
in the Archie Preston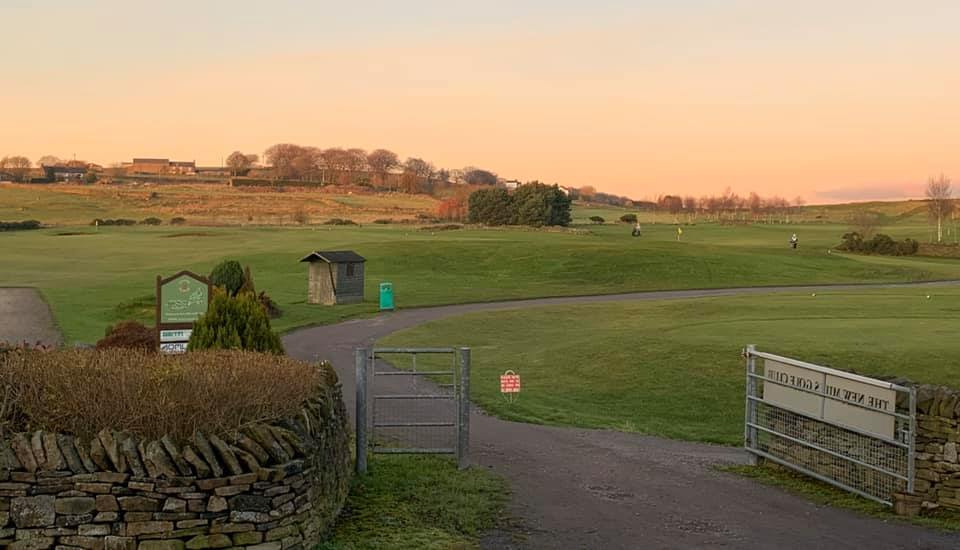 Last Sunday the club took on Chorlton-Cum-Hardy Golf Club in the first round of the Archie Preston Trophy.
The match went right down to the pair, Janet Bowers & Simon Belt. 
 Janet and Simon battled all the way through to the 21st hole where they finally got the victory!
We have drawn Darwen at home in the next round so let's take it all the way!
Well done to everyone who played!
+++++++++++++++
Mary Wins the Patricia Johnson Trophy
Congratulations to Mary Blake seen here receiving the Patricia Johnson trophy from Terry Johnson. For more information go to the ladies section of the website.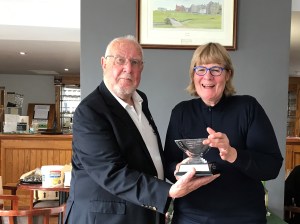 +++++++++++++
THE NEW GREENS IRON IS HERE!
This week the club took delivery of an exciting new piece of equipment. A new iron!
Not the iron your used to. An iron as seen in the picture below. This type of iron changes the characteristics of the greens. It irons the grass flat and increases the speed of the green as well as smoothing out a few lumps and bumps early on in the season.
The greens have been cut and ironed today ready for the opening medal tomorrow.
Having played today straight after the greens were  ironed this morning I can vouch for the increased speed especially on downhill putts!
+++++++++++++++
HANDICAP NEWS 
April 1st 2022
SIGNING IN AND ENTERING SCORES:
It is recommended that you Sign In to enter Competitions in the Pro's shop. This is because a label will be produced, containing your Handicap Index, Course Handicap and Playing Handicap, which can then be placed on your scorecard. You can enter your score at the end of your round using the terminal in the Clubhouse entrance hall.
You can also sign in to play in a Competition and enter your score, by using How Did I Do (HDID), but please note that England Golf have introduced a new restriction where this can only be done within a distance of 2 miles from the Clubhouse.
England Golf have also introduced a new instruction about entering scores. There will be a minimum duration between pre-registration and score submission of 1 hour for 9 hole Cards and 2 hours for 18 hole cards
PLAYING IN A COMPETITION:
Book your tee time in the advertised Competition on BRS
(Tee times are available 2 weeks before the Competition date)
On the day, indicate your intention to play. Recommended by signing in, in the Pro's shop
Place label on your scorecard
Pay your entry fee
Swap cards with your playing partner(s)
Check scores after every hole
At end of round, check scores again and sign in Marker's signature space
Swap cards so that you have your own card. Sign in Player's signature space
Enter completed scores into computer in entrance hall or on HDID, within 2 miles of the clubhouse
Place scorecards in box
GENERAL PLAY ROUNDS:
If you pre-register your intention to complete a qualifying General Play Round, you MUST enter your score. If you don't enter a score that has been pre-registered with the MyEG app or at the golf club and it is not returned within an acceptable period of time it will be designated as a penalty score within your player's handicap record. A reminder 'service' email will be issued by England Golf asking for the process to be completed
If you cannot complete your round due to extenuating circumstances, or if you cannot enter your score due to technical problems, please notify the Pro's Shop or a Handicap Committee Representative.
9 HOLE COURSES:
The Ladies Section have for many years run 9 hole Competitions, and more recently 9 hole General Play Rounds over the Front 9 holes.
We are currently working on introducing 9 hole courses for the Gents White Front 9, the Gents Yellow Front 9 and the Ladies Red Back 9.
WATCH THIS SPACE, once everything is in place Sam will be trialling some 9 hole Competitions and they will be available for 9 hole General Play Rounds.
LIFT, CLEAN & PLACE:
Please note rounds using Lift, Clean & place on all mown areas DO NOT count as a handicap qualifying score.
We are allowed by the Derbyshire Golf Union to play lift, clean & place on closely mown areas (fairway length or shorter) ONLY to count as a qualifying score up to the end of April.
After that you must play the ball as it lies.
AS OF NOW BUNKERS ARE PLAY IT AS IT LIES.
Please make sure you check the rules of the day in the pro shop before you play.
+++++++++++++++
Joe Bowers makes first ace after 21 years of trying!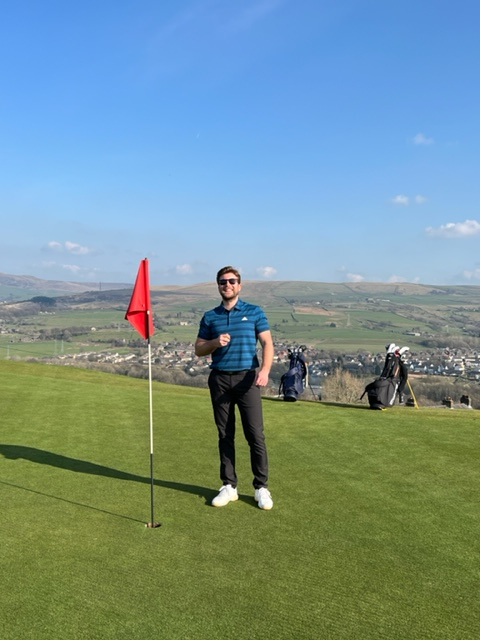 A message from Sam
'Last Monday, whilst enjoying a few holes with my good pal Joe Bowers, I witnessed his first ever hole-in-one! I was absolutely made up for him. Having played lots of golf together over the years, it was great to be able to celebrate his inaugural ace with him.
He took a 51 degree wedge off the back tee and rolled it straight in. There'll be a bottle of whisky on the bar this Saturday'.
Well done Joe!
+++++++++++++
Darryl and Jason win the 2021/22 Winter League
Congratulations  to Darryl Hall and Jason Warhurst who won this year's Winter League final on Sunday, beating  John Tennant and Martin Wild 6 and 5. For more detail go to the 'Members' section and scroll down to 'Winter League 2021/22'.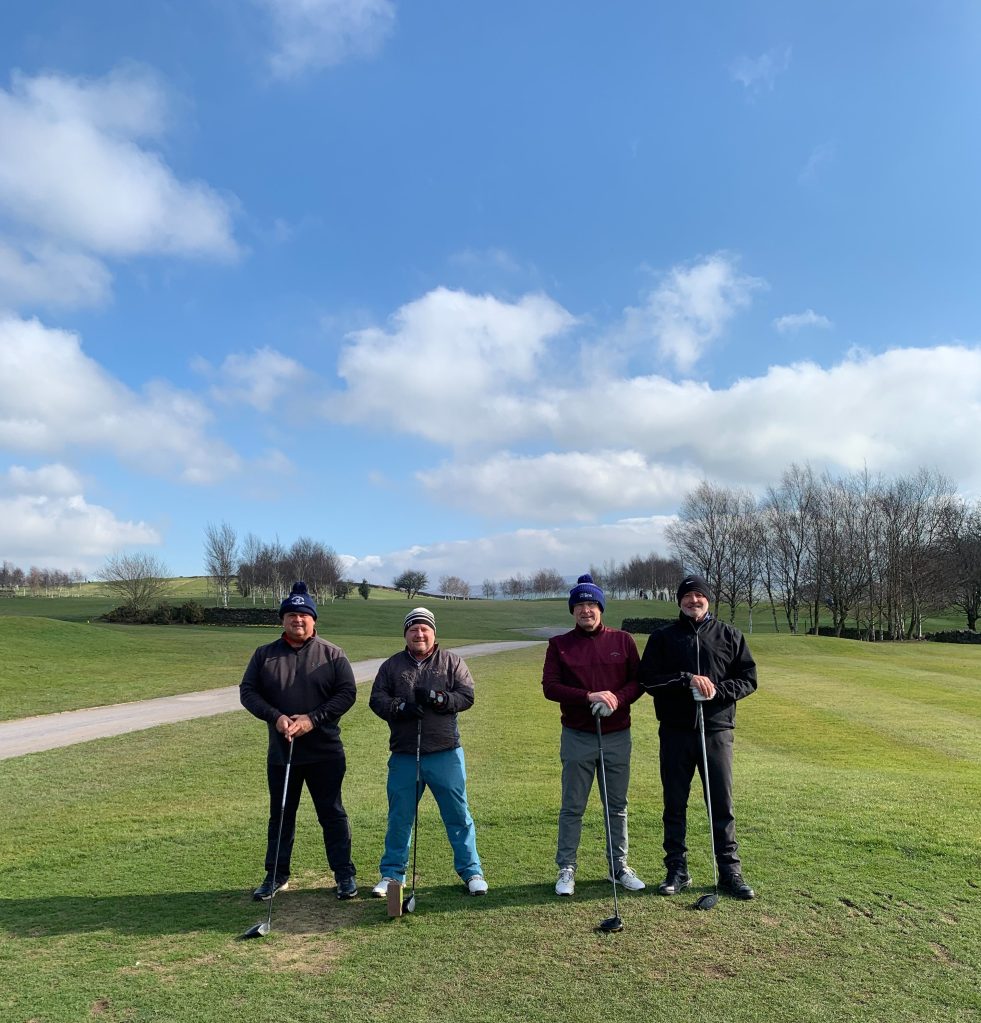 +++++++++++++++++
Beautiful Spring Morning!
Friday March 18th
Fabulous morning for golf today! The seniors enjoyed being able to play off the grass for the first time this morning with the added bonus of warm spring sunshine.  Fairways, bunkers and greens are all in excellent condition thanks to the outstanding work in recent weeks by the Green's team!
And, oh yes, in the 4 ball stableford two of the guys got their pars on the 15th. One of whom was the photographer! Sadly, not enough to win this morning's roll up!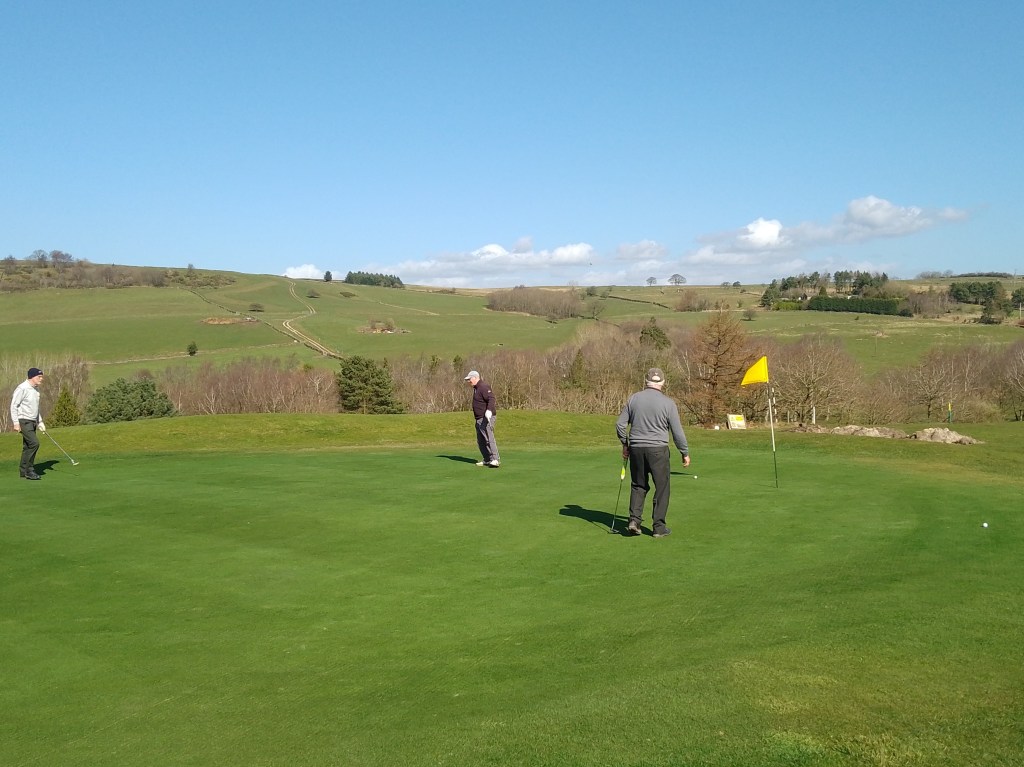 ++++++++++++++++
7 Day membership offers. Apply now!
There are a limited number of 7 day membership still available for 2022.
For details call Sam at the pro shop on 01663 746161 or email [email protected]
Hurry there aren't many left and they are going fast!
++++++++++++++
Seniors Raise £865 for Ukraine Humanitarian Appeal
Many thanks to everyone who donated towards this very successful appeal which we hope will go a little way to help those people whose lives are being devastated in Ukraine. The Seniors modified their normal roll up for a week with the entry fee being doubled to £2  and all the prize money going to the appeal . This was supplemented  by personal contributions by many members . With Gift Aid the total raised is £1081.  Thank you once again and special thanks to the Ladies section for their contribution of £140 .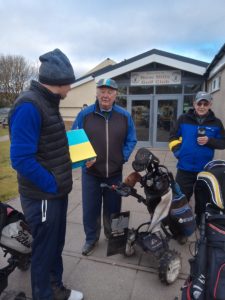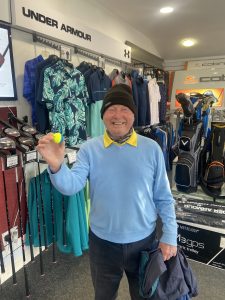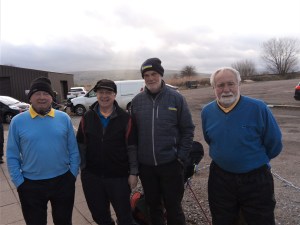 Members showed their support by wearing the blue and yellow of the Ukrainian National flag
+++++++++++++
The Queen's Platinum Jubilee Celebration
Celebrate the Queen's Platinum Jubilee by entering our fantastic singles strokeplay competition, open to both Ladies and Gents, on Friday June 3rd with the opportunity to win our £250 jackpot!
Entry fees: Members £15. Book via BRS
Visitors: £25 . Book either by contacting [email protected] or via https://www.newmillsgolfclub.co.uk/visitors-book-online/

+++++++++++
Circular  Walks from New Mills Golf Club
Click on the link below to download a printable map and descriptions of 3 extremely pleasant short walks, ranging from 2 to just over 5 miles. All the walks start and finish at the club. Parking is free and Half Way House will be open at weekends for takeaway drinks and snacks so do please call in.
***********************************
+