Course re-opens Wednesday 2nd December
We are very pleased to announce that the course will be open again on Wednesday 2nd December
Members can play as  fourballs with no restrictions as to the number of households in the group
Booking will be via BRS  (two weeks in advance)
At this stage, only members will be able to book tee slots
All players must start on the 1st tee and not before the first tee booking time in order to allow the Green's staff to prepare the course
Competitions on both Saturday and Sunday begin on Saturday 5th December
Winter League fixtures will resume on Sunday 6th December. Please play from the fixture that was due on that date. Games missed will be added at the end.
You will need your WHS Handicap Index . Download the 'My England Golf' app  so that you can see this,  For details visit 'WHS' in the Members Section of the website .
Please maintain social distancing and respect all the rules we have put in place to ensure everyone's safety. For details please visit the Covid Guidelines section of the website.
New Mills Golf Club will move into  tier 3 from this date and therefore be subject to the restrictions which apply to that tier.
+++++++++++++++++++++++++++++
Half Way House
'Half Way House' will re open on Wednesday 2nd December and Jess and Steph will be offering a variety of festive treats until the Clubhouse can re open. These include:
Hot barms  –  pork, beef and turkey as well as traditional breakfast barms
Hot drinks -mulled wine, hot toddy, hot chocolate, Bovril, tea and coffee
Some bottles of Beer
Festive specials-

'Pigs in Duvets' (jumbo sausage wrapped in streaky bacon with cranberry ketchup and crispy onions)
'Xmas Dinner Dog' (jumbo sausage wrapped in streaky bacon with shredded turkey, carrot and swede, gravy and cranberry sauce)
Cash or card payment accepted but cash preferred!
++++++++++++++++++++++++
EGM 22nd November Cancelled
The EGM on November 22nd has been cancelled due to the current Covid restrictions. The main purpose of this meeting each year is to discuss and agree fees for the following year.
In view of the support given by the membership during this very difficult year the Management Committee have decided
There will be no increase in membership fees for 2021
As lockers have been out of use this year there will be no charge in 2021
We hope that when the current restrictions expire on December 2nd we will be able to re-open following the guidelines and rules we were under prior to lockdown. Sam has notified all members that we anticipate being able to complete winter league in its current format plus he hopes to run additional competitions on Sundays to make up for lost time this year.
+++++++++++++++++++++++++++
On-Going Work on the Course
Drainage:  The green's team of Nigel, Ian Jake and Chris have been exceptionally busy during the early part of lock down 2 as the photos below show. To date they have put in 135m of drainage on the 6th together with 80 metres on the 10th along with cutting out a further 120m of turf on the 10th and 11th ready for more drains to be installed!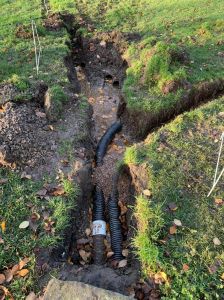 Shoe Cleaning Compressor:   Arthur and Neil have dug out the old base and installed a new one for the new shoe cleaning compressor near half way house for players coming off the 18th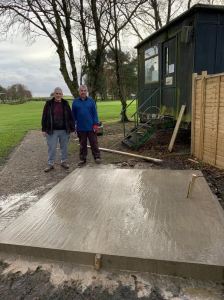 Tees: Marie-Anne, Jackie, Alison and Angela have retreated the tee markers and Tim Johnson has made new plates to go on them.
A huge thank you to all the staff and volunteers whose contributions help make the club so special!
++++++++++++++++++
Cake Corner Returns!
We are pleased to inform you that we are offering our delicious home made cakes for collection or delivery from this weekend!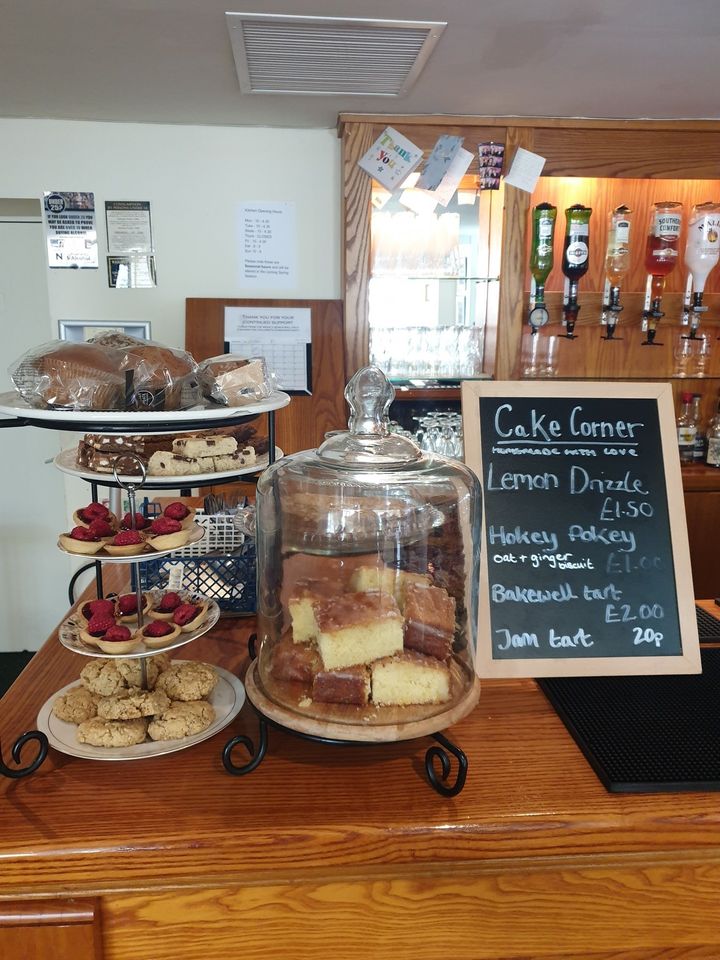 For more information about this week's offers visit the ' The Clubhouse' page
++++++++++++++++++++++++++++++++

For more information 'phone or email Sam
++++++++++++++++
Use of Winter Mats
Due to the exceptional amount of rainfall over the last few days, as from Friday 23rd October, winter mats must be used on all mown areas including tees. If anyone needs to purchase a mat these are for sale in the Pro Shop.
++++++++++++++++++++++
Return of the Roasties!
Steph and Jess will be providing Sunday roasts again as from Sunday 25th October. For more information go to 'The Clubhouse' page. To order please ring Jess
++++++++++++++++++
New Kitchen Opening times as from 28th September 2020
Jess and Steph are trialling new opening hours for a four week period beginning Monday 28th September. The new times are:
MONDAY, WEDNESDAY AND FRIDAY 9AM -7PM
SATURDAY AND SUNDAY 9AM- 7PM
TUESDAY AND THURSDAY  – KITCHEN CLOSED
++++++++++++++++++
New Covid-19 regulations and NHS 'Track and Trace'
for Members and Visitors
as from Thursday 24th September
Go to the page Covid-19 Guidelines for information about signing in, Track and Trace, face coverings, and other guidance and regulations

+++++++++++++++++++++++++++++
Mixed Away Day at Sickleholme Golf Club
On Sunday 20th September, New Mills and Sickleholme golf clubs exchanged their courses and facilities for the day. In total 40 Ladies and Gents from New Mills enjoyed a beautiful sunny (albeit windy) day at this stunning course in the Hope Valley. It was great to see so many new members taking part and joining in the spirit of a fun day out with lots of laughter, smiles and conversation of missed putts and what might have been!
Overall winners were Ali and Gav Shields, Emma Harding and Stuart Whitchurch with 78 points with Lady Captain, Mike Wright, Jo and Peter Coull runners up with 75 points.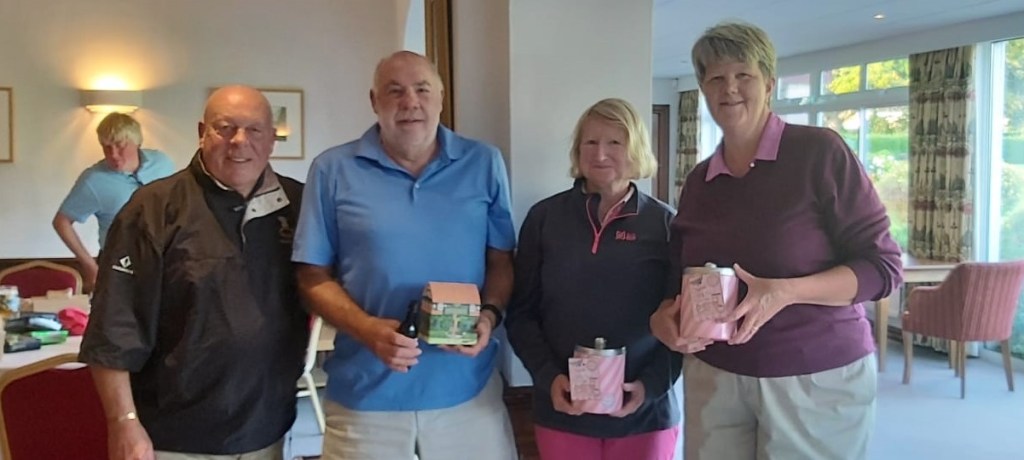 Thanks to everyone who took part and for making a very special day for Lady Captain.
More images can be seen by visiting the newly created 'Gallery' Section
+++++++++++++++++++++++++++++
Roasties are back!!!!
This weekend sees the return of the 'Roasties'! We have:
Chicken £11.95  Beef £11.95   Lamb £12.95
If you decide to 'dine in' please give us a call and tell us 'how many' and 'what time'.
We're still offering a collection service so again please give us a call!
+++++++++++++++
Captain's v President's Day Sunday August 30th 2020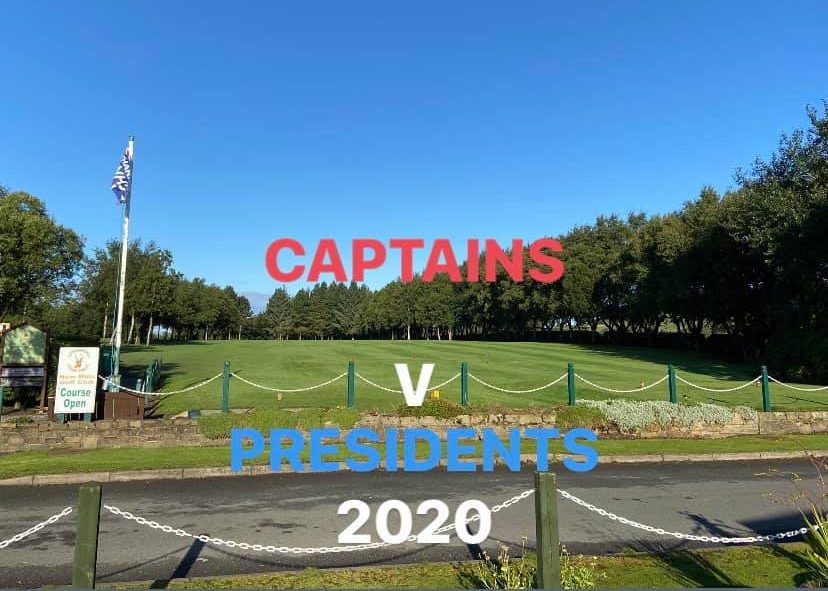 Well this day certainly doesn't disappoint! Banter and laughs from 7:30 this morning. Some good golf, some bad golf. However everyone had a lot of fun! Once again the victors were the Captain's team who won by the narrow margin of 17-15 so sadly the Presidents are still to win this event!
Of the individual scores. It was incredibly close!
1st place: 44 points: SIMON IGNOTUS & PAUL BOWERS
2nd 44 POINTS
SAM SHAW & KIERAN SHARP
3rd 44
DARYL HALL & JOHN BROGDEN
4th  44 POINTS
JANE HOWARD & JANET BOWERS
NEAREST THE PINS
4TH CHRIS MARSHALL
6TH GRAHAM HADFIELD
8TH ANN BROWN
10TH VIPAN JAIN
15TH NEIL HYDE
16TH GLENNE MILLIGAN
LONGEST DRIVE MALE- SAM SHAW
LONGEST DRIVE FEMALE MARIE-ANNE MCGIBBON
Once again a huge thank you to everyone who supported the event. The club just keeps going strength to strength thanks to its enthusiastic membership. This day was created in memory of ex member and club legend John White. We have certainly done him proud today! So when you're having a tipple tonight, raise your glass for John plus , of course, one for Mr Captain and his victorious team!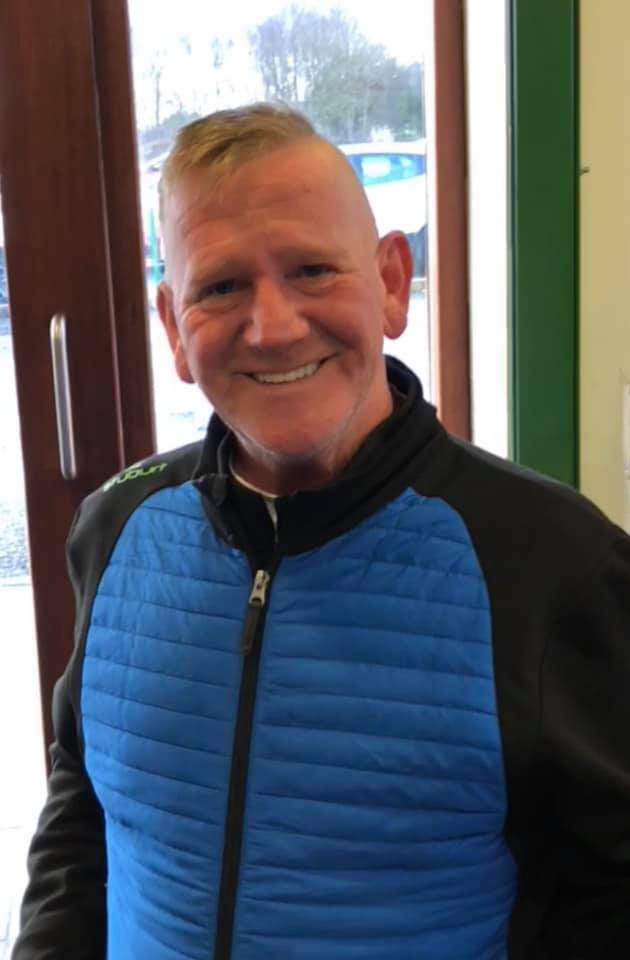 ++++++++++++++++++++++++++++++
Practice Areas
As a club we are going from strength to strength and are constantly making improvements to the course, clubhouse & facilities.
Currently, we have limited space to warm up and practice but please, do not practice near the 18th green, 13th green or 14th tee when hitting balls. The course is in great condition and we don't want divots around these areas.
Areas you can practice in are from just next to the putting green on the wall side. Hitting up towards the practice flag or 14th tee direction. (Please do not aim for 13th green!)
When the course is quiet and only when the course is quiet, another good practice area is from the rough near the wall behind the 13th green hitting up the 14th fairway. Please do not use the 14th tee for pracice.
We are currently in the process of installing a double bay warm up net for when COVID-19 guidelines allow us to use them again
++++++++++++++++++++++++++++