Not even the rain can spoil the views !
Stunning photos taken yesterday (Wednesday 12th May) by Lady Captain showing rainbows over the 5th and 15th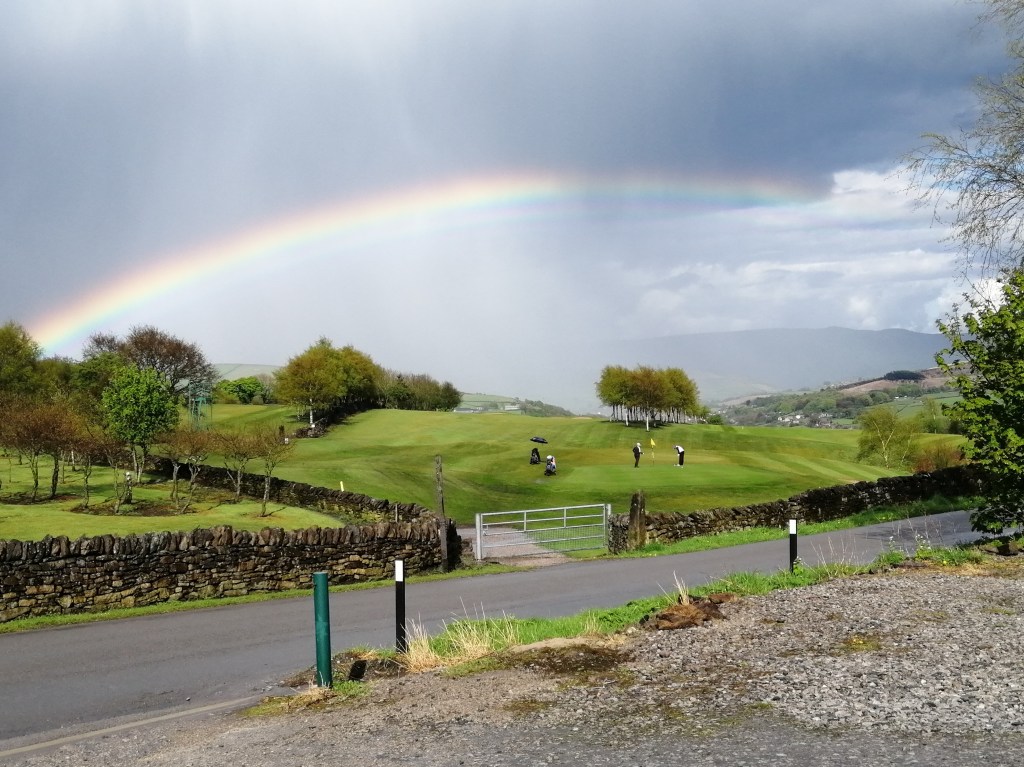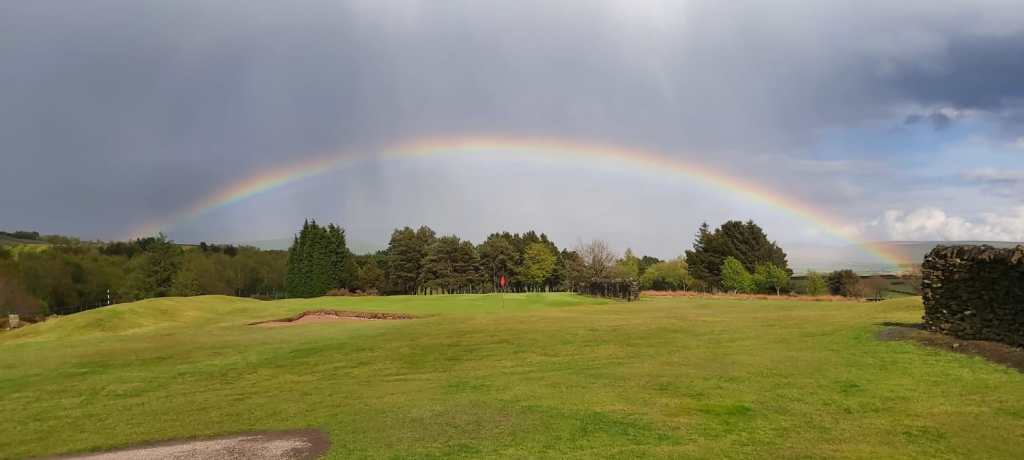 Seniors Quad Am Monday May 10th 2021
Congratulations to the team made up of two members of Avro Golf Club ( Mike McDonagh and Chris Robinson) together with their playing partners Alan Blakeman and Peter Coull from New Mills winners on a card play off with 83 points.
2nd place went to the the team from Marriott Worsley Park (Chris Stott, Don Chapman, David Lowe and Les Hall )
3rd with 82 points was the team from Houldsworth Golf Club (Stuart Jackson, Eric Smith, Stuart Clarkson and Peter Stanley
4th also with 82 points was the team from Tapton Park (Geoff Mason, Mel Pitchley, Richard Cram and Mel Mercer)
Winners will receive store vouchers as follows:1st place £80; 2nd place £60; 3rd place £40; 4th place £40
Store vouchers to the value of £20 were presented for Nearest the pin on the following par 3's:
6th: Dave Harrison (tee time 12:53)
8th: Chris Robinson(tee time 9:24)
10th: Stuart Jackson (tee time 9:35)
15th; Jeff Gerrard (tee time 12:08)
16th: Pat Walker (tee time 11:05)
Many thanks to everyone who took part for giving their time to join us and play our course
+++++++++++++++++++++++++++++

For more information go to 'The Professional' page
+++++++++++++++++
The Clubhouse is now open again for food and Drink
Welcome back! Food and drink is now available from the Clubhouse between 10am and 3pm everyday except Thursdays. Please place your order at the door facing the 10th tee, then take a seat on the patio or in the marquee where your order will be served.
Half Way House, which has been such a great asset during lockdown will now be closed.
++++++++++++++++
Taking Care of the Course
Please use the mats which have been placed on the tees of all the par three's. As we are still getting frosts overnight the grass isn't growing and so taking divots off the tee will cause long lasting damage. This is only a temporary arrangement and as soon as the grass starts growing again the mats will be removed. In the meantime everyone's co-operation is required.
++++++++++++++++

For further information or for help in booking a fourball or making up a team please contact
Steve, Mr Captain 07445667657
or
Alison, Lady Captain 07916163898
+++++++++++
Hole in One for Iris!
Congratulations to Iris Tolputt her her hole in one in the match against Avro Golf Club this week.
For more information and a photograph please go to the Members part of the website and click on Ladies Section.
+++++++++++++++++++++++++++
Derek Horsey Charity Competition 12th April 2021
Congratulations to Rod Taylor winner of today's Derek Horsey Charity competition with an excellent nett 65. Many thanks to all those who took part in the event which raised £165 for the charity setup in memory of the late Derek Horsey who was a leading figure in the Manchester and District Seniors league to which we belong. For more information please go to the Seniors section of the website.
+++++++++++++++++++++++++++++++++
Restrictions eased as of Monday 12th April
The key changes are:
The bar will re open offering a range of food and drinks. However, this will be table service only on the patio
The Locker rooms will be open for storage of clubs and changing but please be aware that space is tight and you should limit the time spent inside to enable safe social distancing
The Professional shop will be open but members should observe the social distancing rules which are in place and wear face coverings
As stated earlier on this page a great deal of work has been undertaken by volunteers to refurbish the Function Room. Paul Bowers has completed the painting and decorating whilst Ian Brown has upgraded the lighting with new energy saving LED lights and fittings.  Progress has been made on the flooring near the bar and we are awaiting the supply of  the new carpet and curtains from Europe, Many thanks to all the members who have given their time and expertise to this project.
+++++++++++++++++
A Promising start by New Mills Seniors!
Defending champions, New Mills Golf Club, won their first league match of the season against Glossop Golf Club  by 5 points to 3.
For more details go to Members and click 'Seniors Section' .
++++++++++++++++++++
Resumption of golf on March 29th
Not long to wait until we can all start playing again!
The photo below may help you remember what you've been missing during lockdown, as well as, of course, the golf itself!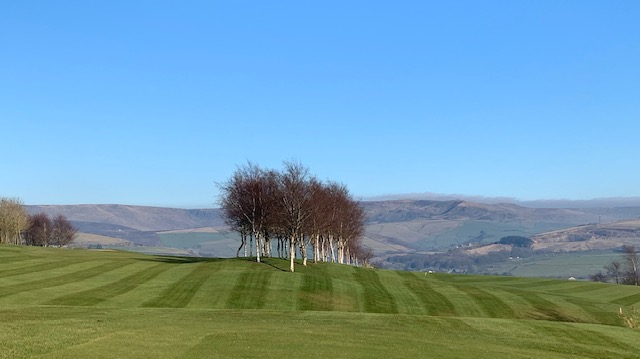 Throughout lockdown Nigel, Chris and and Ian have been working tirelessly  to get the course in tip top condition for when we get back. All the fairways have been mown and treated , the greens hand cut, bunkers raked with our new machine, trees have been pruned plus there has been a massive amount of work done to further improve drainage especially on the 10th fairway. We really can't thank them enough for all the tremendous work they have done.
In addition Jackie Piper, Marie Anne McGibbon, Angela Adamson and Alison Rudder have retreated all the tee markers with help from Tim Johnson who supplied the plastic coverings and Denis Higginbottom who cut them into shape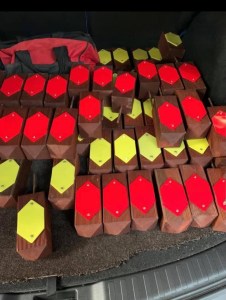 A lot of work is being done in the Clubhouse itself. Paul Bowers is re- decorating the main room and John Hulse will fit the new carpet. Plus the chairs are all being re-upholstered and we're replacing the curtains!
Even Sam has been very busy helping the Green's team  plus doing a bit of bricklaying helping Aidey Smith who has donated all the bricks etc and is building a new wall around where  the new compressor will be located . Well done Sam but don't give up the day job just yet!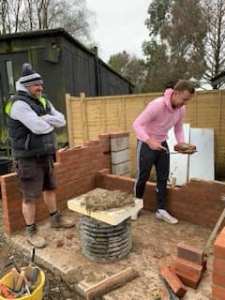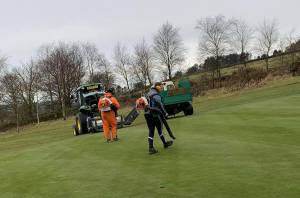 Below are some images taken by Lady President to show you all some of the many things which have been happening in all kinds of weather over the last few months. A huge thank you to all the members who have given so much of their time to help with all of these projects.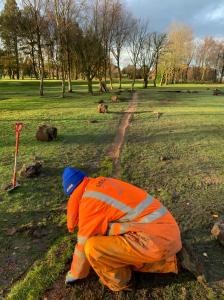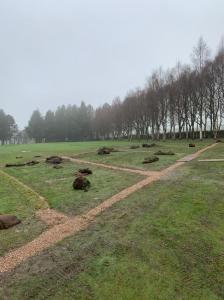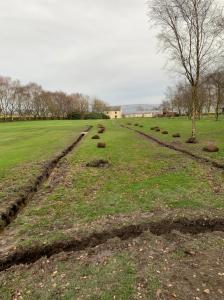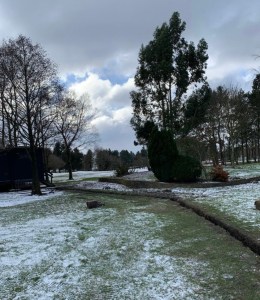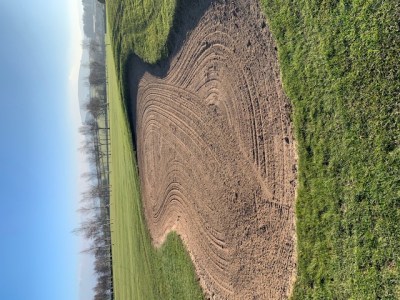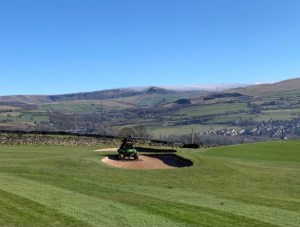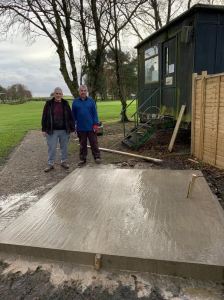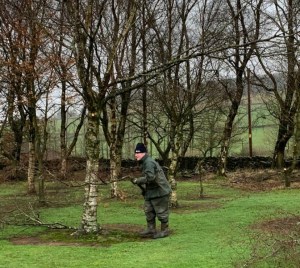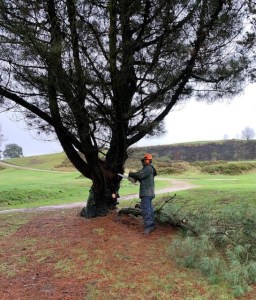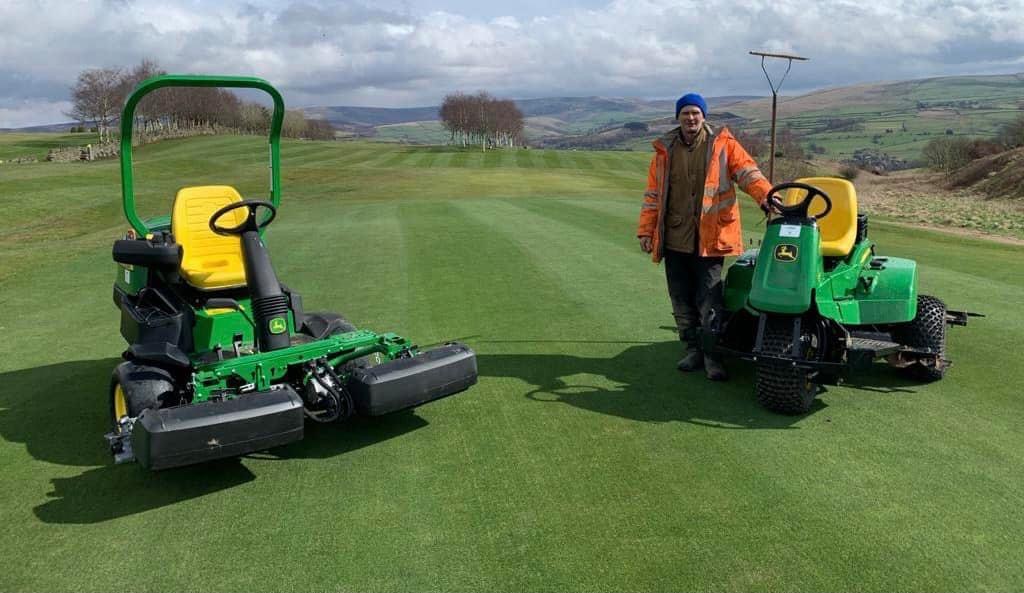 +++++++++++++++++++++++++++++
Circular  Walks from New Mills Golf Club
At present there is no golf allowed but that doesn't stop anyone enjoying the fabulous scenery and countryside which surrounds the club.  Click on the link below to download a printable map and descriptions of 3 extremely pleasant short walks, ranging from 2 to just over 5 miles. All the walks start and finish at the club. Parking is free and Half Way House will be open at weekends for takeaway drinks and snacks so do please call in.
Boots or wellies are recommended on each of the walks, especially after the recent spell of heavy rain which has made some parts of the walks a bit muddy! Enjoy your walk!
***********************************
Practice Areas
As a club we are going from strength to strength and are constantly making improvements to the course, clubhouse & facilities.
Currently, we have limited space to warm up and practice but please, do not practice near the 18th green, 13th green or 14th tee when hitting balls. The course is in great condition and we don't want divots around these areas.
Areas you can practice in are from just next to the putting green on the wall side. Hitting up towards the practice flag or 14th tee direction. (Please do not aim for 13th green!)
When the course is quiet and only when the course is quiet, another good practice area is from the rough near the wall behind the 13th green hitting up the 14th fairway. Please do not use the 14th tee for practice.
We are currently in the process of installing a double bay warm up net for when COVID-19 guidelines allow us to use them again
++++++++++++++++++++++++++++