Winter League 2020/21
Everything is now in place for the 2020 winter league. This year we have had a huge interest which is great. We have 36 teams signed up to battle it out for just one trophy!
In previous years each team played  each other twice. If we were to do that this year we would be running the competition until June and therefore  it has been decided that you will only play each other once.
The full rules can be found by going to the 'Members' section of the website.
Booking must be done vis BRS. However, you will not be able to book until two weeks before your  first match. Tee times are between 8:30 and 9:30. You must book your whole 4 ball whoever is first to book.
Finally, before everyone starts calling the shop phone. I am aware in the diary Winter League should start this Sunday. However I have pushed it back 2 weeks for 2 reasons:
1- Due to the season been shortened, I am going to try and extend the competitions as far as possible before winter starts. Therefore I'm hoping to get some more Sunday Stablefords in to get your handicap down.
2- With all fixtures planned if we started this week we would be done too early on next year. Pushing back the start date 2 weeks will allow us just to finish before Captain's Weekend away (hopefully) and present the winners.
The last league match is on Sunday 14th Feb. The knockout rounds will be played on the following dates:-
QUARTER FINALS – SUNDAY 21ST FEB 21
SEMI FINALS – SUNDAY 28TH FEB 21
FINAL – SUNDAY 7TH MARCH 21
If anyone has any questions please get in touch. The Leagues will be up in the locker room lobby from 5pm today and posted on the club website in the next couple of days under the 'Members' section
Sam
++++++++++++++++++
New Covid-19 regulations and NHS 'Track and Trace'
for Members and Visitors
as from Thursday 24th September
The Government's new 'Track and Trace' System, will require you to download the NHS Covid-19 app onto your phone and then check in every time you come into the Clubhouse.
If you don't have access to the app you will need to continue to use the sign in system we currently have in place.
The QR code will be displayed in several places around the clubhouse so please ensure that you check in on arrival.
Occasionally, we may ask you to show that you are 'checked in' so please  respect what we are trying to do is to ensure your safety
We will be installing a compulsory table service system. When you come into the Clubhouse please find a table and we will come to you to collect your order
We will probably run tabs with the bill being settled at the end of your stay
There will be a maximum of 6 people per table. You will be asked to move if you do not comply.
You will be required to wear a face covering at all times in the building, apart from when you are sitting at the table to eat and drink. This carries a £200 fine to individuals who fail to comply
Failure to wear a face covering, to sign in or use the app means you will not be served! The new rules mean potentially a hefty fine both for you and the club so please observe the regulations above. As usual, we thank each and everyone of you for your continued support and compliance. In this, the craziest of times, we wouldn't be where we are without you, the members.
+++++++++++++++++++++++++++++++++++++++++
World Handicapping System (WHS)
On November 2nd the new World Handicapping System will come into place. To find out more about the system and how it will affect you please go to the 'Members' section of the website and open the pdf under 'World Handicapping System' and the information from England Golf which is also on the TV on the foyer of the clubhouse.
+++++++++++++++++
Mark Hadfield wins the Rigby Trophy
Congratulations to Mark Hadfield who won this year's Rigby Trophy with 39 points one point ahead of Carl Garside. 3rd place went to  Gary Yates on a card play off with three others who all finished on 37
++++++++++++++++++++++++++
Ladies and Seniors Annual Stableford
A beautiful sunny morning made this year's Ladies/Senior's Betterball Stableford extremely enjoyable. With the best score from the Ladies and the best score for the Gents to count on each of the 13 holes, the winners, by a considerable margin with 65 points were Jean Taylor. Celia James, Alan Woolley and Don Cooper. (Unfortunately Alan wasn't available whilst this was taken!!!)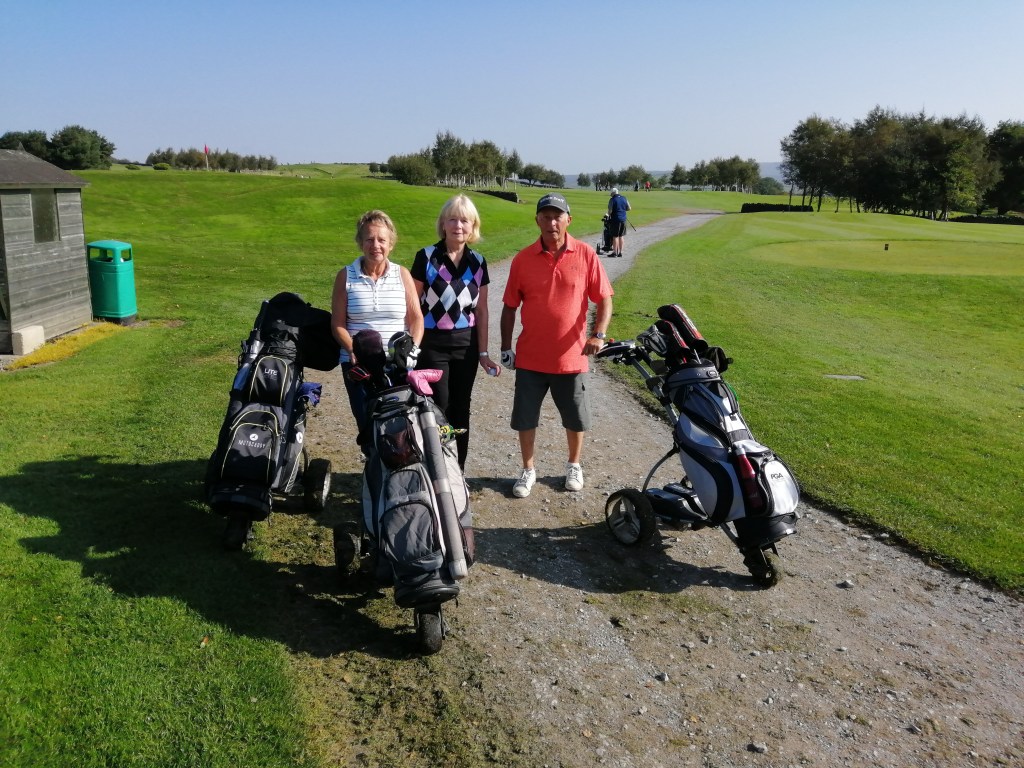 Runners up with  62 points were Lady Captain, Joyce Hadfield, Bob Palmer and Alan Morton. 3rd, with 60 points, were Alison Rudder, Pam Boffey, Dave Good and Paul Lewis whilst 4th with 59 points were Jo Coull, Jane Gee, Tom James and Graham Hadfield.
Once again many thanks to Jean and Jeff for organising this popular fun event.
+++++++++++++++++++++++++++++
Mixed Away Day at Sickleholme Golf Club
On Sunday 20th September, New Mills and Sickleholme golf clubs exchanged their courses and facilities for the day. In total 40 Ladies and Gents from New Mills enjoyed a beautiful sunny (albeit windy) day at this stunning course in the Hope Valley. It was great to see so many new members taking part and joining in the spirit of a fun day out with lots of laughter, smiles and conversation of missed putts and what might have been!
Overall winners were Ali and Gav Shields, Emma Harding and Stuart Whitchurch with 78 points with Lady Captain, Mike Wright, Jo and Peter Coull runners up with 75 points.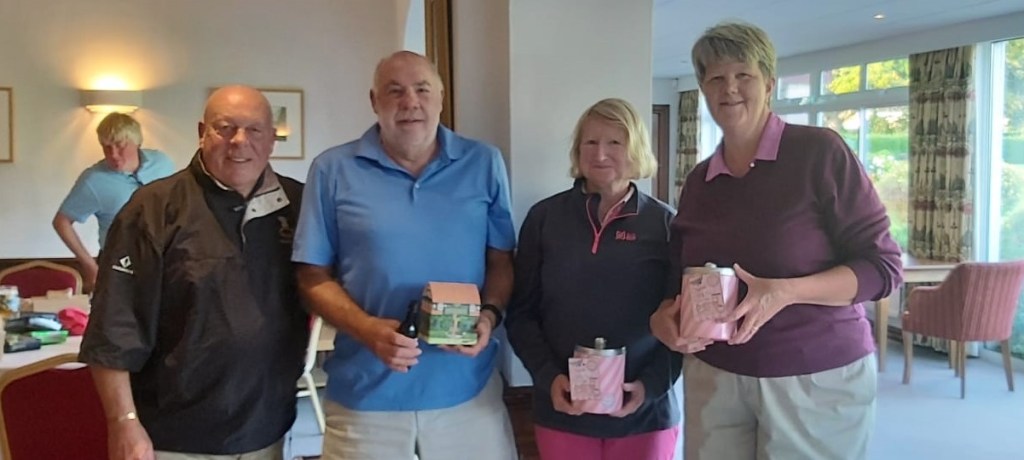 Thanks to everyone who took part and for making a very special day for Lady Captain.
More images can be seen by visiting the newly created 'Gallery' Section
+++++++++++++++++++++++++++++
Small group of Seniors enjoy three day trip to Heron's Reach
Although expected numbers for this annual trip were depleted due to Covid-19  a small group of our Senior's enjoyed brilliant weather for their three day trip to Heron's Reach, near  Blackpool. For more photos and information go to the 'Seniors Section' of the website.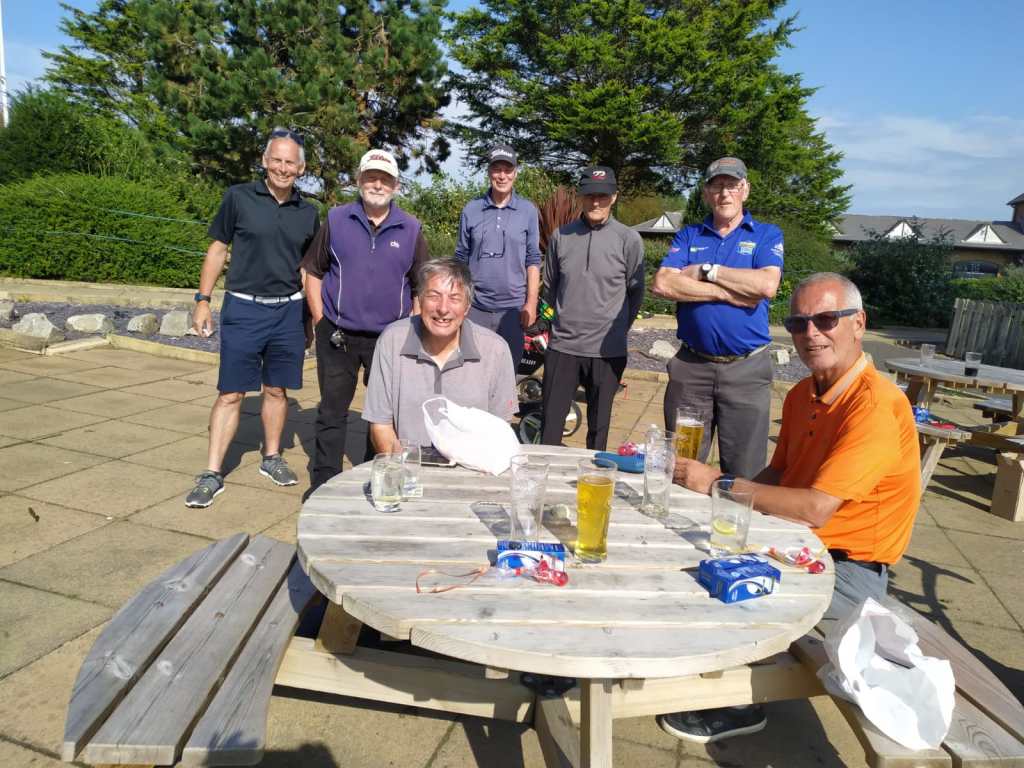 +++++++++++++++++++++++++++++++++++++++
Barry Lawson wins Club Trophy by one!
Yesterday's Club Trophy produced an extremely close finish. There were 2 t 64's and a 59 but a steady 70 and 66 were enough for Barry Lawson to win the trophy by one shot! For more details go to 'Competitions' in the 'Members' section.
++++++++++++++++++++
Roasties are back!!!!
This weekend sees the return of the 'Roasties'! We have:
Chicken £11.95  Beef £11.95   Lamb £12.95
If you decide to 'dine in' please give us a call and tell us 'how many' and 'what time'.
We're still offering a collection service so again please give us a call!
+++++++++++++++
George Scott Trophy
Congratulations to new member Steve Parr who won today's George Scott Trophy with an excellent 42  points which was 5 clear of Rob Holden in second place and Ian Bowers 3rd. For more information go to the Senior's section of the website
++++++++++++++++++++++++++
Jack and Josh tie in this year's Shaw Marsh Trophy
After two days the outcome couldn't have been closer with Jack Marshall and Josh Westmerland both finishing with 135 . Third place went to Alex Mackenzie with 136. So a play off will be necessary to determine the winner! For more information go to 'Competitions' in the Members section.
++++++++++++++++++++++++
Seniors Doubles 2019 finally resolved!
After a very long delay we were finally able to play the final of the 2019 Senior's Doubles competition today. In a closely fought game Trev Jones and Phil Holland came out as the winners beating  Fred Markham and Pat Walker 3 and 2.
Congratulations to Trev and Phil and commiserations to Fred and Pat. Well done to all four of  the finalists!
++++++++++++++++++++++++++++
Captain's v President's Day Sunday August 30th 2020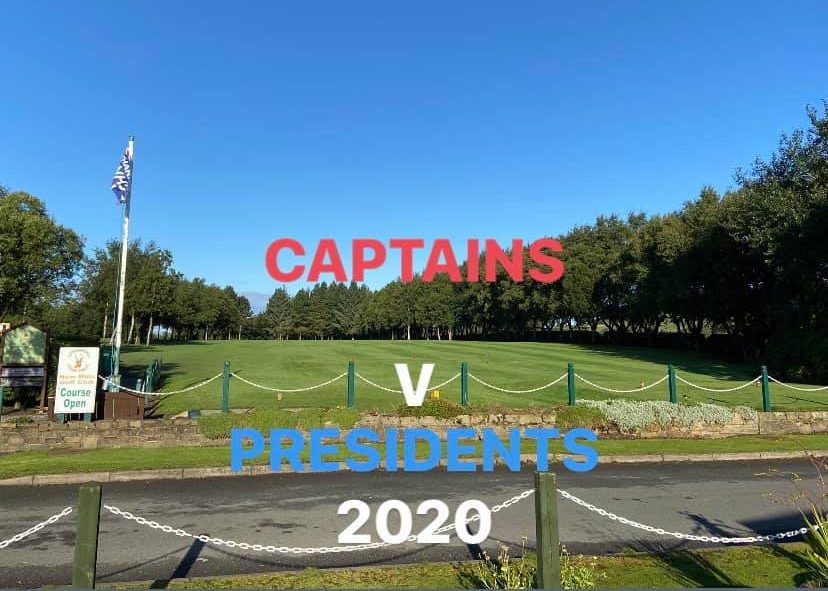 Well this day certainly doesn't disappoint! Banter and laughs from 7:30 this morning. Some good golf, some bad golf. However everyone had a lot of fun! Once again the victors were the Captain's team who won by the narrow margin of 17-15 so sadly the Presidents are still to win this event!
Of the individual scores. It was incredibly close!
1st place: 44 points: SIMON IGNOTUS & PAUL BOWERS
2nd 44 POINTS
SAM SHAW & KIERAN SHARP
3rd 44
DARYL HALL & JOHN BROGDEN
4th  44 POINTS
JANE HOWARD & JANET BOWERS
NEAREST THE PINS
4TH CHRIS MARSHALL
6TH GRAHAM HADFIELD
8TH ANN BROWN
10TH VIPAN JAIN
15TH NEIL HYDE
16TH GLENNE MILLIGAN
LONGEST DRIVE MALE- SAM SHAW
LONGEST DRIVE FEMALE MARIE-ANNE MCGIBBON
Once again a huge thank you to everyone who supported the event. The club just keeps going strength to strength thanks to its enthusiastic membership. This day was created in memory of ex member and club legend John White. We have certainly done him proud today! So when you're having a tipple tonight, raise your glass for John plus , of course, one for Mr Captain and his victorious team!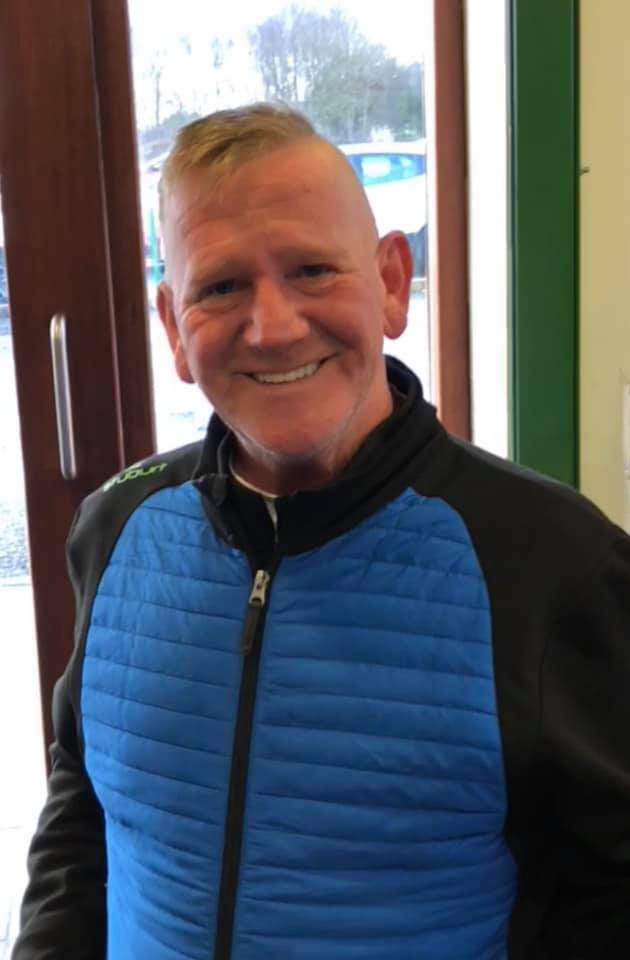 ++++++++++++++++++++++++++++++
Practice Areas
As a club we are going from strength to strength and are constantly making improvements to the course, clubhouse & facilities.
Currently, we have limited space to warm up and practice but please, do not practice near the 18th green, 13th green or 14th tee when hitting balls. The course is in great condition and we don't want divots around these areas.
Areas you can practice in are from just next to the putting green on the wall side. Hitting up towards the practice flag or 14th tee direction. (Please do not aim for 13th green!)
When the course is quiet and only when the course is quiet, another good practice area is from the rough near the wall behind the 13th green hitting up the 14th fairway. Please do not use the 14th tee for pracice.
We are currently in the process of installing a double bay warm up net for when COVID-19 guidelines allow us to use them again
++++++++++++++++++++++++++++
Covid-19 Regulations re Greater Manchester 21st July 2020
Following the latest guidelines from the government may we ask members and visitors to :
Wash your hands thoroughly
Use the sanitisers which are located in the toilets, lobby, clubhouse and pro shop
Follow social distancing guidance which currently states that OUTSIDE no more than 6 per table from different households and INSIDE no more than 4 per table from four households
If you are coming from any of the new lockdown areas please inform Jess
************* 
Full Menu Returns to the Clubhouse!
We are pleased to announce that we are resuming our FULL menu from this week! Please note: Government guidelines state that if someone (or a person living in their household) tests positive for Covid- 19 they should self isolate for 14 days and as such they should NOT come to the clubhouse until that period has passed.
We will be serving a full menu at the following times:
Monday – Friday 10am-3pm and 5pm-7pm
Saturday and Sunday 11am-7pm
Our very popular 'roasties' will be available on the 2nd Sunday of every month
To see our new menu go to the 'Clubhouse' section of the website
++++++++++++++++
Rainfall data
Despite all the problems caused by lockdown everyone was able to start playing again as restrictions were gradually lifted and we were able to enjoy one of the driest and sunniest May's for many years with rain on just 5 days out of 31!
The dry fairways meant that the ball ran for ever considerably helping those of us who struggle for distance! However, the careful watering of the greens by Nigel and his team meant the verdant greens were in absolutely tip top condition and played true.