15 MONTHS FOR THE PRICE OF 12
Enjoy this special deal for 2020
Pay for 12 months membership and get an extra 3 months completely free!
7 day membership £865
5 day membership £755
3 MONTH TRIAL MEMBERSHIP £175
Join our 3 month deal and receive full playing rights, an official club handicap and members bar discount!
This offer gives you the same rights  as  a full 7 day member for 3 months!
If you wish to convert to full membership afterwards we will deduct the £175 off the subscription fee and give you 12 months from then! That means you get 3 months FREE!
For more information on this popular offer contact Sam, our professional, on 01663 746161 or email proshop@newmillsgolfclub.co.uk
12 ROUND GOLF PASSPORT £150
Our golf passport is a great offer for someone who plays a lot of casual golf but is  not bothered about an official handicap or playing in competitions.
The passport entitles the holder to 12 full rounds or 24 lots of 9 holes. These can be used any time, subject to availability, within a 12 month window.
If, once the passport has expired, you would like to upgrade to full membership we will then take the £150 off your fees.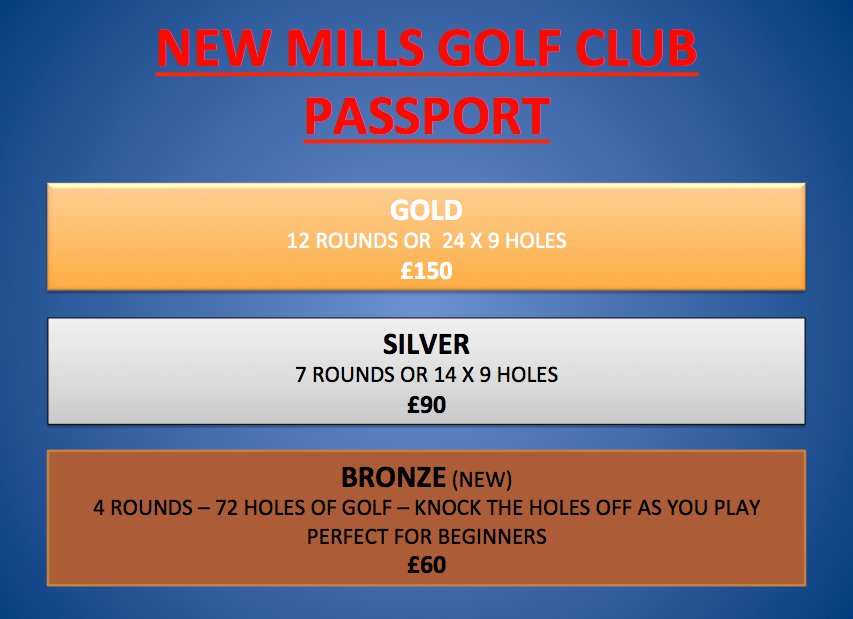 For more information please contact Sam on the above number or by the above email.