WELCOME TO THE SENIORS
The Seniors section is open to members aged 55 or over who enjoy playing friendly, yet competitive golf.
We play a 'roll up' every Monday, Wednesday and Friday throughout the year starting at 9:00am on Monday and Wednesday when we play a shortened course of 13 or 14 holes and Friday, when we start earlier at 8:30am and play a full 18 holes. We try to vary the format thus providing a bit of fun but still with a competitive edge! Whilst everyone wants to win, the real attraction is the camaraderie and friendly banter which we believe is  a key feature and strength of our club.
In addition to the 'roll ups' a  number of Medal and Stableford handicap qualifying events are held throughout the season (click on the link 'Seniors Competitions' to find out more). We also play friendly home and away matches against 11 other clubs, several of which are played in the Manchester and District Seniors Golf League (click link 'Seniors Matches' below) of which we are currently the champions!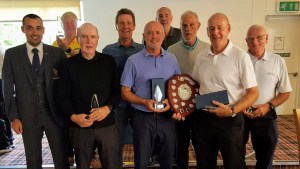 Like all other clubs, we were badly affected by the Corona virus in 2020 experiencing periods of lockdown as well as other restrictions. Despite this we managed to play an increased  number of Seniors Qualifying Stablefords, our 3 major board comps as well as keeping our weekly roll ups going.
Level of ability isn't important (our current handicaps range from single figures through to 36) and whilst most members are retired, our age range is from 'youngsters' in their fifties right up to 'more senior gentlemen' in their eighties. Whatever your age or ability you'll be made extremely welcome. For more information contact any of the people listed below or simply turn up and enjoy one of the roll ups.
We're sure you will enjoy it.
Keith Wright (Senior's Chairman 2021/2)
---
WHO DO I CONTACT?
For contact information, select and click the following link:
---
DOCUMENT DOWNLOAD SECTION
---
FOLLOW THE RESULTS OF SENIORS MATCHES
 Full details of matches can be found on the link 'Seniors Match Results' above.
______________________________________________________________________________
Mike continues his success with a hole in one!
Congratulations to Mike Howard who followed up his success on Captain's Day less than 2 weeks ago with a hole in one on the par three 10th today. It seems there is no stopping him at present!!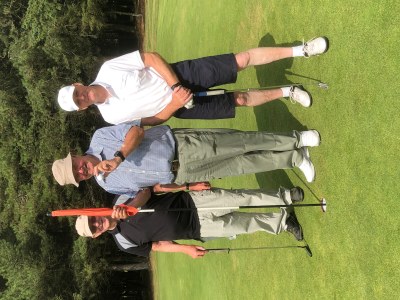 Captain's Day July 10th 2021 won by Mike Howard!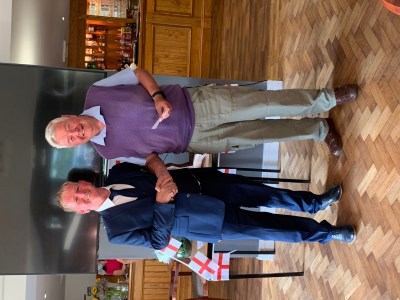 Mike has been a member since 1972, before many of those playing today were even born! He was Club President in 1995 and this is his first major victory in over 50 years. Those of us who play regularly with Mike in the senior's section know what a steady, reliable player he is. He wouldn't have won any prizes today for the longest drive but he would certainly have been up there alongside the best at finding the middle of the fairway. Well done Mike. Your win today will encourage many of the Senior's section to continue to get out of bed early in the morning on Monday, Wednesday and Friday and give everyone real hope that nothing is impossible!
Derek Horsey Knock Out Competition 1st Round
Congratulations to Peter Coull and John Tennant who won their first round match in this year's Derek Horsey Knock out away against Fairfield Golf Club winning a very close fought match on the 21st hole!
They now play Werneth Low at home in round 2. We wish them luck and hope they progress to the next round!
+++++++++++++++++++++++++++++++++++++++
Seniors trip to Portal June 2021
Keeping up a tradition that has taken place for nearly 20 years, a small group of our senior members enjoyed an overnight stay at Portal Golf; playing their Par 71, 6200 yard Premier Course on Wednesday, followed by the 6500 yard Par 73 Championship Course on Thursday. 
The winning teams were Pat Walker, Alan Woolley, Mike Howard & Peter Griffiths with 72 points on the Premier and Pat Walker, Clive Garside, Rick Boffey, and Ken Lee on the Championship with 83 points.
Consensus was that despite it's greater length, with more open fairways and fewer sloping lies, the Championship Course was less testing and the overall favourite to play, as the scoring suggested.
Whilst Pat was undoubtedly the 'star turn' with two wins, 7 of the group also recorded a win, and the group returned home having played lots of good golf and with fond memories.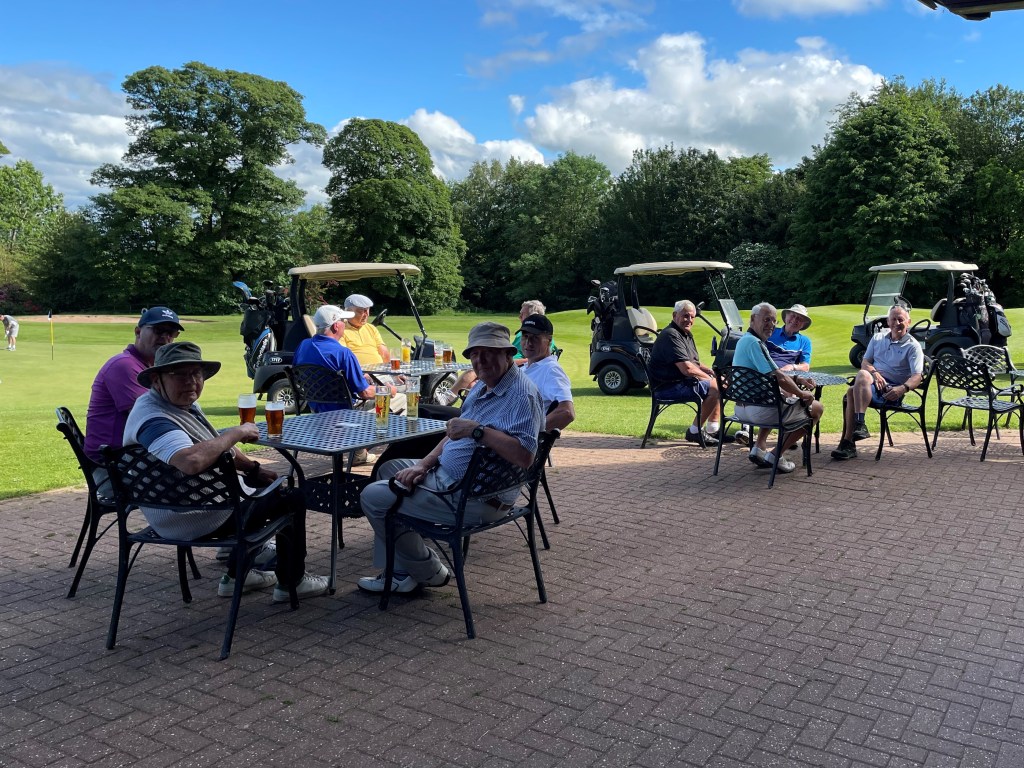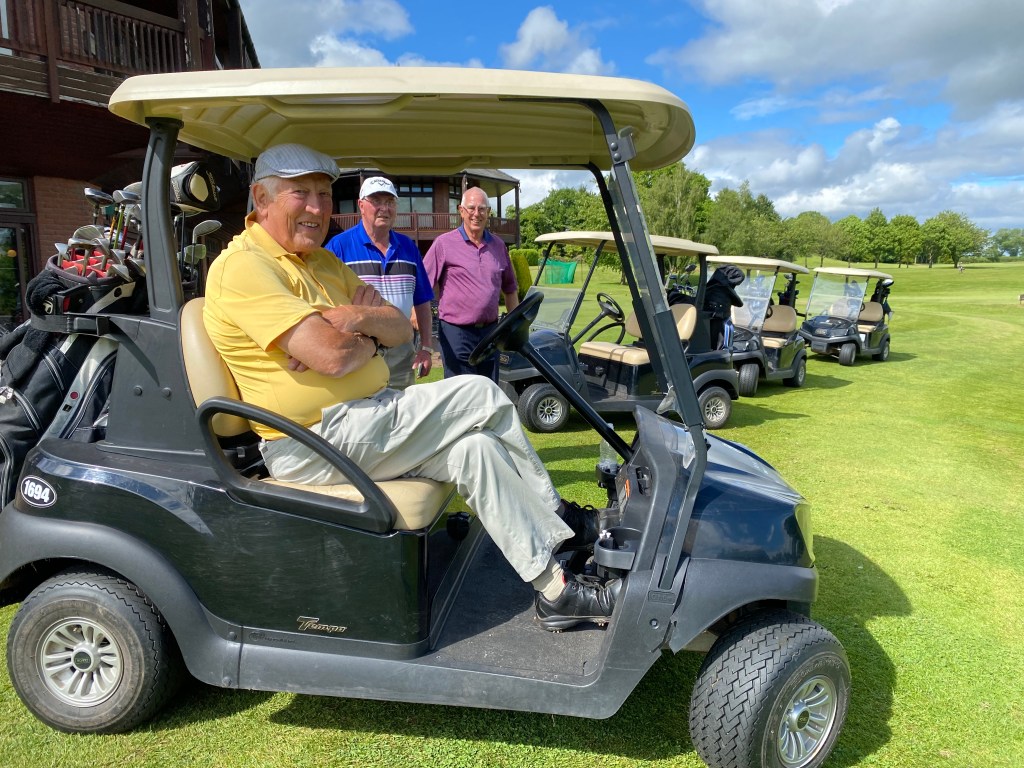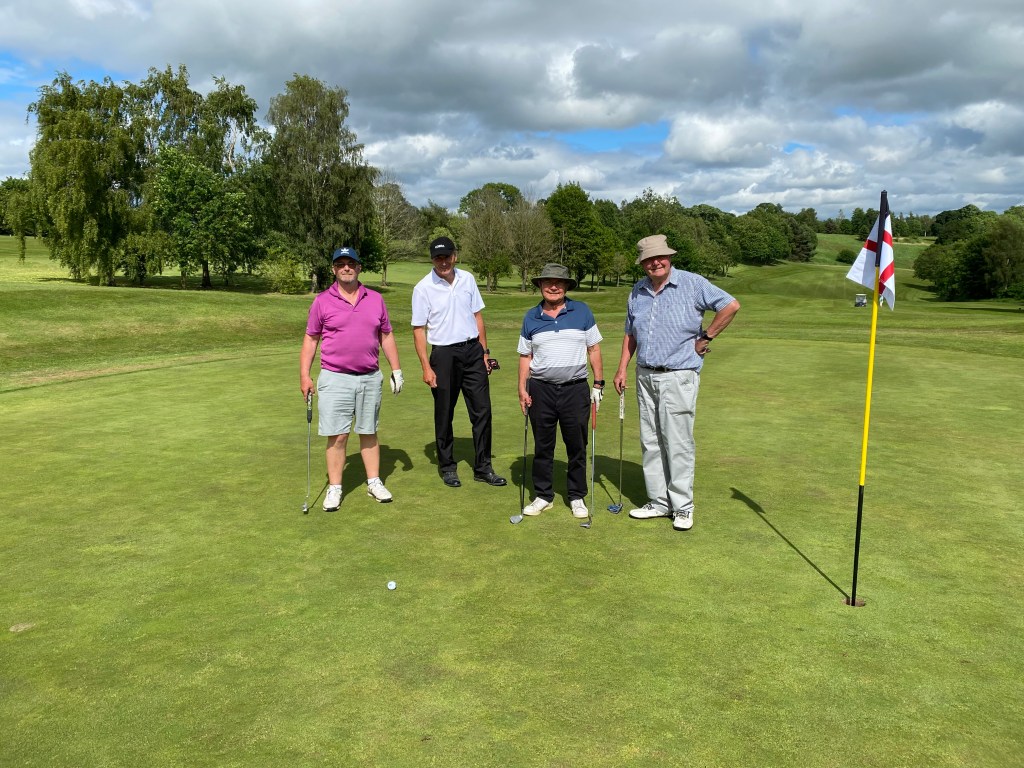 ++++++++++++++++++++++++
Hole in One for Lester
Congratulations to Lester Cooper for his hole in one on the 4th this morning in his Seniors knock out doubles match. This is Lester's second hole in one. The previous one being in a medal on the 8th. Sadly, Lester and his partner Dave Holt lost the match to brother Don and his partner Paul McCracken. However, his name does now enter the Senior's Roll of Honour which can be viewed by clicking on the link above.
+++++++++++++++++++++++++++
Derek Horsey Charity Competition 12th April 2021
Many congratulations to Rod Taylor, winner of today's Derek Horsey Charity Competition, with an excellent net 65. Three players came in with 68 – John Tennant, Peter Coull and Keith Wright. Traditionally, the two players with the best scores go on to represent the club in the knock out stages of the event against clubs from Derbyshire, Cheshire and Greater Manchester. Rod has indicated he doesn't want to do this due to other commitments and so the two people with the next best scores JT and Peter will be our representatives in the knock out stages. Sadly this year's Chairman, Keith, missed out on a card play off!
Many thanks to everyone who played this morning, on what turned out to be a very pleasant spring day. The event raised £165 for the charity which was set up in memory of Derek who was a key member of Reddish Vale Golf Club and one of the founders of the  Manchester and District Seniors League.
To view the full score sheet visit 'How Did I do' under the Members section of the website.
++++++++++++++++++++++
Seniors win 4 – 0 against Mellor (18th May)
An impressive 4 nil victory at home to Mellor, which earned them a valuable 8 points,  greatly enhanced the Seniors chance of going forward as winners of their division. In addition New Mills also won 3 of the 4 'friendly' matches as well to give them a resounding 7 – 1 victory. Full scores can be found by clicking on the Seniors match results in the Document Download section.
Seniors win their opening game of the 2021 season
Defending Manchester and District League champions , New Mills, got off to a great start with a 5pts -3  home win against Glossop with a solid victory for Keith Wright and Ian Harding plus an emphatic win for Jeff Stewart and Pat Walker. A half from John Tennant and Arthur Oliver helped seal the victory. For the full scores, including the social games, which we also won, go to the Document Download section (Seniors Match Results)
+++++++++++++++++++++++++++++++
Points dropped in the league match against Reddish Vale
Today's home fixture against Reddish Vale finished all square in both the league and social games. Graham Hadfield and Peter Coull recorded a good win 3 & 2 whilst Keith Wright and Ian Harding won easily 8 & 6.
In the friendly games there were very good wins for Clive Garside and Alan Woolley  6 & 4  with Simon Belt and Phil Pearson also winning convincingly 3 & 1
++++++++++++++++++++++++++++
Seniors Stablefords 2021
Congratulations to Garry Fletcher winner of the first of the Senior's Stablefords with 41 points . Originally scheduled for May 21st, the competition had to be put back until today, June 4th, because of atrocious weather. Today's conditions were perfect : very warm, clear blue skies and no wind!
2nd place went to Pat Walker with 40 points whilst several people came in with 39. However, Keith Wright was credited with 3rd place and Alan Goodall 4th after a card play off.
June 18th: Well done to Phil Holland winner of today's Stableford 2 competition with 40 points. Bob Palmer came second with 38 one ahead of Mike Howard who edged out Graham Hadfield after a card play off. A total of 28 Seniors took part this morning. Well done to everyone who played.
July 18th: Following on from his great victory on Captain's Day, Mike Howard won today's Stableford with a very impressive 43 points. Phil Holland continued his fine form by finishing second having won the last Seniors  stableford event. 3rd place went to Clive Garside with 40 points who beat Rick Boffey on a card play off.
+++++++++++++++++++++++++++++
Ladies and Seniors Annual Stableford 21st September 2020
A beautiful sunny morning made this year's Ladies/Senior's Betterball Stableford extremely enjoyable. With the best score from the Ladies and the best score for the Gents to count on each of the 13 holes, the winners, by a considerable margin with 65 points were Jean Taylor. Celia James, Alan Woolley and Don Cooper. (Unfortunately Alan wasn't available whilst this was taken!!!)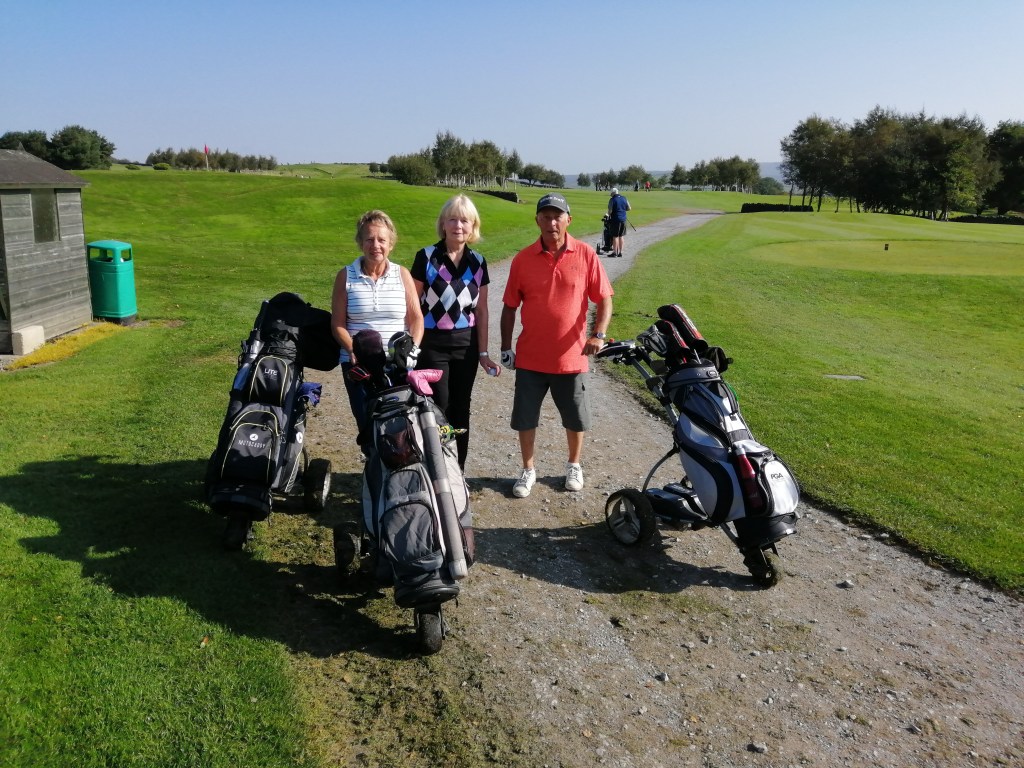 Runners up with  62 points were Lady Captain, Joyce Hadfield, Bob Palmer and Alan Morton. 3rd, with 60 points, were Alison Rudder, Pam Boffey, Dave Good and Paul Lewis whilst 4th with 59 points were Jo Coull, Jane Gee, Tom James and Graham Hadfield.
Once again many thanks to Jean and Jeff for organising this popular fun event.
+++++++++++++++++++++++++++++
Heron's Reach September 2020
A small party of Seniors made the annual trip to Heron's Reach. Three days of wonderful weather went some way to making up for the reduced numbers brought about by Co vid -19. If only the quality of the golf had matched the weather!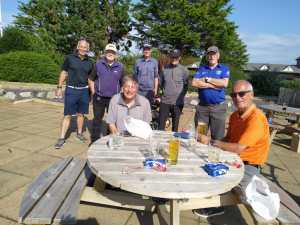 Dave Swindells emerged as the trip's overall winner whilst Trevor Oxley was awarded the infamous golf statue!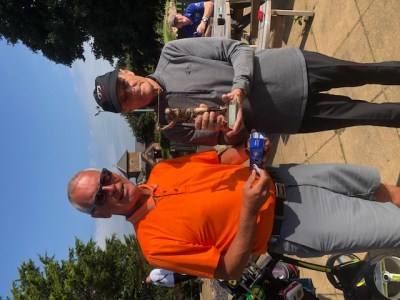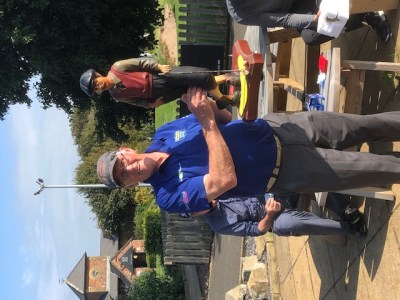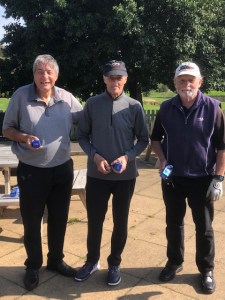 A big thank  you to Alan Blakeman for, once again, organising this year's trip.
+++++++++++++++++++
Steve wins this year's George Scott Trophy
New member Steve Parr continued his very successful start to playing with the Seniors by winning today's George Scott Trophy by 5 shots from Rob Holden. Steve had an excellent round with a superb birdie on the 15th and a total of 7 pars in his score of 42 points. The competition for 3rd and 4th prizes was extremely close with 3 players all scoring 36 points. Ian Bowers with 19 points on the back nine just edged out Alan Woolley (18+18) whilst John Tennant missed out on the prizes by the smallest of margins also scoring 18 on the back nine but with 12 points to Alan's 14 on the last 6 holes.
Steve's success today adds to his victories so far in two of the Individual Qualifying Stablefords. Well done Steve
++++++++++++++++++++++++++++++++++++
Seniors Doubles 2019 finally resolved!
After a very long delay we were finally able to play the final of the 2019 Senior's Doubles competition today. In a closely fought game Trev Jones and Phil Holland came out as the winners beating  Fred Markham and Pat Walker 3 and 2.
Congratulations to Trev and Phil and commiserations to Fred and Pat. Well done to all four of  the finalists!
++++++++++++++++++++++++++++
Congratulations to Dave!
Congratulations to Dave Good for his hole in one on the 8th during the competition on Saturday 15th August. This is Dave's second 'hole in one' but the first to be witnessed by other players since on the previous occasion Dave was playing a practice round on his own.
To see all the senior's who have achieved a 'hole in one' in the last  few years go to the Document Download Section and click on 'Hole in One – Roll of Honour'
++++++++++++++++++++++++++
Marcliffe Cup 2020
Many congratulations to this year's Senior's Chairman, Jeff Stewart, who convincingly won today's Marcliffe Cup with a score of 42 points. 2nd place went to Pat Walker with 39 points with Bob Palmer (3rd) and Chris Keene (4th) also scoring 39.
The Marcliffe is one of the key events on the Vet's Calendar and traditionally Cliff Ardern has presented the cup and numerous bottles of wine for nearest the pin etc afterwards. Sadly, this year, we had to change the format and limit the number of prizes due to Covid -19 -no rocket start and everyone teeing off from the 1st in groups of four at 10 minute intervals.
What was so nice this morning was that Cliff came up to the club before the event to wish people well. Hopefully, he will be able to present the cup to Jeff at the Senior's AGM later in the golfing calendar.
We were blessed with a very, very hot day and near perfect golfing conditions and the event was supported by 42 seniors so a big thank you to everyone who took part. You can see how you did by visiting 'How Did I Do?'
+++++++++++++++++++++++++++++
Hole in One for Keith!
Congratulations to Keith Wright who scored a hole in one on the 16th in today's competition (Saturday August 8th). This is only Keith's second hole in one which, he reckons, is averaging out at one every 20 years! So he'll probably have to wait until he gets into his nineties for the next one!
++++++++++++++++++++++++++++++++
Congratulations to Dave Swindells winner of the Vet's Cup 2020
Many thanks to the 40 seniors took part in this year's Vet's Cup which was played on one of the hottest days of the year so far. A strong wind, however, made playing difficult and perhaps helps to explain the relatively low scores. Dave won with a net 67 with Chris Keene on 69 just edging out Graham Elliott on a card play off. The 4th prize went to Alan Blakeman with net 70
The trophy, which is the only Senior's competition played as a medal off white tees, will be presented to Dave at the club's annual presentation evening later in the year and his name will be immortalised on the Vet's Cup board in the clubhouse.
For a full score sheet go to 'How Did I Do?' in the 'Members Section'.
++++++++++++++++++++++++++++++++++
Seniors Individual Knockout 2019 won by Pat Walker
Finally we were able to complete the individual knock out for 2019 today! After a closely fought first nine, where the lead changed several times, Pat Walker eventually pulled ahead to beat Arthur Oliver 4 and 3.
Well done to both finalists for their patience if nothing else!!!
+++++++++++++++++++++++++++++++++++++++++++++++
Congratulations to the winners of the Manchester  and District Seniors League 2019!
Huge congratulations to our team led by Bob Palmer who won the 2019 league Trophy at Brookdale Golf Club for only the second time since the league was founded in 2002.
Playing conditions were 'challenging' as overnight, the remnants of Hurricane Humberto had dumped even more rain on an already saturated North West. Despite this, all 4 pairings played  tremendously well with Bob Palmer and Graham Hadfield scoring an impressive 40 points which was matched by Ian Harding and John Tennant. These two pairs were backed up impressively by the other two pairs who both scored 35 namely Keith Wright and Trevor Jones and Peter Coull and Simon Belt. With the aggregate total of the best 3 pairs to count the result was:
1st New Mills 115 points
2nd Shrigley Hall 110
3rd Macclesfield 110
4th Dukinfield 108
5th Houldsworth 107
6th Marple 97
The winning team with Paul Deighton President of Brookdale GC
The last time we won this trophy was way back in 2005.  Five members of that team are still active members of the current seniors  -Mike Howard. Mike Richardson, Ged Armitt, Dave Good (not in the picture)  and Tony Jones  as is the Senior's Chairman at the time Fred Markham and the Club Captain in 2005, Arthur Oliver.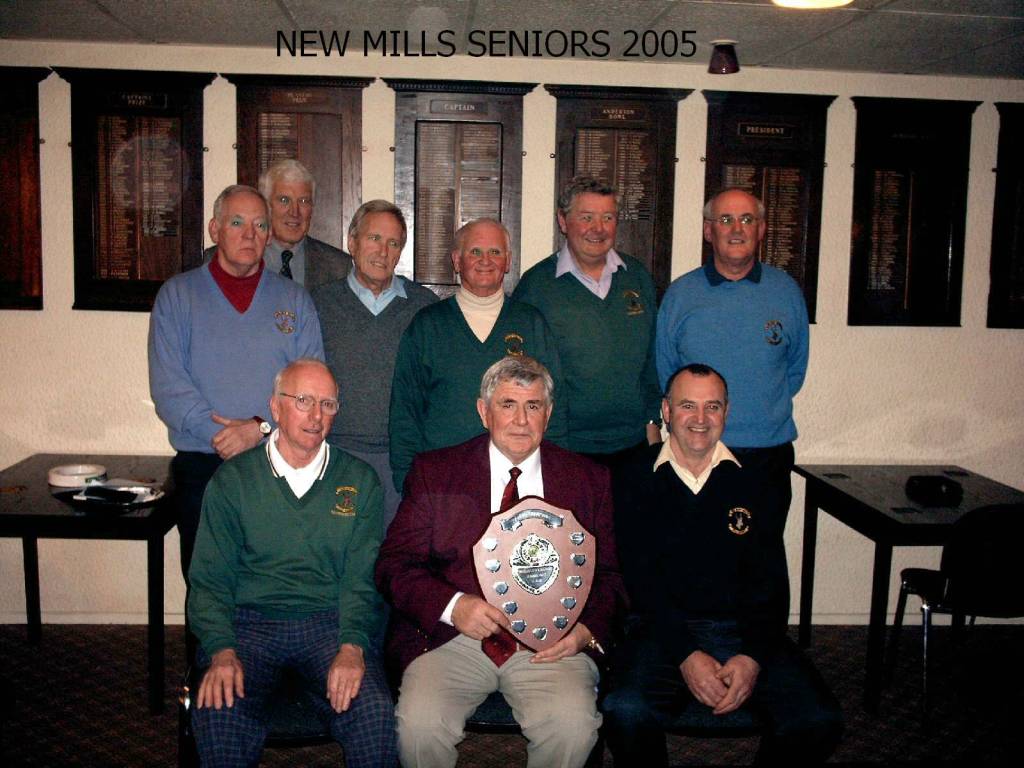 We shouldn't overlook the contributions made by everyone else who played in the league team in 2019 which enabled us to reach the final, namely: Phil Holland, Ian Bowers, Clive Garside, Dave Good, Pat Walker, Phil Smallman, Paul Holt, Dave Swindells, David Bray and Arthur Oliver.  Well done to everyone who played their part in helping us achieve this trophy!
We're very fortunate to have such a strong senior's section at the club which is characterised by the camaraderie, friendship and competitiveness which exists in our roll ups every Monday, Wednesday and Friday and in our various competitions throughout the year. It's not just the players who represented the league team who should share in this success, but all the others who played for the club throughout the season in the friendly fixtures against other clubs and everyone who turns up at the roll ups.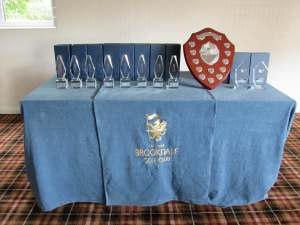 Well done to everybody!
---
'
---