WELCOME TO THE SENIORS
The Seniors section is open to members aged 55 or over who enjoy playing friendly, yet competitive golf.
We play a 'roll up' every Monday, Wednesday and Friday throughout the year starting at 9:00am on Monday and Wednesday when we play a shortened course of 13 or 14 holes and Friday, when we start earlier at 8:30am and play a full 18 holes. We try to vary the format thus providing a bit of fun but still with a competitive edge! Whilst everyone wants to win, the real attraction is the camaraderie and friendly banter which we believe is  a key feature and strength of our club.
In addition to the 'roll ups' a  number of Medal and Stableford handicap qualifying events are held throughout the season (click on the link 'Seniors Competitions' to find out more). We also play friendly home and away matches against 11 other clubs, several of which are played in the Manchester and District Seniors Golf League (click link 'Seniors Matches' below).
Level of ability isn't important (our current handicaps range from single figures through to 36) and whilst most members are retired, our age range is from 'youngsters' in their fifties right up to 'more senior gentlemen' in their eighties. Whatever your age or ability you'll be made extremely welcome. For more information contact any of the people listed below or simply turn up and enjoy one of the roll ups.
We're sure you will enjoy it.
_________________________________________________________________________
WHO DO I CONTACT?
For contact information, select and click the following link:
________________________________________________________________________________
DOCUMENT DOWNLOAD SECTION
Select and click the required link:
---
SENIORS KNOCKOUT COMPETITIONS – UPDATED DRAW
---
FOLLOW THE RESULTS OF SENIORS MATCHES
 Full details of matches can be found on the link 'Seniors Match Results' above.
---
Senior's AGM 2020
Outgoing Chairman Bob Palmer thanked everyone for their contributions to the Senior's in 2020 in particular Clive Garside and Phil Smallman for organising the Seniors Quad am and Senior's Open, Tom James as Secretary, Clive Garside as Treasurer and Alan Blakeman for organising the 3day  trip to Heron's Reach and his roll in trying, sometimes against seemingly impossible odds, to organise teams in the thrice weekly roll ups. Never an easy task!
The season was an excellent one for the club. The weather was reasonably kind and we played a lot of golf somehow managing.  miraculously, to avoid the heavy rain at times! The work done over the  previous twelve months by the greens staff and volunteers meant the course was often in pristine condition and was praised repeatedly by the clubs we played against.
In terms of matches, the season couldn't have been much better. We won 13 of our matches against other clubs, losing 9 and halving one. In the league games we won 6 and lost 4 but came second in our division and progressed to the League final, where for the first time since 2005, we came out victorious and League Champions 2019!
Of course it wasn't just those who played in the final who ensured our success but all the others who played in matches which helped us get there.
The club competitions organised by Tom and Clive were well supported and there were some great results. Stan Spencer won the Vets Cup. Keith Wright won the George Scott Trophy and  Arthur Oliver, the Marcliffe. All the prize winners including those who came in the first 4 in the qualifying Stablefords  were presented with their prizes. You can view all the Competitions results by clicking on 'Competitions' in the Senior's section.
Jeff Stewart takes over as Chair for 2020. Keith Wright is Vice Chair. Tom James stays on as Secretary and Clive Garside continues as Treasurer. Phil Smallman has been co-opted onto the committee because of his vast experience and because he organises our major annual event the 'Open'
Bob, as outgoing Chairman, thanked everyone for their support especially the match organisers and the committee  and selected Ged Armitt as his 'Player of the Year' for his tireless efforts over several years as Captain, President and now a key member of the voluntary helpers to the green's  team.
Everyone appreciated Bob's efforts for all his efforts as this year's Chairman.
Congratulations to Ian and Andy winners of the Turkey Trot 2019
We awoke to a beautiful sunny morning, alas with temperatures below freezing point, which meant that the 48 competitors (24 pairs) had to play the 14 hole pairs Stableford betterball off temporary greens with the bunkers being declared GUR.
However,  it was a great turn out and it was also nice to see so many members had invited along a guest. In fact of the 5 prize winning pairs three involved members playing with a guest so well done!
The competition couldn't have been closer with Ian Harding and Andy Chadwick winning by just a single point with an excellent 10 under par 38.
Second place went to Jeff Stewart and late replacement Rob Holden with 37 who beat Arthur Oliver and his guest Keith Thompson who also scored 37 whilst Ian Bowers and his guest, John Wheeldon also had 37. The final prize went to Dave Holt and his guest Glyn Evans with 36 points.
Thank you, once again, for your support to what proved to be a very enjoyable morning's golf which concluded with a choice of very enjoyable savoury baps provided by Steph.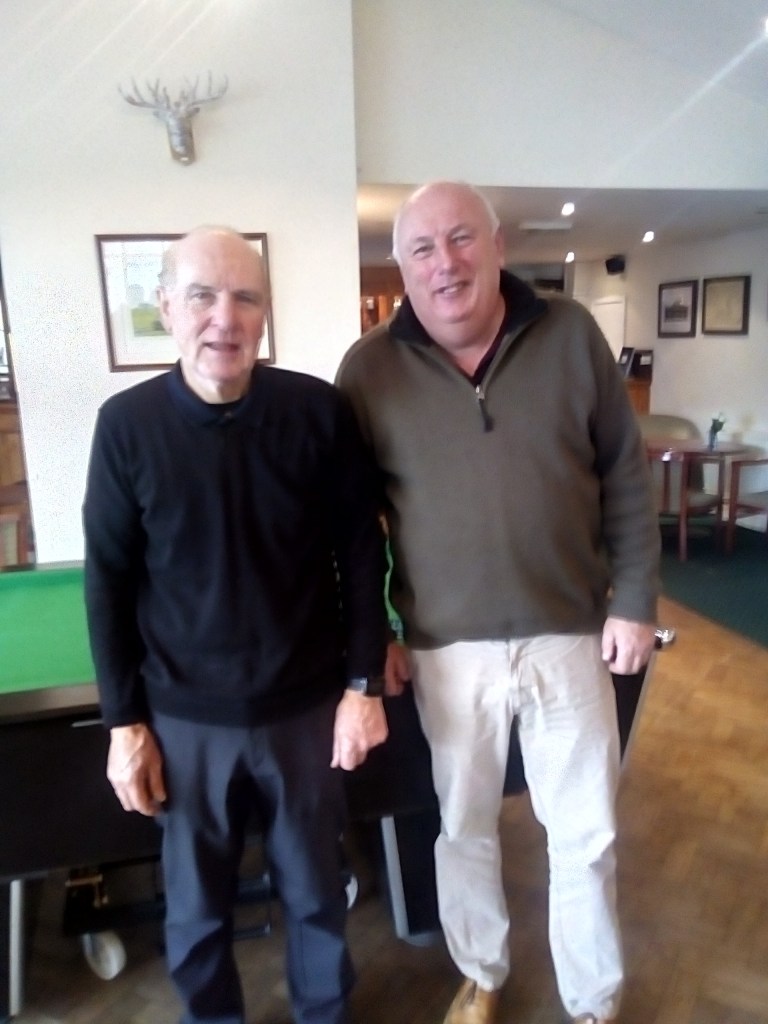 Hole in One for Stan
Stan Spencer achieved his first ever hole in one at the Senior's roll up this morning on the par three 15th. Well done Stan!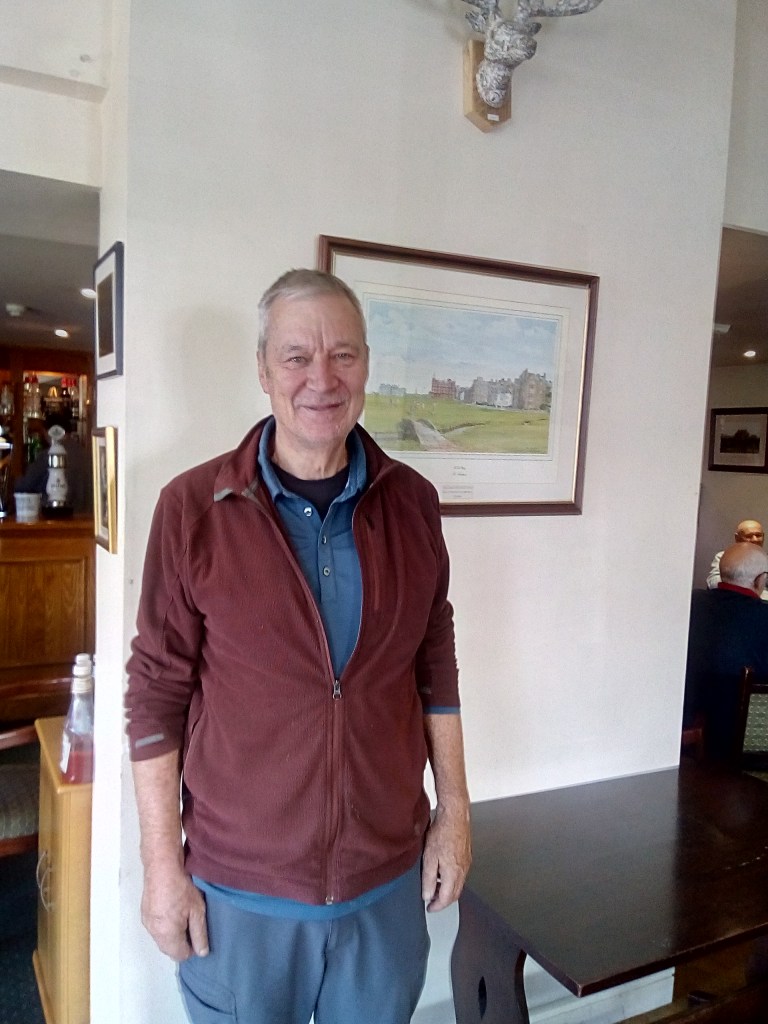 Congratulations to the winners of the Manchester  and District Seniors League 2019!
Huge congratulations to our team led by Bob Palmer who won the 2019 league Trophy at Brookdale Golf Club for only the second time since the league was founded in 2002.
Playing conditions were 'challenging' as overnight, the remnants of Hurricane Humberto had dumped even more rain on an already saturated North West. Despite this, all 4 pairings played  tremendously well with Bob Palmer and Graham Hadfield scoring an impressive 40 points which was matched by Ian Harding and John Tennant. These two pairs were backed up impressively by the other two pairs who both scored 35 namely Keith Wright and Trevor Jones and Peter Coull and Simon Belt. With the aggregate total of the best 3 pairs to count the result was:
1st New Mills 115 points
2nd Shrigley Hall 110
3rd Macclesfield 110
4th Dukinfield 108
5th Houldsworth 107
6th Marple 97
The winning team with Paul Deighton President of Brookdale GC
The last time we won this trophy was way back in 2005.  Five members of that team are still active members of the current seniors  -Mike Howard. Mike Richardson, Ged Armitt, Dave Good (not in the picture)  and Tony Jones  as is the Senior's Chairman at the time Fred Markham and the Club Captain in 2005, Arthur Oliver.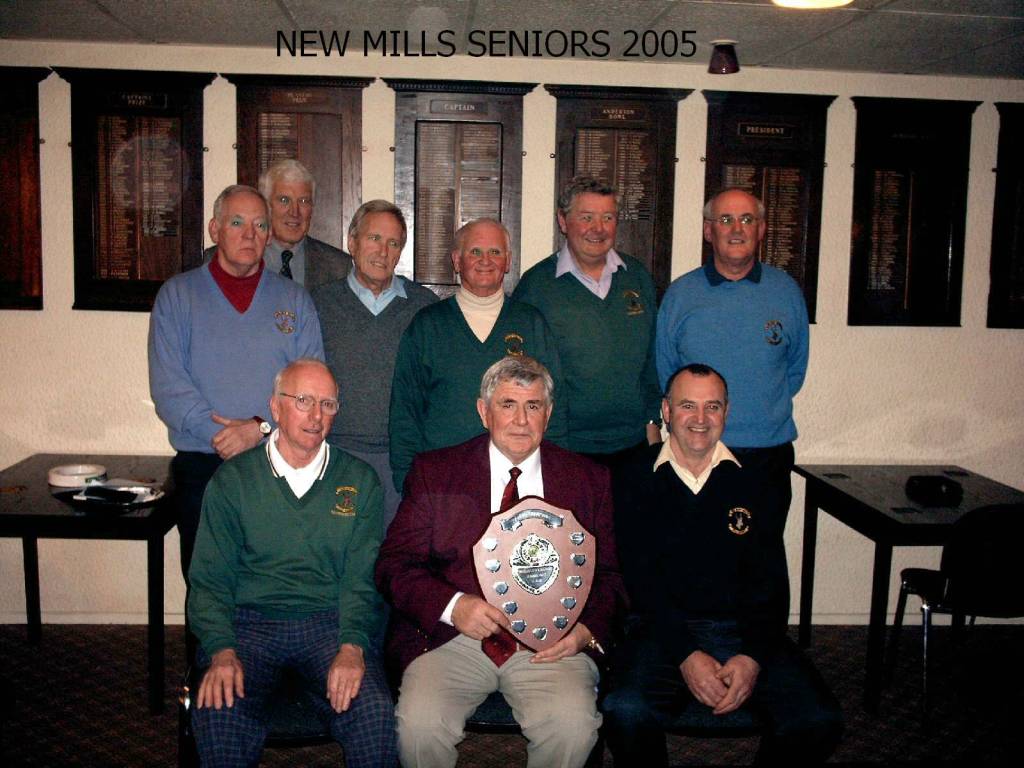 We shouldn't overlook the contributions made by everyone else who played in the league team in 2019 which enabled us to reach the final, namely: Phil Holland, Ian Bowers, Clive Garside, Dave Good, Pat Walker, Phil Smallman, Paul Holt, Dave Swindells, David Bray and Arthur Oliver.  Well done to everyone who played their part in helping us achieve this trophy!
We're very fortunate to have such a strong senior's section at the club which is characterised by the camaraderie, friendship and competitiveness which exists in our roll ups every Monday, Wednesday and Friday and in our various competitions throughout the year. It's not just the players who represented the league team who should share in this success, but all the others who played for the club throughout the season in the friendly fixtures against other clubs and everyone who turns up at the roll ups.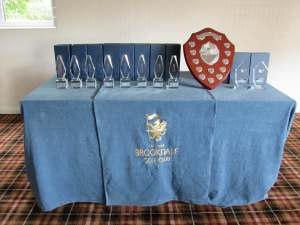 Well done to everybody!
Senior's Mid Week Break to Heron's Reach
28 of the Seniors enjoyed another great mid week break at Heron's Reach on the  Fylde coast. The weather was good and the course superb and challenging. Once again the hotel lived up to expectations and was excellent. The photos show those who took part plus Garry Fletcher being presented with the infamous the 'Last Place Trophy' from organiser Alan Blakeman.

Ladies Invitation to Seniors 23rd September 2019
An excellent morning's golf in which 16 ladies and 16 gents took part in a betterball stableford over 13 holes. Winners, with a superb score of 62, was the team of Jean Taylor, Iris Tolputt, Clive Garside and Keith Wright. There was very impressive scoring from the men in particular on the first nine where they totalled 45 points no doubt largely to some superb golf from Clive who had a whole string of 3 pointers! As Keith said afterwards. 'I was playing pretty well but couldn't get on the card!'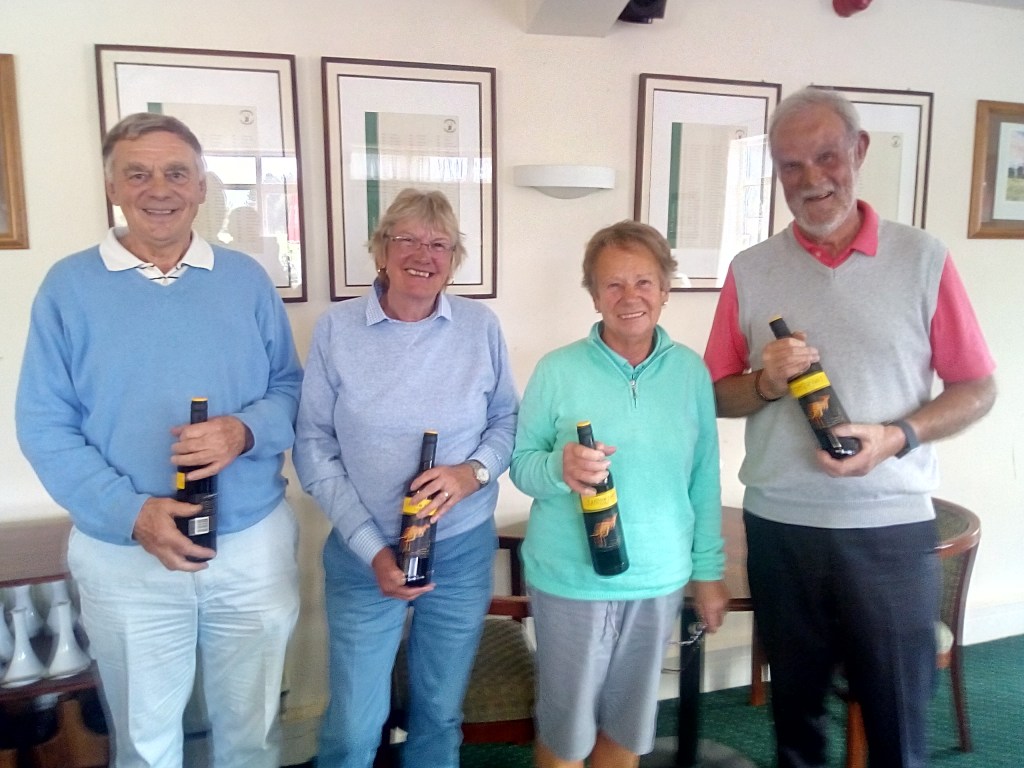 Runners up were Don Cooper, Dave Hibbert, Jo Coull and Brenda Grimshaw with a 6 under 58.
Well done to everyone who took part.
Senior's Open 3rd September 2019
On Tuesday 3rd September we hosted our annual 'Open' 4BBB which is open only to players from clubs other than New Mills.
As usual,  the event was well supported with players from 15 other clubs from as far afield as Grange Park (Rotherham), Chesterfield, Westwood (Leek) and Daveyhulme.  For many it was a return visit.
The weather was generally kind, although there were a few late showers in the afternoon which caught out some of the later starters. However, this didn't appear to quash their enjoyment or enthusiasm.
Half way house, run by Arthur Oliver, proved very popular once again and several of our lady members served tea, coffee, scones and cakes generously supplied by Carol Culley.
Lots of very positive comments were passed by our visitors, not only about half-way house, but with regard to the standard and quality of the course, for which we have to thank Nigel, Mike and all the volunteers who give so generously of their time to present the course in its best quality light. Once again there was  lots of praise for how visitors are made welcome when they come here.
The winners, on the day, were Kevin Moore and Ian White from Davenport GC with an impressive 44 points just one ahead of  Andy Yeardley and George Makey from Stamford GC with third place going to Steve Blunt and Jeff Barratt from Westwood GC (Leek).
Prizes were also given to Peter Buttrick from Chapel GC for nearest the pin on the 4th and N. Summerville from Daveyhulme on the 15th.
Once again thank you to all our visitors for your kind support and we look forward to seeing as many of you as possible next year!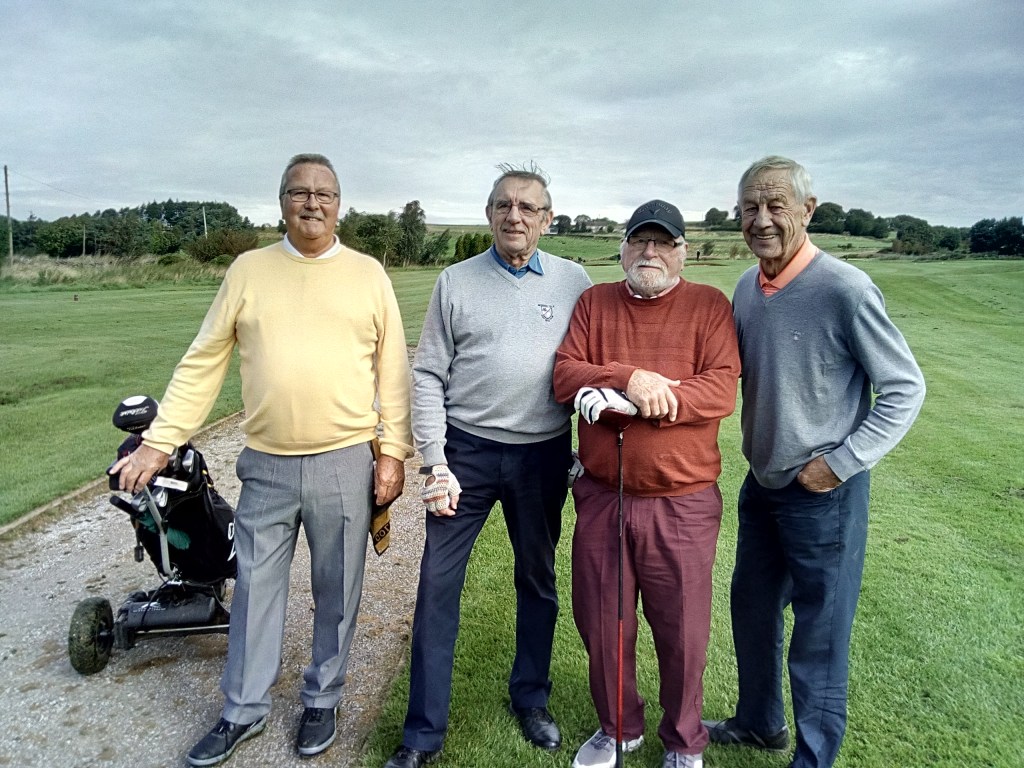 The images below show some of those  who played on the day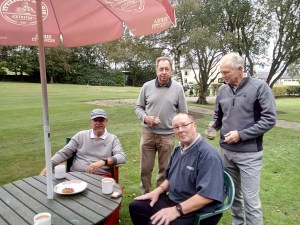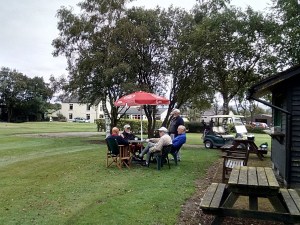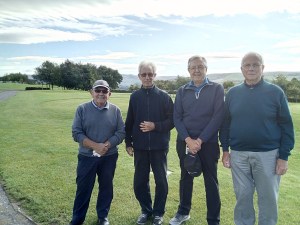 George Scott Trophy 9th September 2019
Not the kindest of days weather wise for this morning's George Scott Trophy which was reflected in the relatively low scores.
Winner, with a score of 37 points, was Keith Wright who beat Dave Holt on a card play off. 3rd place went to John Tennant with 36 points whilst Simon Belt came 4th also with 36.
Congratulations to Keith and many thanks to everyone who turned up and braved the dismal weather!
Congratulations to Arthur Oliver winner of the Marcliffe Cup
35 members of the Senior's section took part in this morning's Marcliffe Cup which was won by Arthur Oliver with 38 points in a card play off. 2nd place went to Peter Moseley with Bob Palmer coming third also with 38 points.
13 players achieved par or better (36+) showing just how close the competition was.
The Marcliffe is a popular and well supported event in the Senior's calendar and is the brainchild of Cliff Ardern who each year provides many of the bottles of wine as prizes.
Receiving his prize from Cliff, Arthur admitted he was guilty of 'drug taking' having doubled his dose of painkillers prior to the event following his awful round the previous day!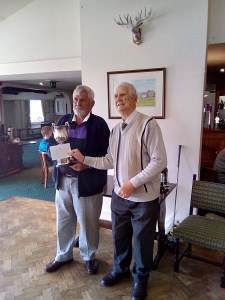 Many thanks to everyone who took part and to Sam and Kallis  for their help in helping to set up the course.
Additional prizes were awarded to the following:
Nearest pin on 4th: Rob Holden (lower handicap); Alan Woolley (higher handicap)
Nearest pin on 6th: Ian Harding (low handicap); (no prize presented for higher handicap player)
Nearest pin on 8th: Trev Jones (lower handicap); (no prize presented for higher Handicap)
Nearest pin on 16th: Graham Hadfield (lower handicap); Mike Bryant (higher handicap)
Nearest line on 9th: Trevor Oxley
Second shot nearest pin on 13th: John Tennant
Second shot nearest pin on 17th: Pete Moseley
The special trophy for a player getting their tee shot inside the circle around the hole  on the 15th was once again not won by anyone so Graham Hadfield, who won the trophy last year, was invited to take the cup home for the current year!
Stan wins Vet's Cup – Friday 26th July 2019
Congratulations to Stan Spencer winner of today's Vet's Cup with an impressive net 65. Second place with net 67 went to Mr. Captain helped no doubt by his very impressive birdie on stroke index 1! Third place went to Pat Walker also  with 67 whilst 4 players came in with 69 Tom James, Bob Palmer, Paul Holt and Clive Garside.
The day was perfect with a slight breeze helping to lower the temperature a little whilst the green's and fairways were once more in tip top condition.
Many thanks to everyone who took part. To view the full scorecard visit 'How Did I do?' in the members section
SENIORS QUADAM – MAY 2019
A wonderful day, blue sky all around, course in top class condition, and a bundle of high scores.
From the outset, scores of around level 5's were predicted, and so it proved.
Once again we were happy to greet and welcome back such a lot of friends that regularly enter this competition. We thank them for their continued support, and hope that the course conditions and refreshments offered were well received.
Congratulations to Rick Boffey and his team winning with 90 points and a decisive back nine of an incredible 50 points (and at the cost of a voluntary handicap reduction too <well done Stan>); and to second place Simon Belt's team, also on 90, underpinned by an amazing round by Bob Gaskill.
Third place had 89 points, and four teams each had scores of 87, 86, and 85 points – top class scoring.
Winners receiving gift vouchers were:-
FIRST – 90 pts : Vouchers for £80 R Boffey, D Cooper, S Spencer, P Holland
SECOND – 90 pts : Vouchers for £60 S Belt, M White, B Gaskhill, C Hall
THIRD – 89 pts : Vouchers £40 L Leverington, J Gillibanks, R Hallsworth, W Steele
Nearest the Pin receiving £20 gift vouchers :-
Mike Ashworth ( 6th), K Rigby (8th), L Walker (10th), J Gillibanks (15th), K Fieldsstead (16th)
Thanks to all those senior members carrying out the essential jobs of ball spotting, booking in, managing the car parking, and supporting the event in other ways; and to the ladies who supplied cakes and ran the half-way house; all of whom helped to make the day a great success,
Contributions at the half-way house made in excess of £70, which will be passed on to the 'Music in Hospitals and Care Charity'.
_______________________________________________
Annual Easter Egg Competition 15th April 2019
18 members of the Seniors section along with 18 members of the Ladies section took part in this morning's Annual Easter Egg Competition. Played over 13 holes, as a fourball Stableford, with the best Ladies and best Gents scores to count on each hole, the winners, with an excellent score of 63 points, given the wild and windy conditions, were Mike Howard, Hugh Jones, Brenda Grimshaw and Alison Rudder.
Second place with 55 points were Bob Palmer, Jeff Stewart, Joyce Hadfield and Jackie Piper with 55 points who beat Tom James, Rod Taylor, Lady Captain and Angela Adamson on a card play off.
Thanks to everyone who took part and especially to Jean Taylor who once again organised the event which raised £56 for club funds.
The raffle for an Easter hamper, organised by Janet Bowers, raised a further £261.50.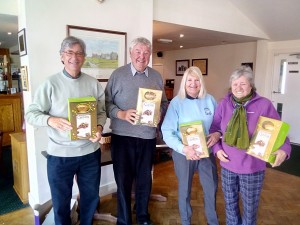 Excellent start to the new season
The 4 seniors pairings made the perfect start to the new season by winning all 4 matches against Glossop today thereby securing the maximum 8 points.
Well done to Pat Walker and Ian Harding; Trev Jones and Ian Bowers both winning comfortably 5 &4.  Also to John Tennant and Mr. Captain who won 3 & 2 and Bob Palmer and Dave Good 1up.
Derek Horsey Charity Competition 5th April 2019
A blustery, strong wind made playing conditions very difficult this morning for the 32 Seniors who took part in this year's Derek Horsey Charity Competition.
Played over 18 holes, off yellow tees (some of which were pretty far back!)  and as a medal it proved quite a daunting challenge for many of us.
The winner was Chris Hall, who also won this competition in 2018. Chris came in with a superb net 67 with Bob Palmer  runner up with a very good net 71.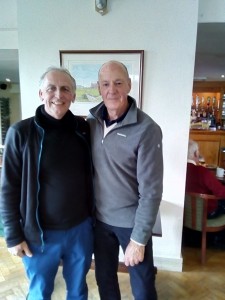 Chris and Bob will now go on to represent us against other clubs, some of which we already play during the season but also including others from Greater Manchester and Cheshire who are not part of our normal fixture list.
We wish them every success in the first round and look forward to watching them, hopefully, progress through the competition.
A big thank you to everyone who played this morning and helped us raise £165 for the charity. Well done!
+++++++++++++++++++++++++++
Seniors Raise over £100 for Comic Relief
Well done and many thanks to everyone who took part or donated to this morning's effort which raised £106 for Comic Relief.
Playing a Texas Scramble, two teams were inseparable and achieved an 'honourable draw' with a score of 43.3 namely Pete Griffiths, Pat Walker and Ian Harding in one team and Graham Elliott, Rod Taylor and Mike Howard in the other. A bottle of wine was presented to an unexpected guest from north of the border who is also pictured with two of his buddies !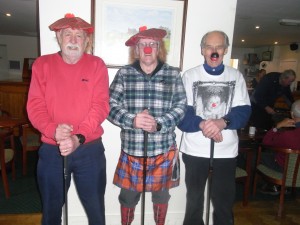 ++++++++++++++++++++++++++++++++++++++++
Seniors AGM 1st March 2019
At the start of the season the course was not in the best of condition following an extremely wet winter. However, the extensive drainage work carried out by Nigel, Mike, Ian Bowers and other volunteers soon paid dividends and the long hot summer meant the course dried out and conditions were perfect for  some very enjoyable golf.
Of the 22 matches we played throughout the season we won 9 lost 12 and halved 1.
In the league, we topped our group winning 6 of our 8 games and therefore qualified for the final, along with 5 other clubs, at Shrigley Hall. Although we didn't win we didn't come last either!
Out going Chairman Phil Smallman thanked everyone who acted as organisers for matches and who organised the Senior's internal competitions.
Winners of the various competitions were presented with their prizes and a full list of all of these can be seen by clicking on 'Competitions'.
Three Seniors  achieved 'holes in one' during 2018  namely Chris Hall, Mike Howard and Ian Harding. Well done to all three!
Two very successful trips were organised, one to Hawkestone Park, organised by Tony Jones ,and the other to Heron's Reach organised by Alan Blakeman.
Both the Senior's Open, organised by Phil, and the Quad Am organised by Clive Garside were very successful and once again the organisers were well supported by members.
This year's 'Player of the Year' Trophy was presented,  at the Senior's Dinner, to Alan Blakeman for all his hard work and effort over the past twelve months. The photos below shows Alan receiving his trophy from Phil.
Bob Palmer was appointed as Chair for 2019 with Pat Walker as Vice Chair. Tom James was reappointed as Secretary as was Clive Garside as Treasurer.
Bob thanked Phil on behalf of everyone for all the hard work he had put in to running the senior's section over the last two years  which provided a fitting end to a very successful season.
++++++++++++++++++++++++++++
Seniors Annual Dinner 5th March 2019
Over 50 people (Seniors and their spouses/partners)  enjoyed a great evening on Tuesday. Everyone enjoyed the excellent  meal whilst the quiz, put together by Phil and Zena, proved 'taxing' especially for one table!
Alan Blakeman, who wasn't able to attend the Seniors' AGM, received his trophy from Phil Smallman as 'Player of the Year' for 2018. Well done Alan!
Many thanks from all the Seniors to outgoing Chairman, Phil,  for organising such a fabulous evening.
++++++++++++++++++++++++++++++++
Second Hole in One in One Week at Seniors Roll Up
Well done to Ian Harding who became the second member of the Seniors to get a hole in one this week! Playing off the red tees, Ian achieved his hole in one like Mike on the 4th.
Unlike his only other hole in one, which was a decade ago, this time Ian had the pleasure of actually seeing the ball go in the hole!
Congratulations Ian.
If this keeps on happening I guess we're going to have a lot of inebriated golfers wending their way home!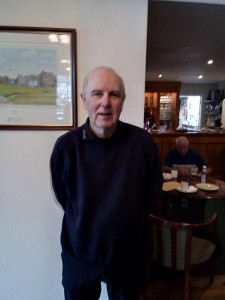 Yet Another Hole in One for Mike !
Congratulations to Mike Howard who achieved another hole in one this time on the short par 3 fourth. Well done Mike!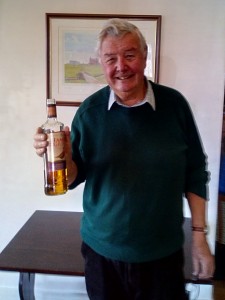 Hole in One for Chris
An excellent 7 iron into the sunshine on the 8th resulted in another hole in one for Chris Hall.
However, it was yet another occasion where Chris never saw his ball go into the hole! In fact, his two playing partners spent ages trying to locate his ball. In the bunkers, behind the green even in the rough on either side of the green. Having finally given up any hope of finding the lost ball,  one of his partners went to remove the flag before putting so revealing the mysterious Callaway itself which had decided to hide in the hole!
We done Chris a superb '5 point hole'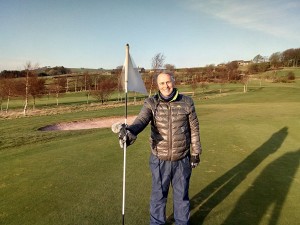 ---
SENIORS HOLE-IN-ONE ROLL OF HONOUR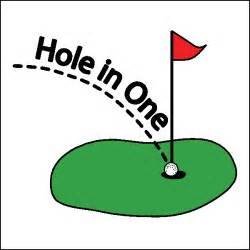 Select and click the link below
---